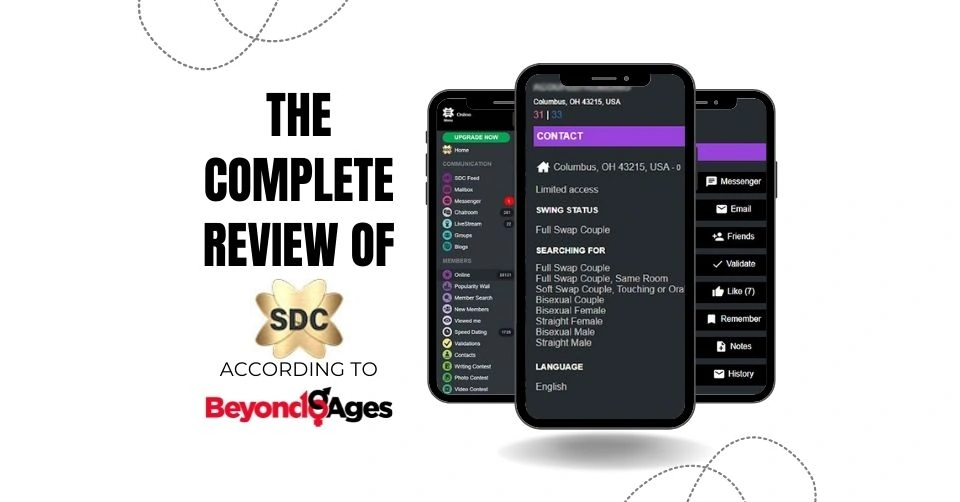 Whether you're new to online dating or just looking to try a new site, doing your research is always an important step. Our SDC review can save you a lot of time and potentially a lot of money too.
Since online dating has become the norm and WAY more popular with all the social distancing that's happening, it's vital that you find a quality option that works for you. Too many relationships start online for you to avoid it now. However, time and time again I review dating sites and come across total garbage. Fortunately, there are also a handful of great options.
We'll get into the specifics soon but what I can tell you is that SDC seems promising. Still, does that mean it's worth signing up for? The answer isn't as black and white on this one so let's take a closer look at what I found.
How we reviewed SDC
We review a lot of prevalent dating sites to keep you and your credit card safe out there. To make sure they're all being assessed equally, there's a process we run through with each of them.
To kick things off, I'll create a free account on the website, completing only the required fields. Lazy scam sites will spam a blank account with "women" who are "desperate for sex" so this is a great red flag. I'll leave it this way for a day or two and see if my inbox starts to fill up.
After that, it's time to populate my profile, just like I would with my own Hinge account. Now it's time to actually use the site and see how many dates I can set up, if any. At this point, I'm using the site like any regular user and want to report back with helpful findings. This gives me a good insight into just how successful you can be without handing over money.
I'll do this for a few weeks, depending on the site, then we'll upgrade to a paid account. This gives me a great opportunity to compare the success of a free vs. paid account. This way I can give you a full rundown of how useful those paid features are and if it translated to more dates.
By keeping this process intact, the end result is a far more in-depth review rather than just regurgitating other reviews online. The more info you have, the better equipped you are to make your decision!
Our Complete SDC Review – What We Actually Discovered
After reviewing so many dodgy dating sites in recent months, it was nice to come across a fresh template —  a site layout I hadn't seen before. Dated as SDC.com's layout is, I was already hopeful that this was going to be legit and I might actually get dates out of it.
What I can say early on in this review is that it's not a fake site. They give you some great tools to help you out and by all means, the profiles appear legit.
We'll get to my overall recommendations soon but first, let's take a higher-level look at things. I always like to start with a comparison against a known, high-quality dating site — in this case, AFF (which you can try for free here). Pretty much the best hookup app out there right now for most guys, they serve as a great point of comparison.
Overall

Our team rates each site objectively based on many hours of independent research, the features each site offers, and how it compares with other sites. The ratings are the opinion of our editors and their extensive experience.

6
9.5
Quality of Women

Our opinion of how attractive the typical woman is that uses this site and how easy they are to connect with compared to other sites.

7
9
Popular

How many people are using this site to actually meet people compared to other sites.

5
9
Usability

How easy is this site to use and how quickly can an average person begin meeting people compared to other sites.

3
10
Privacy & Safety

Does this site take proper precautions to safeguard its members, their identity, and their data.

9
10
Effective

Our opinion of how easily an average person will be able to achieve their dating goals with this site compared to other sites.

2
9
Value

Will the time and money spent using this site pay off for an average person based on the opinions and experience of our editors.

2
10
Our Recommendation
In our experience reviewing SDC we came away with mixed impressions. One one hand there did seem to be a fair number of real people using it but it isn't the best option that we've found. We would recommend that you try out a few other sites first and then go back to SDC.com if you don't have any luck. It's an OK site that is in the middle of the pack.
We've seen more guys have better luck on other sites, especially AFF. If you have to try one site first it should be AFF.
Keep in mind, these scores are based on my experience, presenting as a single guy. I'll talk more about this soon but being a single guy on this site seems to be quite the hindrance. I fully expect the results to vary if I were in a relationship of some form.
Why I don't recommend SDC.com for single men
This is a simple case of supply and demand. SDC does a great job of creating a safe, secure environment for people to experiment and put themselves out there.
Since, overall, men tend to be more comfortable and forward about this, we're in the vast majority. For every woman or couple that creates a profile, you can bet they're receiving a string of messages from single men.
This is such a common thing on the site that many profiles even specifically say they're not looking for single guys. They're looking for couples or single women but not single men. Here's an example:
Sure, if you're in that category it kind of sucks but at the same time, you can't blame them, right? If that's now what they're looking for, the whole point of this site is to specify that.
A very quiet inbox during our SDC review
Further to this point, check out the state of my inbox after weeks of use. A single, very short conversation that went nowhere.
While I did reach out to a lot of women and couples, SDC only shows the conversation in your inbox when you get a reply.
Here's a look at that conversation. Again, SDC doesn't show my side of it unless they reply so this is as far as things went. Even as a paid user, this is as close as I ever got to an actual date as a single man.
I expect it's great for couples and single women
I can't say from first-hand experience since that's not how I presented myself here. Looking at the up to date profiles and real users though, it seems like you'd be successful in either of these categories.
Since I'm all about exploring sexuality and trying new experiences, I'd say give it a try if that's your thing. If you're single though, it's a waste of time and money.
You're better off with AFF
For single guys like me who are often not that popular on swingers sites, I suggest using AFF instead.
If getting laid is your main goal, AFF has a wealth of users all over the world who also want the same thing. And the best part? You don't have to be super handsome or super kinky to find success. You can just be a regular joe who's open about what you want and chances are you'll find someone who's right for you.
Pros and cons
Here's what I liked and disliked about my experience using SDC.com.
Legit profiles and real users
A safe environment for people to experiment
A broad user base
A dated layout which gets frustrating
Flooded with single men
Design: An irritatingly dated layout
The site is intuitive for the most part. I never really felt as though I had to hunt for a setting or how to do something on the site. What I did find frustrating though is that, due to the framework it's built on, you can't open multiple tabs.
For example, say you're looking at this grid of profiles right here:
You might see four profiles that interest you. On a more modern site, you can use your middle mouse button to click each of those four and open them in a different tab. Now it's as simple as checking each tab one at a time.
On SDC.com, you can't do that. You have to click one profile, check it out, message them if you choose to, then click the back button. If you're looking at multiple profiles, you need to keep bouncing back and forth which gets irritating after a while.
Along the same lines, you need to refresh the entire page for anything to change. For example, if you receive a new message, you won't see a (1) next to your Mailbox button straight away. Instead, you have to refresh the page to see that number change.
These are first world problems, it's true but boy do they get irritating over time.
SDC Alternatives Dating Coaches Recommend For Regular Men
A lot of normal guys are struggling on dating apps because they didn't take the time to figure out what app will work for them. There are really only a few options out there that consistently work for regular guys. Try these first:
Site
Our Experience
Our Rating
Free Trial Link

Best Hookup Site Right Now

Experience Highlights

Top option for local hookups by far
Best results for regular guys
Over 60 million active members
The design needs an update

Try AFF For Free

Great If You're Handsome

Tinder Highlights

Great if you're pretty good looking
Very popular, especially if you're 18-22
Really focused on photos
Becoming more of a dating than hookup app

Try Tinder

2nd Best For Most Guys

Experience Highlights

2nd best option to find hookups
Attracts an older crowd than most hookup apps
Pretty popular
Solid free trial

Try Passion
Advanced filters let us be specific during our review of SDC
One thing I really liked on this SDC dating site review was the ability to narrow down your search. You get so many filter options so you can view only the profiles that interest you the most. While Tinder shows you every one of the right gender and age in your area, SDC lets you reduce the chatter.
What you can see in the screenshot below is a little less than half of your filter options. It really helps avoid being overwhelmed or spending time chatting to people that just aren't right for you.
Regular messages showing profiles you might want to see
Another feature I really enjoyed here were these automated messages from SDC.
You'll periodically get these messages in your inbox. It's a summary of the new users that fit your search parameters. Rather than having to rely on noticing a new profile, you get a shortlist of them right here.
Personally, I think that's a great feature, both for the new user and the veterans of this dating site. It'll help boost interaction for new people so they're engaged while also giving the experienced users a heads up.
User profiles
Although dated like the rest of the site, the user profile section is mostly the same as any other. You'll see their profile photos, a bit about the person (or couple) and have some options to interact.
Where SDC's user profiles differ is in the additional info they provide. They refer to themselves as an "Erotic Dating for Open-Minded Couples & Singles" and they push that notion here.
Further down in the profile you'll see information for each couple. Age, height, weight, experience levels, etc. — all info that's very helpful if you're looking to explore.
If you're looking for something very specific, this can save you so much time. For example, maybe you're specifically looking for short, petite women with experience in group play. Not only can you narrow this down with search filters, you can see exactly what she's experienced with from her profile.
You can also see what she's looking for as well. If you don't meet her preferences, you can see that right here too which is a major help.
How much does an SDC membership cost?
As always, the cost of membership varies depending on how long you sign up for. As we found out in our SDC review, if you want to try it yourself for a month, you're looking at $24.95. Alternatively, it's just $10 a month if you sign up for a year. For the best value, you can even pay for a lifetime membership for $250.
Personally, I'd suggest sticking with either one or three months to start with and see if it works out for you. If it does, by all means, it's a legit site so go right ahead and support them.
You also get a free trial period at the start which is helpful. It means you can contact other members and do most things a paid member can during that period. After that though, a free profile isn't all that helpful.
Here's a full list of the benefits of a paid membership. Personally, if I were in a relationship and we're looking to explore, I'd pay for an SDC membership. As a single guy though, I'd look elsewhere.

SDC Review: Frequently Asked Questions
To finish up our SDC review, let's take a look at the most frequently asked questions. This review should cover everything you need to know but if I've missed something, leave a comment down below!
What is SDC?
SDC (Seek, Discover, Connect) is a dating site aimed at hookups and group play. All about exploring your sexuality and experimenting, it's a safe space to put yourself out there and say exactly what you're looking for. However, based on experience, SDC is more effective for women and couples.
Who actually owns SDC.com?
SDC.com is owned and operated by SDC media LLC and SDC Ventures LTD.
How can I contact SDC?
You can email SDC at [email protected] or call them at 1-866-417-9956
Is SDC.com real?
Yes, SDC.com is a real site with seemingly real people. However, in our experience, it looks like there are barely any active users on the site.
Is SDC legit?
SDC is a legitimate dating website. While you may struggle to get any meaningful interaction as a single guy, women and couples can expect a better experience.
Is SDC.com a scam or fake?
SDC.com doesn't seem like a scam in our experience. However, since it's pretty much empty, we'd say it's a waste of time using this site.
Is SDC safe?
It seems like SDC is relatively safe compared to other sites we've tried. They have a free trial where you can test out its features before paying for a paid membership. That's a fairly promising practice.
What are SDC.com alternatives?
If you're a single guy, SDC.com may not give you the most success. To save you a bunch of time, we covered the best hookup sites and apps available right now.
How does SDC work?
SDC is a hookup site that primarily caters to swingers. As a single man, you can browse through users and filter your searches until you find someone you like. You get a free trial that lasts about a day where you can contact other users and go into chatrooms. However, once the free trial is up, you'll need a paid membership to use most of the site's features.
Is there an SDC.com app?
Yes, SDC.com is available on Android and iOS.
How much does SDC cost?
The monthly cost of a premium SDC membership will vary depending on how long you sign up for. The best value is $250 for a lifetime membership, going all the way up to $24.95 for a single month.
I'd suggest trying it for one month first to make sure you'll get the results you're looking for.
How can you use SDC.com for free?
Almost all of the most useful SDC.com features are free during the trial period. This lasts for about a day.
Can you send messages for free on SDC?
Yes, you can send messages for free on SDC during the trial period.
How do you cancel your SDC.com account?
Canceling your subscription is simple (always a sign of a quality dating site). Just follow these steps below to stop your next payment. Doing this will let you continue using the site as a paid member until the end of that billing period.
Click Settings in the top right corner
Click Account in the left side panel
Click the toggle next to Recurring Billing to deselect this option
How do you delete your SDC account?
Deleting your account is just as simple. Just follow these steps and your profile will be gone:
Click Settings in the top right corner
Click Account in the left side panel
Click Delete Account at the bottom right of this page