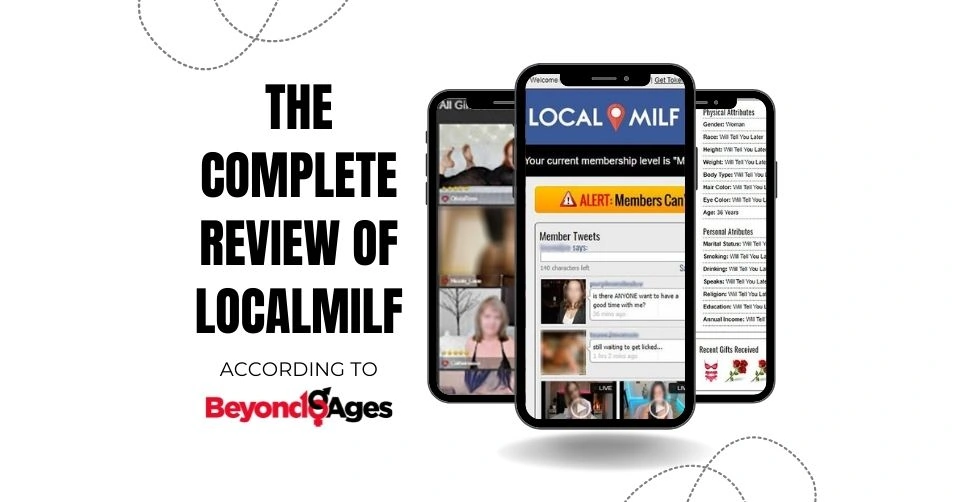 In this LocalMilf review, I will reveal whether you can legitimately hook up with older women by using this website or if it's a complete waste of time. LocalMilf.com promises hot local cougars ready to meet and screw, but does it deliver? We put this website through rigorous testing and spent a lot of time using it to find out!
If you've been trying to find a MILF out in public lately you've probably been struggling. The vast majority of single MILFs have been social distancing still and only meeting guys online. They're already pretty busy so meeting guys 24/7 from home tends to work out well for them. If you're not on at least one app you're missing out.
Sadly, there are a lot of hookup websites out there that sell the dream of living out your wildest fantasies with a local MILF. But they end up leading guys on a frustrating merry-go-round of cam girls, inactive members and fake accounts.That's why I want to put together these detailed tests of lesser-known hookup websites. It's not fair for guys to waste their hard-earned money on a scam.
So, that leads to the question: is LocalMilf.com the real deal or did I get suckered into the LocalMilf scam?
Read on to find out.
How we reviewed LocalMILF
Here at BeyondAges, we put together a standardized process to test the legitimacy of the online dating services we review.
Initially, we register a free account and leave it blank for 24 hours. No bio. No pictures.
If our anonymous account is flooded with messages from women, that's a huge red flag from the get-go. In most cases, this means the website is swarming with scammers, bots or cam girls looking for paid customers. No legitimately hot woman would bother trying to establish a connection with a blank dating profile.
If we receive little to no contact with a blank profile, we go ahead and create a real profile and sign up for a paid account. Our profile is decently put together but not amazing in order to see what it's like for a normal guy using the site. We're trying to appeal to a broad range of women here.
From there, we send messages to a TON of women and do our best to try and swap contact details or arrange a meetup. We have an archive of opening lines to stick to in order to ensure the testing is fair and unbiased across the board.
This review will reveal what extra features are available with a paid membership and whether they're any good. You'll also discover how easy it was for us to make intimate connections with real women on LocalMilf.com.
The Full LocalMilf Review – Is It Milf Heaven Or A Big Fat Scam?
If you're not too bothered about discovering the finer details of how LocalMilf.com works, here is a basic summary of the website.
In this summary, we rate the key aspects out of 10. These are the aspects of online dating websites we believe are the most important. For context, we have compared it to AFF (which you can try for free), the site that we've seen guys have the best success meeting MILFs on. This quick side-by-side quickly demonstrates what you're getting yourself into with Local MILF:
Overall

Our team rates each site objectively based on many hours of independent research, the features each site offers, and how it compares with other sites. The ratings are the opinion of our editors and their extensive experience.

2
9.5
Quality of Women

Our opinion of how attractive the typical woman is that uses this site and how easy they are to connect with compared to other sites.

3
9
Popular

How many people are using this site to actually meet people compared to other sites.

3
9
Usability

How easy is this site to use and how quickly can an average person begin meeting people compared to other sites.

7
10
Privacy & Safety

Does this site take proper precautions to safeguard its members, their identity, and their data.

10
10
Effective

Our opinion of how easily an average person will be able to achieve their dating goals with this site compared to other sites.

2
9
Value

Will the time and money spent using this site pay off for an average person based on the opinions and experience of our editors.

2
10
Our Recommendation
It would appear that there are perhaps some real women using this website. However, there were also quite a few signs that this website is a complete scam. We found a lot of red flags during our time using it and had a pretty poor experience in general. We usually do very well on dating sites and could scarcely find a real woman to talk to here.
Overall, I'd advise you to stay away from LocaMilf.com. There are dozens of better MILF dating sites for arranging casual fun.
So, while there were a few signs that the website might not be completely useless, the bottom line is: I was unable to maintain a decent conversation with anyone throughout this experiment.
Let's take a look at some of the messages I received, so you can judge for yourself.
LocalMilf spams you with IMs that obviously aren't sent by real women
The first thing you'll notice about using LocalMilf.com is that you'll be endlessly spammed with instant messages. Even if your profile is completely blank.
This would be exciting if it wasn't so obvious that these weren't being sent by real women. These are the cheesiest most robotic pickup lines, and you can't reply to any of them unless you sign up to a Gold-tier paid membership.
Clearly this is a feature that has been programmed into LocalMilf.com to try and entice you to purchase this membership, but you'd have to be a moron to think there were real women typing these messages to you.
Worse yet, these messages don't stop. Browsing the rest of the website was a nightmare because I had to constantly get rid of these invasive IMs.
On top of these, I received 13 emails asking for pictures and 25 "quickies." A "quickie" is essentially an alert from a woman saying she wants to hook up with you. You can reply "Yes" or "No," but it doesn't make a difference because you'll still have to send a message.
This is an incredibly suspicious amount of interest in a blank profile. In order to reply to an email or a "quickie," you have to sign up for paid membership, so I'd suspect these communications are automated in order to tempt you to pay for more.
LocalMilf does appear to have some real female members, but it looks like there are a lot of fakers too
All of this supposed interest in a blank profile immediately set the alarm bells ringing in my head. Nevertheless, I purchased a monthly VIP membership so I could see for sure whether this was a LocalMilf scam.
This allowed me to send unlimited emails to other members, although I still didn't have the privilege to reply to these instant messages.
All the female profiles in my local area were for older women. They all included pictures and most of them had NSFW material within their profiles.
Out of the 50 emails I sent, I received 17 replies. Some of the replies made references to my profile. This is a good sign that there's a real person behind typing back to you.
Other responses seemed comically dirty. I guess you can decide for yourself whether these came from a real person.
Do these messages look like they were sent by real women?
Ultimately, all of the conversations fizzled out after 1-2 messages. Only 1 out of these 17 hinted at meeting up, but didn't respond when I asked for contact details.
LocalMilf has a decent live cams service
If you enjoy watching women perform on a webcam, you'll be pleased to hear that LocalMilf.com membership allows you to access its cam girls service.
There are plenty of choices, including younger women from all over the world. What's more, you can chat with the women for no extra cost. However, as with any cams service, you'll have to pay extra to see the good stuff.
Why bother with Localmilf.com if you can use AFF instead?
There is no good reason to mess around with LocalMilf.com, instead of a highly-regarded hookup website like AFF.
AFF has a huge international user base of REAL women who actually are keen to meet up and get down to business. We've tested AFF extensively and couldn't recommend it enough.
Instead of wasting time messaging fake accounts and masturbating over a woman's webcam videos, you could be communicating with real local hotties who are looking to hook up.
AFF is even offering a free trial at the moment, so it really is a no-brainer. Try it out for yourself and you'll see why we're so excited about this website.
Pros and cons
Want a summary of what we loved and hated about Localmilf? Here you go:
Three-day trial for less than $10
Some real users
Decent live webcam service
You won't be able to message anyone with a free account
You'll be constantly spammed by instant message bots
Clunky interface makes it difficult to keep up with your messages
Local MILF profiles, pictures and members
LocalMilf.com profiles allow you to upload public and private photos. There are plenty of prompts for you to share important information about yourself.
The screenshot is a typical profile on this website. Most members are aged between 30-50, have a racy photo of themselves and have taken the time to fill out at least the "About Me" section of the profile.
The Best Apps to Meet MILFs For Regular Guys According To Dating Coaches
If you've been struggling to meet cougars, there is a very good chance you're just using the wrong app. These are the best apps right now to meet them for regular guys that our team of dating experts recommends. Try them first if you want to find quick success:
Site
Our Experience
Our Rating
Free Trial Link

Best Hookup Site For MILFs

Experience Highlights

The best way to meet MILFs for hookups by far
Best results for regular guys
Over 60 million active members
Not good for long-term relationships

Try AFF For Free

Best For Relationships

Experience Highlights

Easily the best option for long-term relationships
75% of all online marriages start here
70% of users meet their spouse within a year
In-depth signup and matching process

Try eHarmony

2nd Best For Hookups

Experience Highlights

2nd best option to find hookups
Attracts an older crowd than most hookup apps
Pretty popular
Great free trial

Try Passion
LocalMilf.com design
The design is another infuriating aspect of LocalMilf.com. As if being flooded with spammy automated instant messages wasn't enough, the email system is difficult to navigate too.
It's great that the home page suggests local women near you to message, but when you click on their profile to do so, there is no way to tell if you've already messaged them.
Messaging and chatting
There are three ways to message a woman on LocalMilf.com.
You can send an instant message (IM), but only if they're online.
You can send an email.
Send an SMS.
You can chat on their live webcam stream.
The instant messaging system is a sham. Automated robots message you every minute or so. We didn't appear to receive one genuinely human message. Even so, the instant messaging feature is only available with a Gold-tier membership (the highest price point, two levels above the tier we bought).
The email system works a little better, although the design issues are mentioned above. The "quickie" and "send a gift" options add little to the experience.
If a member has added their mobile number to their profile, you can send them an SMS, although this will cost you extra.
The live cam section is somewhat separated from the rest of the website. In fact, it opens a separate tab with a new URL. Nevertheless, instant chat option here works well.
What can you do with a free membership on Localmilf.com
Very little, other than creating a profile, browsing other profiles and reading the annoying spammy instant messages. To attempt to message anyone, you need a paid membership.
Advertisements
Most hookup websites are flooded with porn adverts, and that's true of LocalMilf.com too. There's not as many adverts on the Local Milf dashboard, as there is on other similar websites. However, most of them are for penis enhancement products, so they are particularly unpleasant to stare at.
Local MILF doesn't prompt you to upgrade to a paid membership as frequently as other hook-up websites, which is just as well as we wouldn't recommend anyone do this.
Pricing
There are four paid membership plans:
Limited trial membership: $8.90 for 3 days.
Monthly: $29.95 a month.
Silver: $49.95 for three months ($16.65 a month).
Gold: $69.90 for six months ($11.65 a month).
The three-day trial gets you 10 profile views and messages per day. With all other tiers, you'll get unlimited messages and profile views. Gold membership activates instant messages as well as the other features listed in the image above.
Local MILF review: Frequently Asked Questions
Here is a summary of other questions you may have about Local MILF:
What is Local MILF?
Local MILF looks like an average dating site (though a lot more explicit). However, as they state in their Terms of Service, the site is for "amusement purposes" only. There are no people on the site because everyone you'll encounter is a fantasy profile.
Who actually owns LocalMILF?
LocalMILF is Plymouth Associates Ltd., which owns other sites with the same types of "amusement purposes" sites.
How can I contact LocalMILF.com?
You can contact LocalMILF.com via email at [email protected]. You can also call them at 1800-564-9432.
Is Local MILF real?
Yes, Local MILF is a real site. You can register, create an account and talk message profiles (for a price). However, all the profiles you'll be talking to are fabricated.
Is LocalMILF legit?
No, LocalMILF doesn't seem legit in the least. It's bad enough that you won't talk to any real people, but you'll also need to pay for a membership to talk to these fictional people.
Is LocalMILF.com a scam or fake?
LocalMILF.com may not be a scam because they are pretty honest about how their site works. However, it's incredibly suspicious that they'll keep all your information safe.
Is Local MILF safe?
No, Local MILF isn't safe at all.
What are LocalMILF alternatives?
We've compiled a list of the best dating apps and sites for hookups that are much better than Local MILF. Try them out if you want to talk to actual people.
How does LocalMILF.com work?
Once you create a LocalMILF.com account, you can browse through profiles and receive messages. However, to message anyone, you'll need a paid account.
Is there a Local MILF app?
No, Local MILF doesn't have an app.
How much does LocalMILF cost?
Here are the LocalMILF payment plans:
3 days – $2.97/day ($8.91)
1 month – $29.95
3 months – $16.65/month ($49.95)
6 months – $11.65/month ($69.90)
How can you use LocalMILF.com for free?
To do anything on LocalMILF.com, you'll need a paid account.
Can you send messages for free on Local MILF?
To message anyone on Local MILF, you'll need a paid account. No way around it.
How do you cancel your LocalMILF account?
Once logged into LocalMILF, click "Account Settings" at the top of the page
Click "Delete my login and profile" and click the "delete my login" button
Then enter your password