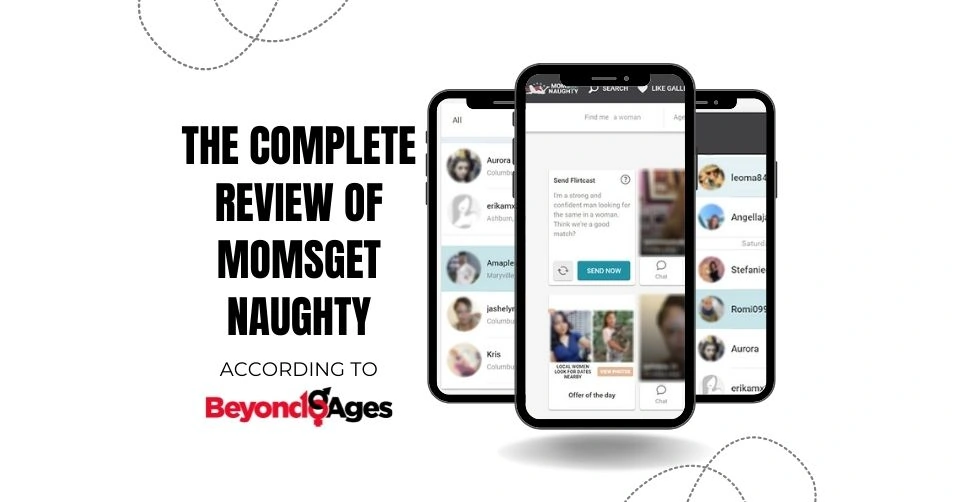 In our Moms Get Naughty review, we will reveal if this site is a worthwhile one to use for finding sexy single moms to date. The site markets itself as the #1 place for naughty single moms to let off some steam after a hard day working the triple shift. So I was keen to discover just how easy it is to discover a sexy older woman to date on this website.
In my experience, there are plenty of single moms out there ready to get down and dirty with a stranger from the internet. However, it's impossible to find them on the majority of MILF dating websites.
Most of these websites don't have a user base large enough for the average guy to find a date. Some of them are complete ripoffs that lure guys into paying for a premium account with promises of horny older women, only to present them with a virtual wasteland once they've paid up. So is this the case with MomsGetNaughty.com?
Finding older women to hook up with is harder than it's ever been if you're only looking out in public. So many of these women have given up on public spots and are ONLY meeting single guys online. If you're not there too you're going to be missing out.
How I reviewed Moms Get Naughty
At Beyond Ages, we follow a standardized procedure when reviewing online dating websites.
For starters, we create a blank profile and see if it gets any attention.
Any site where "users" message blank profiles is immediately a little sketchy.
Then we complete each profile with the same photos and same bio. Then, where appropriate, we pick out messages from our archive of opening lines and send them to 50+ women. From there, we note down how easy it is to make a personal connection with women on the website.
How many of the 50 women would check out our profile? How many would respond to our messages? How many of them were willing to share contact details? 
Lastly, once we've exhausted all of the site's free features, we pay for a premium subscription. This procedure allows us to make fair comparisons between online dating services so that you can choose the best website for your needs and avoid the duds.
So, was this website a naughty mom paradise or will I be warning you of the Moms Get Naughty scam? Read on to find out…
The Full Moms Get Naughty Review
Below, you'll find my basic summary of Moms Get Naughty. This is perfect if you're after a quick verdict as far as whether you should use the site or not. If you want a more detailed review, as far as the ins and outs of this website, scroll down further.
I have ranked the site out of 10 for the most essential elements of online dating websites. To give some extra context, these rankings are compared to AFF (which you can try for free here), which we've seen become the best hookup site for guys that want to meet women 30+.
Overall

Our team rates each site objectively based on many hours of independent research, the features each site offers, and how it compares with other sites. The ratings are the opinion of our editors and their extensive experience.

2
9.5
Quality of Women

Our opinion of how attractive the typical woman is that uses this site and how easy they are to connect with compared to other sites.

2
9
Popular

How many people are using this site to actually meet people compared to other sites.

2
9
Usability

How easy is this site to use and how quickly can an average person begin meeting people compared to other sites.

7
10
Privacy & Safety

Does this site take proper precautions to safeguard its members, their identity, and their data.

7
10
Effective

Our opinion of how easily an average person will be able to achieve their dating goals with this site compared to other sites.

1
9
Value

Will the time and money spent using this site pay off for an average person based on the opinions and experience of our editors.

1
10
Our Recommendation
We always spend several weeks trying out a site to get the full experience and Mom's Get Naughty is no exception. Unfortunately, at no time during those weeks did we ever feel like this was a quality site worth trying. We highly recommend that every guy avoid this site completely and spend their time elsewhere. You will get better results on more proven options, like AFF, if you really want to meet single MILFs.
Stay away from this website! It's a complete waste of time.
Before we start our reviews, we complete a few checks to discover if the website we are testing is a very sketchy site. MomsGetNaughty.com revealed a ton of red flags during these tests. Then, as I continued my review, it seems like the site is enticing you to pay for a subscription without delivering anything in return.
MomsGetNaughty will spam you with automated messages to tempt you into buying a premium membership
To test the legitimacy of the websites we review, we always leave our profile blank with no photos and no bio for 24 hours. If our account is still overwhelmed with messages from beautiful women, that's a clear sign that this website is a bit dodgy. In nearly all cases, bots are sending these messages to tempt you into paying for a premium membership.
After all, what legitimately beautiful woman would send suggestive messages to a blank account?
I had received several messages within minutes of signing up – and dozens after 24 hours. The site won't even let you read the messages you receive without buying a premium account, let alone reply to them. In my experience of testing online dating websites, it was already clear to me that I was dealing with a dodgy site.
Still, in order to confirm my suspicions, I went ahead and purchased a one-week premium membership.
Badly written messages and generic profiles that don't reply to you
All of the messages I had received appeared too spammy to be real. Still, I replied to all of them and sent a cold-message to other "single moms" based in Columbus, Ohio. 50 messages in total.
I received a grand total of 0 replies.
Although all of the profiles I messaged had photos, none of them appeared to have written anything other than the same generic sentence in the bio.
If MomsGetNaughty.com is 'the home of 'naughty moms', then this must be a broken home. Either that or this home was abandoned long ago.
MomsGetNaughty.com is part of a large network of awful online dating websites
I'm not surprised to be warning you that this site is terrible. After all, this website is designed exactly the same as a number of other useless online dating websites that I have reviewed in the past.
These include WantMatures, GetNaughty, MeetWild and several more. I even spotted several profiles duplicated across this network of websites. I received 0 replies on any of them. So I would highly recommend you avoid them all.
Why bother with Moms Get Naughty when you can use AFF instead?
This is one of the worst online dating websites I have ever tested. There is no reason to spend any time looking for naughty moms here.
If you're looking to connect with naughty and adventurous older women, I'd suggest you stay well away from MomsGetNaughty and navigate to AFF instead. It's one of the original hookup websites – having launched way back in the early 2000s – and it remains one of the best to this day.
AFF has built one of the largest online dating user bases, including masses of horny older female users. We love it because the majority of its members are down to quickly meet up and get down to business. Whether you're looking for a quick-and-easy one-night stand or a casual relationship, it should be simple to find a suitable partner on this website.
Better still, it's currently offering a free trial to all new users. So, what are you waiting for? Stop wasting your time deliberating over second-rate websites and head on over to AFF now.
Pros and cons
It was incredibly difficult to find any good points for Moms Get Naughty. It is a pretty useless website, whichever way you look at it.
The website is well-designed
No messaging available with a free account
No reading the messages you receive with a free account
Spam messages from what appear to be fake accounts
No-one replied to me; there's no evidence of even one naughty mom waiting for you on this website
Profiles, pictures and members
The women listed on this website are aged between 29 and 78. Moms Get Naughty makes it simple to add plenty of personal details to your profile by giving you a set of multiple-choice questions to answer about yourself. On top of that, you can add a 140-character status, plus photos and videos of yourself.
Most of the profiles I browsed had one or more photos. But I couldn't find a single profile to have added more than a generic line of bio text. You're given the option to request that a member fill out specific details about themselves, although there's no evidence that there are real women behind any of these accounts.
Moms Get Naughty Alternatives Dating Coaches Recommend For Regular Men
A lot of normal guys are struggling on dating apps because they didn't take the time to figure out what app will work for them. There are really only a few options out there that consistently work for regular guys. Try these first:
Site
Our Experience
Our Rating
Free Trial Link

Best Hookup Site Right Now

Experience Highlights

Top option for local hookups by far
Best results for regular guys
Over 60 million active members
The design needs an update

Try AFF For Free

Great If You're Handsome

Tinder Highlights

Great if you're pretty good looking
Very popular, especially if you're 18-22
Really focused on photos
Becoming more of a dating than hookup app

Try Tinder

2nd Best For Most Guys

Experience Highlights

2nd best option to find hookups
Attracts an older crowd than most hookup apps
Pretty popular
Solid free trial

Try Passion
MomsGetNaughty.com design
It's a well-designed website, which is easy to understand and navigate. Your home page allows you to search for women who may interest you. You can filter by age and location. When you click the "chat" button below these profiles, a small chat box pops up in the bottom-right corner of the screen. You can access your previous chats from this pop-up box. I'd have no problem with other legitimate online dating websites using this simplistic design.
Messaging and chatting
You'll be flooded with spam messages from the moment you register a free account. You won't be able to read or reply to them until you pay for a premium membership. Once you pay for a premium account, you can send unlimited messages to unlimited accounts. You can send text, photos or videos. However, I couldn't find one account that replied to my messages, including those that messaged me before I signed up to a premium account.
What can you do with a free membership on MomsGetNaughty.com?
With a free profile, you'll receive a ton of messages from accounts that don't seem legitimate. You won't be able to read any messages, reply to them or message anyone until you pay for a premium account.
Advertisements
There are a few small text-only adverts for other dating websites dotted around the site. They'll tell you "19 Girls Are Seeking Your Attention" or "7 Girls Are Waiting For You." Don't be fooled. These adverts just take you to other websites in this awful network.
Pricing
If there's one silver lining, it's that you can buy short premium memberships just to test this website out. Hopefully, the majority of the guys tricked into throwing money at this website opt for the one-day membership. That's all it should take to realise that this website is absolute garbage. You can buy a one-week, one-month or three-month membership too.
Here's how much each will cost you.
One day: $0.99
One week: $7.00 ($1 a day)
One month: $28.80 ($0.96 a day)
Three months: $48.60 ($0.54 a day)
Even if these memberships were ten times cheaper, they still wouldn't be worth the money. There's an add-on pack available, offering you HTTPS encryption, incognito browsing, read receipts and auto history cleaning for an additional $0.95 per day. This add-on will supposedly allow you to appear higher in other users' search results and inboxes. Not that it will matter if there seem to be no real users who will respond to you.
Moms Get Naughty Review: Frequently Asked Questions
If you're looking for a site where you can meet hot MILFs and think MomsGetNaughty looks promising, read our FAQs.
What is MomsGetNaughty.com?
MomsGetNaughty claims to be a MILF dating site. While we saw lots of profiles of MILFs, it turns out none of them are responsive. This site is a waste of time.
Who actually owns MomsGetNaughty?
MomsGetNaughty is operated by InfraWeb Solution Limited. They also operate an entire network of low-quality dating sites.
How can I contact Moms Get Naughty?
You can contact Moms Get Naughty by calling them at 18009576037 or emailing them at [email protected]
Is MomsGetNaughty.com real?
While MomsGetNaughty.com may be a real site, it's for sure a site that's a waste of time.
Is MomsGetNaughty legit?
No, there is no sign of any naughty moms (or anyone) to speak to on MomsGetNaughty.
Is Moms Get Naughty a scam or fake?
Yes, absolutely! This website might convince you into paying for a membership, only to deliver nothing in return. Warn anyone who's looking for naughty moms online!
Is MomsGetNaughty.com safe?
No, we have reason to believe that MomsGetNaughty isn't safe at all.
What are MomsGetNaughty alternatives?
See our guide on the best hookup apps and websites for a full list of recommended alternatives to Moms Get Naughty.
How does Moms Get Naughty work?
Moms Get Naughty works by showing you profiles of hot MILFs when you log in. But to contact any of them, you need a paid account. On top of that, once you pay for a membership, you'll find that barely any of the seemingly eager MILFs will reply to you.
Is there a MomsGetNaughty.com app?
MomsGetNaughty.com doesn't have an app.
How much does Moms Get Naughty cost?
The price ranges for each length of premium membership are listed below.
One day: $0.99
One week: $7.00 ($1 a day)
One month: $28.80 ($0.96 a day)
Three months: $48.60 ($0.54 a day)
How can you use MomsGetNaughty for free?
By signing up you automatically get a free MomsGetNaughty membership. This membership doesn't allow you to interact with anyone, though since it's a fake site, neither does a paid membership.
Can you send messages for free on MomsGetNaughty.com?
You need a paid MomsGetNaughty.com account to send messages.
How do you cancel your MomsGetNaughty account?
Click your profile picture in the top-right corner of the screen.
Navigate to "My Settings."
Click the "Remove Account" button near the bottom of the page.
Enter your password.
Check the box that says: "Remove my profile, contacts and personal information completely."
Give a reason for canceling.
State why you want to cancel.
Confirm that you want to cancel.
Click the link that will be sent to your email address.
Bear in mind that your billing will automatically recur at the same rate until you do this.