Atlanta is sprawling with bachelors and bachelorettes looking for love. In fact, we'd say it's one of the top cities in the US for single people. And why not? The city boasts a vibrant social scene, plenty of potential date spots and an active online dating community. The pandemic changed the way some Atlantans interact, but the dating scene is still bustling. This is why the best dating apps in Atlanta are full of singles like you!
Whether you're new in town or a native of Atlanta, meeting eligible singles will be a breeze. And we're not talking about just any singles. Most Atlantans are into fitness, have great jobs and are sophisticated. You'll have a great shot at meeting high-quality dates here!
While there are many cool bars in the area and the nightlife is excellent, you'll still find most Atlantans in dating apps or sites. After all, going digital remains to be the easiest way to find attractive, eligible people to mate with. If you're looking to connect with a hot and well-educated Atlantan, you're better off searching for them in Atlanta's best dating apps and sites.
#1 - Tantan is one of the best Atlanta dating apps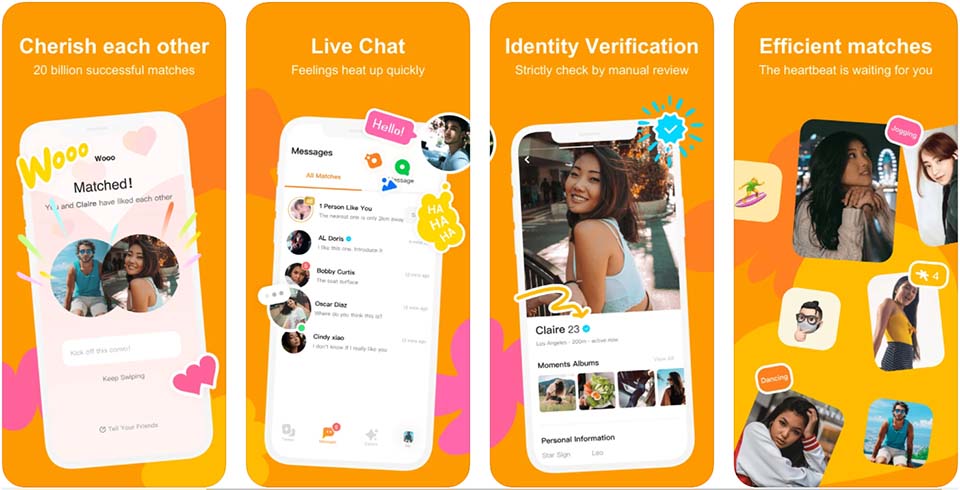 Tantan is a Chinese-developed dating app that's spread internationally and is becoming more popular and more popular in Atlanta. It functions as a dating app and social media platform of sorts as once you create a profile, you can post status updates, upload pictures and videos, and swipe to find matches.
Another great feature Tantan offers is the ability to play games with your matches. This is a great way to have fun and get to other singles in a low-pressure way. There are 60,000 members on Tantan from the US alone, so you have plenty of opportunities to find your perfect match.
Why you should try Tantan:
It's free to use with the option to purchase additional features
Plenty of fun features like quizzes and games
Enjoy a safer dating app experience as users can't take screenshots of profiles to share off the app
What we don't like about it:
There are fake profiles as registration is free and easy
There's no desktop version available
#2 - eHarmony (Android; iOS) is where you can find someone to potentially settle down with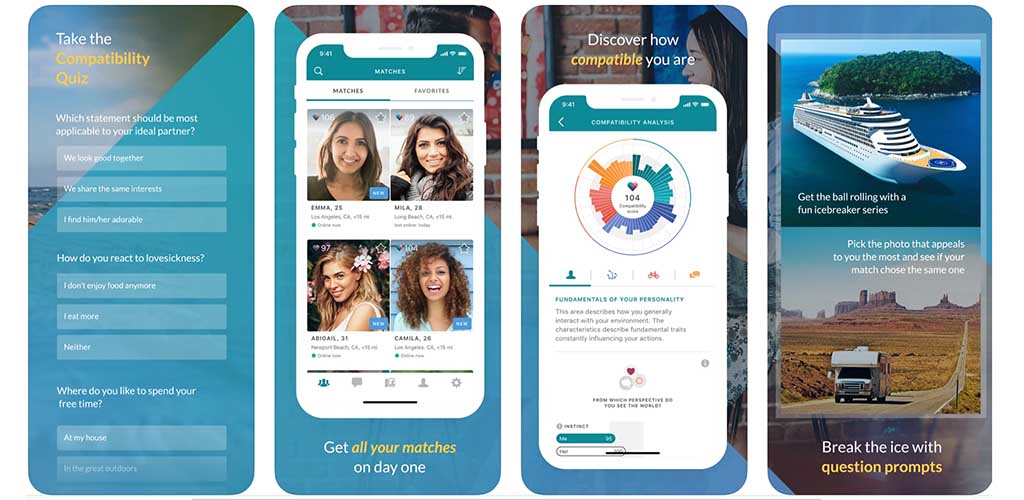 eHarmony is one of the best dating sites in Atlanta (and in all of Georgia) for those who are looking for a potential partner for marriage or long-term relationships. Rest assured that the singles you'll find here are not just after your good looks but are interested in your personality, beliefs, passions and interests too. There's a thorough profile-building process that aids the app to find the most compatible match for you. It's data-driven so compatibility comes first before anything superficial.
While it's free to download, you have to pay for the upgrade to send messages and get the ball rolling. It might not be a free dating site, but finding someone special to spend the rest of your life with? That's priceless.

Why eHarmony might just seal the deal for you:
Get to know your potential dates well
Security features to prevent fake profiles or bot
Allows video chat
What we don't like about it:
The exhaustive questionnaire when signing up can be daunting
Many features are not available on the free version
#3 - Meet single professionals in Atlanta at Elite Singles (Android; iOS)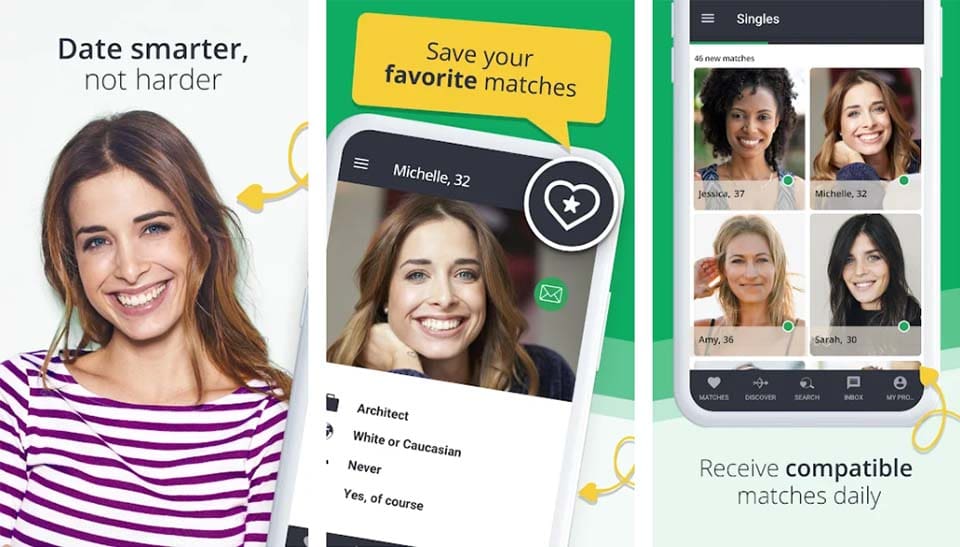 Is career a big factor for you when it comes to dating? Well, then Elite Singles might just suit your taste. When signing up, you'll be asked about how well you manage conflict, how you describe yourself, your strengths and fears, and your dislikes and preferences.
It has a straightforward questionnaire with both professional and personal questions. Why the professional questions? Because talking about work and your passion can be a great ice breaker when it comes to meeting someone new. Elite Singles will allow you to meet smart, single Atlantans with the same ideals and goals as you. Since most singles in Atlanta are young, college-educated professionals, it will be a miss not to jump on Elite Singles.
Why Elite Singles is one of the best Atlanta dating sites:
Widely informative profiles
Thorough sign-up process deters people from creating fake profiles
The best app to find educated professionals in Atlanta
What we don't like about it:
You can't verify whether the users' jobs or salary indicated in their profile are legit
Making the profile requires patience
#4 - In need of a quickie? AFF is your best bet.

There's no shame in opting for some casual sexy fun with no commitment and AFF allows you to do just that! It's one of the top sites to find online users with the same ardent desires.
Signing up with other dating sites in Atlanta doesn't ensure that you'll get to bed someone even after talking to them for a long time. With AFF, you're bound to meet users who are as lustful as you so there's no need to pretend that you have other intentions apart from getting intimate.
Fulfill your sexiest fantasies and find a willing companion on AFF. Be as straightforward as you want and find the hottest booty calls in Atlanta.
Why AFF is the hottest dating site to be on:
The easiest site to find a short-term relationship
You can get a lot out of the site without paying a penny
Find a variety of people with unique fetishes
What we don't like about it:
A few bots on the free version
The site has some ads and pop-ups
The abundance of inactive profiles
You Can Try AFF Free!
If you're just looking for a fling or more short-term fun you need to
try out AFF's free trial
. We've spent months and months testing out the alternatives (more than 100 other sites) and haven't found anything that gives most guys more options and better results. Give it a shot!
#5 - Bumble (Android; iOS) is where girls make the first move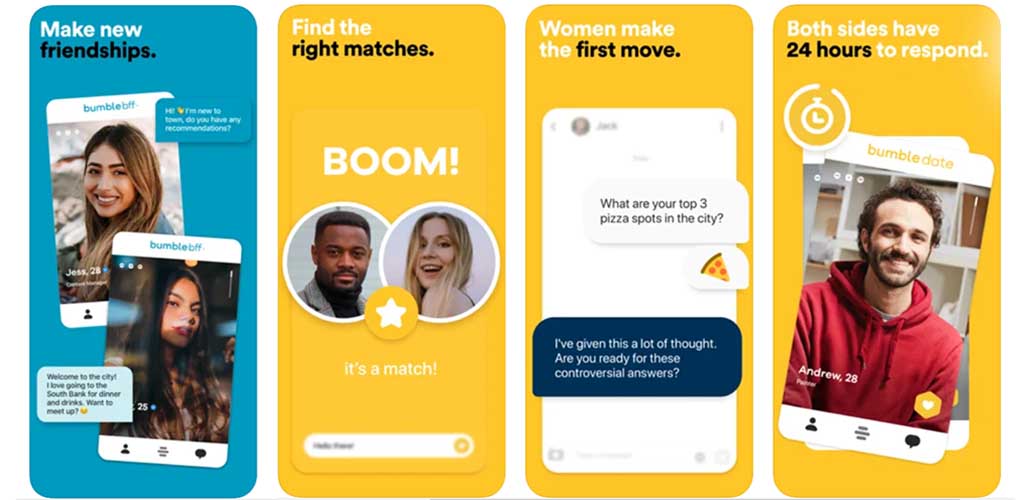 If you're a guy and have been on the online dating game for a while now, you know how frustrating it can be to continuously send the first messages and only get a few responses. With Bumble, girls make the first move so you'd know if they're really interested or if they just swiped right by accident. It has the same swiping mechanics like Tinder but has more features to shortlist only the most qualified matches.
Matches have a 24-hour expiry so if a day passed by without your match sending you a message, they'll be removed from your match list. Apart from Bumble dating, the app also offers Bumble BFF to meet new friends and Bumble Bizz to acquire new connections to expand your professional circle.
Why we recommend Bumble:
Women make the first move
Popular among the younger crowd
Allows video chat
What we don't like about it:
More focused on showing off your photos than your personality
Men must wait until they receive their first message, which can take a while
#6 - Zoosk (Android; iOS) is one of the best dating apps in Atlanta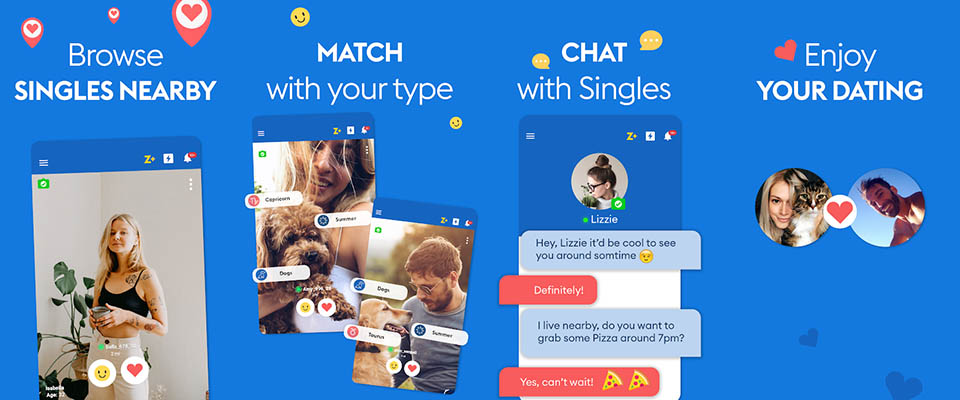 Zoosk is a great dating app for people in their 20s who want a real relationship. Many young people use Tinder, but it has a reputation as the place to find a hookup, so it's not the best option for a long-term relationship. Instead, try Zoosk.
There are over 35 million young and active users on the app looking for a relationship, so you won't struggle to find someone in Atlanta. You can search for matches on your own or consider the curated matches Zoosk sends you.
Why Zoosk is one of the best Atlanta dating sites:
Easy access to Zoosk via desktop or app
Balance between men and women users
Large dating pool of young singles
Why Zoosk isn't that amazing in Atlanta
Free features are limited as you have to pay to send messages
Match recommendations aren't based on compatibility
#7 - Hinge (Android; iOS) is a trendy dating app in Atlanta where singles hang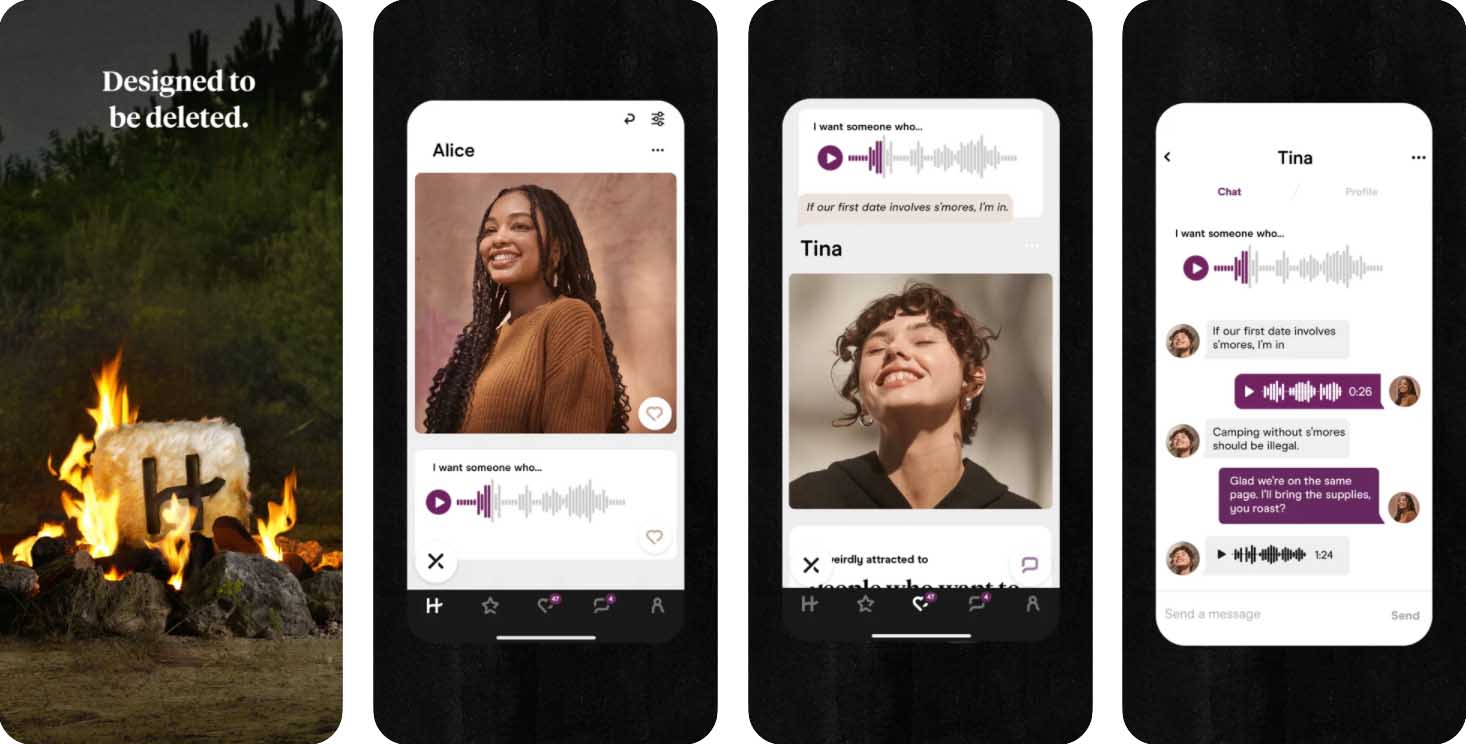 Looking for a dating app that is unlike the others? Hinge is worth the try. If you're tired of mindlessly swiping left or right and constantly finding empty profiles on dating apps, you'd like Hinge's modern interface and features.
When signing up with Hinge, you are obliged to upload 6 photos and fill out different sections of your profile to show your vitals (personal information and preference) and your virtues (your perspective on controversial topics). The basic version of the app allows you to send likes, messages and comments without having to pay for the upgrade. The great thing about sending likes is that you have to choose a particular part of a user's profile that you like. With Hinge, you don't just like their profile, you can be specific about what exactly you like!
Why we like Hinge:
Members' profiles are completely filled out
Multiple ways to like profiles
Fun and modern design
What we don't like about it:
No desktop version
Free users only get 10 likes a day
#8 - So many singles in Atlanta are on Tinder (Android; iOS)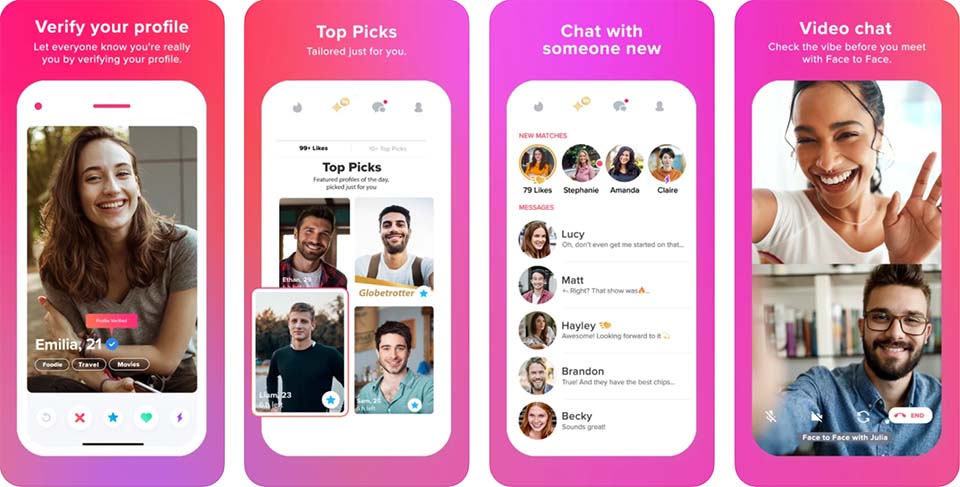 If you're looking for some instant casual fun, you can never go wrong with Tinder—especially in Atlanta. As per Atlanta Magazine, the city saw the most increase in activity per Tinder member in the U.S in 2019. Atlantans are the most active on this app and there's no asking why. It's one of the most easy-to-use apps for dating or meeting new people and it's also considered as the pioneer app when it comes to online dating.
With the number of attractive people in Atlanta on Tinder, our guess is that you'll find yourself swiping right more often than swiping left!
Why Tinder is one of the best Atlanta dating apps:
User-friendly interface
Huge user pool in Atlanta
Free version is still fully functional
What we don't like about it:
Limited number of swipe rights without an upgrade
Limited amount of information on potential matches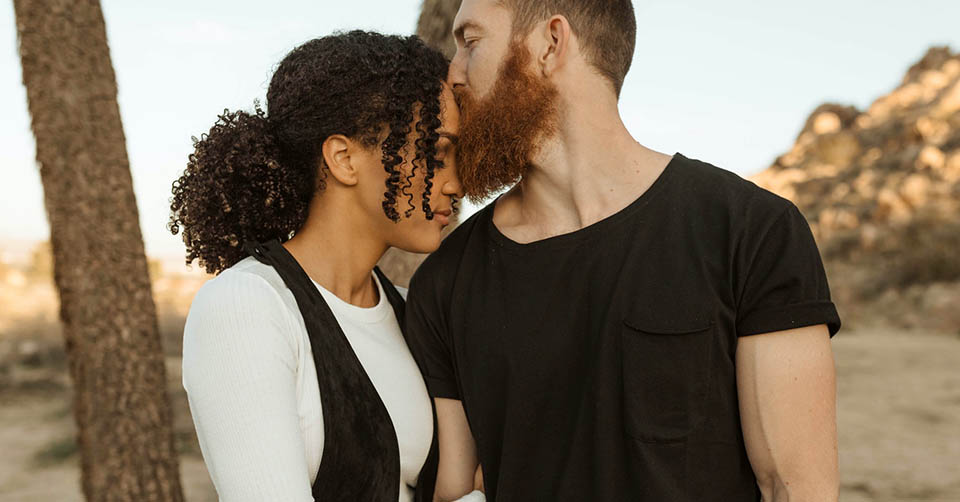 The Best Dating Sites in Atlanta for Long-Term Relationships
Although we've already discussed nine great dating sites in Atlanta, we want to focus on some of our favorites for finding a long-term partner if that's what you're after, of course. Here are two great options:
eHarmony is the best Atlanta dating site to find a relationship
We might have discussed eHarmony already, but it's worth mentioning again. It's one of the best sites for finding true love. In fact, 3 out of 4 marriages that started online started on eHarmony. Those statistics are hard to deny, so if you're looking for a serious relationship, forget the other apps and just try eHarmrony.
It has a rigorous sign-up process as you need to complete a detailed questionnaire, which can put people who aren't serious off. We love the questionnaire as it asks questions about your personality, interests, and preferences in a partner, allowing eHarmony to match you with people you're actually compatible with.
Christian Mingle is the site for religious singles
Christian Mingle is a dating site for Christian singles to find love. Talking about religion can be awkward and uncomfortable for some, but not on Christian Mingle. Everyone on the site is Christian, so you'll share similar values and ethics, which is extremely important in serious relationships. Although everyone on the app is Christian, there's not a shortage of members as there are over 15 million active users that you can start talking to.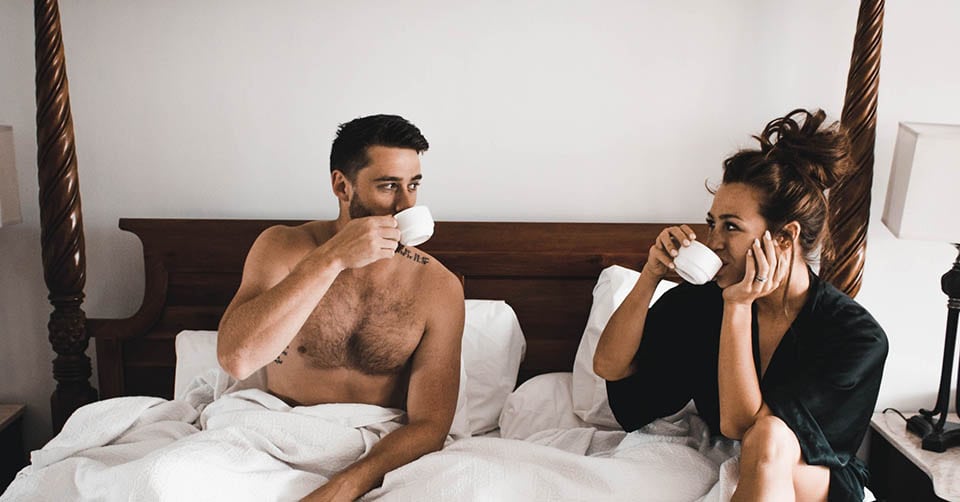 The Best Hookup Sites in Atlanta
Not everyone is on dating apps to find true love, some of us just want a casual fling. Thankfully, there are plenty of sites for that. Here are some of the best Atlanta hookup sites to consider:
Adult Friend Finder (AFF) is the best hookup site in Atlanta
AFF is another site that we had to mention twice as it's the perfect place to find casual relationships in Atlanta. As the site is clearly advertised as the place to find hookups, there won't be any misunderstandings about your intentions. There are over 50 million users, many of which are aged 25+, so it's a great alternative to hookup apps targeted to younger singles.
It is a paid site, but you can try it for free to make sure it's what you're looking for in a dating site. If you do decide to pay for a membership, consider it an investment. You can search for potential matches based on location, so finding a quickie has never been easier.
Tinder works wonders if you're young and hot
Everyone has used Tinder at some point. You swipe through anyone within your search parameters and you'll hopefully find a match. It's popular, free and easy to use. The only issue we have with Tinder is that it tends to favor good-looking singles. Great guys who don't have amazing photos tend to be ignored in favor of guys who have more flattering photos. It's still worth a shot if you're looking to hook up, but don't expect it to be super easy!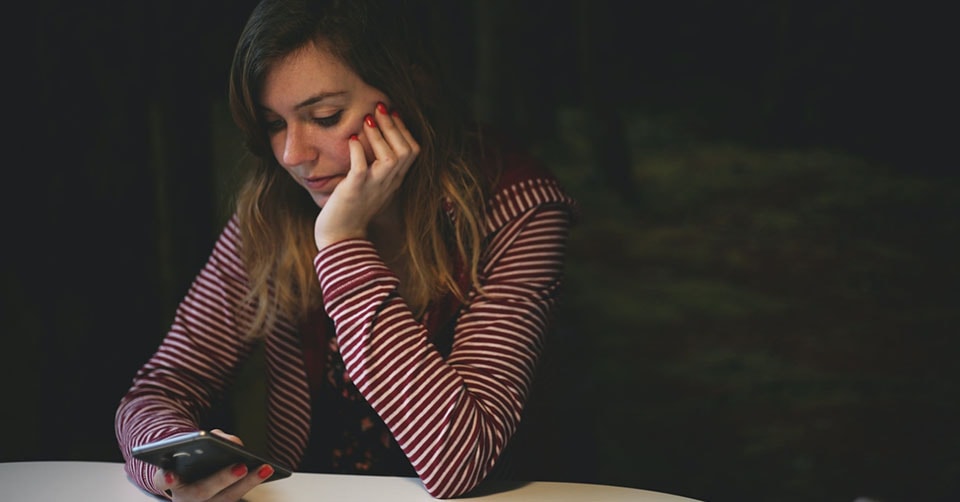 The Best Free Dating Sites in Atlanta
With so many free and paid dating sites, choosing the best one for you can be tough. The free versions might sound tempting, but they lack the features and results that paid dating sites offer. It's important to remember that you get what you pay for, so think of a paid membership as an investment in your future.
Paid sites tend to attract people who are serious about online dating, increasing your chances of finding a long-term relationship. But even if you're just looking for a hookup, paid sites are still a better option. Paid sites can help you find quality matches, often in less time, so you won't have to spend your days endlessly swiping.
Most dating sites offer free versions or trials so you can test the waters and see if you want to make the investment by purchasing a membership. Just don't set your expectations too high with the free experience. Here are some of the best free dating sites in Atlanta:
Give these a go if you're not willing to shell out money on finding a date. But like we said, most free apps are worth what you pay for!