Picking the best dating apps in San Francisco is no easy task. It seems like every new app is getting launched here first and most of them are just a big waste of time. Fortunately, we've put in the time to find out what's working and what isn't in SF.
We have tested over 150 dating apps to find the best ones and have compiled this list specifically for you. These are the apps that are really popular, easy to use, but most importantly actually work to meet other singles! So, this list is curated for those in Sunset, FiDi, Chinatown, the MIssion, or anywhere in SF. Keep reading to find out what really works!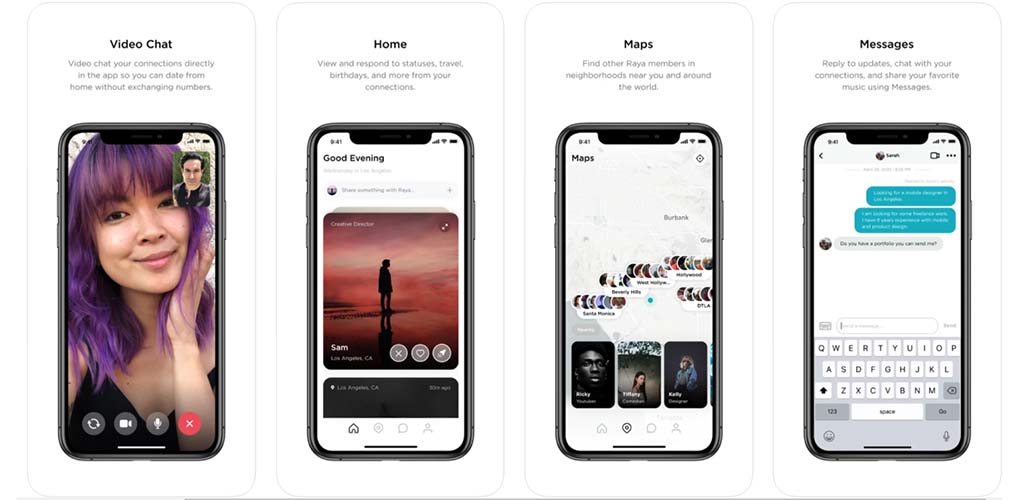 #1 - Raya (iOS) is one of the best dating apps in San Francisco for the "elites"
Raya is one of the best apps for high-profile singles to meet one another. Celebrities and top-level executives may have a hard time using regular dating apps, so Raya is a great alternative.
Raya is an exclusive dating and networking app where approval is tight. You typically need over 5,000 Instagram followers to be approved, but that doesn't guarantee you a spot on Raya. If you do pass the rigorous application stages, you will be able to interact with other high-profile singles in San Francisco.
Why Raya is one of the best dating apps in San Francisco
Acceptance is tough so only other elite members will be on the app
Raya can be used for networking or dating
Being catfished is near impossible thanks to extensive screening
What we don't like about it
Raya is not available for Android
No one knows what exact standards you need to meet to get approved as 5,000 Instagram followers is not always enough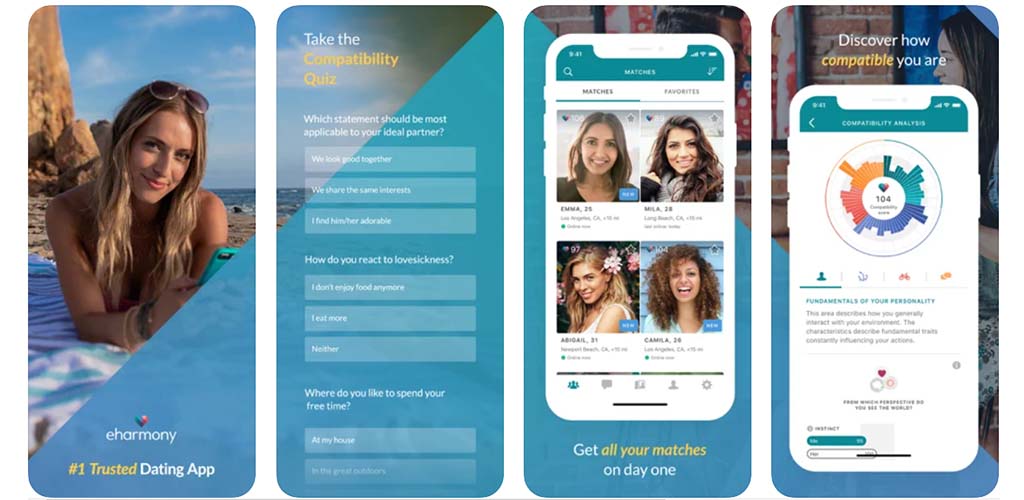 #2 - eHarmony (Android; iOS) is the best dating site in San Francisco for long-term relationships
eHarmony might not be the shiny new option but it's undoubtedly San Francisco's best dating site for real relationships. There are tons of new apps popping up every year but nothing has come along yet that can compete.
What makes eHarmony stand out is how effective it's been and how much it actually does for you. In terms of results, eHarmony has quite a track record. 75% of all marriages that begin online start with eHarmony and nearly 70% of users find their long-term partner within a year. Those are crazy numbers.
We really like that it also does most of the work. Most apps have you scrolling through hundreds of profiles to find one good match. Here, they send you matches every day that fit exactly what you tell them you're looking for. It doesn't get easier than that.
If you want a real partner this is the best game in town.

Why eHarmony is great
The best dating sites in San Francisco for long-term relationships
70% of users find their future spouse within a year
Makes it pretty easy to form connections
What we don't like about it
It definately takes more time than most to get started
Not super popular with those 18-22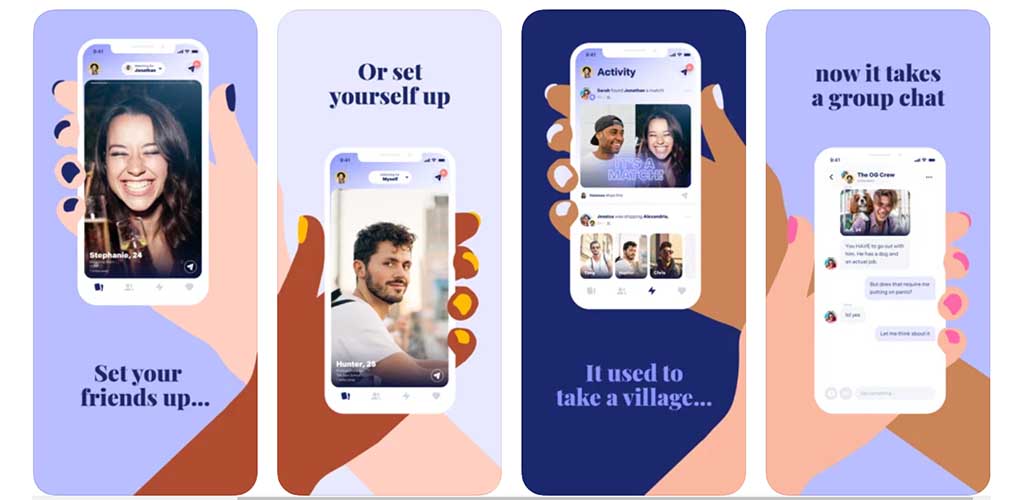 #3 - Ship is for dating with your friends (Android; iOS)
Ship is a new take on traditional dating apps as your friends will be helping you pick your matches. On Ship, you create your dating profile then invite your matchmaking crew to join as well.
Your team of matchmakers can then swipe through profiles and match with anyone they think you would like. You can also video chat with your matchmakers on Ship, so you can go through potential matches together.
Why Ship is great
Ship helps you spend time with your friends while also looking for a date
If you want to use Ship on your own, you can as well
Has great features like a group video chat
What we don't like about it
You have a limited amount of likes every day
The dating pool is quite small as Ship is still new

#4 - AFF is the best hookup app in San Francisco
AFF has got to be the first hookup app in San Francisco you try if you actually want to get some results, especially for men. Tinder is legit competition here but it's become more of a dating app these days. If you want a REAL hookup app AFF is where it's at.
For an app to work, you need a lot of people using it and a clear focus. That's where AFF really delivers. They have a ton of locals using it and over 60 million total users. That's a lot of options!
The biggest reason AFF seems to work so well though is that it's purely focused on being the best hookup site in town. Everyone who uses it is looking for the same thing and there are very few attention seekers that seem to flock to Tinder. People here actually want to meet up. Check out their free trial below and see.
Why you should try AFF
Probably the most popular hookup app in San Francisco
60 million users means that you get a lot of locals AND a lot of tourists on it
Easy to use
What we don't like about it
Many users can only access via web app
Needs a design update
Fair amount of ads
You Can Try AFF Free!
If you're just looking for a fling or more short-term fun you need to
try out AFF's free trial
. We've spent months and months testing out the alternatives (more than 100 other sites) and haven't found anything that gives most guys more options and better results. Give it a shot!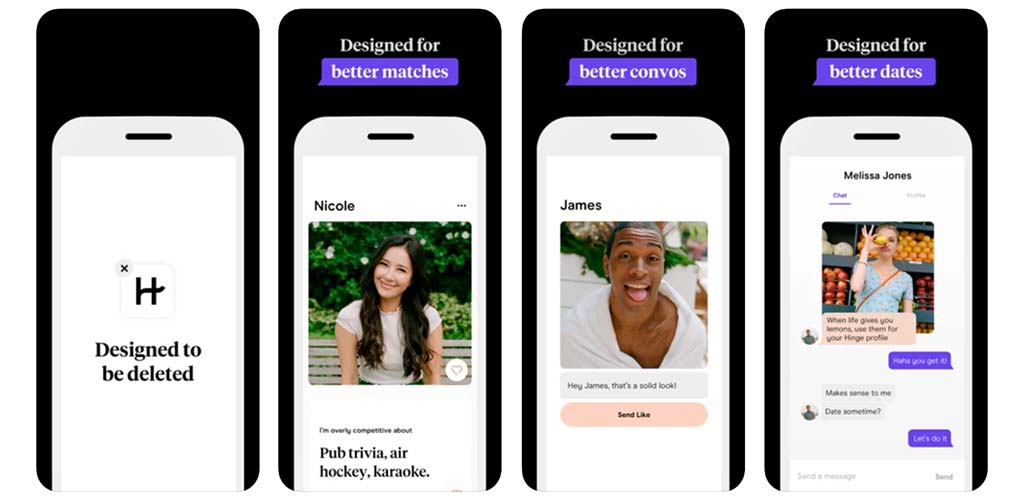 #5 - Hinge is perfect for getting the conversation started (Android; iOS)
Hinge seamlessly mixes getting to know someone based on their appearance and their profile. Many dating apps focus too heavily either on pictures or bios, and Hinge has the perfect combination of both. That makes it one of the best San Francisco dating sites.
Users upload six pictures and answer a couple of conversation prompts to set their profile up. To match with someone, you either like or comment on another user's pictures of conversation prompts. This is a great way of ensuring users actually look at the profiles and prompts help get the conversation started.
Why Hinge is one of our favorite apps
The free version of Hinge is easy to use and you can add additional paid features
Short conversation prompts are a great, quick way of getting to know someone
Hinge sends a most compatible recommendation every day
What we don't like about it
You are limited to ten likes a day with the free version
The free version only lets you see one person that liked you at a time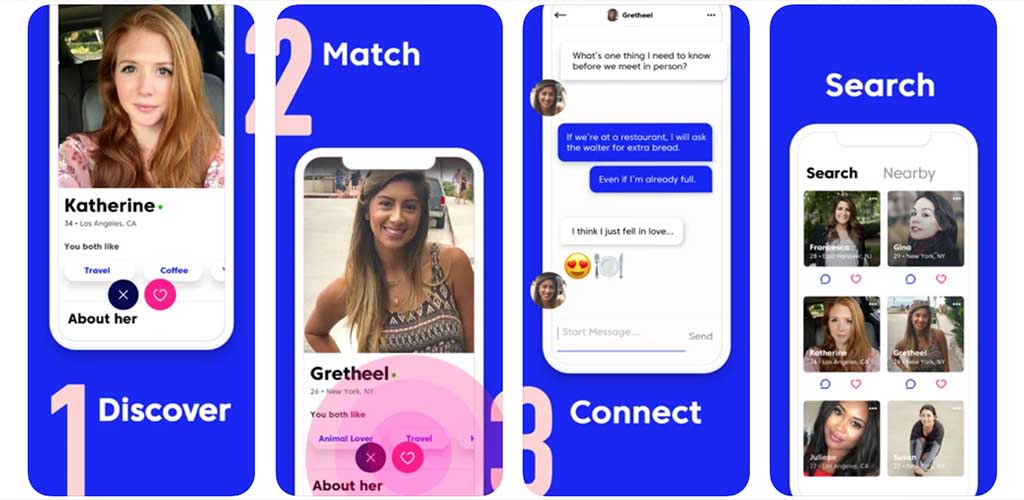 #6 - Match is one of the oldest, most reliable dating sites in San Francisco (Android; iOS)
Match.com is the oldest online dating site as it has been around since 1993. Despite their age, Match has not become outdated as they are constantly improving. The best feature Match offers is its outstanding matching algorithm.
Match.com lets users fill in a quiz about their personality, education and expectations when they sign up. Your answers will then be used to find you the perfect matches. You can also search for matches on your own. Match.com is also unique as it hosts events for users to help them meet each other in a safe and less intimidating environment
Why we recommend Match
Local events like parties are available to members
Match.com has been around for decades, so they are reliable
Detailed matching algorithm to help you find compatible partners
Why Match might not be the best dating site in San Francisco
You must have a paid membership to send and reply to messages
Membership can be expensive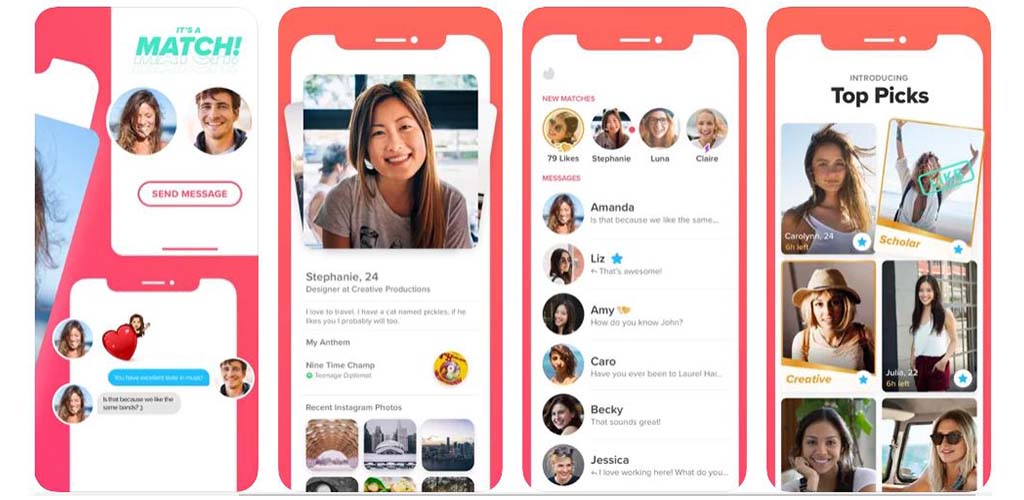 #7 - Tinder is great for young, hot singles (Android; iOS)
Tinder continues to be one of the best dating apps in San Francisco for young people. This is thanks to its reputation for being an app for casual flings. Many young people are not ready for long-term relationships, so Tinder helps them find like-minded matches.
Once you set up a profile by adding your best pictures and a short bio, you can start swiping on users. All you need to do is swipe right to like them or left if you don't. If you both like each other, you will match and can start talking. As Tinder is so easy to use, it's a great place to find casual flings, but we wouldnd't say it's the best dating app in San Francisco for finding a committed relationship.
Why Tinder is great
Tinder has over 50 million active users
Signing up to Tinder and using it are super easy
Tinder is extremely popular among people in their 20s and 30s
What we don't like about it
Tinder is very appearance-based so matches can be shallow
People are less likely to meet matches from Tinder compared to other dating apps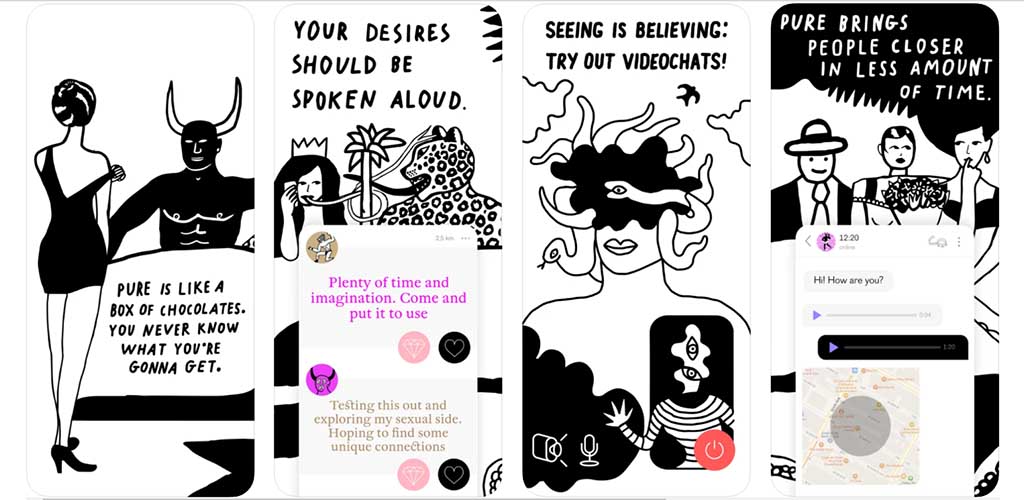 #8 - Pure is for casual flings (Android; iOS)
Pure may have a confusing name as the app's intentions are anything but "pure." Users use Pure to find quick and easy flings. Many people are not looking for relationships but still want to fuel their sex drive, and Pure can help.
Pure values anonymity and privacy, so profiles only display a selfie to attract matches. Similarly, once you match with someone, you need to make plans right away because the conversation and your profile will self-destruct. This is a quick and easy way to make plans without a constant back and forth. As everyone on Pure knows what it's used for, you won't need to have any awkward conversations about expectations.
Why Pure is one of the best San Francisco dating apps for casual flings
It's one of the best dating apps in San Francisco for casual flings, so everyone on the app wants the same thing
Setting up a profile is easy as you only need to upload one photo
Women get free access to Pure
What we don't like about it
The one-hour time limit may be too limiting for some users
Pure is location-based, so if there aren't many users in your area, you're out of luck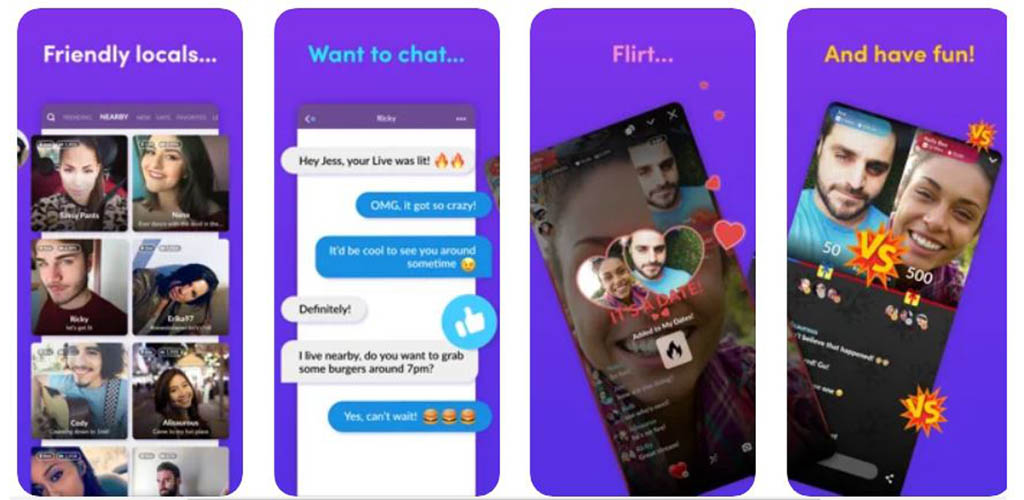 #9 - MeetMe is one of the best San Francisco dating apps if you like social media (Android; iOS)
MeetMe is less of a dating app and more of a place to meet new people. MeetMe is a social media platform, unlike any other, as you are meeting new friends rather than keeping in touch with old or current ones. You can, however, also use MeetMe for dating.
MeetMe is a great way to date, as there is less pressure compared to traditional dating apps. You can message members and become friends or go on a date if both parties agree to it. It's easy to get to know someone on MeetMe as profiles have a live feed, relationship status and sections for about you, basic stuff, what you're up to and "a little something more." Users can then send friend requests to interact with each other.
Why we enjoy MeetMe
Interactive features like games and live video streams are great ways to get to know someone
Any member, free or paid, can send or receive messages to other members
MeetMe is available via their website or mobile apps
What we don't like about it
Most features are only available for paid memberships
The search features are limited
If you are looking for more great guides to finding the right dating apps check these out: