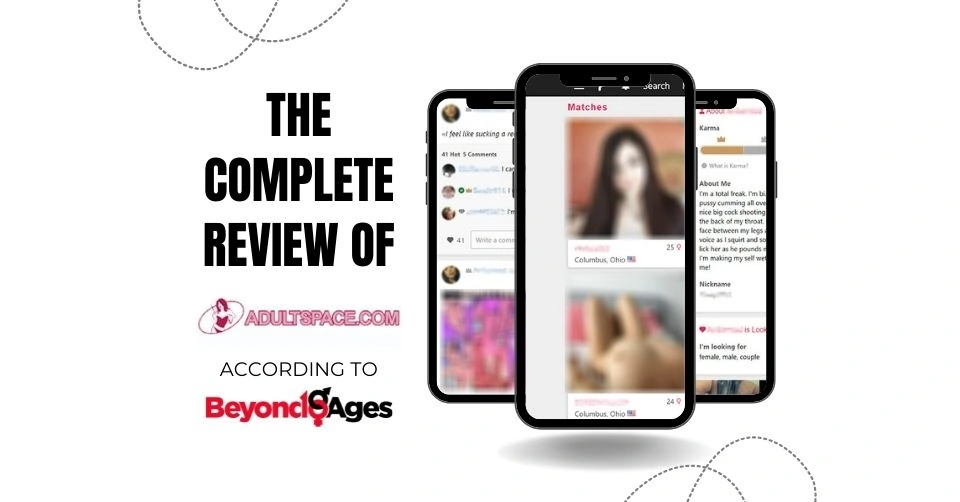 Our AdultSpace review reveals whether this online dating website is any good for organizing hookups or just another waste of time. AdultSpace is marketed as an online space for adults to connect, flirt, chat and arrange to meet up. It doesn't pull any punches, so would appear to be perfect for guys searching for some no-strings fun with beautiful women.
Sadly, a lot of these websites fail to deliver an enjoyable experience. A large majority of them are packed with bots, scammers and fake profiles. Put simply, they're a waste of time. That's why I was so keen to complete this review of AdultSpace.com review for you. I want to know if it's a legit website that's worth using to find casual sex partners.
How we reviewed AdultSpace
At Beyond Ages, we have an in-depth testing process for reviewing online dating services. For each website, we use the same profile information and opening lines to ensure we make fair comparisons.
However, before we begin our testing, we leave our profile blank for 24 hours. We do this to test if the website is flooded with bots and fake accounts. If our blank profile is flooded with messages, that's a surefire sign there's something dodgy going on.
Either way, we buy a premium account afterward and send messages to 50+ women trying to meet up. Our review of each website is based on how responsive these women are and how many are actually willing to take things offline. How many women view our profile? How many reply to our opening message? How many are willing to share contact details – and how does this compare to the best websites out there?
To find out how AdultSpace.com compares to the best hookup sites and aps, read on.
Our Full AdultSpace Review
If you're not too fussed about learning how every aspect of this site works, I have created a basic summary for you below. It rates AdultSpace out of 10 for the most important aspects of online dating.  To create some context, I have added a direct comparison to AFF – the hookup website that we rate as the absolute greatest for organizing no-strings fun for most guys based on our experience.
Overall

Our team rates each site objectively based on many hours of independent research, the features each site offers, and how it compares with other sites. The ratings are the opinion of our editors and their extensive experience.

3
9.5
Quality of Women

Our opinion of how attractive the typical woman is that uses this site and how easy they are to connect with compared to other sites.

3
9
Popular

How many people are using this site to actually meet people compared to other sites.

6
9
Usability

How easy is this site to use and how quickly can an average person begin meeting people compared to other sites.

7
10
Privacy & Safety

Does this site take proper precautions to safeguard its members, their identity, and their data.

1
10
Effective

Our opinion of how easily an average person will be able to achieve their dating goals with this site compared to other sites.

1
9
Value

Will the time and money spent using this site pay off for an average person based on the opinions and experience of our editors.

1
10
Our Recommendation
After spending a lot of time using AdultSpace we have to recommend that you avoid it completely and check out another site. As you will see in more detail below, the chances that most men will find any real women that respond is very low. We've had much better results with other options out there, especially AFF, which makes it impossible for us to suggest even trying AdultSpace.com after this review.
Do yourself a favor and try something else! If you're not yet convinced read on to find out the details.
Upon creating an account at adultspace.com, I was immediately redirected to fuckbook.com. It's relatively common for hookup websites to buy a handful of URLs, create several brands that target different demographics, then redirect all users to its main service after they sign up.
We reviewed FuckBook a while ago, but I decided to put it through its paces again in this review to see if there have been any changes. Here were my main findings.
Adult Space is set up like a social media website
Once you log in to the website, you'll be presented with a feed of recent status updates from women. These are mostly dirty pictures. Most of these attract numerous comments within a few minutes of being uploaded. You can comment as well.
This creates a first impression that the website is bustling with activity. That's because this feed of updates is automatically set to "popular," meaning it is only showing the posts with the most engagement. If you see a woman you like, you can add her as a friend. They'll need to accept your request for it to be confirmed. It is possible to switch this feed so that it only shows updates from your 'friends'.
AdultSpace automatically matches you with women
As soon as I set up an account and navigated to the 'Matches' tab, I was surprised to see that there were already 52 female profiles from my local city there, even though I'd only been a member for a few minutes and hadn't messaged anyone.
This figure continued to grow as the test continued. These women hadn't actively "matched" with me. More likely, their profile matches what I told AdultSpace I was looking for.
AdultSpace's Icebreaker feature could automatically match you with women. You'll be asked if you want to turn this on after you've registered an account. If you do so, the site will send automated profile views, Icebreaker messages and friend requests on your behalf. If you don't, you won't receive any Icebreaker actions nor have any sent on your behalf.
The site doesn't reveal how many messages are sent via Icebreaker. It does state that Icebreaker actions will only be sent to and from active users who have logged in within the last four months and match at least one of your preferences. I chose to keep Icebreaker turned off because I wanted to communicate with real women, not automated messages.
The women on AdultSpace were almost exclusively unresponsive
I sent 50 messages to women based in and around Ohio, United States. Almost all of the women I messaged were labelled as online or recently online. Even so, I only received one reply to my messages. That conversation fizzled out pretty quickly too.
I sent friend requests to everyone who I messaged, but only that same one woman accepted it. Three women had viewed my profile within a week of me signing up to the site (and only two from Ohio).
So, even though AdultSpace would appear to be the hive of dirty adult activity, that wasn't the case when I tried to contact people. It makes me wonder how much engagement on this website is automated through the Icebreaker feature.
Why bother with AdultSpace when you can use AFF instead?
Adult Space does a great job at looking like a thriving hookup website. However, AFF is the real deal. Wherever in the world we look for hookups on this website, it delivers. This is the original hookup website – having launched back in the early 2000s – and it remains your best option for finding a quick and easy casual encounter.
It has a huge active user base across the globe. Most of them are actively looking for casual sex or a no-strings relationship. It's awesome. There's no reason to waste time trying to wade through all these automated messages and inactive profiles to make AdultSpace work for you when you can use AFF instead.
Best of all, it's currently offering a free trial to all new users. That means there has never been a better time to create a profile there.
Pros and cons from our Adultspace review
Here's what we loved and hated about Adult Space:
An online dating website designed like a social network
Icebreaker feature sends messages to women for you
Plenty of hotties posting explicit content
You'll receive a lot of automated messages, including some from inactive accounts
Awful engagement when you try to message anyone
Profiles, pictures and members on Adultspace
The profiles on AdultSpace have a clean design, with your most recently added photos being automatically uploaded to your cover photo. Below your main profile photo, you'll see a user's most important details: their gender, age, location, who they're looking for and whether they use Icebreaker. Scroll down and you'll find a feed of their most recent photos and status updates.
There are loads of attractive female profiles to browse through, although getting them to reply to you is likely to be difficult.
Adultspace.com design
This website has a lot of unique aesthetic features that we noticed during our review of Adultspace that I'd love to see other online dating websites take inspiration from. The feed of recent status updates is interesting. The friends list on the right-hand sidebar makes it easy to find someone to message, especially given the fact it shows who is currently online. The cover photo collage of a user's most recent images looks great and the huge photos are very engaging. After all, pictures are the most important part of online dating.
The search filter system, however, is less intuitive than other online dating websites, and it's not immediately clear what the 'matches' tab represents. But overall the website has a great design.
Messaging and chatting
You won't be able to send or reply to any messages until you register for a paid account. Once you sign up for premium membership, you'll be able to send unlimited messages to an unlimited number of members. You can send text, emojis and images via instant message.
A list of your matches and friends appears on the right-hand side of the website. You'll see when these people are online, and you'll be able to click on their username to start a chat.
There are good and bad points to the Icebreaker feature. On one hand, it allows you to get in contact with other members without you having to do anything. On the other, it could be used to contact members you have no interest in – and there's every chance that most of the messages you receive are automated too.
What can you do with a free membership on AdultSpace?
With a free profile, you can view other profiles but won't be able to send messages. Our Adultspace review that was limited to the free option didn't allow us to accomplish much.
Advertisements that we found reviewing Adultspace
There are plenty of pornographic banner adverts dotted around the website in the header and sidebars.
Pricing
You can pay monthly or quarterly for an AdultSpace membership. With a quarterly membership, you'll pay 50% less per month.
The pricing is:
Monthly: $29.95 every 30 days
Quarterly: $44.85 every 90 days
These payments will automatically recur until you cancel your membership.
Adult Space Review: Frequently Asked Questions
In case you're in a rush and just need some quick and easy answers about AdultSpace, here are some FAQs:
What is AdultSpace?
AdultSpace is a dating site that looks like a social media site. You get matches and receive messages. However, whether you pay for a membership or not, it looks like this site is so quiet that it's a waste of time.
Who actually owns Adult Space?
Adult Space is operated by Dime Argyle, a company based in Grubbenvorst, Netherlands.
How can I contact AdultSpace.com?
You can email AdultSpace.com via email at [email protected] or through their contact form: https://www.adultspace.com/en/about/contact
Is AdultSpace real?
Yes, AdultSpace is real. And it looks like there were some real users on the site at some point. Today, however, it looks like very few of these real users actually still use the site.
Is Adult Space legit?
AdultSpace appears to be a legitimate hookup website. However, the members seem to be mostly unresponsive.
Is AdultSpace.com a scam or fake?
It would be too harsh to call AdultSpace.com website a scam. Other than the 'Icebreaker' messages, which you have to opt in to, there are no attempts made to deceive you. But I wouldn't recommend you use this website to find a hookup either.
Is AdultSpace safe?
AdultSpace appears safe enough. But we still think it's a waste of time.
What are Adult Space alternatives?
See our guide on the best hookup apps and websites for a full list of recommended alternatives to Adult Space.
How does AdultSpace.com work?
When you log into AdultSpace.com, you'll see profiles of various women much like you would on Facebook. You'll also receive "Icebreaker" messages, which are automated messages sent out from profiles (whether active or not). However, to respond to these messages, you need a paid account.
Is there an AdultSpace app?
No, AdultSpace doesn't have an app.
How much does Adult Space cost?
These are the payment plans for Adult Space:
Monthly: $29.95 every 30 days
Quarterly: $44.85 every 90 days
How can you use AdultSpace.com for free?
With a free AdultSpace.com account, all you can do is look at profiles and receive messages.
Can you send messages for free on AdultSpace?
No, you need a paid AdultSpace account to send messages.
How do you delete or cancel your Adult Space account?
Click the menu symbol in the top left of the Adult Space landing page.
Click "My Account" on the menu.
Then, you'll see the "Delete My Account" option in the top right hand of the page.
Enter the Captcha number provided, then click the big red "Delete My Profile" button.
This will also cancel your subscription.