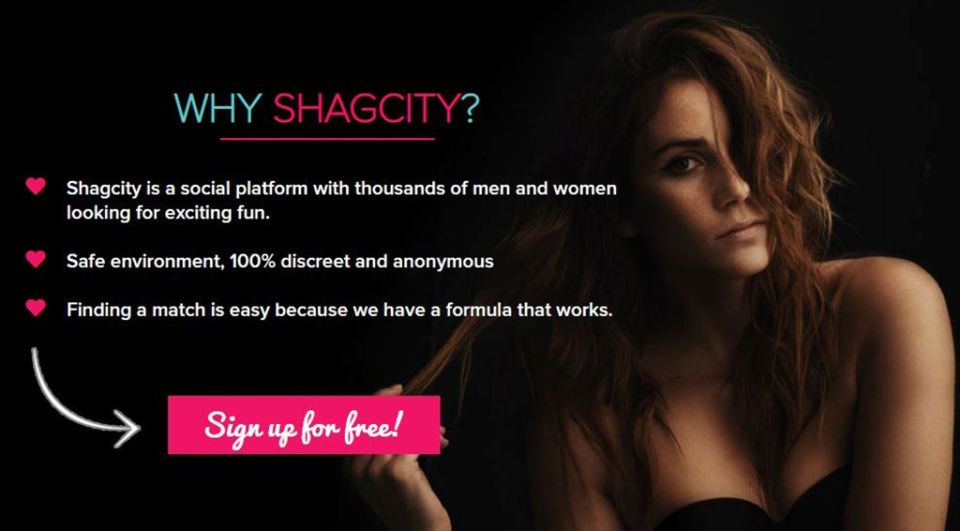 At first glance, Shag City would appear to be the ideal website to find a hot date. After all, it markets itself as a "social platform with thousands of men and women looking for exciting fun." It's supposedly easy to find a match on this UK-only website because it has a "formula that works". Sounds perfect, right? However, when I prepared to write my Shag City review, I spotted a red flag in plain sight. I'll get to that later.
Our online dating website reviews are based on how easy it is to connect with real women and meet in real life. So despite this warning, I soldiered on to see what this site has to offer. Who knows, I might still land a date!
How I reviewed ShagCity
I created a profile on Shag City, then left it blank for 24 hours. If my blank profile gets bombarded with messages, this would give a big clue as far as how many fictional profiles you need to deal with.
After that 24-hour period, I would begin sending messages to 50 of these profiles and note down how responsive they are. How many would reply? How many would swap contact details? Would any agree to meet up?
After testing out the free version of the site, I'll then shell out some cash for any premium features. In the case of this site, I paid for credits to be able to reply to messages. This will help me see if spending money on this site is worth it.
At Beyond Ages, we run every website we review through this same process with the same profile and same opening lines. This allows us to make fair comparisons between all the websites we test.
So, is it possible to meet up with anyone on Shag City? Read on to find out.
Our Complete Shag City Review
In this quick and basic summary, I rate Shag City out of 10 for all the most important aspects of online dating. These ratings are aimed at men looking to meet a beautiful woman in real life.
For context, they are compared to AFF, the legendary hookup website that we consider to the very best for arranging casual sex and no-strings relationships.
Overall

Our team rates each site objectively based on many hours of independent research, the features each site offers, and how it compares with other sites. The ratings are the opinion of our editors and their extensive experience.

3
9.5
Quality of Women

Our opinion of how attractive the typical woman is that uses this site and how easy they are to connect with compared to other sites.

3
9
Popular

How many people are using this site to actually meet people compared to other sites.

2
9
Usability

How easy is this site to use and how quickly can an average person begin meeting people compared to other sites.

7
10
Privacy & Safety

Does this site take proper precautions to safeguard its members, their identity, and their data.

10
10
Effective

Our opinion of how easily an average person will be able to achieve their dating goals with this site compared to other sites.

3
9
Value

Will the time and money spent using this site pay off for an average person based on the opinions and experience of our editors.

3
10
Our Recommendation
After spending several weeks trying to meet singles on Shag City we can't recommend that you try it. We found a ton of suspicious profiles, a lot of messages seemed to be computer-generated, and overall we just didn't find many real, attractive women. When there are so many better sites out there that can actually help you find other singles there isn't any reason to stick around here. The headlines for our Shag City review would be that you can do better. Much better!
Let's get into some of the specifics: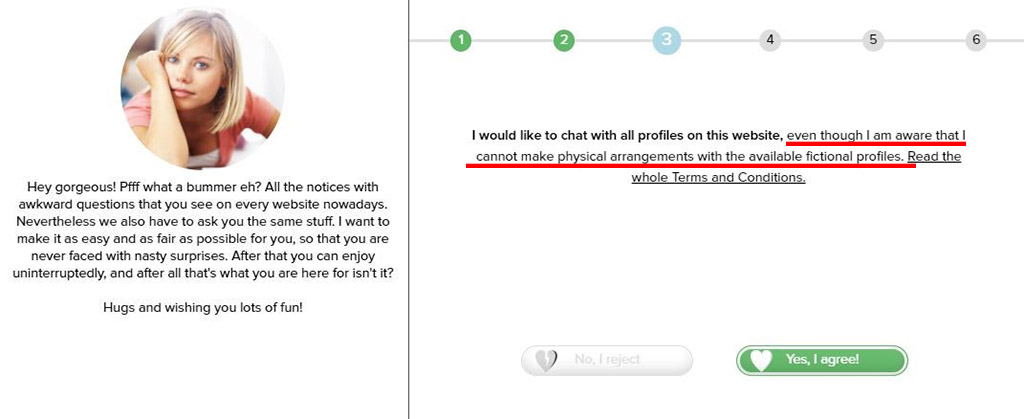 Shag City makes it obvious that there are fictional profiles on this website. An alert pops up on your screen before you can begin messaging. They even explicitly say this:
"Profiles are partly fictional, physical arrangements with these profiles are not possible."
It's therefore difficult to accuse the owners of this website of deceiving its users or warn you of a Shag City scam. However, it's not made clear what proportion of profiles are fictional, nor how easy it is to find and connect with a real woman.
But I can testify that it appears to be very difficult to find one real woman.
Here are the key findings about this site:
You will be immediately bombarded with messages
Perhaps you'd agree that a real-life beautiful woman is unlikely to send suggestive messages to an anonymous dating profile with no pictures and no bio. Well, my blank profile received more than 130 messages overnight!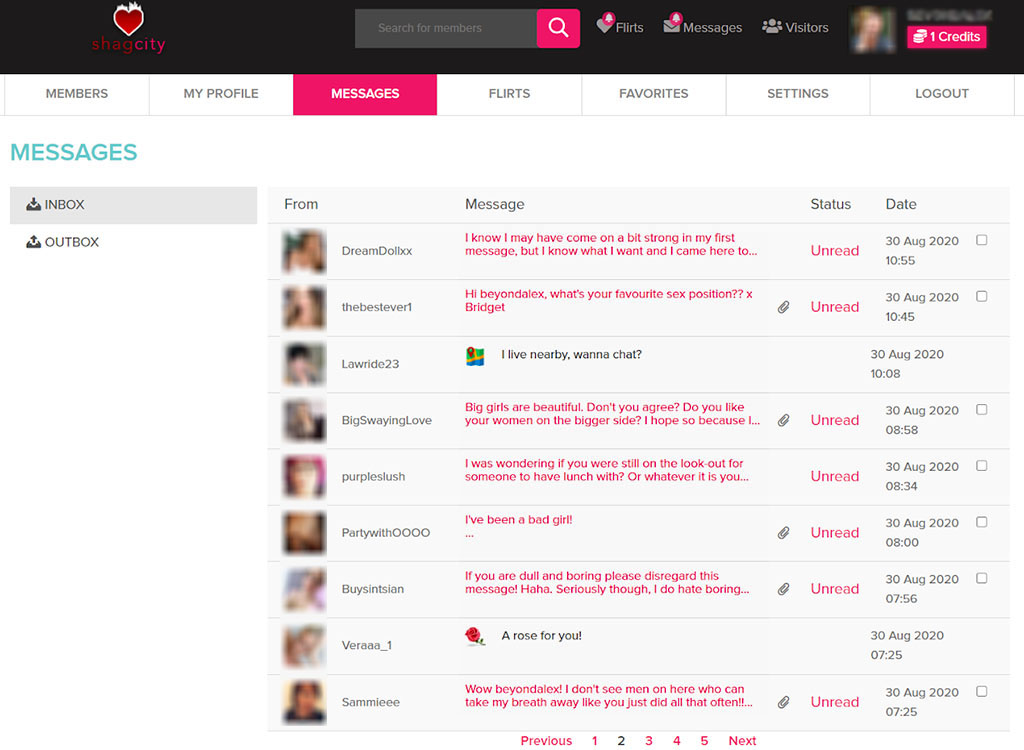 These messages weren't as basic and spammy-looking as what I've previously seen on scammy online dating websites. They are all lengthy and literate messages. Many asked if I was free to meet them soon. A few of them were explicit. Some even attached sexy pictures, which were not featured on their profile.
Note: Read the conversations from the bottom up.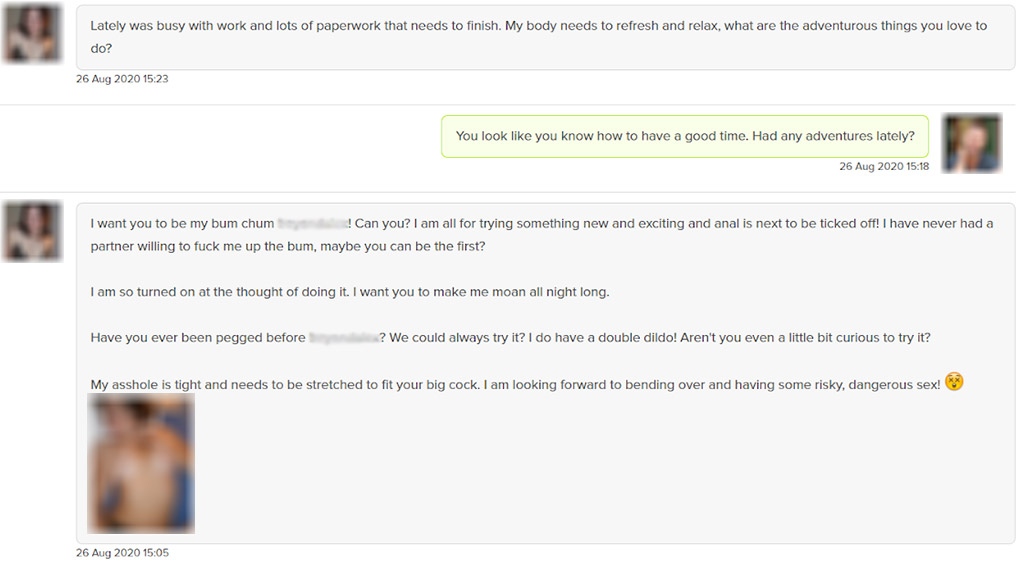 Every single profile in our Shag City review responded!
ShagCity works on a credits system. It'll cost you one credit for every message you send. I bought 25 credits for £38.99 and messaged 25 profiles. (Yes, it really costs £1.50 ($2) per message). Within less than a day, every single profile replied to me. That's unheard of in online dating! 
In order to message them all back, I'd have to spend another £38.99. Imagine how much it would cost to find a real woman among the fictional profiles (if there are any at all) and get her out on a date.
Again, the replies were detailed and based on the message I sent to her. There was clearly a human reading my messages and penning a response.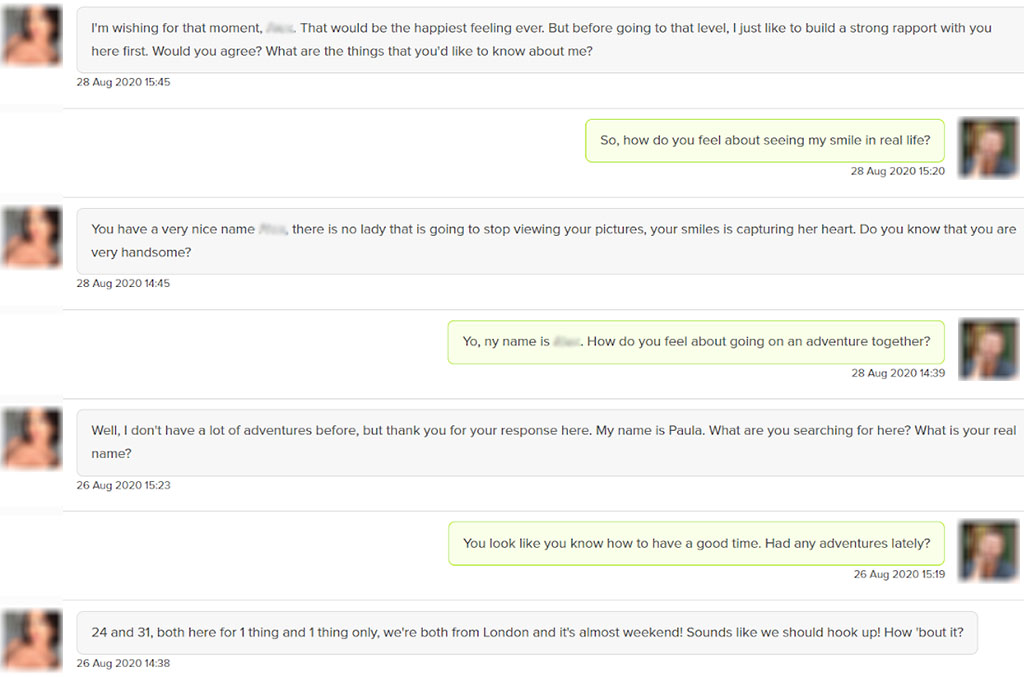 Of course, it's more than possible it was the same human (or team of humans) replying every time.
Every single profile will refuse to swap contact details. They'll all do their best to keep you chatting on the ShagCity platform instead
If these profiles were real women, it would be in their best interest to swap contact details and move to a free messaging platform as soon as possible. If they were actually staff in disguise, it would be in the company's best interests to keep me sending as many messages as possible on the site to make me spend more money.
I bought some more credits and tried my best to swap contact details with a handful of profiles, but I'd get the same excuses every time.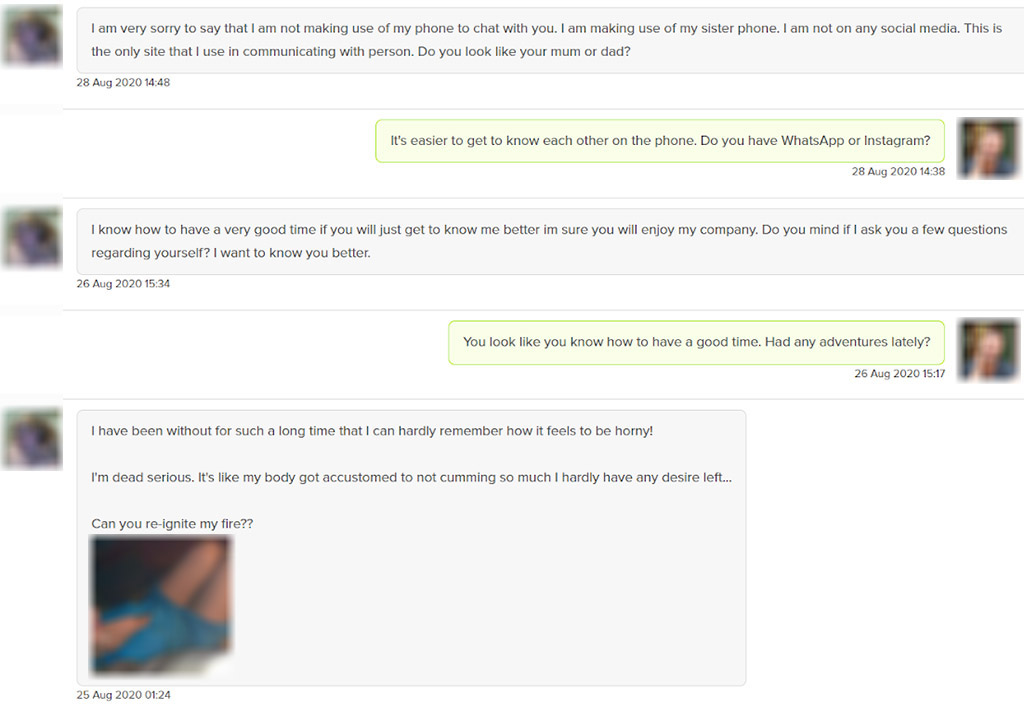 Every woman told me they "weren't comfortable" swapping contact details or going on a date. Then, they'd proceed to ask me another question about myself.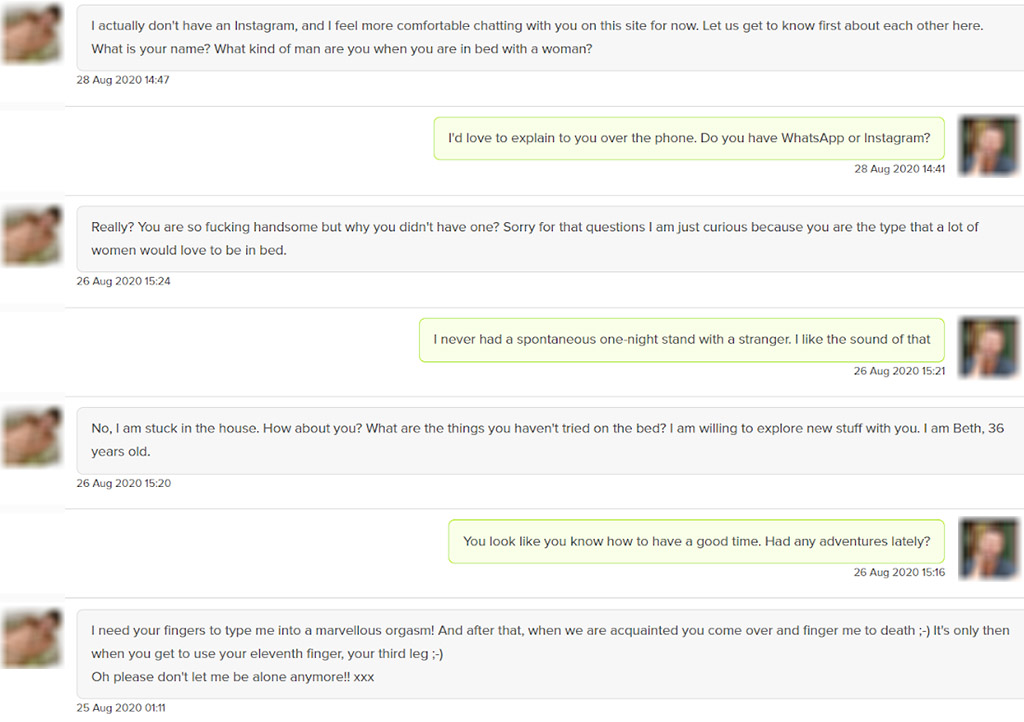 Why would you use ShagCity when you can use AFF?
If you're interested in meeting and hooking up real with women, there is no reason to waste your time on this site. Not when you can log onto AFF instead.
AFF is essentially the non-fictional version of ShagCity. It's packed with thousands upon thousands of horny women genuinely looking to meet a good man for some sexy fun. It's designed like a social network, but it's packed with a huge active user base. The best part? You definitely don't need to fork out money every time you send a message.
You can expect to receive messages like those shown above but from real women who actually want to meet you! Why play a fantasy game when you can live your fantasies? And if that sounds too good to be true, you can even see for yourself for free!
AFF is currently offering a free trial for new users, so there's nothing to lose by giving it a go.
Pros and cons from our ShagCity review
Below, I have summarized the main pros and cons of ShagCity.
Nearly every profile replies to you
Some profiles will send you dirty pictures
You have to pay for every message you send
It's extremely expensive to send messages
The profiles are fictional. ShagCity reveals this when you sign up (although they don't admit that all of them are fictional)
None of the profiles will swap contact details with you or agree to meet (or at least that's how it would appear)
Profiles, pictures and members from Shag City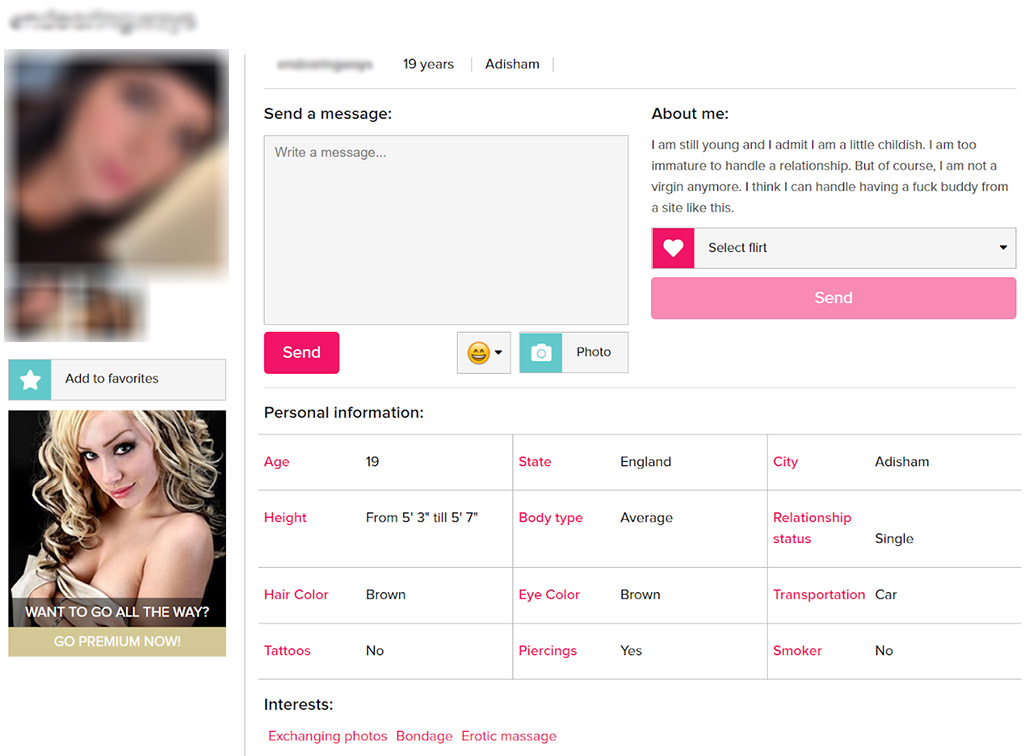 There is a small "About Me" section to write your bio. There are dozens of multiple-choice questions that members can answer to let people find out more about them.
Most of the profiles appear to have uploaded multiple photos and written a unique bio. It would appear that the majority of women on this website are relatively attractive, and there are profiles for women of all ages.
As mentioned, they will nearly all reply to you, but they're highly likely to be catfish accounts.
ShagCity design review
The main dashboard is highly image-based, offering you a selection of women to speak to. You can change this based on the filters at the top of the page, or skip to another page.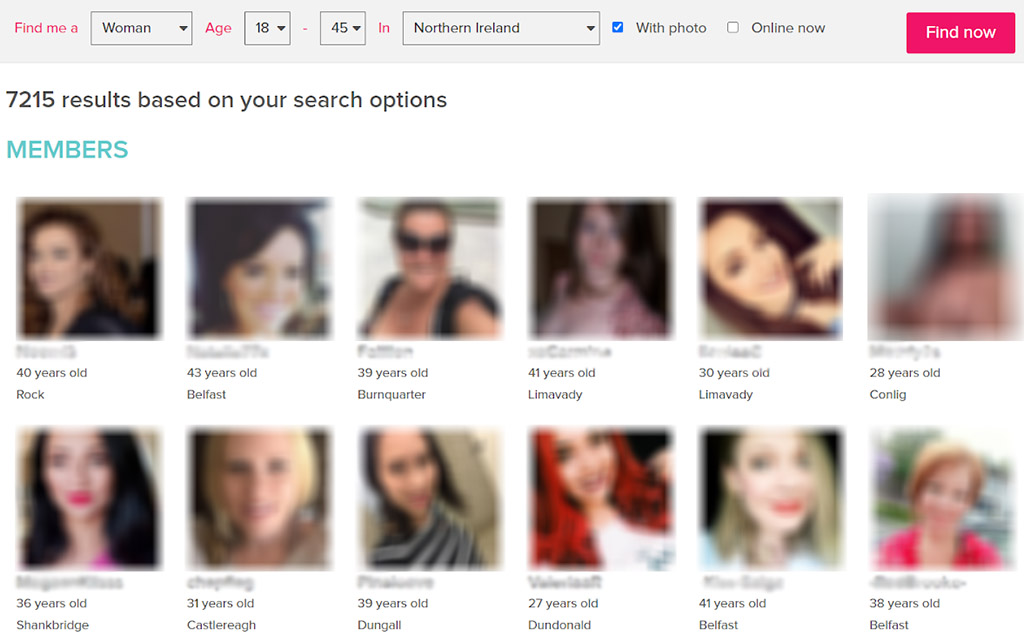 The messaging system could be improved. You have to click to a new page to read your previous messages and send a new one. There is a ShagCity mobile app you can download and use if you prefer.
Messaging and chatting
It'll cost you 1 Credit to send a message, and Credits are damn expensive. You can send photos and text – and you'll probably get a reply. However, the odds are that you're communicating with a catfish.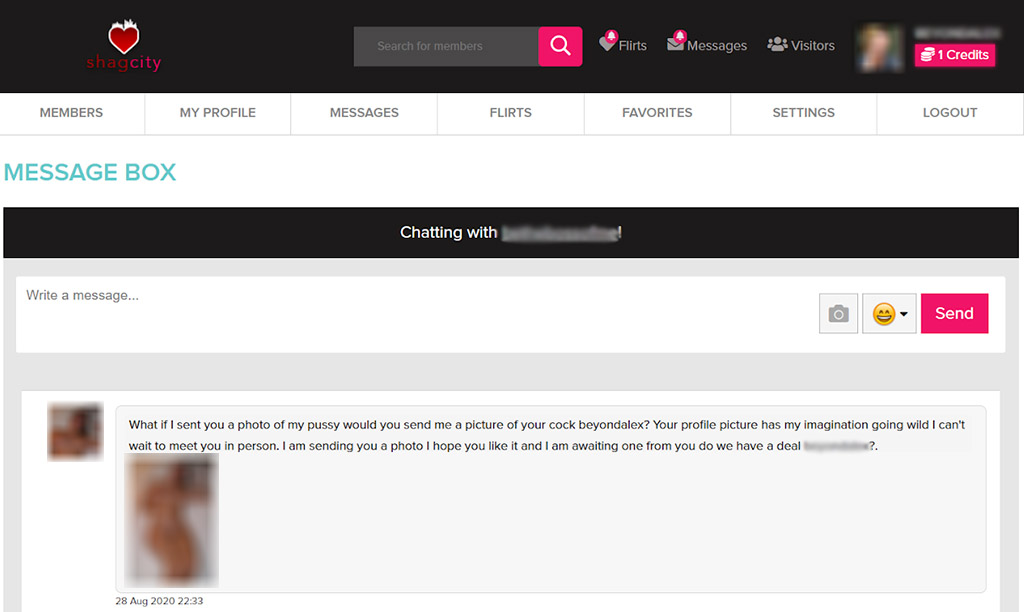 What can you do with a free membership?
You can view profiles and receive messages without paying a penny. There are plenty of X-rated pictures to browse if that's what you're into. Seeing as it's almost impossible to meet the women pictured in these profiles, you may as well stick to a free membership. There's no logical reason to pay to message them.
Advertisements
The only adverts on shagcity.co.uk are for the premium version of its website. I haven't mentioned this so far in the review because I'm convinced it'll do nothing to boost your chances of meeting any other users. Nevertheless, I'll explain what you get with a premium membership in the next section.
Pricing options for Shag City
This website works on a credits system. It costs one credit to send a message. Credits are cheaper when you buy in bulk. Here are your options for buying them.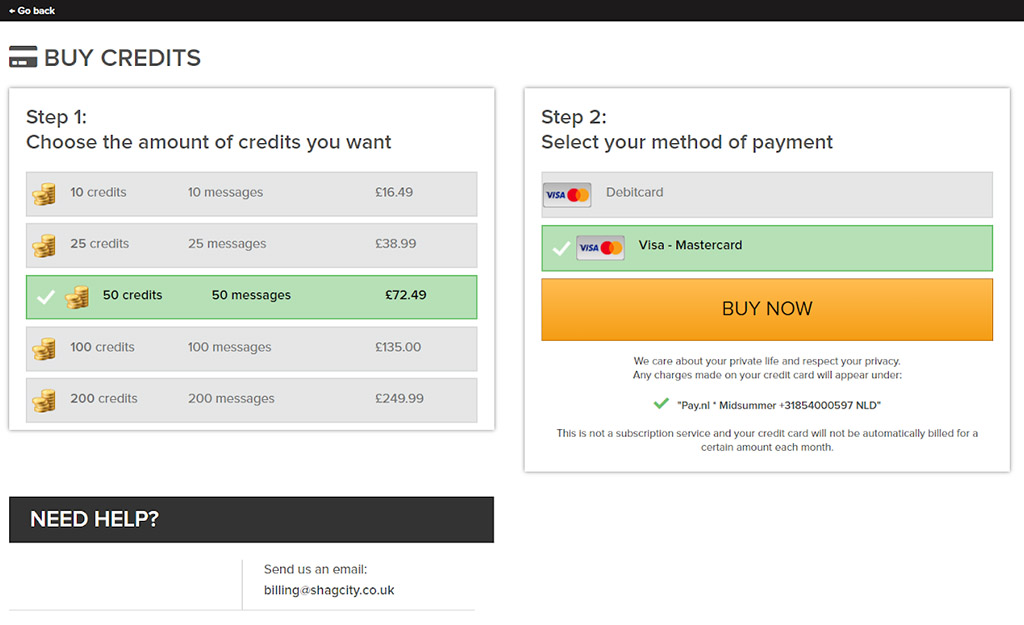 Buy 10 Credits for £16.49
Buy 25 Credits for £38.99
Buy 50 Credits for £72.49
Buy 100 Credits for £135.00
Buy 200 Credits for £249.00
You have the option to buy a Premium membership. This allows you to view photos in full resolution, view private photos and discover who viewed your profile. Premium members supposedly get five times more messages — in case around 130 a day isn't enough!
A premium membership costs:
£10 for one month
£25 for three months (£8.33/month)
£39 for six months (£6.50/month)
£45 for 12 months (£3.75/month)
Frequently Asked Questions about ShagCity
What is the ShagCity URL?
The URL is shagcity.co.uk. The profiles are all UK-based and you can only register with a UK address.
How do you log into ShagCity.co.uk?
Enter your email address and password in the top-right hand corner of the screen.
How do you search on Shag City?
The main dashboard allows you to search for profiles. You can filter your search by gender, age and location.
How do you send messages on Shag City?
Navigate to a woman's profile and you'll see a space to send a message right at the top.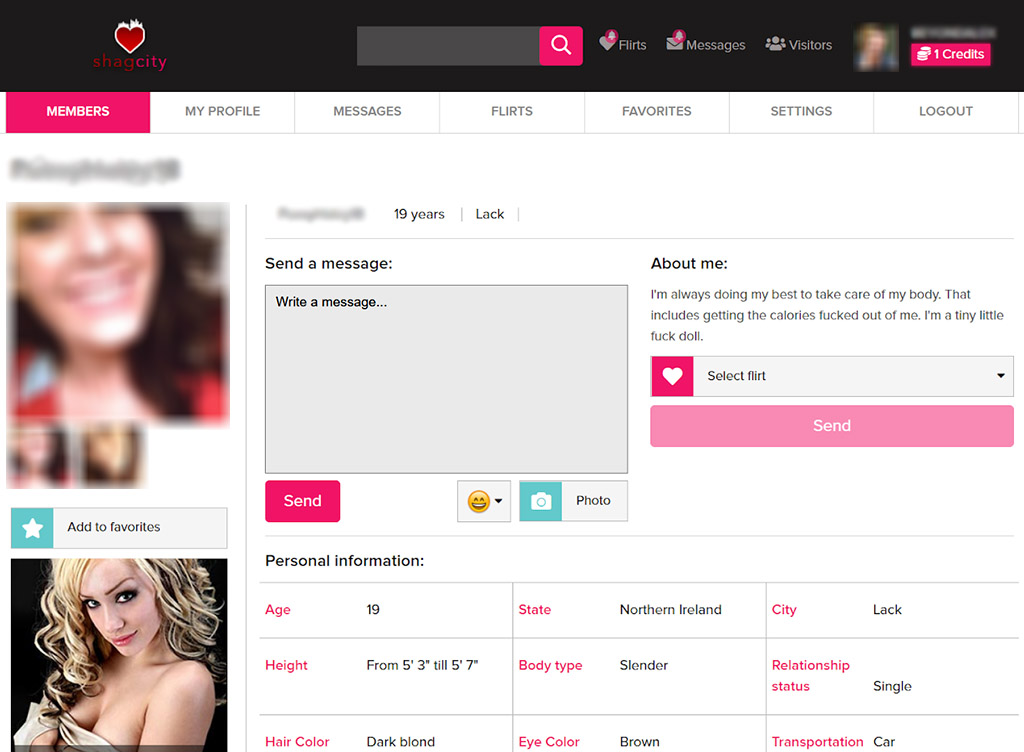 To view your inbox, click "Messages" in the main navigation. From there, you can continue existing conversations by clicking on them.
What are the best Shag City alternatives?
For a list of better alternatives, take a look at our guide on the best hookup apps and websites.
How do you delete your Shag City account?
Navigate to 'Settings' in the main navigation. At the bottom of that page, click the button that says 'Delete My Account'.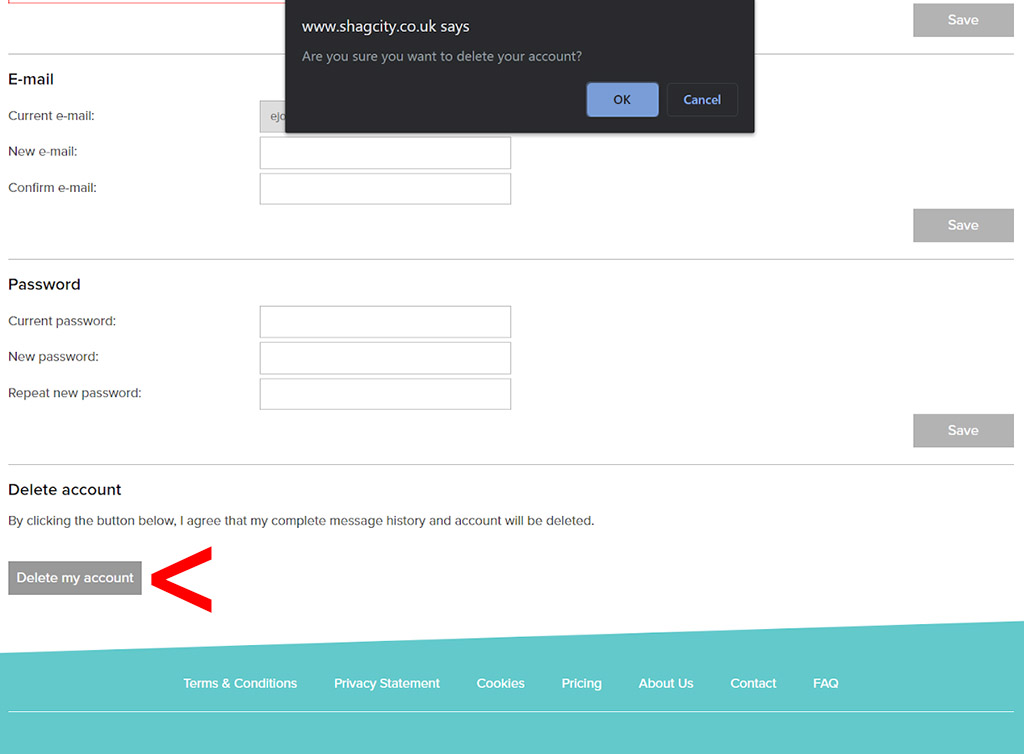 How much does Shag City cost?
The site runs on a credits system.
You can:
buy 10 Credits for £16.49
buy 25 Credits for £38.99
buy 50 Credits for £72.49
buy 100 Credits for £135.00
buy 200 Credits for £249.00
Alternatively, buy no Credits and save your money ;).
Is Shag City legit?
No. It tells you when you sign up that profiles are "partly fictional" yet, in my experience, there was not one hint of a real woman on this website.
Should I worry about a Shag City scam?
Here's the thing. They're honest about profiles being fictional (although it doesn't tell you how many). Still, it makes this clear on the home page and even clearer on a huge pop-up before you sign up. The footer of the website also tells you this website is for "entertainment purposes only" – and there's no mention of the term "online dating" at all. So, it feels a bit harsh calling this a scam.
If you pay to message a bunch of accounts hoping to meet the women in the pictures, it could be argued you're stupid for not reading the warnings.
Perhaps there are some lonely men who would enjoy using Shag City, even with the knowledge that they have no chance of meeting the women in the pictures. After all, this concept isn't that different from OnlyFans, which has millions of members.
Still, it's worth repeating that you will not get a date or a hookup from this website. So, if that's what you're looking for, save your money.