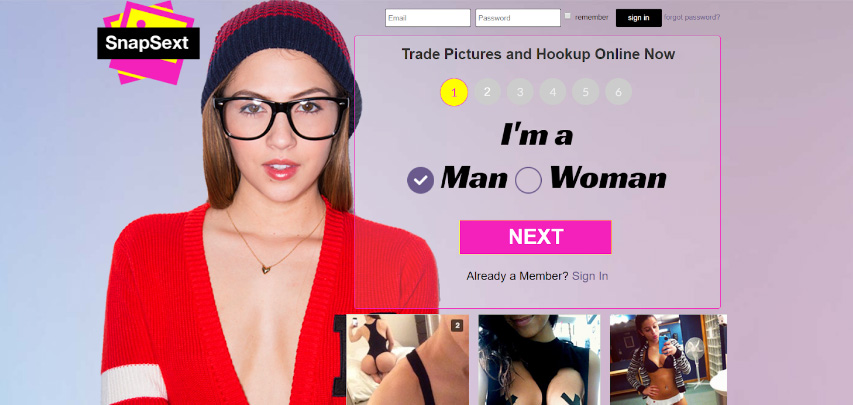 Online dating is a wonderful development, but dating websites are particularly rife with scammers. It seems like every day there's a new website – SnapSext.com in this case – that promises a sexy, fun time. These sites can be quite enticing, but more often than not, something insidious lies underneath all the hot photos and promises of casual sex.
That's why we research, review, and put together extensive rankings of the best hookup apps around. We go deep into their services to see which ones are legit and which ones are not. If you've been overwhelmed by the tsunami of dating sites and you're not sure which ones to trust, you've come to the right place. Continue on for our SnapSext review and find out if they're worth your time (and money).
SnapSext Review – Grand Slam Or Same Old Scam?
To start let's do a quick side-by-side with our favorite site right now for meeting women looking to jump into bed:
Overall

Our team rates each site objectively based on many hours of independent research, the features each site offers, and how it compares with other sites. The ratings are the opinion of our editors and their extensive experience.

6
9.5
Quality of Women

Our opinion of how attractive the typical woman is that uses this site and how easy they are to connect with compared to other sites.

5
9
Popular

How many people are using this site to actually meet people compared to other sites.

6
10
Usability

How easy is this site to use and how quickly can an average person begin meeting people compared to other sites.

8
9
Privacy & Safety

Does this site take proper precautions to safeguard its members, their identity, and their data.

5
9
Effective

Our opinion of how easily an average person will be able to achieve their dating goals with this site compared to other sites.

5
9
Value

Will the time and money spent using this site pay off for an average person based on the opinions and experience of our editors.

5
10
Our Recommendation
The hardest part of testing and reviewing dozens of sites focused on helping people hookup is comparing two quality sites. Fortunately for us (and not so much for you) our Snap Sext review didn't create such a problem for us. This is a site that you should absolutely avoid without a moment's regret.
When we are using these sites we are looking for quality. We want a site that has a lot of real people using it, has a clear focus, and genuinely helps people connect. With Snapsext.com we have one out of those three (at best). We did find the following:
A relatively small number of real users
While we were using and reviewing SnapSext we were really disappointed by the number of real people using it. There do seem to be real women that actually use the site but not nearly as many as we would have hoped.
With sites like these, the best one or two tend to attract ALL of the quality women. Sadly SnapSext (Fling) is probably not even top 5.
A lot of fake profiles and fake messages
We received a lot of fake messages beginning when we signed up and continuing for weeks after we stopped using the SnapSext. We received a dozen messages with a blank profile that didn't even include a photo from fairly attractive women, or at least bots with fake photos.
You just can't trust a site that is so obviously trying to trick you.
An overall bad experience
When you don't have the number or actual real women using the site the results you get are going to be pretty awful. We had a very poor experience and think you will as well. There are so few decent hookup sites that our experience was actually pretty normal for these reviews.
If you want to see what a legit site looks like check out Adult FriendFinder. That has been our favorite and it tends to get the best results for most guys.
Now that we have given you a small taste of what we found during our review of Snap Sext lets dive into the full details:
SnapSext Review – Grand Slam Or Same Old Scam?

I don't know about you, but I never do anything these days without first consulting the internet. If I want to buy a new bike or try a new bar, I do a Google search first. If I'm heading out to a restaurant, I check out the Yelp reviews. Before I start to work for someone, I first check their Facebook and LinkedIn profiles.
You better believe I don't ever sign up for an online dating profile before I check around the internet for reviews. There is no excuse not to, it's so easy. Plus, the risk of getting scammed is just too high. It's an unfortunate truth, the internet is overrun with people trying to take advantage of honest customers. You have to do your research.
First impression: Snap Sext isn't shy (or good)
With a name like SnapSext, it's no surprise the website isn't shy about its naughtiness. It's clearly geared toward one thing, and that thing is NSFW. The site design reflected this. When I first entered Snapsext.com, there appeared a seductively posed woman in the background of the sign-up page. As I went through the short sign-up process, the woman became increasingly alluring in her poses. In each page she had one less part of her body covered.
Not all sites with adult content are scams, but there is something unprofessional about them. When a site has to lure you in with NSFW pictures, it may mean they don't have much else to promote.
Before we spend a lot of time going deep into Snap Sext we wanted to give you a preview. This site is pretty bad and it is very unlikely you are going to get any kind of good result from it. You should be spending your time on a legit hookup app like Adult FriendFinder.
After testing, rating, and reviewing 100+ sites in our complete hookup app recommendation list we know how things stack up. SnapSext is just not very good while Adult FriendFinder is consistently in the top 2.
The only other app worth considering is Tinder and a lot of guys are not going to have a great experience on there. If you are not particularly good looking, have bad photos, or are interested in women over 28 Tinder just isn't that good.
We like Adult FriendFinder because there are more people using it than Tinder, it is completely focused on connecting people for sex, and we have seen much better success rates for most guys.
You can try them for free and see for yourself. There isn't really anything to lose at this point.
Then it got more salacious
After I signed up for the site, I logged in and things became much sketchier almost immediately. The beautiful, tastefully scandalous women from the sign-up page was replaced with a hundred, highly explicit photos of women that were, let's just say, less beautiful. There were all kinds of advertisements for cam sites and adult videos. It started looking like a pop up window, the kind you click out of as fast as you can.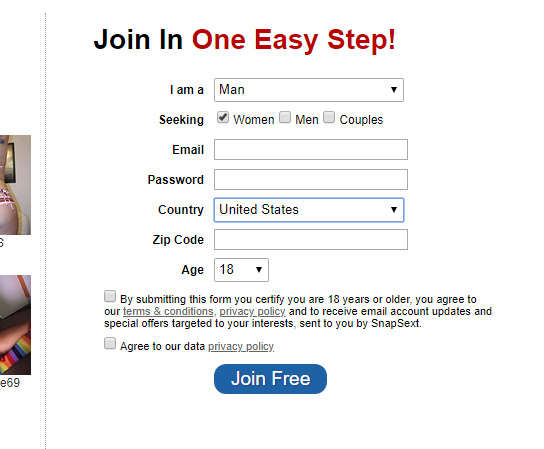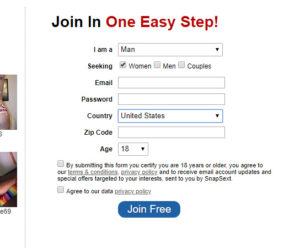 Here's a good rule of thumb: the more explicit a site is, the less likely it is to help you find a date – or even a hookup. Why would all of these members of a site show everything up front? Why would a site try so hard to make you excited in that way? If they were really trying to help you meet someone, they would design their site around helping you message other people and get to know them for real. I started getting a bad feeling about SnapSext.
Who are all these Snap Sext women?
I started to look through the profiles on the site. The first thing I noticed was a lack of older women. Even when I narrowed my search parameters, I noticed a lot of the older women looked very young in their profile pictures. The site seemed designed for men who want to date 19-year-olds, not 40-year-olds.
I also noticed the profiles were hardly filled out. They had a few facts and usually just a single photo. I know some people don't want to reveal a lot about themselves, but you would think at least a few members would be blabbermouths. It was around this time I came across a profile that looked familiar.
It was a profile I had seen on another dating site, and not a legit one. I recognized her photo. This is one of my most often cited red flags. Sometimes people make accounts on multiple sites, but it's quite a coincidence I would run across her profile twice while just doing a random search of members. I decided to look a little bit deeper into the situation by doing a Google reverse image search on her profile. What I found wasn't encouraging.
Dubious profiles
My reverse image search returned results from a Russian site. I couldn't read it but it read: МУЛАТКА ФОТОГРАФИРУЕТСЯ ГОЛОЙ. There were a lot of pictures of the same woman on that site. This could mean one of two things: the woman in the SnapSext profile immigrated to somewhere near me and used her old photos from a Russian site. Or, it's a totally fake profile that stole her photo from the web. I'll give you two guesses which one I think it is.
Now that I had grown suspicious about the profiles on SnapSext.com, I decided to dig deep into the site's user agreement. There, I found this claim: "Unlike many competitors, this Site does not contain any profiles created by the Service…"
That would be reassuring, if not for the fact that further down they also say when you create a profile, "your profile will be shared with other dating and 'hook-up' websites." Besides being a breach of your privacy, this also indicates SnapSext uses profiles from other sites, which may or may not be fake. So, they may not create their own fake profiles, but that doesn't mean they aren't imported from other sites.
Fake messages
It's not just the profiles that seem less than genuine. As I looked through the site, I constantly received messages from women, despite the fact I hadn't even put up a profile picture. It was utterly unbelievable that so many hot women would be interested in a completely empty profile.
Once again, I dove back into the fine print. It said that the site used something called "system notifications" (isn't that romantic sounding). The text explained, "The Site may cause pop-ups to display as a system notification on your screen while you are viewing the Site." Of course, these pop-ups are meant to resemble messages from other members.
Scam threat level: Extreme!
Snap Sext isn't even free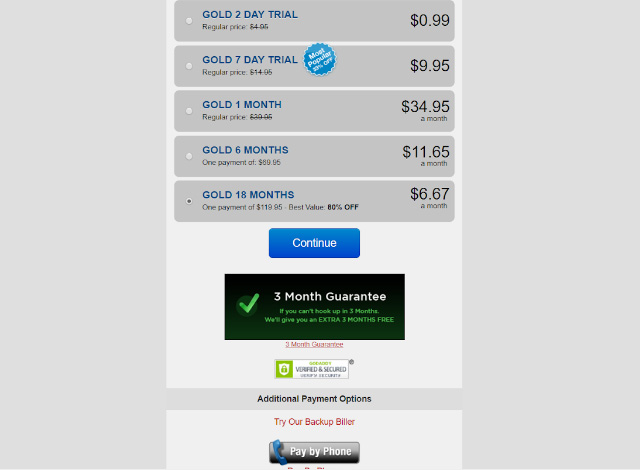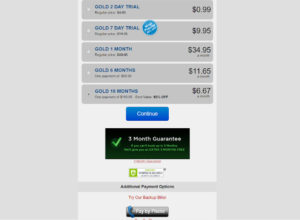 This site was bad enough as it was with its dubious profiles and fake messages. It got worse, though: SnapSext isn't free. When I tried sending a message to another profile, an upgrade page promptly appeared. In fact, they were constantly sending me to membership upgrade pages for no apparent reason. They had a bunch of membership options, and none of them were cheap.
Not all legit dating sites are free. But if you're going to pay money for online dating, you should know the site you're using is one of the best. The best sites don't need to bother you with constant pop-ups asking you to upgrade. They let their work speak for them. All that SnapSext is saying is, "Choose Me! Choose Me!" Sorry, desperation isn't sexy on anyone.
Third parties and photo theft
There were other factors on SnapSext.com that overwhelmingly suggested scam. For one, the website was overflowing with advertisements for cam sites and adult videos. When I first logged in, they told me I won something. "You Won! Click this box to claim your FREE tokens on Camsoda.com," it exclaimed. This was clearly an attempt to rope me into some money-making scheme from a third party. No thanks!
Yet another red flag popped up while I researched SnapSext. In the fine print, it said anyone who signs up must "authorize Snapsext.com to post any and all photographs uploaded by you throughout Snapsext.com and other associated websites featuring other members of the Service." That means they can use your profile picture (or even more private photos) for pretty much anything, on sites you don't even know about.
That was the last straw. I'd had about enough of that terrible site.
Don't fall for the Snap Sext scam!
Seriously, SnapSext.com has it all: fake profiles, fake messages, third parties, bad terms and conditions, explicit material, and outrageously priced memberships. It's a flourishing cornucopia of red flags. Trust me, this site is a total and complete waste of your time.
I hope you read this SnapSext review before you signed up. If you had high hopes for the site, though, don't get disheartened. There are plenty of better dating sites out there, and you can read about those on our site as well. Just make sure to steer clear of this one.
The Frequently Asked Questions About SnapSext.com (FAQ)
These are the most common questions that came up during our Snap Sext review:
What is Snapsext.com all about?
Snap Sext is a website that claims to be able to help you trade pictures and hook up online. In reality, it is just another name for Fling.com. Once you go through the process of signing up on the homepage you are transferred to Fling.com where you will have the exact same experience as if you had signed up there to begin with. Basically, Snapsext.com is all about sending you to Fling.
Is the Snap Sext app worth using?
We would not recommend the SnapSext app as something that is worth using. Overall we found this site to be very mediocre and there are several big problems with it (fake messages, fake profiles, etc.). We would not feel confident that any would have a good experience using this site.
What are better SnapSext alternatives?
There are a few alternatives to Snapsext.com that are worth your time depending on what you are looking for. You can see which sites and apps would work best for you in our compilations review of the top hookup sites and apps.
All of our recommended apps will be far better for you than this site.
Is Snap Sext a scam or is it legit?
After reviewing SnapSext we think it falls somewhere in the middle. This site isn't an outright scam but it also isn't 100% legitimate. There do seem to be a fair number of real people using it but there are also a lot of fake profiles which makes it hard to really tell. In essence, Snap Sext is neither a scam nor legit, it's just a bad site if you actually want to get results.
How do you sign up for SnapSext.com?
Signing up for the site is actually very easy. You just go to the homepage and register as a new user. We wouldn't recommend that you do this but they do a good job of simplifying the process for you.
How do I delete my Snap Sext account?
This is a question everyone needs to be asking. In order to delete you account you need to follow these steps:
Log in at snapsext.com
Click on your profile picture
Click "Account Settings"
On the left click "Deactivate My Account"
Go to the "Data and Profile Removal" section and click "Delete Account"
Choose a reason for deleting your account and click "Delete Account"
Smile knowing you made the right decision to delete your SnapSext account
How do I cancel my Snap Sext membership?
Again, you are making the right move by canceling your membership to Snapsext.com. In order to cancel you will follow the same steps as deleting your account above. This way you will cancel and also take down your profile.
How much does SnapSext.com cost?
Based on what this site actually does for you it should be free. However, if you want full functionality the following pricing options are available: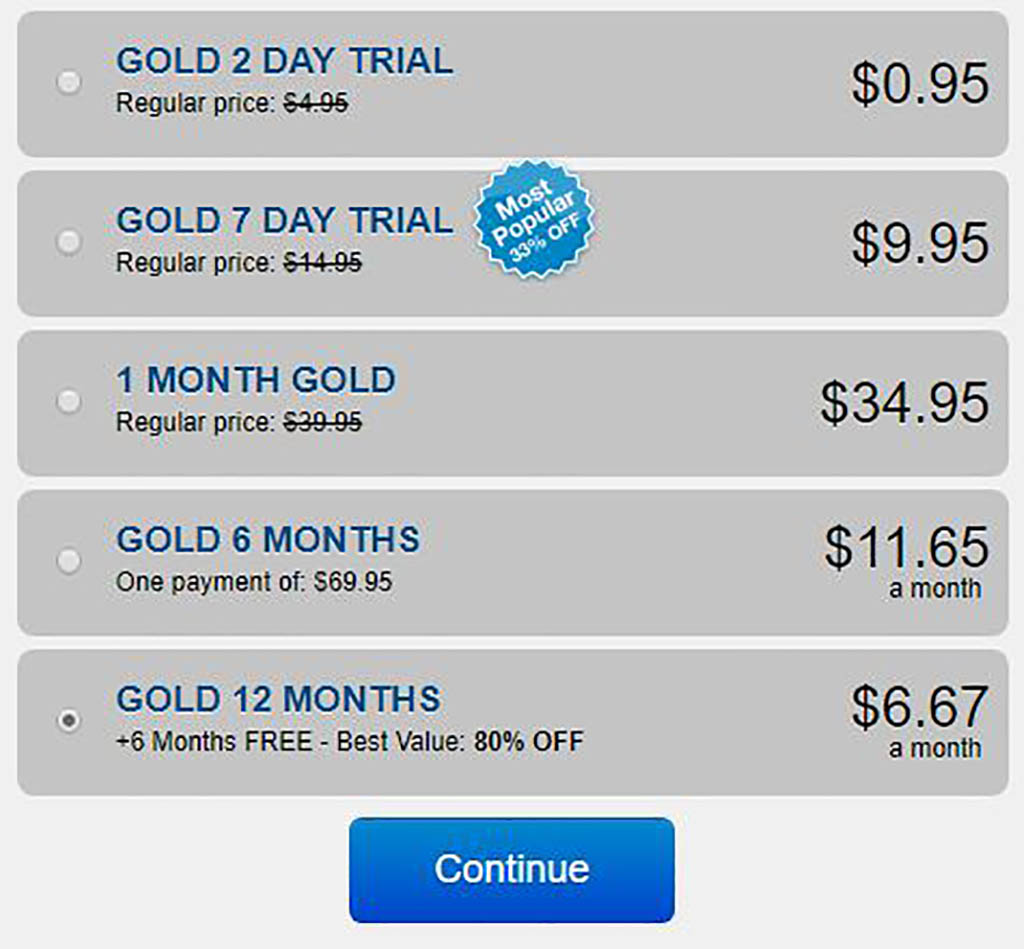 How can you use SnapSext for free?
When you first sign up to Snapsext.com you can use basic features for free. That includes very basic search and looking at thumbnails for profiles. Any kind of advanced search or communication requires a paid account.
You can use the basic account for as long as you want for free. Unfortunately, if you want to use any of the other features you will have to pay. There is no way to use SnapSext for free and have full functionality at this time.
Is Snap Sext safe?
If you want to be safe with Snapsext.com you should just completely avoid it. While we didn't see any outright evidence that it isn't safe the fact that they send a lot of fake messages and have a lot of fake profiles means they are not trustworthy.
Have you Tried SnapSext? Fill out the review below and tell us how it was!