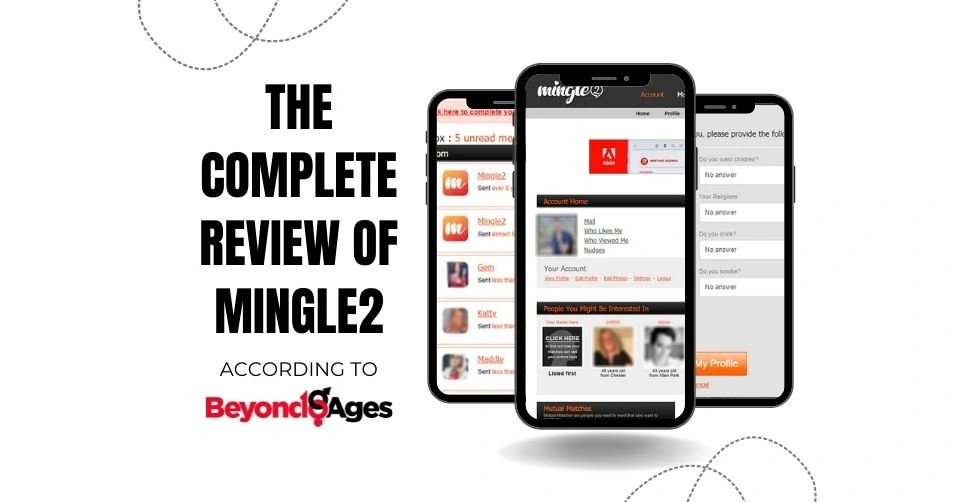 Mingle2 is one of the more well known sites out there these days so we wanted to give it a shot. So often I come across fake sites that are out there to take your credit card info, and being able to warn you against that is a big reason why we decided to put together this Mingle2 review. On the other hand, some sites turn out to be legit, then I get paid to use a dating site. Really, it's win-win for me either way. The reason we review so many sites though? Scam dating sites are prominent and we want your online dating experience to be a positive one.
For this review, I spent months researching and using the dating site Mingle2.com. Clearly, it's not the best looking site but what I set out to see is if it's dangerous or worth spending money on.
That's exactly what we're going to be covering today so let's get to it.
How we reviewed Mingle2
Given how many sites I review, being objective about them all one week to the next could be tough. To keep things fair and simple, I run through a standard process for each one. This makes sure I'm evaluating them all the same so you can get an unbiased opinion.
The process is simple and always looks like this:
Create a free, blank profile and see if spam bots message me pretending to be women
After a couple of days, I'll populate the profile like I would my own personal ones
Engage with women on the site and set up as many dates as possible
After several of this, upgrade to a paid account and compare the results
By the end of this process, I can give you a detailed look at what it's like to use the site — both as a paid and premium member. You can then make an informed decision as to whether or not you want to use it.
Let's start by looking at the basics from our Mingle2 review.
Our Comprehensive Mingle2.com Review
The site has the right idea overall which makes me wonder if it was once a worthwhile site. The name also makes me question what happened to Mingle for Mingle2 to be a thing. . .
In any case, if someone told me this was a great dating site in the early 2000s I'd believe them. In this decade, though, not so much.
For starters, let's compare it against AFF. They're arguably the biggest name in hookup sites which makes them a perfect point of comparison.
Overall

Our team rates each site objectively based on many hours of independent research, the features each site offers, and how it compares with other sites. The ratings are the opinion of our editors and their extensive experience.

2
9.5
Quality of Women

Our opinion of how attractive the typical woman is that uses this site and how easy they are to connect with compared to other sites.

2
9
Popular

How many people are using this site to actually meet people compared to other sites.

1
9
Usability

How easy is this site to use and how quickly can an average person begin meeting people compared to other sites.

5
10
Privacy & Safety

Does this site take proper precautions to safeguard its members, their identity, and their data.

7
10
Effective

Our opinion of how easily an average person will be able to achieve their dating goals with this site compared to other sites.

2
9
Value

Will the time and money spent using this site pay off for an average person based on the opinions and experience of our editors.

1
10
Our Recommendation
After spending several weeks using Mingle2 we have to recommend that you avoid it. On the surface, it looks decent, and maybe it was at one time, but those days seem to be long past. If you're looking for a site or app that is actually going to help you meet other singles this isn't it. We found a lot of suspicious activity, few legit women, and very little chance of actually getting a good return on your time and money. Do yourself a favor and avoid it.
Compared to other options where we've seen guys find a lot of success, like AFF, there is no reason to spend any time on this site.
These numbers paint an accurate picture of my experience on the site. Like I said, some features on the site seem very legit but I didn't have a single conversation while using it.
The early signs looked promising
Sure, the site looks dated but that doesn't necessarily mean anything. Beyond aesthetics, my first impressions in this Mingle2 dating site review were positive.
The sign-up process was nice and easy. I was also warned that if I didn't complete the details in my profile I wouldn't be included in the search results. Basically, if I was too lazy to complete my profile, nobody would see me. That's a big deal.
After 24hrs of sitting dormant with this blank profile, I hadn't received a single bit of spam. I guess they weren't kidding, I really wouldn't be seen by anyone. What a relief.
Even better than that, I was given a heads up about some relevant profiles nearby and online safety tips. Not only are they excluding blank profiles but they're educating users on how to stay safe. If nothing else, kudos to Mingle2 for this one.
Pro tip: Only use your first name when signing up
This is an important side note if anonymity is important to you. When you sign up, one of the fields simply says "name".
A number of users (and I can't show you an example for obvious reasons) have put their first and last name in this field. I can't blame them, I almost did the same thing.
The problem is, the contents of this Name field become the publicly visible name for your profile. If you type John Smith in this field, every single user can see your photo, first and last name. Anonymity gone.
More of a small quirk than a security breach but something to be noted either way.
How Mingle2 handles matching with other users
We've all become so accustomed to apps like Tinder and Bumble now where we swipe left and right. While not quite the same, Mingle2 uses a fairly similar concept which could be helpful with an active user base.
Much like Tinder, you're presented with profile after profile where you have to select one of three options. Either Yes, No or Maybe in answer to the question "Are you interested in [user's name]?"
While they give an over-complicated explanation of this process (below), it's really just the same as Tinder. If you click Yes and so does she, you're a match and you can now talk. As for that questionable "Maybe" button, I can't find an answer as to what happens if you both click Maybe.
Reading their explanation, it seems as though Yes and Maybe do the same thing? Weird.
Also weird is that this feature is totally negated by the "Email Her" button you'll find in every profile. If you want to message someone, just click their profile and click the Email Her button. You don't need to match so this whole matching process is redundant. . .
My first conversation and suspicious timestamps
After completing my profile and using the site for a couple of days, I came across my first conversation. Unfortunately, it was an overly eager (suspicious) user, which actually surprised me.
The first thing I noticed was the timestamps all said "Less than a minute ago", even though this exchange happened over the space of about an hour. A minor detail on a dilapidated site, the solid red flag was how pushy "she" was.
More likely to be some guy huddled behind a computer offshore, he was desperate for a Skype conversation.
After my last reply, I went ignored and the profile vanished the next day. This wasn't the last of these types of messages either. I was soon hit with another three suspicious conversations that disappeared soon after.
Notifications of relevant users that were gone before I could say hi
Whether these were more spammers or actual users who bailed is hard to say. What I do know is that once every day or two I'd get a notification from Mingle2 about profiles I might be interested in.
100% of the time, when trying to reach out to them as a premium member, I'd get the same error message:
There's always a chance these were spammers and Mingle2's support team were removing them. Based on what I'd seen though, I don't think that was the case here.
User profiles that mostly seem legit
One of the many factors that make me think this used to be legit is looking at the user profiles. Take the conveniently named "pleasebereal" here, for example.
Her photos look like exactly the type of selfies you'd expect to find on any real dating site. Sure, the info below is blank but that's to be expected sometimes on these sites. The general look and feel, besides the ads and spam messages still point to it being the real deal, albeit dead these days.
You can barely mingle on Mingle2
At some point in the past, Mingle2 may have been a site where you could find dates or hookups. Today, I don't think that's the case. I wasn't able to talk to anyone on the site that seemed remotely interesting or interested in exchanging contact info. While there are traces of legit users on the site, majority of them are now inactive. I can't say I blame them.
Now if you're still on the lookout for a site that will help you get laid, AFF is your best bet. They have a quality reputation, a large and active user base and dedicated support.
The women respond like real human beings and you can even meet up just days after your first conversation. It's also worth noting that with so many users on the site, you can find a handful of matches no matter where you are. Best of all, you'll achieve more in the first 12 hrs on AFF than I did in weeks of use on Mingle2.
Pros and cons
To summarize even further, here's what I loved and hated about Mingle2.
The site loads quickly
The interface is generally intuitive
They actively take steps to protect you
The interface is dated
The way ads render gets very irritating
You'll receive a bunch of spam messages
No real users to be found on here
Advertisements all over the place during our Mingle2 review
Conversely, ads are often a sign of a low-quality dating site and Mingle2 is riddled with them. Above, below and beside the primary pane on each window, you'll find various targeted ads. Having just moved into a new apartment, it makes sense I'm being hit with ads for rugs and wall art.
My only assumption at this stage is that AFF is letting Mingle2 run, generate some ad revenue and it's pointing people to the AFF site. The rest of my experience on the site certainly supported this notion.
You'll soon hate these ads as much as I do (not for the usual reason)
Nobody loves ads but if that's how a website makes their money, fine. The reason I swore at these ones in particular though has to do with the way the page renders.
Specifically, it's the ad at the top or bottom of the page that quickly gets on your nerves. Sorting through matches and clicking Yes or No in rapid succession is what we've all grown accustomed to.
On Mingle2.com, thanks to the ad, you can't do this. See, the page renders for a fraction of a second, just long enough for you to make a decision. Just as you go to click the orange or black button, the ad renders, pushing the photos and buttons further down the page.
I must have clicked in white space at least 30 damn times because of this. So, instead, you have to click Yes or No on a profile, wait for the next page, pause for a moment for the ad to render, then click one of the two options.
It sounds like such a minor detail, but try it for yourself for 60 seconds and you'll see what I mean. Infuriating.
Pricing options and what it looks like to go premium
If you're still curious about the site and want to try it out yourself, by all means, go ahead. After our Mingle2 review, I'd suggest sticking with a free profile though. As you can see below, the benefits aren't all that great here. Rather than restrict you who can message, as a free user, they simply boost your exposure when you pay.
It's a great model if the site is busy. Unfortunately though, when you can't find a single live member, increasing exposure by 300% still means you have 0 matches.
In fairness, their pricing model is very reasonable as well. Once again, if the user base were more active, I'd even suggest signing up for the paid subscription just to support the developers. In this instance though, even at $9.99 /month, there's really no point when you have no one to talk to.
Mingle2 Review: Frequently Asked Questions
As always, I'm going to wrap up this Mingle2.com dating site review by covering the most frequently asked questions. The aim is to answer all of your questions about the site in one spot so if I've missed anything, feel free to reach out or leave a comment below.
What is Mingle2?
Associated with AFF, Mingle2 appears to have been a legitimate dating site at some point. Quite dilapidated, the only conversations you'll manage now are likely with bots. In fairness, these scammers may be removed quickly but this just leaves you with a blank inbox again.
Who actually owns Mingle2.com?
Mingle2.com is owned and operated by NextC LLC, which also owns other dating sites.
How can I contact Mingle2?
You can contact Mingle2 by using their contact form: https://mingle2.com/welcome/contact_us
Is Mingle2.com real?
Yes, Mingle2.com is a real site with profiles that look like they're also real.
Is Mingle2 legit?
Mingle2 is a legitimate dating website but there doesn't appear to be a single active user on it. In my weeks of using the site, I couldn't manage a single conversation with a real user.
Is Mingle2.com a scam or fake?
In our experience, it looks like Mingle2.com isn't a scam.
Is Mingle2 safe?
Mingle2 seems safe enough. Despite seeming safe, however, we don't recommend using the site because there seem to be no active users.
What are alternatives to apps like Mingle2?
If we learned anything during our Mingle2.com review, it's that you aren't going to find any real dates on this website. Rather than spending your time here talking to suspected bots, check out our list of the best hookup sites and apps available right now. Something in this list will stick out to you — go ahead and give that site a try and see where it takes you.
How does Mingle2 work?
Mingle2 gives you a series of potential matches, and you can "like" their profile if you'd like to contact them.
Is there a Mingle2.com app?
Yes, Mingle2.com is available on both iOS and Android.
How much does Mingle2 cost?
Here are the Mingle2 payment plans:
3 months: $29.97 ($9.99 a month)
6 months: $47.94 ($7.99 a month)
12 months: $69.96 ($5.83 a month)
How can you use Mingle2.com for free?
You can use Mingle2.com's features for free. However, the paid account just lets you become more visible to more users.
Can you send messages for free on Mingle2?
Yes, you can send messages on Mingle2 for free.
How do you cancel your Mingle2.com account?
Canceling your paid Mingle2.com subscription is a very simple process. Just follow the steps below. Since the site appears to be legit, I'd be surprised if they give you any grief beyond this point.
Click the "My Account" tab
Click "Settings"
Click "Premium Membership Status"
Click "Cancel your premium membership"
Select "Confirm the cancellation"
How do you delete your Mingle2 account?
Deleting your Mingle2 account is just as simple. Follow these steps and your profile will be gone:
Click the "My Account" tab
Click "Settings"
Click "De-Activate Account – Remove Profile"
Click "Ok" on the below prompt to complete the process