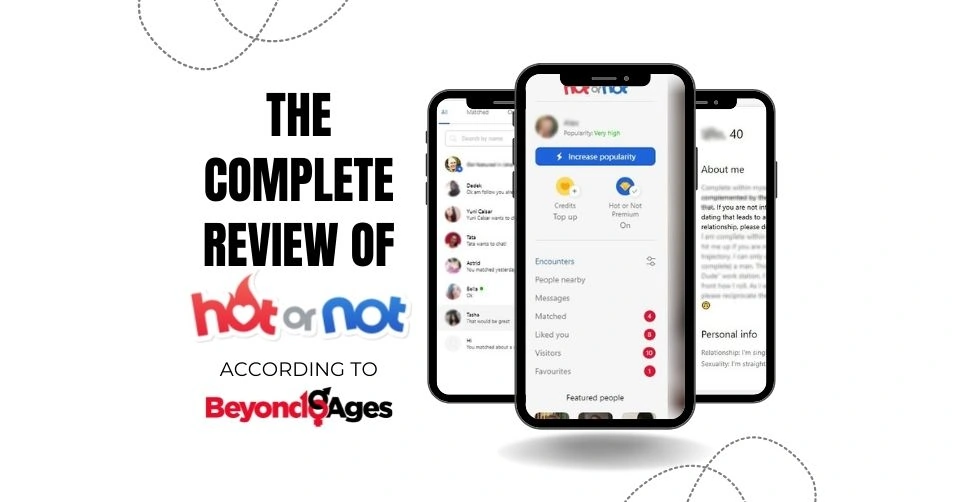 HotOrNot was an exceptionally popular website in the early 2000s. We started our Hot Or Not app review thinking about the older site where users would rank each other's photos out of 10 for attractiveness, and they could see the average ranking for their own photos. Mark Zuckerburg even cited the website as an inspiration for the creation of Facebook. Nowadays, it has evolved into an online dating website. In our Hot or Not review, we'll see if the site is still worth trying out.
You've probably noticed how much of dating has shifted online in the past few years thanks to all the social distancing changes. More and more singles have been avoiding big public hangouts and only looking online to meet each other. This means you really need to be on at least one or two different apps or dating sites if you want to get good results.
With that in mind, it's even more important that you're using a GOOD option and not just wasting your time!
So has the popularity of this website carried through into this year? Is it packed with beautiful women just like it was in the year 2000? Or has it plummeted the same way as historic social networks like MySpace or Friends Reunited? I put Hot Or Not through its paces in order to find out.
How I reviewed Hot Or Not
I reviewed this site by putting it through the same process as all the other online dating websites we have reviewed here at Beyond Ages.
First off, I created a profile using the same generic photos used for all of our previous reviews. Then, I went ahead and "liked" a ton of women based on my location. Those who "liked" me back would receive an opening message from our list of pre-approved pick-up lines. From there, I'd test how open the women on this website were to meet up for a date by trying to exchange contact details. 
Throughout the test, I'd take notes of how responsive the women were in general. How many "liked" me? How many responded to my messages? How many would exchange contact details?
We tried out both the free and paid versions of this site so that our review would be as complete as possible.
To discover this – plus a breakdown of all the site's special features – continue reading this review.
Below are the full results of our time using the app:
The Full Hot Or Not Review (Free & Paid)
Let's start this review with a basic summary. Below, I have rated Hot Or Not out of 10 for the most essential elements of an online dating website. If you're interested in a more detailed review of this website's features, we'll get into that afterward.
For extra context, these ratings are placed alongside our rating of AFF, which we've seen become the most effective hookup site out there right now, especially for normal guys. Comparing Hot Or Not with the current best option will really show how it stacks up and if it's worth checking out for you.
Overall

Our team rates each site objectively based on many hours of independent research, the features each site offers, and how it compares with other sites. The ratings are the opinion of our editors and their extensive experience.

7
9.5
Quality of Women

Our opinion of how attractive the typical woman is that uses this site and how easy they are to connect with compared to other sites.

7
9
Popular

How many people are using this site to actually meet people compared to other sites.

7
9
Usability

How easy is this site to use and how quickly can an average person begin meeting people compared to other sites.

8
10
Privacy & Safety

Does this site take proper precautions to safeguard its members, their identity, and their data.

10
10
Effective

Our opinion of how easily an average person will be able to achieve their dating goals with this site compared to other sites.

7
9
Value

Will the time and money spent using this site pay off for an average person based on the opinions and experience of our editors.

7
10
Our Recommendation
After reviewing Hot Or Not for several weeks I was relatively impressed with the quality of women on this website and, more importantly, how responsive they were. Hot Or Not was pretty simple to use, and I imagine a lot of guys would be able to meet some half-decent women on this website. Overall, we wouldn't recommend it as your first choice, but it's a decent option if you've tried everything else and want to mix things up.
It's not the best option out there, especially for hookups (that's AFF and their free trial), but good-looking guys can probably get some results.  Here are the main things you need to know in our Hot or Not review.
HotOrNot has a generous free model
The free model works similarly to Tinder where you swipe on women one-by-one deciding to either "like" them or pass. You'll be granted 50 "likes" per day with the free version. You'll also be able to send unlimited messages to whoever "likes" you back.
The Hot Or Not premium model is well worth the money
In my first 24 hours, I scored 5 matches out of the 50 women I "liked."
However, I noticed that another 5 strangers had "liked" my profile. In order to see who "likes" your profile, you'll need to buy a premium membership, but it's surprisingly affordable compared to other dating apps.
You can pay $1.50 for a week, $8 for a month or $48 a lifetime. This will get you unlimited "likes," so you can instantly choose to match and chat with those who "liked" you first. You can also choose to cherry-pick from a list of women in your area, rather than swipe on them one-by-one. On top of that, you'll also be given the ability to undo your pass votes, prioritize your messages in others' inboxes and view other profiles anonymously.
These "likes" continued to trickle in. And a day after signing up for a premium account, I had a list of 18 women to speak to!
Hot Or Not as a decent user base of attractive women
I predict you'll be impressed with the overall attractiveness of the  women on this site. There appears to be a huge international user base on this website, with plenty of beautiful young women popping up throughout this testing period.
Most of the women I connected with in the first 48 hours of using the website got back to me pretty quickly.
Hot Or Not will protect you against catfishing
Shortly after purchasing a premium account, I was asked to provide a photo to verify my identity. Sadly, as we use generic attractive white man stock photos for our reviews, I was unable to do this. The good news is: this site has got your back when it comes to protecting you against catfishing.
I would still definitely recommend you try AFF over this site
Hot Or Not is a decent little online dating website, and you may well be able to find a nice woman to date using it. However, it remains incomparable to our favorite online dating service, AFF.
AFF also has a huge user base around the world, having also been formed in the early 2000s. The major difference between the two websites is that AFF is marketed towards horny adults who want to quickly match and hook up with a naughty partner. So, if you're looking for quick-and-easy one-night stands or no-strings attached relationships, AFF is the website to try.
In our experience, most of the women were down to swap contact details and meet without too much boring back-and-forth. If you're looking for a woman like that, there's no better time to give AFF a try. Although there's no dedicated mobile app, it works perfectly well on smartphone and tablet, as well as desktop.
The website is currently offering a free trial to all new users, so you can find a casual partner without spending a penny.
Pros and cons
Here are the main advantages and disadvantages of using Hot Or Not.
Plenty of attractive women
Simple but effective design of the website
Generous free account
Affordable premium membership
Average response rates
Limited search function
Basic profiles
Profiles, pictures and members we found reviewing Hotornot.com
There are plenty of attractive women to choose from on Hot Or Not. There are plenty of prompts encouraging you to fill out information about yourself, although it would appear that the majority of users have not bothered to do so. Most of the profiles had multiple photos uploaded, but a high percentage of them had no information filled out in their bio.
Having said that, this site has a pretty unique method of encouraging its users to complete their profiles. You will not be able to see the entirety of other people's profiles, unless you have filled out at least 60% of yours. Seems fair to me.
If you're too lazy to fill out your profile in full, you can sign up using your Facebook account. The website will import your hobbies, interests and other personal information from your Facebook profile if you do this.
The Apps Dating Experts Actually Recommend Instead of HotorNot
If you're a regular guy looking to find some success online these are the apps for you. Most guys fail because the spend all their time in the wrong place. If you want some solid results as a normal guy try these first:
Site
Our Experience
Our Rating
Free Trial Link

Best For Relationships

Experience Highlights

Easily the best option for long-term relationships
75% of all online marriages start here
70% of users meet their spouse within a year
In-depth signup and matching process

Try eHarmony

Best For Casual Fun

Experience Highlights

The best way to meet women for casual relationships
Best results for regular guys
Over 60 million active members
Not good for long-term relationships

Try AFF For Free

Great If You're Handsome

Tinder Highlights

Great if you're pretty good looking
Very popular, especially if you're 18-22
Really focused on photos
Becoming more of a dating than hookup app

Try Tinder
HotOrNot.com design
Simplicity is one of the strengths of this site. Your menu is on the left-hand side of the screen, but you'll probably spend most of your time on the "Encounters" tab. This is where you swipe on women one-by-one. Underneath that, if you're a premium user, you can search for people near you and choose who you want to talk to.
The rest of the menu essentially serves as notifications of women engaging with you. You'll see how many women have messaged you, matched with you, liked you, visited your profile or favorited your profile.
Messaging and chatting
You can send unlimited messages to your matches with a free account or to anyone with a paid account. You'll be able to see all of your messages in the "Messaging" tab on the main navigation. You can send text, emojis, gifts or images.
What can you do with a free membership on Hot Or Not?
With a free membership, you can "like" up to 50 members per day. You can send unlimited messages to whoever "likes" you back.
We didn't see any advertisements in our Hot Or Not review
There is no sign of any adverts on Hot Or Not. That's usually a good sign.
Pricing
You can buy a premium membership for different lengths of time. The longer the membership, the less you'll pay per day (except in the case of a one-day membership).
You can choose from the following plans:
1 Day ($2)
1 Week ($1.50)
1 Month ($8)
3 Months ($20)
6 Months ($28)
Lifetime ($48)
At the time of this review, Hot Or Not appeared to be running a huge sale, although it's a common tactic for online dating websites to advertise "sales" that never end. You can pay by debit card, credit card, PayPal or via your phone.
On top of its premium membership, the site also runs a credits scheme. You can use your credits to boost your visibility to others, let them see when you're online and get more daily "likes," among other things. It would appear that buying a premium membership is more cost-effective.
Hot or Not Review FAQ
If you need some more information about Hot Or Not, here are some frequently asked questions for you to consider:
What is Hot Or Not?
Hot Or Not was an app where you can deem someone "hot" (you want to match with them) or "not" (you don't want to match with them). However, HotorNot has since been rebranded as Chat & Date.
Who actually owns HotOrNot?
Or Not Limited runs and operates ChatDate (previously HotOrNot).
How can I contact Hot Or Not?
If you have concerns about Hot Or Not/ChatDate.app, you can contact them via their feedback form: https://chatdate.app/en-ss/feedback
Is HotOrNot real?
Not anymore. HotOrNot has since been acquired and rebranded as ChatDate.
Is Hot Or Not legit?
When Hot Or Not was operational, yes it was legit.
Is HotOrNot a scam or fake?
Hot Or Not wasn't out to scam you. You could find a date using the free version, and the paid version offers good value. Sure, there may always be a few cases of scammers lurking on online dating websites, but this site does plenty to verify its users and protect you against these too.
Is Hot Or Not safe?
Yes, Hot Or Not was quite safe to use and you didn't need to pay to use all its features.
What are HotorNot alternatives?
Our guide on the best hookup apps and websites includes a full list of recommended alternatives to Hot Or Not.
How does Hot Or Not work?
Hot Or Not lets you create a free profile where you can add some photos and a bio. You are then presented with women within your area whom you can match with by hitting "hot" or "not". You can then message anyone who also hits "hot" on your profile.
Is there a HotOrNot app?
Ues, HotOrNot used to be available on iOS and Android.
How much does Hot Or Not cost?
Hot Or Not premium memberships cost:
1 Day ($2)
1 Week ($1.50)
1 Month ($8)
3 Months ($20)
6 Months ($28)
Lifetime ($48)
How can you use HotOrNot for free?
You can use HotOrNot's features for free. Paid membership is optional and gives you added perks on top of the basic features.
Can you send messages for free on Hot Or Not?
Yes, you can send messages on Hot Or Not for free once you match with someone.
How do you cancel your HotorNot account?
Navigate to your profile, by clicking your profile picture in the top left of the screen.
Click the cog icon at the top of the screen to get to your "Settings" page.
Scroll right to the bottom of the page and click Delete Account
Select "Delete Your Account" from the list of options, then confirm.