Finding the best dating app in Boston for you is no easy task. Everyone's dating online around the city these days and it's pretty much a requirement if you're under 50. Along the East Coast, the trend is especially pronounced.
For locals, dating is often a digital affair, but knowing which Boston dating apps to use is key. Just like bars and nightclubs, dating apps go in and out of fashion. Getting in the right one is crucial. But just like clubs, sometimes as soon as you hear about the next hot app, it's already out of style. So just what are you supposed to do?
First, you need to make sure the dating app you're using is location-specific. With a population of nearly 700,000 residents, Boston is a great place to date. From West Roxbury to Mission Hill, singles are looking for love, romance and a lot of fun. Many times, though, you get on a site and people pop up from all over the place – from Lowell to Taunton. This is because these sites want to pump up their numbers.
But Boston already has it all when it comes to dating. There's no need to leave the city. With Harvard and BU right here, there's a young and vibrant scene. Downtown offers loads of date-night options and most singles expect one date a week, minimum. After all, dating is a numbers game.
These are the best dating sites in Boston that you have to try: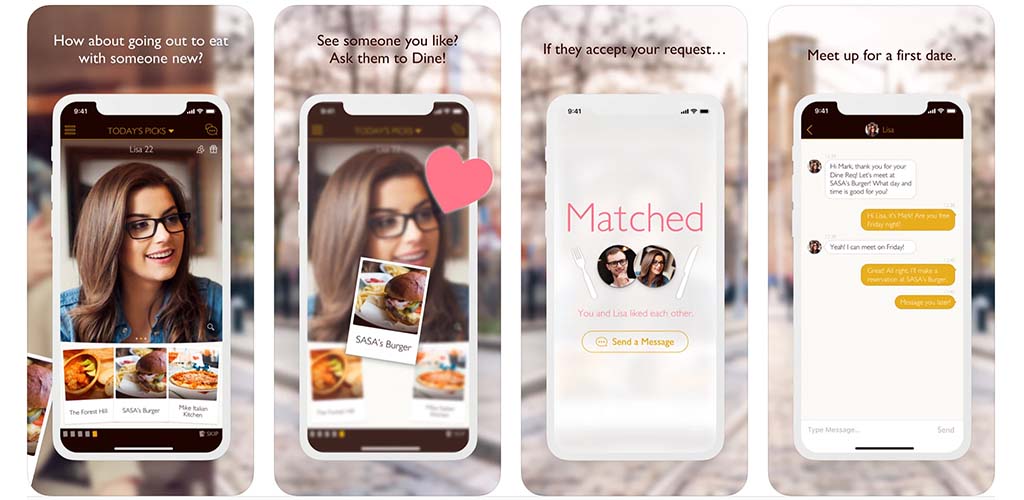 #1 - Dine (Android; iOS) is the best dating app in Boston for foodies
Dine is for the Food Network fanatics out there. If you spend a lot of time thinking about what your next meal is going to be and what new restaurant you should try this is the best Boston dating app for you.
What makes this app great is that it removes the stigma of the traditional "dinner date". Instead of your date being some awkward interview Dine helps you meet people that actually share your culinary interests. The whole idea is that you can meet other singles, try out new restaurants, and actually enjoy dating for a change. It works and it's definitely one of the most fun dating apps in Boston.
Why Dine is a great dating app in Boston
Makes it very easy to meet other foodies and try new restaurants
Worst case scenario you get a good meal out of your date
It's been a fun way to explore the local food scene
What we don't like about it
Not the biggest app out there so after a few months it can get stale
Going to a new restaurant for every date can be pricey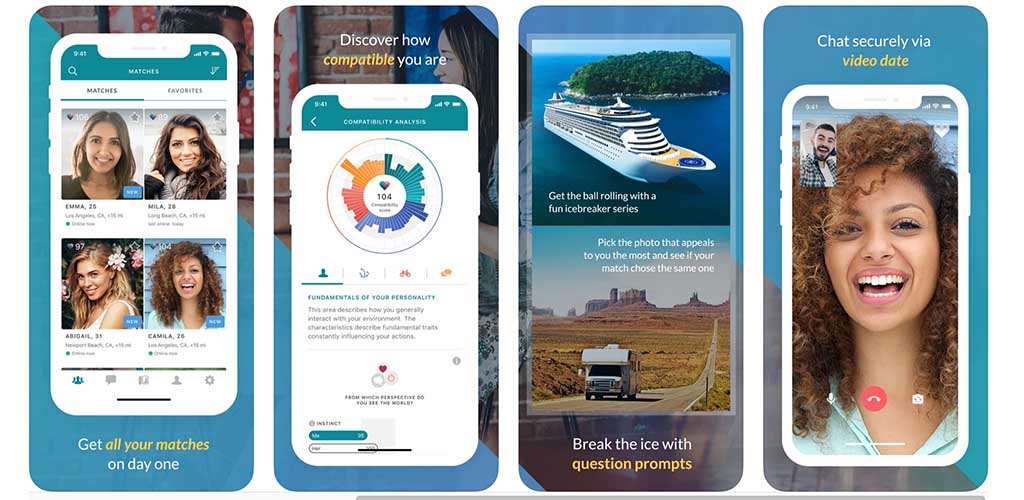 #2 - eHarmony (Android; iOS) is the best app for long-term relationships
eHarmony has consistently been THE go-to app if you want a long-term partner in Boston. We've all seen the commercials and heard about friends that have used it. The reason it's so well known is that it just plain works. If you want to find someone that you click with for a while it's really hard to beat.
When you have tens of millions of members there are going to be some successes. However, when 3 out of every 4 marriages that begin online start with your app you're doing something right. Getting set up definitely takes some time (they ask a lot of questions) but that's what it takes to understand what you're looking for. When you're looking for quality over quantity this should be the first app on your list.

Why eHarmony is a great Boston dating site
Really popular here with a huge number of users (over 30 million)
70% of users meet their future spouse within a year of using the app
It's actually really easy to use after setting it all up
What we don't like about it
There are a lot of questions to answer getting set up
They have a system for doing things that you have to follow to the letter (but it works)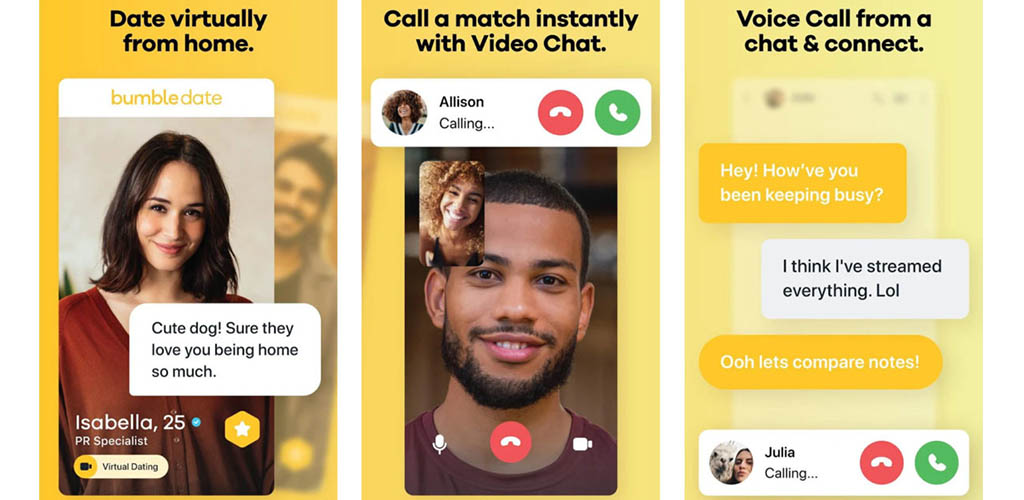 #3 - Bumble (Android; iOS) is a great experience for the ladies
Bumble has really turned dating on its head. Instead of men taking the lead by messaging first and asking women out it's completely up to the ladies to make the first move. It leads to a VERY different dynamic.
A lot of women in Boston have been using Bumble after they've given up on Tinder and the other "new" dating apps. They get tired of being deluged with messages from every single guy out there and prefer to only get contacted by guys they're interested in. It's a very different experience and one that works for a lot of people out there.
Why Bumble is one of the best dating apps for women
Women are in control and can avoid a lot of the annoying apsects of some dating apps
The app is pretty easy to use and fairly popular
What we don't like about it
A lot of guys won't like having the tables turned on them
Guys without a solid profile are not going to get a lot of attention

#4 - AFF is the best hookup app in Boston
AFF (which has a great free trial) has been around for longer than many apps but still has a surprising number of people in Boston using it (any over 50 million total). This is the best hookup app in Boston right now. It might not have the most beautiful app out there but it consistently works better for guys than any other app we've seen when you just want to jump into bed.
Unlike other Boston hookup sites (we're looking at you Tinder) it's all about meeting up and actually heading to the bedroom. It skips a lot of the dating formalities and encourages it's users to get to the fun part. If Tinder has been great for you, and it isn't for most guys, AFF can actually help you find what you want. If you want the best hookup app in Boston you've found it.
Why AFF works so well
There are a LOT of people using it that actually want to meet up
It's very focused on connecting people in person and getting to the point
It's the best dating app in Boston for normal-looking guys that want something mostly physical
What we don't like about it
We wish they had a better app
The ads on the site are annoying
More popular with those 25+ (which might not be a bad thing for you)
You Can Try AFF Free!
If you're just looking for a fling or more short-term fun you need to
try out AFF's free trial
. We've spent months and months testing out the alternatives (more than 100 other sites) and haven't found anything that gives most guys more options and better results. Give it a shot!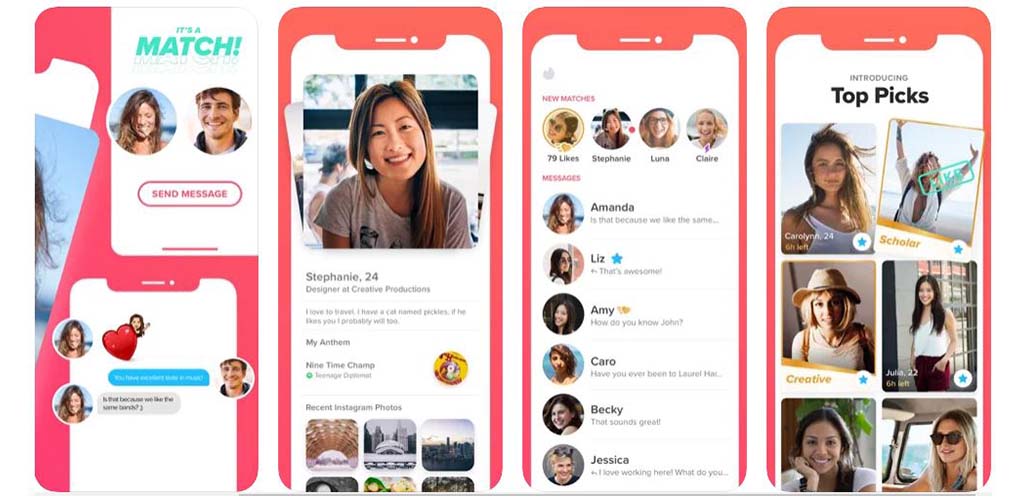 #5 - Tinder (Android; iOS) is the Boston dating app that won't go away
Tinder.com has morphed into more of a general dating app these days and is still very popular. Where once it was focused on short-term fun now it's practically like every other app. If you don't know any long-term couples that met on Tinder you need to get out more.
We've had pretty mixed results with Tinder, and so have many of the guys we know. Great-looking guys will do really well but guys who are less put together tend to struggle. Since Tinder is all about the photo it can be hard to get noticed if your's aren't up to par. What usually happens is the best lookign 15% of guys get 75% of the attention which is not a great experience for those of us in the bottom 85%!
Why Tinder is a dating app worth trying
It's one of the most popular dating apps in Boston, especially with teens and early 20's
It's very easy to get set up and start swiping
If you're decently good looking it can work really well
What we don't like about it
You won't find an app where looks matter more
A lot of women just use it to get attention and boost their egos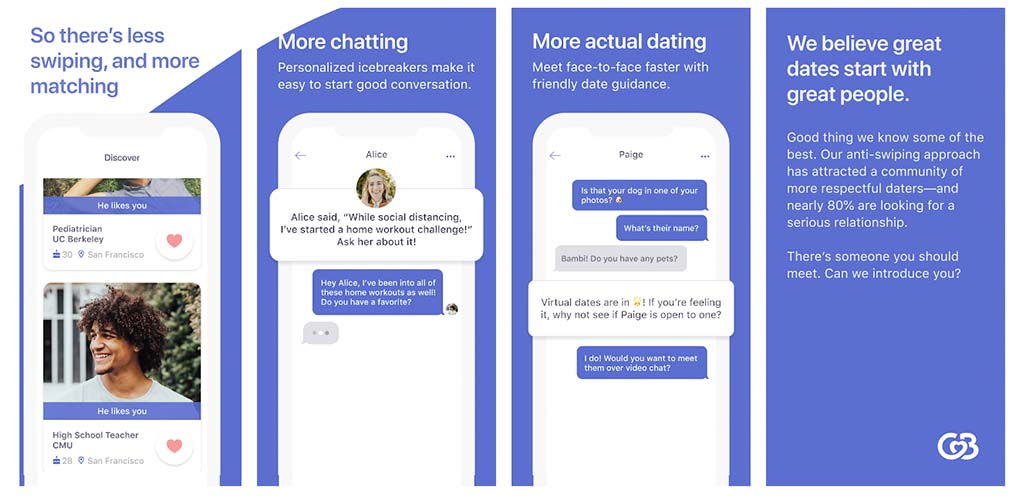 #6 - Coffee Meets Bagel (Android; iOS) helps the busy body
Coffee Meets Bagel might be the perfect app for you if you're too busy to date but still want to put yourself out there. It's the best Boston dating app if you want to do the absolute minimum and still see some decent results.
The way it works is that you get a small number of matches every day and have a certain amount of time to message before they expire. You don't have to spend a ton of time scrolling through profiles and you don't have to respond to a million messages a day. It really is dating at its essence.
We were pleasantly surprised with the matches we received and just how little time we had to spend using the app. When you're super busy and not necessarily looking for Mr/Mrs. Right it's a good option.
Why Coffee Meets Bagel is the best dating app in Boston for you
Allows busy people to keep a foot in the dating pool
Very low time commitment each day
Pretty popular and we had some solid matches
What we don't like about it
Really spaces out your matches so you might not find great success any time soon
It kinda sucks when a great match expires before you have a chance to respond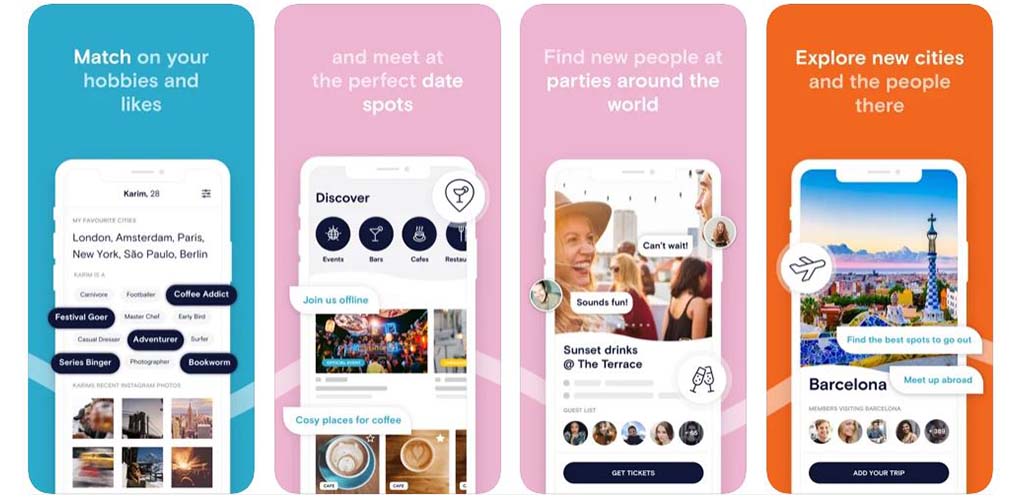 #7 - The Inner Circle (Android; iOS) is the best dating site to get off your phone
The Inner Circle is the dating app the works hard to get you off your phone and into the real world as quickly as possible. Where a lot of the Boston dating apps you've heard of are basically video games you spend hours using, The Inner Circle wants you to put the phone down!
It's actually a pretty refreshing experience. They run a lot of events and have several features on the phone that help you get out of your house and in front of other singles you might be interested in. A lot of their events have been out of commission lately but that will change eventually. It's certainly worth a download if you need an excuse to get out of the house.
Why The Inner Circle is one of our favorite dating apps in Boston
It does a really good job of taking things offline quickly
The events are fun when they're going on
Tends to attract a more fun crowd
What we don't like about it
Not as popular as a lot of apps out there
A lot of the value is from the events and other outdoor activities they promote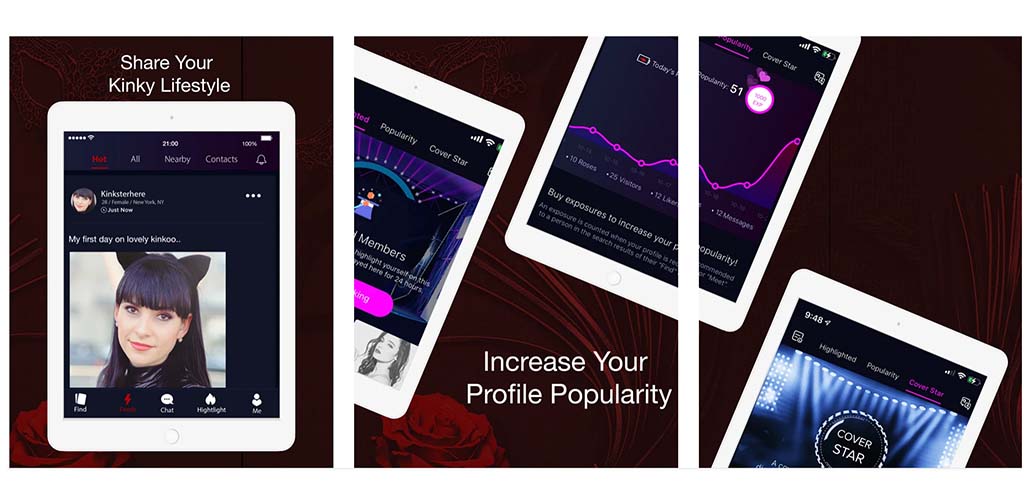 #8 - Kinkoo (Android; iOS) is for those who have a wild side
Kinkoo is the app specifically made for those who have some very particular kinks that they really want to express. It can be really difficult to find like-minded people out there and Kinkoo wants to be the solution. If that sounds like you, you've found the best dating site in Boston for your particular tastes.
We have to say, it's certainly one of the most diverse apps we've seen in terms of users. There is a shocking variety of interests out there and this is a great app for many of them. If you're connecting with what I'm saying here it's definitely worth checking out.
Why Kinkoo could be for you
Really great variety of people using it
Allows you to find people who share your interests without shame
Pretty open community
What we don't like about it
Really only good if you have very specific interests
A lot smaller than most apps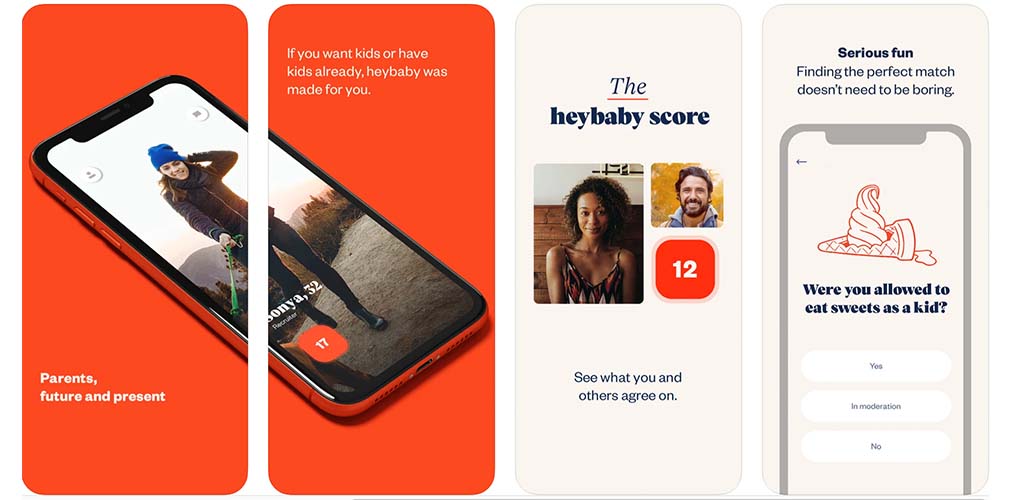 #9 - HeyBaby (iOS) is the best Boston dating app for single parents
HeyBaby makes it easy for single parents around Boston to connect. With so little time in the day to spend on yourself when you're a single parent an app like HeyBaby can actually make having a love life realistic.
We really like how focused it is on the various challenges of being a single parent and helping users find other family-oriented singles. It's not just for single parents, people without kids can use the app as well, but everyone on the app wants children.
If you've spent any time on other options, even some of the best dating apps in Boston that we list above, this will be a different experience for you.
Why you should download HeyBaby
Really great for connecting family oriented singles
Does a great job screening out people who don't fit the app criteria
Well designed
What we don't like about it
Not as popular as it should be if there are 13 million single parents out there
Can be awkward if you don't have kids of your own
If you are looking for more great guides to finding the right dating apps check these out: