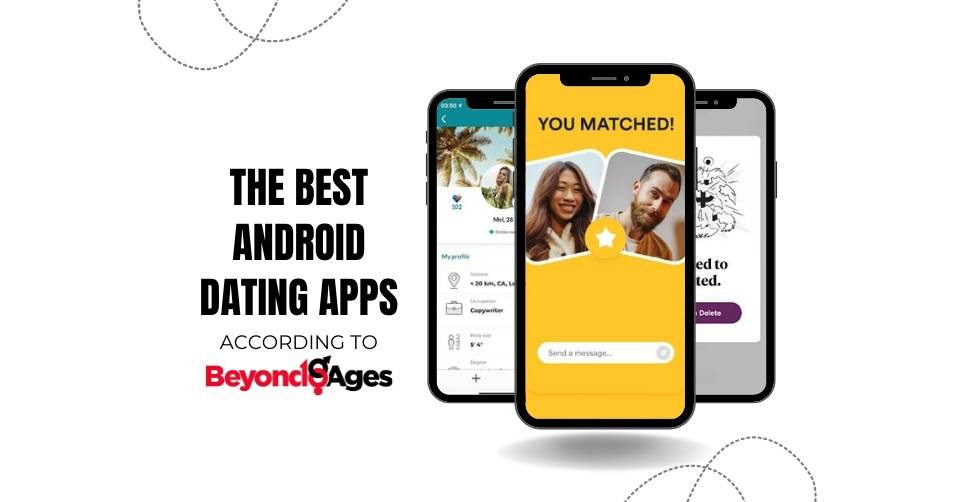 Although dating apps are generally made for both Android and iOS, certain apps may work better for you if you have an Android phone. Learning about the best Android dating apps can help improve your chances of finding love, or a fun hookup, online. Since there are hundreds of dating apps available, you may be sure about which one to download, but we're here to help!
The team at Beyond Ages tests and reviews major dating apps and niche ones to help our readers find the best one for their needs and interests. As many dating apps share similar features, we've narrowed down our choices to five of the best apps to use on an Android to save you time.
But before we discuss them, let's talk about how we ranked them so efficiently:
How We Ranked the Best Android Dating Apps
Our team believes in honesty and accuracy, so we thoroughly test each app before we recommend it to our readers. To do this, we create profiles on the free and paid version of each app to get to know all the features offered. We use the same pictures, bios, demographics, and opening lines on each app to minimize bias.
Once our profile is set up, we start swiping on locals in our area and getting to know them through the app. Ultimately, our reviews are based on how easy it is to land dates with these matches.
Which Is the Best Dating App for Android: Bumble or eHarmony?
Choosing just two of our favorite dating apps for Android was tough, but we narrowed it down. You've likely heard of these apps as they're some of the biggest ones on the market, but they're popular for good reason. Here's an in-depth look at each one to help you choose between them:
Overall

Our team rates each site objectively based on many hours of independent research, the features each site offers, and how it compares with other sites. The ratings are the opinion of our editors and their extensive experience.

8
9.5
Quality of Women

Our opinion of how attractive the typical woman is that uses this site and how easy they are to connect with compared to other sites.

8
9
Popular

How many people are using this site to actually meet people compared to other sites.

8
9
Usability

How easy is this site to use and how quickly can an average person begin meeting people compared to other sites.

10
10
Privacy & Safety

Does this site take proper precautions to safeguard its members, their identity, and their data.

10
10
Effective

Our opinion of how easily an average person will be able to achieve their dating goals with this site compared to other sites.

8
9
Value

Will the time and money spent using this site pay off for an average person based on the opinions and experience of our editors.

9
10
Our Recommendation
Try Bumble for a unique online dating experience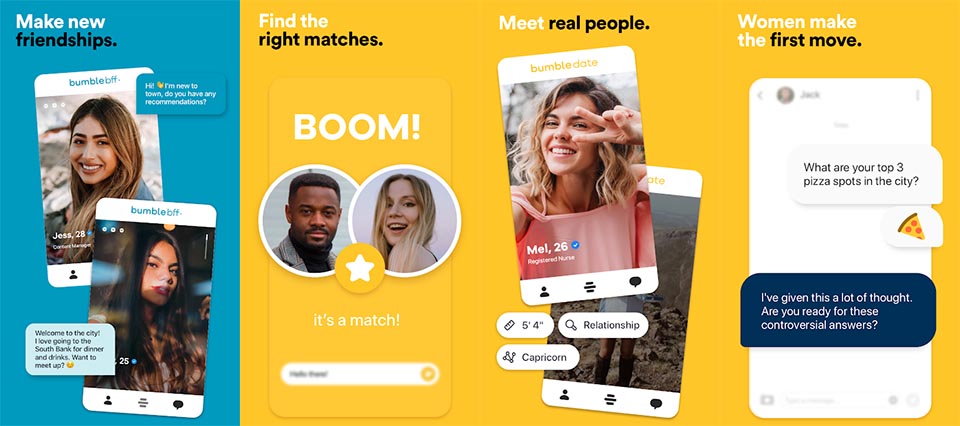 Many women don't enjoy online dating because they can be bombarded with messages that sometimes border on harassment. To minimize the chance of this happening, Whitney Wolfe Herd created Bumble, a female-focused dating app. Bumble differs from other apps because when a man and a woman match, the woman must make the first move. Otherwise, the match disappears after 24 hours.
This encourages women to take control of their dating life and allows men to enjoy the experience of being hit on. Other than that, Bumble works similarly to other apps as you look through profiles and swipe right on ones you like or left on ones you want to skip. Bumble also has different platforms, like Bumble BFF and Bumble Bizz that can help you find friends or network. The app is super user-friendly and easy to download on an Android phone.
Try eHarmony if you're ready to settle down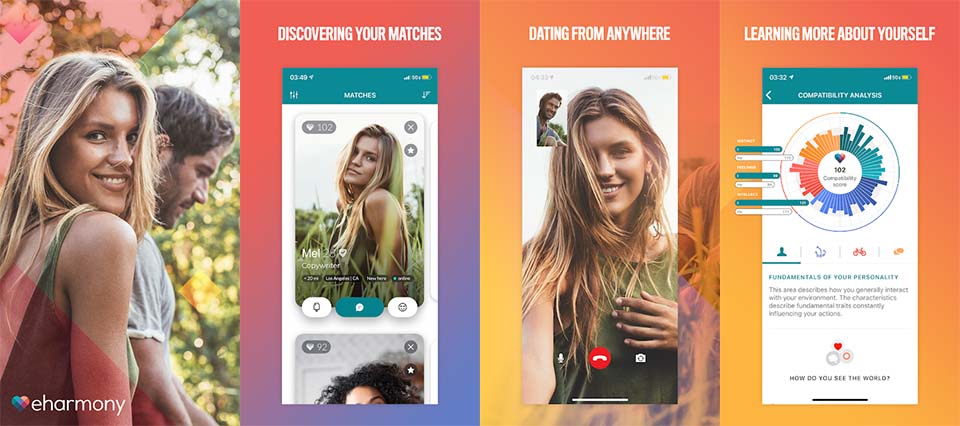 Although eHarmony started as a dating site in 2000, it has since expanded to offer an excellent Android app you can easily download. This is one of the best apps for people who are ready to settle down and get married. In fact, it has proven success as over 600,000 couples in the United States alone have found love on it and gotten married.
We think its success is partially due to eHarmony's detailed matching algorithm. When you sign up, you complete a detailed questionnaire about your lifestyle, hobbies, beliefs, and preferences in a partner. The app then uses your answers to recommend other users you may be compatible with. This can help you easily start a conversation as you'll have common ground.
The Other Top Dating Apps for Android Worth Considering
Although these apps didn't make it into our top two, we still think they're great.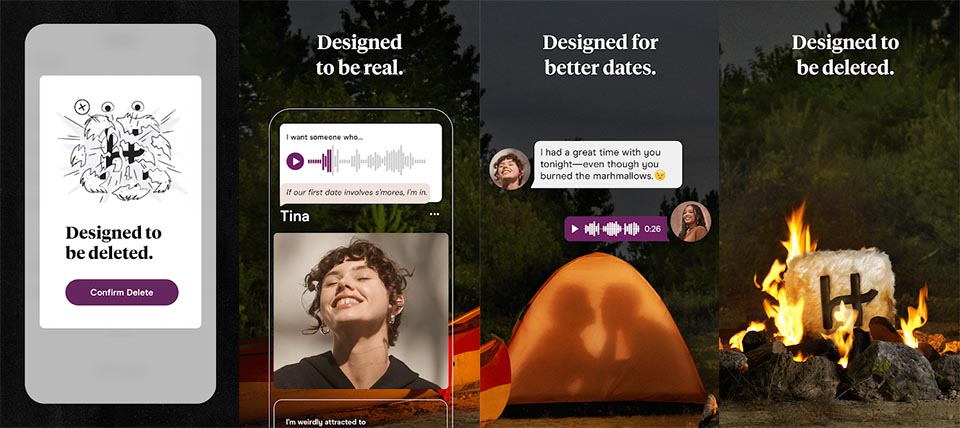 Hinge is one of our favorite Android apps because of how easy and fun it is to use. Profiles are a bit more detailed than other dating apps as you can include information about yourself and your vices, upload six pictures, and complete three conversation prompts.
To match with someone, you like or comment on a specific picture or conversation prompt. This encourages users to slow down and actually look through a person's profile to get to know them. Liking or commenting on a specific aspect of someone's profile can also help you find common ground to get a conversation started.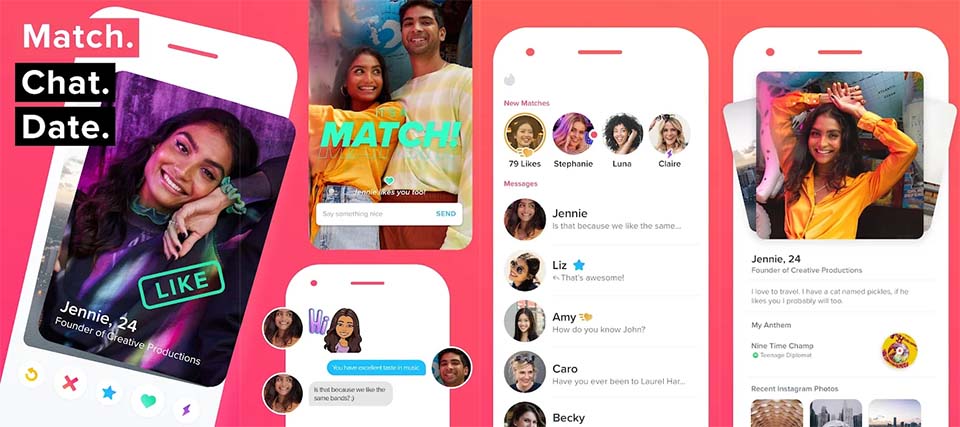 Even if you're new to online dating, you've likely heard of Tinder before as it's one of the most popular iOS and Android dating apps in the world. We think it's because of how easy it is to use and Tinder was one of the first dating apps to introduce swiping right or left on your profiles to match with people.
Since Tinder is so easy to use, it's turned more into a place to find casual relationships. If that's what you're after, we definitely recommend Tinder as one of the top hookup apps for Android. To find success, choose your hottest pictures and get to swiping. Tinder is free to use, so you have nothing to lose.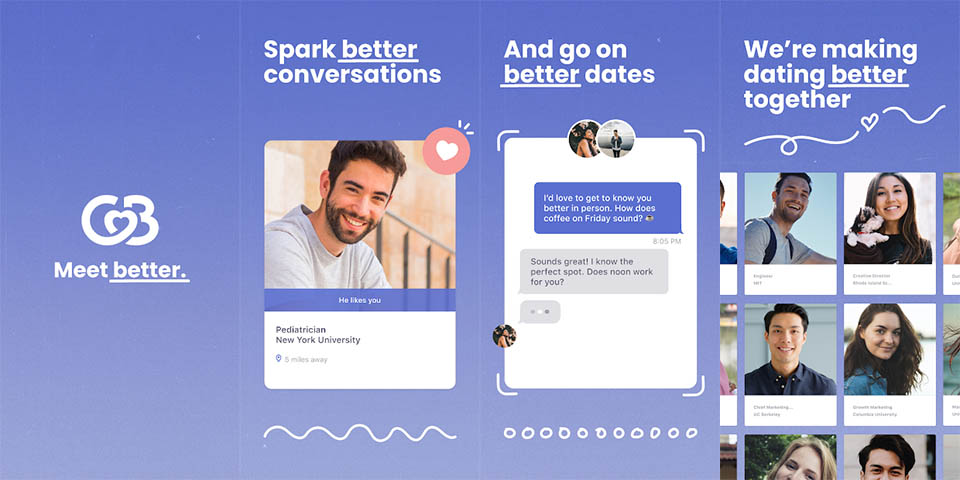 Coffee Meets Bagel is another unique dating app available on Android that helps people find something special. Many dating apps focus on quantity rather than quality, but Coffee Meets Bagel encourages users to slow down and give their attention to one person at a time.
To do this, the app sends a daily match recommendation at 12 based on your preferences to help you find someone you connect with. Coffee Meets Bagel advertises itself as a matchmaker rather than a dating app, so you can build genuine connections instead of endlessly swiping through profiles.
The Most Important Considerations When Choosing a Good Android Dating App
When looking for the best dating app to use on Android, here are some things to consider first:
How big is the user base?
The first thing to consider is how big the user base is. If it's small, you'll be able to form stronger connections with matches, but you may not receive as many. If it's big, you have a lot more options, but people are more likely to ignore messages to focus on other matches. Most major dating apps are available on Android, so you can narrow your search with filters or match recommendations.
Who is allowed to message you?
If you choose an Android dating app with a large user base, you may not want to receive messages from just anyone. Otherwise, your inbox can become flooded. To limit this, try choosing a dating app that only allows people to message you when you both like each other
How does the app select your matches?
Swiping through profiles to find your perfect match can be time-consuming, so if you don't have that kind of time, finding an Android dating app that recommends matches to you may be a better option. This can help you find your perfect match within a limited pool based on your own preferences, so you can save time and effort.
Are people looking for love or something casual?
Choosing the best Android dating app for you may depend on what you're looking for in a partner. If you want something serious, using an app where people have a similar desire can help improve your chances of finding love. If that's not what you're after, try a hookup app instead to have a little fun.
How much will it cost?
The last thing to consider is your budget. There are plenty of great free dating apps for Android, but they don't offer the same results that paid ones do. We think it's worth it to invest a little extra to improve your chances of finding your perfect match.
5 Key Tips to Get Great Results Using an Android Dating App
To improve your chances on these Android dating apps, here are some tips to consider:
Test out the features
While Android dating apps may share similarities, they often have some unique features to attract users. Take advantage of free apps or trials to test out different features and find ones you like.
Invest in a membership
As we mentioned earlier, free dating apps are fun, but they don't offer the same results that paid ones do. Dating memberships can be super affordable and they give you access to high-quality matches and better features to improve your dating experience. Most paid dating apps offer a free trial so you can test the waters.
Choose your best pictures
To impress your matches, choose pictures that represent you in a positive and interesting light. Android phones are known for their excellent cameras, so take advantage of this and upload high-quality pictures where people can easily see your face so you can attract potential matches.
Use an interesting opener
If you're using a general dating app for Android, you may receive tons of messages or have to send tons of messages before seeing any results. To help you stand out, use an interesting opening line. Consider your match's profile to make your message unique so they'll be more likely to respond.
Suggest a unique date
Another way to impress your matches is to suggest a unique date. Think about your shared interests to plan a memorable date you'll both enjoy. For example, if you both like the outdoors, going on a hike may be a good option.
Frequently Asked Questions About Dating Apps for Android
Here are some questions to frequently asked questions you may have about dating apps for Android:
What are Android dating sites?
Android dating sites are online platforms you can use on an Android phone to meet new people. These apps may have features unique to Android to enhance your experience and help you find people you have something in common.
Are Android dating sites legit?
As there are many dating apps on the market that are available for Android, it's impossible to say they're all legit. But don't worry, all the ones we recommend are the real deal. We know this because we tested them out ourselves.
Are Android dating sites safe?
Most major dating apps have safety measures in place that help users enjoy their experience and protect their private information. That being said, scams can still occur, so it's best to use your best judgment when talking to people and planning meet-ups with them.
How do Android dating sites work?
All Android dating sites work differently, so if you're new to online dating, try testing out the app's features first before matching with anyone and messaging them. This ensures you're familiar with the platform so you can focus on building connections.
What are Android dating app alternatives?
If you're not ready to settle down but still want to use an Android dating app, consider one targeted at people who want something casual instead. Here are some of our favorites.