Trying to find the best dating apps for people in their 40s and beyond? It may seem a little overwhelming, especially since online dating seems more like a young man's game. But it's absolutely possible to find success on dating apps at this age, provided you have created an attractive profile and you're clever about your choice of dating website.
In this article, we will reveal which are the top dating websites for single men in their forties. We'll explore the best website for those seeking serious relationships and those looking for something more casual. Whether you're new to online dating or you're just looking for some new apps to try, keep reading and you might just find the right app for you.
How We Rank the Top Dating Apps and Sites for 40-Somethings
You've landed on the best website to discover your ideal dating app.
Here at Beyond Ages, we put dating apps through more rigorous testing than any other reviewers. Our testers spend several weeks or months on the apps we review, testing out every aspect of it and delivering a verdict based on how easy it is to arrange dates with top-quality women.
For each review, we use the same set of profile pictures, demographical data and opening lines. Our bio is always the same as is our criteria for what makes a great dating website. This means you can trust our verdicts when we tell you the best dating apps for someone in your personal situation.
On top of that, we also test out both the free and paid features of the site. After all, some sites can be amazing even if they're free, but other sites only really work if you pay a premium. We then compare both of these experiences to give you an unbiased recommendation.
The Best Dating Apps for 40s Singles Right Now
With that disclaimer out of the way, let's explore our verdicts for what are the best dating apps for single men in their 40s and beyond.
Best app for long-term relationships and marriage - eHarmony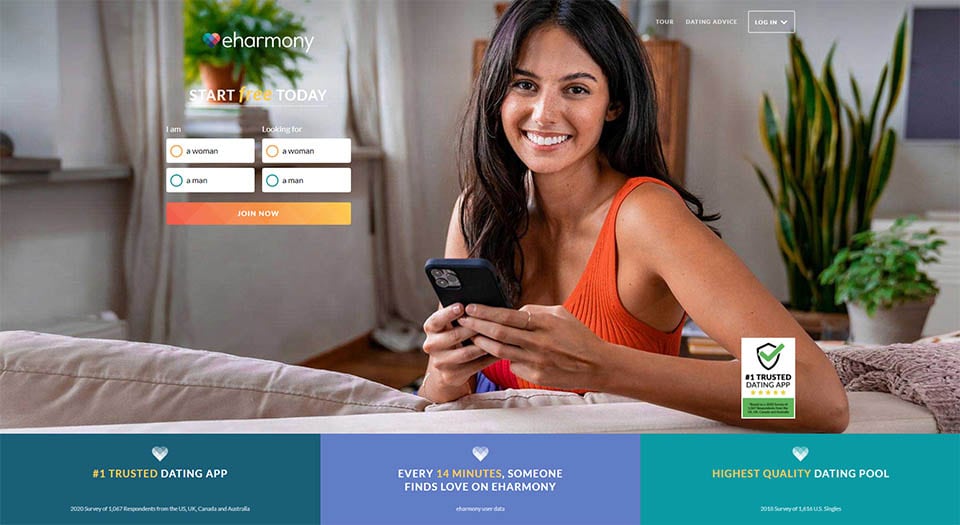 eHarmony (which has a great trial offer)has been regarded as the best dating website for long-term relationships for the best part of two decades. It launched in the early 2000s with one of the most complex algorithms ever seen for matching compatible singles. Even today, there is no algorithm that beats it.
It's based on a lengthy personality survey that all members are asked to complete during the sign-up process. It takes 40-45 minutes and covers every aspect of your personality. The results of this survey are then used to suggest the most compatible singles living in your area.
You're limited to only message your most compatible matches, but that means they're limited as far as how many messages they may receive. The end result is that the women most compatible with you will be excited to read your message.
This "less is more" approach works incredibly well and that's why data shows that eHarmony is responsible for more marriages than any other website.
Best app for casual fun if you're very attractive and want to date much younger people - Tinder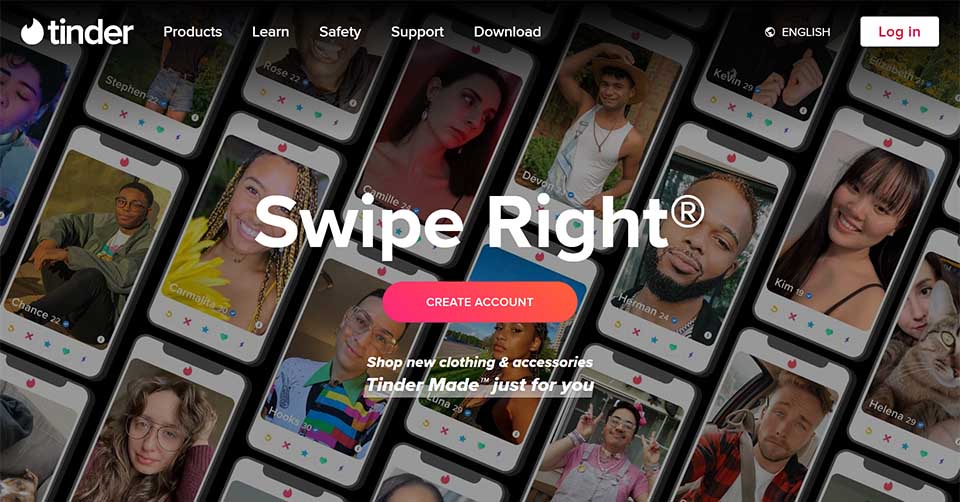 You might think that Tinder is only really suitable for the younger generations, but that's actually a myth. There are plenty of older men and women looking for someone on this app too.
The truth is it's easier to find some casual fun on this app rather than the love of your life. It's also true that only the most attractive guys tend to get great results on Tinder, so make sure your photos are top-notch.
Best app for casual fun for most of us 40+ - AFF (try it free here)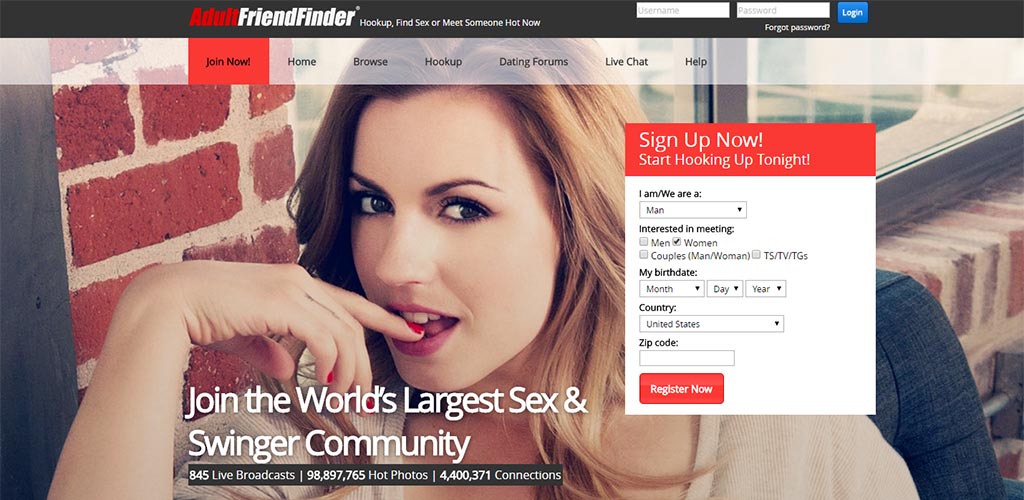 We rate AFF as the number one dating website for casual fun, especially if you're not in the top percentiles of good-looking men. Keep in mind that we're not saying AFF is only for less attractive singles. Instead, the site provides more of an even playing field for every guy to stand out.
We have tested this website in several parts of the world and never struggle to find a hottie looking for a short-term fling or friends-with-benefits relationship.
AFF tends to have an older age demographic than other mainstream dating apps. Another reason why it's perfect for single men in their forties and above. AFF is currently running a free trial too, meaning you can see for yourself what all the fuss is about without paying a penny.
Best app if you're not sure what you want - Match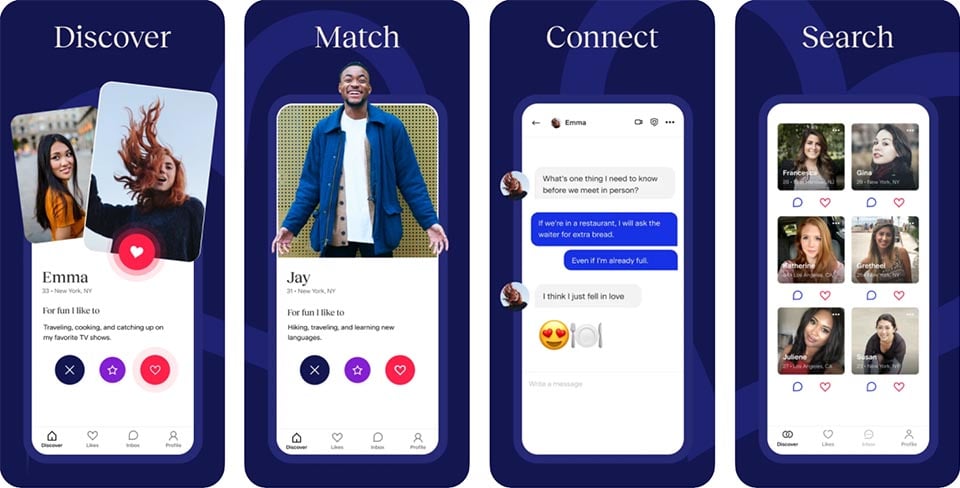 Match.com was one of the original online dating websites and it's still going strong. It's updated to keep up with the competition, although it remains mostly a website for older singles.
Rather than niching itself as a hookup website or a long-term relationship website, Match targets a broader audience. Perfect for a 40-something who has maybe just got out of something serious and isn't quite sure what he's looking for at this moment.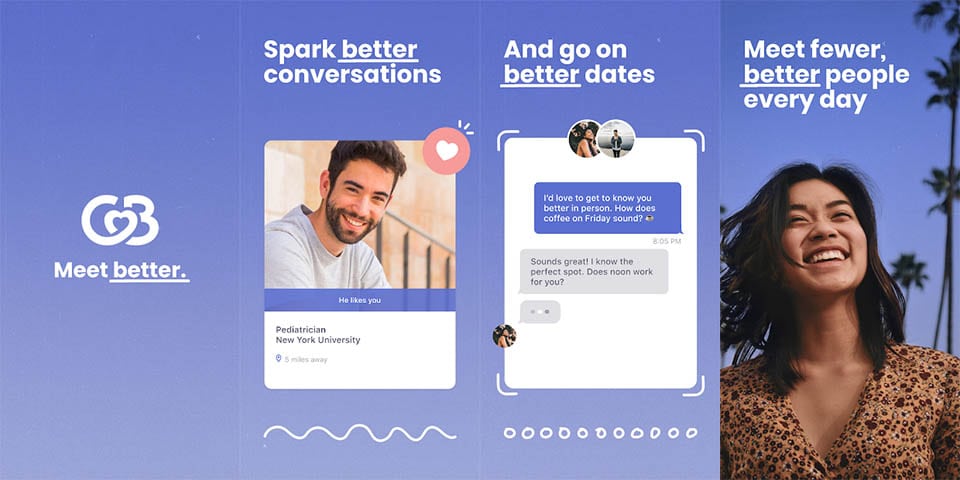 If you're too busy with your career and you don't have the time to swipe all day or chat with over 10 potential dates a week, Coffee Meets Bagel might be the app to help you slow down a bit. The app sends you a potential match (or bagels, as the app calls them) every day at noon. You can check our their profiles and decide if you want to chat. If you're into them, you go ahead and start chatting.
What many 40-something singles like about Cofee Meets Bagel is that it takes the pressure off instantly messaging anyone you happen to match with. You can just take it slow and decide on each profile you see when you have the time.
Best Dating Apps for Early 40s Singles (40-Year-Olds to 43-Year-Olds)
You've recently hit 40, you're single and you're looking to mingle. Here are some of the best options if you're on the younger side of 40.
Best app for long-term relationships and marriage - eHarmony
A lot of men and women in their early 40s are still looking for their happily ever after and eHarmony is arguably one of the best places for them to find it. Since the site is popular among those in their 30s and older, you'll find lots of women within your age range here.
We also have a complete list of the best dating sites if you're looking for something serious. These recommendations are perfect if you're done with casual relationships and actually want a long-term relationship.
Best app for casual fun - Tinder
If you're in your early 40s and you still have your life together, success on Tinder is certainly still possible for you. After all, in the world of Tinder, early-40s isn't considered that old. For more options on where to find hookups in your 40s, check out our list of the best hookup apps and sites. Tinder's there but you might just find other options worth trying.
Best Dating Apps for Mid-40s Singles (44-Year-Olds to 47-Year-Olds)
You're halfway through your 40s and you're still looking for some fun.
Best app for long-term relationships and marriage - eHarmony
A great thing about eHarmony is that nearly all of its members take their search for love very seriously. As someone who might feel they don't have much time to waste, you may be pleased to hear that.
Best app for casual fun - AFF
The greatest casual sex website works incredibly well for men in their mid-forties and beyond. There are older women looking for a hook-up with someone their own age, then there are younger women looking for an experienced man to take care of them. You can find both of them by taking advantage of AFF's free trial today.
Best Online Dating Sites for Late 40s (47-Year-Olds to 49-Year-Olds)
There's no noticeable difference when using dating apps in your mid-forties and your late forties. So, the same recommendations apply here too. Go for eHarmony if you want to find a long-term relationship. Check out Tinder if you're a confident guy with great photos. And check out AFF if you're looking for easy hookups without the need to swipe all day.
What Makes a Dating Site Great in Your 40s?
It's more important than ever to be smart and strategic when choosing a dating website in your forties and beyond. Here are the most important things to consider when making your choice.
App popularity with 40-somethings
If you're looking to date someone your own age, you'll need to consider how many 40-somethings are using the website. The more there are, the easier it should be to attract matches and meet your ideal woman.
Site design and features
Even the most tech-savvy 40-somethings would surely prefer a dating website that isn't too complicated to use. Too many features seem fun and exciting to 20-somethings. But when you're 40, you might want to stick to simpler apps where the profiles of the users are the star of the show.
Does the app make meeting people easy?
This is what men should consider more than anything else when choosing a dating website. How many dates can you land and how easy is it to find one? Do you have to pay lots of money and jump through hoops to even get someone to go on a date with you?
Do people use it for dating or socializing/ego-boosting?
We imagine you have little patience for these time-wasting women who only use dating apps to get compliments and feel better about themselves. So, it's worth checking whether a dating app has a reputation for attracting these types of women.
It's mostly teenage and twenty-something women who indulge in this. If you're looking for older women, you don't have to worry as much about these attention-seeking brats.
Can regular people find success or just the best-looking?
It's absolutely possible that you're still a sexy hunk of man in your 40s and beyond. But, if your best days are behind you physically, you'll want to choose a website where average guys can get success too. There are some out there.
A Short Guide to Getting Great Results from Dating Apps in your 40s
Follow four steps to reach your potential when using dating apps in your forties and beyond.
How to create the best possible online dating profile
A brilliant online dating profile requires brilliant photos. It would therefore be a good idea to hire a professional photographer who specializes in dating app photos. This is the best way to stand out among the hoards of older men looking for a partner.
If you've built a high-value lifestyle throughout your twenties and thirties, it's important to show that off in your online dating photos. Paint a picture of an exciting lifestyle that a woman would want to be a part of.
Yes, it's important to write about that in your bio, but most women won't even get to it if your pictures are bland. It's far more effective to show than tell, especially on dating apps. The guides below will give you added assistance to help you create an awesome dating profile:
Sending a great first message
An original and inspiring first message is needed to capture your crush's attention, especially on those websites where she's likely to be overwhelmed with attention. These guides will offer some inspiration:
Having awesome online dating conversations
These guides will ensure your online dating conversations don't fizzle out before your beau is ready to be asked out on a date:
Asking a woman out on a date
Asking a woman out is like landing a plane. You have to do it right. All your hard work is useless if you mess up the landing. The guides below will help you ask your woman out smoothly:
Biggest Mistakes Singles Make on Dating Apps in Their 40s
A lot of guys in their 40s are brand new to dating apps and that's why they make a lot of embarrassing mistakes. Others never learn from their mistakes and that's why they're still using dating apps after all these years.
Either way, we've listed the most common mistakes that older men make on dating apps, so you can avoid them at all costs:
Uninspiring photos
A selfie next to your SUV isn't going to cut it. Online dating is a visual medium and you're potentially competing with thousands of guys for the attention of the best women. To stand out, invest in a shoot with a professional photographer. They'll know what snaps work best on dating profiles.
We recommend including:
a hi-res shot of your face;
you enjoying your hobbies;
you and your friends;
a candid shot of your body (if you're in shape).
Boring openers
Most older guys think it's OK to start the conversation with "hi" or "how are you?" or some sort of generic compliment. This is stupid. The idea is to stand out. Come up with something original.
Dirty talk
Dirty talk isn't suitable for dating apps, at least not right away. You're either going to make a woman feel easy or offend her. Neither option will land you a date. The exception is hookup apps like AFF where dirty talk is common and is often encouraged.
FAQ about Dating Apps in Their 40s
Here are some quick and easy questions and answers about dating apps for singles in their 40s:
What is the best dating website for 40-year-olds?
Adult Friend Finder is great if you're looking for something casual. eHarmony is better if you're after something serious.
What are the best dating apps for 44-year-olds?
If you're 44, go with eHarmony to find your happily ever after. If you're after something more casual, use AFF.
What are the best dating apps for 45-year-olds?
eHarmony, Tinder or AFF are the best apps for 45-year-olds, depending on what you're looking for.
Are dating apps good for meeting singles in your 40s?
More than you probably believe. It's important to make a clever choice of which app to use, though.
How can I get better at using dating apps in my 40s?
If you're not getting matches, the odds are you need to improve your photos. Invest in a professional photographer who specializes in dating app photos. They will know what works well on dating apps and what doesn't. Check out our guide on how to send exciting messages too.