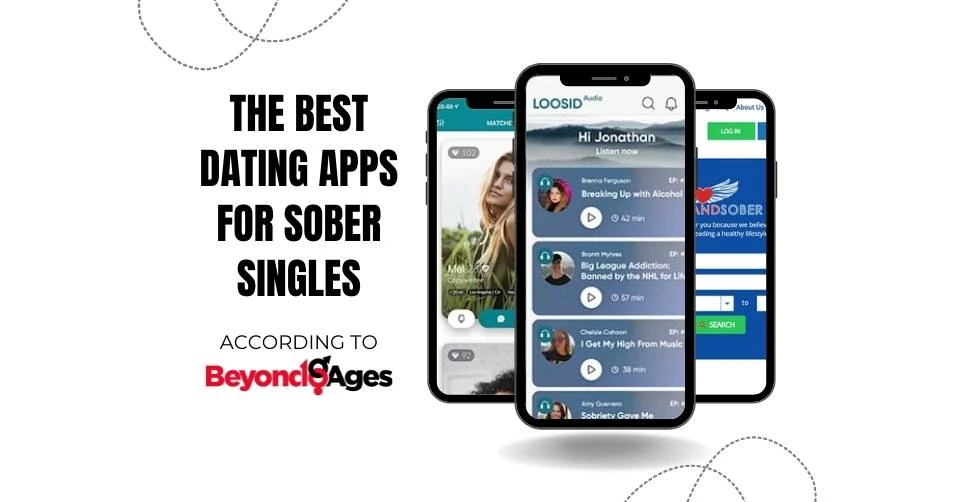 If you're sober, you may find traditional dating hard. Some of the best places to meet other singles are surrounded by alcohol, which can be uncomfortable. Instead, we recommend online dating. You can easily find other sober singles online and you can comfortably suggest alternative dates that don't involve drinking. The only problem you may face is finding the best sober dating app.
But don't worry, BeyondAges can help. We've tested and reviewed hundreds of dating apps, including plenty of niche ones for the sober community, to find the best ones. We want you to feel comfortable dating while still maintaining your sobriety, so we've narrowed down our recommendations to five great dating apps.
Before we discuss them, take a look at our criteria for choosing the best one.
How we ranked the best sober dating app
The team at BeyondAges wants to help you find your perfect match, so we thoroughly test and review each dating app ourselves to give you honest and accurate feedback. To do this, we use the same pictures, bios, and opening lines on each app we test to minimize bias. We also target the same demographic on each app, which in this case is other sober singles.
To ensure we can recommend a variety of apps that meet everyone's budget, we test free and paid versions and compare the results between them. Ultimately, our final recommendation is based on how easy it was to find matches that agree to a date. With that being said, here are our top two sober dating app recommendations.
Which is the Best Sober Dating App: Hinge or eHarmony?
Two of the most popular dating apps around the world are Hinge and eHarmony. Although they're general dating apps, they have massive user bases, so you can meet other sober singles or find someone who's accepting of your journey. Here's a detailed look at each app to help you find one that suits your needs.
Overall

Our team rates each site objectively based on many hours of independent research, the features each site offers, and how it compares with other sites. The ratings are the opinion of our editors and their extensive experience.

8
9.5
Quality of Women

Our opinion of how attractive the typical woman is that uses this site and how easy they are to connect with compared to other sites.

8
9
Popular

How many people are using this site to actually meet people compared to other sites.

8
9
Usability

How easy is this site to use and how quickly can an average person begin meeting people compared to other sites.

10
10
Privacy & Safety

Does this site take proper precautions to safeguard its members, their identity, and their data.

10
10
Effective

Our opinion of how easily an average person will be able to achieve their dating goals with this site compared to other sites.

8
9
Value

Will the time and money spent using this site pay off for an average person based on the opinions and experience of our editors.

8
10
Our Recommendation
Try Hinge if you want to get to know your matches
Although Hinge isn't a sober dating app, it's great for sober singles who want to get into online dating. Users can include a prompt on their profile that tells you whether they drink frequently, sometimes, or not at all, so you can easily identify other people who prefer to stay sober. Profiles also include pictures and conversation prompts you can like or comment on to match with someone.
This method of matching encourages users to slow down and actually look through a person's profile to get to know them and their interests better. There's also a good mix of people on Hinge looking for something casual or something serious, so you're bound to find someone that has similar desires to you.
Try eHarmony if you're ready to settle down
eHarmony is one of our favorite dating apps to recommend to any user as it's so successful. In fact, it's helped over 600,000 couples in the United States alone find love and get married. So, if you've got a handle on your sobriety and you're ready to settle down, eHarmony is a great option.
The site's success is largely in part due to its detailed matching algorithm. All users complete a questionnaire about their interests, lifestyle, and preferences in a partner. The site then uses your answers to match you with someone you may be compatible with, such as other sober singles. This can save you time and find someone you may have a real connection with.
The Other Top Sober Dating Sites Worth Considering
Although these apps didn't make our top two, they're definitely still worth trying.
Loosid is one of the most popular dating apps for sober singles
Loosid is a dating app and support system all rolled into one. You can access all the normal dating features you get on general dating apps, but you can also receive daily sober tips, find the locations of treatment centers in your area, and read booze-less guides to get ideas for sober events, and date spots in your area.
So, using Loosid can help you find the perfect partner, but it can also aid you in your recovery so you can become a better partner as well. Even if you're not after love, Loosid helps people find friendships as well so you can support one another in your sober journey.
Single and Sober is another great niche dating site for sober singles looking to meet one another
Single and Sober is perfectly designed for people who want healthy, sober relationships as the creator of the site, Mike Reed, is sober himself. You can create a profile on the site for free and browse other profiles, but if you see anyone you want to interact with, you have to pay for a membership. Most people on the site are looking for something serious, so if you're not after a relationship, this might not be the best option for you.
Tinder is for everyone
If you're focused on your recovery, you may not have time to date seriously. Instead, you can try using a dating app like Tinder to find hookups. Tinder is super easy to use, all you do is upload your best pictures, complete a short bio, and start swiping.
Swipe right on a user if you like what you see and left if you're ready to move on. Tinder is also free to use, so it's a great dating app for people on a budget or those looking to test the waters in the online dating world.
Just keep in mind that there's a lot of competition on Tinder. You need to create an eye-catching profile (with great photos) to really stand out and get women to swipe right on you.
The Most Important Considerations When Choosing a Good Sober Dating App
When looking for the best dating app for you, here are some factors to consider first:
Is everyone on the app sober?
If you only want to date someone who's sober, you'll have to limit yourself to niche dating apps. You can also express your preference in your own profile if you use general dating apps so people can choose whether to match with you.
How big is the userbase?
If you want to use a niche dating app, it's important to remember that the user base may not be as big, making it a bit harder to find a match. But, not everyone on general dating apps is going to be sober, so you'll just have to work harder to find someone that is or someone that doesn't mind your journey.
How much will it cost?
Although you're saving money on drinks, you may still have a limited budget. If this is the case, you can limit yourself to free dating apps, but just remember that you're more likely to get better results on paid ones.
Are you looking for love or something casual?
Even general dating apps are typically targeted to a specific audience, such as those who want something serious and those who are happy with a casual fling. Choosing the right app depends on what you're looking for, so it's important to consider that before creating a profile.
How does the app select your matches?
If you want to focus on your sobriety, you may not have time, to be swiping left or right all day to find the perfect match. Thankfully, there are plenty of dating apps that do the work for you by recommending matches you may be compatible with, saving you plenty of time.
5 Key Tips to Get Great Results Using a Sober Dating App and Meeting Sober Singles
If you want to improve your results when using a sober dating app, consider the following tips:
Be honest
Honesty is important in any relationship, but it's especially important when you're trying to stay sober. Be honest with your matches upfront and let them know that you're sober and want to stay away from alcohol so they can decide whether they're still interested. This conversation is much easier to have on niche dating apps where everyone is sober.
Invest in a membership
We love free dating sites and apps, but they just don't offer the same results that paid ones do. If you're looking for high-quality matches and better features, paying for a dating membership is worth it. Think of it as an investment in your future.
Ask questions
Getting to know your match can help you determine whether you have similar ideals, which can help you stay sober. Even if they're not sober themselves, you may still be compatible if they're willing to respect your choices and lifestyle, and asking a lot of open-ended questions can help you determine this.
Choose a sober date
A no-brainer tip is planning a sober date. Even if your match isn't sober, it's best to plan a date that involves no alcohol so you won't be tempted. Consider outdoor dates, such as hiking, having a picnic in the park, or going to the beach to avoid alcohol.
Set your boundaries
While it may be hard, it's important to set clear boundaries from the beginning. This includes talking about your limitations when it comes to drinking. For example, are you okay with your partner drinking or are you comfortable being in a setting where other people are drinking? If not, communicate this to your partner so you can avoid any potential issues.
Frequently Asked Questions About Sober Dating Apps
Here are some answers to frequently asked questions you may have about sober dating apps:
What are sober dating sites?
Sober dating sites are websites that people who are sober can use to find other sober people. This allows them to avoid any awkward questions about why they don't want to go to a bar on a first date. It also helps sober people form a community and receive support from one another.
Are sober dating sites legit?
All of the dating sites we talked about in this article are definitely legit; we've tried them all ourselves. But we can't guarantee that any others you may be interested in are. Before you sign up, check out our other review articles to see if we discussed the app to ensure you don't get scammed.
Are sober dating apps safe?
There are plenty of scams on dating apps to get your personal or financial information. While this can sound scary, don't let it deter you from having fun as most dating apps have safety measures in place to limit these scams. It's important to just use your best judgment when signing up for these apps and talking to new people.
What are sober dating sites alternatives?
You may not have time to focus on dating seriously if you're more concerned with your sobriety. If this is the case, try one of our favorite hookup apps instead.
How do sober dating sites work?
Sober dating sites generally work the same as general ones, they're just made for a niche audience. But since every app has different features and settings, it's important to test out the platform before you start messaging anyone to ensure you're comfortable with it.