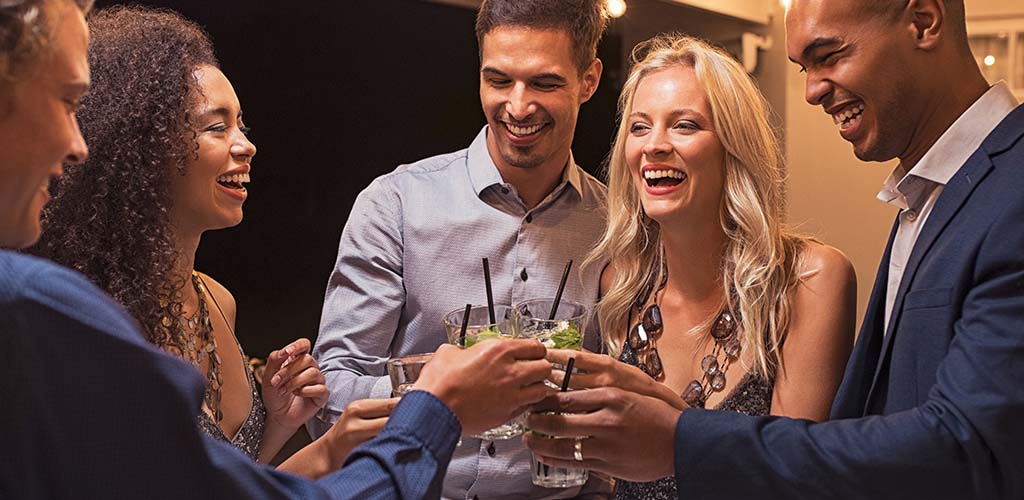 Hooking up in St. Louis can be challenging if you're not willing to put yourself out there. Popular sports, like kickball, are a great way to meet active singles, but let's be real: you want someone to play with these balls. Listen, you live in a big city with a variety of places like Chesterfield and Hyde Park. The possibilities are endless, but where can you go and what apps are going to help get St. Louis hookups?
There are hookup apps that work for St. Louis, swanky bars with sexy vixens and dive bars that reek of spilled beer. At Beyond Ages, we sent out a team of writers and tasked them with trying out apps and checking out local bars. We wanted to know the top spots to get laid in St. Louis.
Aside from having entirely too much fun, they gathered a list of the best hookup apps and hookup bars for St. Louis. If you're living in a place like Fountain, you're going to want to download some of these apps, or suck it up and venture into the city to check out these bars.
Whether you're studying at St. Louis University or Washington University or you're a working professional, we've got you covered. We made our list as comprehensive as possible, and we hope you find the fling you seek. If you don't get lucky, let us know why.
Also, if you've got an app or know of a place that's not listed, let us know about it in the comments below. Wishing you happy St. Louis hookups!
Where Sexy St. Louis Hookups Happen (Apps & Hookup Bars)
We'll start with the most successful St. Louis hookup apps and hookup bars. Our team gave each bar high marks for different elements, and we've detailed all the best spots where you can get laid in St. Louis. Find out why we gave these apps and bars two thumbs up!
One more thing: the art of the pickup is a skill. If you haven't quite mastered it yet, you should definitely check out our complete video series on how to pick up women older than 30. No need for shame in your game!
St. Paddy O's one of the best bars to get laid in St. Louis if you're into sports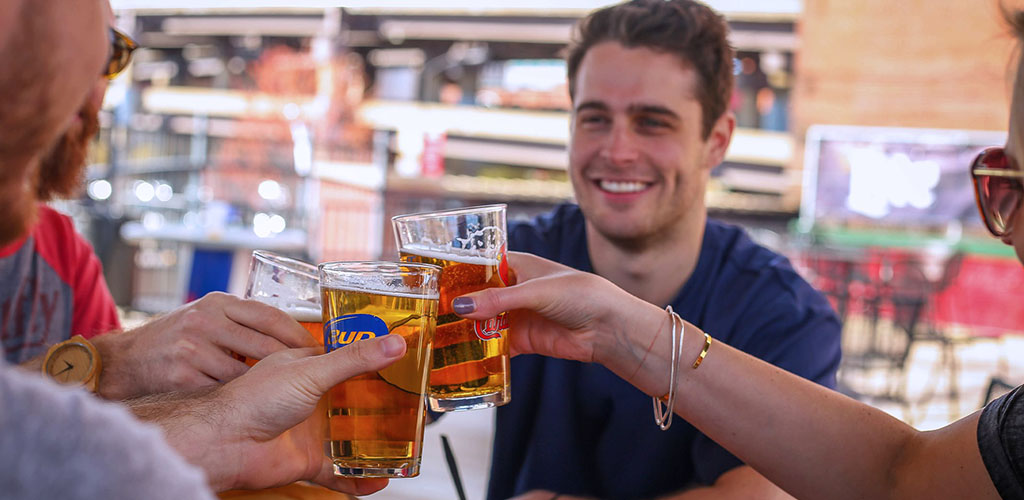 @paddyosstl
If you're looking for a fun sports bar, look no further. It stakes its claim as the Original Baseball Bar and why not? It's a short walk from Busch Stadium -- you can watch the game on the TV and hear the real-time crack of the baseball bat. It's centrally located to the Anheuser Busch Brewery, The Arch, and the historic Soulard neighborhood. If you park here, your first drink is on them.
This is where Cardinal fans stop for $4 beers before having to pay the bitter $9 per beer in the stadium. We've heard the alcoholic drinks aren't that great, so take our word for it and stick to the beers.
We thought St. Paddy O's was an awesome place for a pre- or post-game drink and a pre- or post-game hookup. If you get lucky before the game, sit on the patio and watch some of the game from here to avoid the crowds at the stadium entrance. Otherwise, come back after the game to enjoy the win or sulk over the loss. Either way, this is the best hookup bar for St. Louis Cardinals' fans.

Adult FriendFinder is the St. Louis hookup site that's actually worth your time (try it free)
Adult FriendFinder is for guys who are tired of Tinder. This is a great site for guys in their 20's but if you're 30 or older, or you're hoping to find a hookup with someone 30+, Adult Friend Finder REALLY shines. There are more than 90 million users which means chances are good you'll find a local hookup in St. Louis.
In all of our time experimenting with just about every app out there to find a woman for a quick fling Adult FriendFinder has stood out. They are the app we tend to recommend first and are the one that we have seen the best results with. You can't have as many users as they have and be popular as long as they have been without helping men AND women find what they are looking for. Everyone should at least give their free trial a shot.
When you're tired of wasting time and actually want solid results AFF is the best option.
We have had the best luck on AFF and think you will too. It's a popular hookup site used not only in St. Louis but all over the world. People have been hooking up on Adult Friend Finder since 2006, and it's one of the oldest and most established hookup sites still in use today.
Each year, Adult Friend Finder makes our list of best hookup apps, so it's naturally also a great St. Louis hookup site. Find a friend today on Adult Friend Finder!
Try Adult FriendFinder For Free!
Using
this link to Adult Friend Finder's free trial offer
you can check out exactly why so many guys have had such great success finding hookups using it. It really is the best option for most guys that we've found, especially when you're not super good looking.
Can you handle St. Louis hookups at the HandleBar?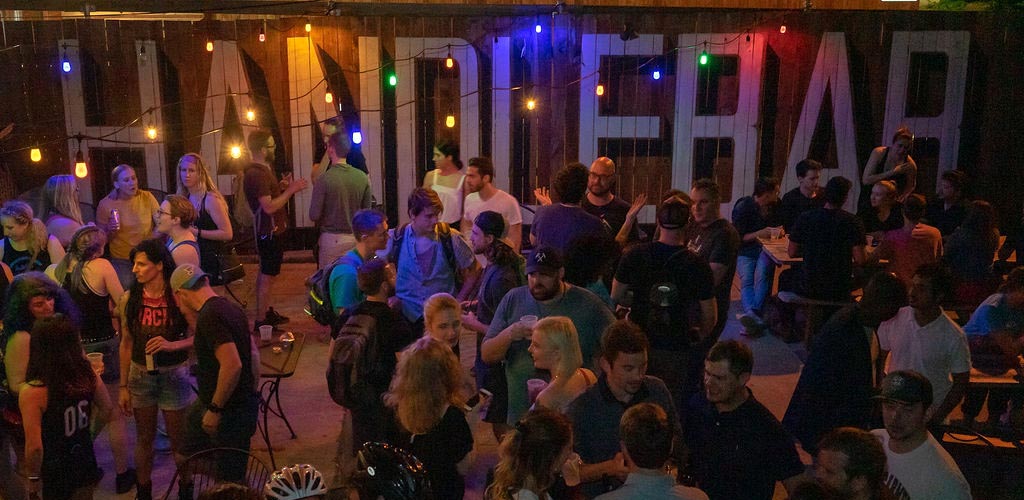 @HandleBarSTL
We can't say enough about this incredible little bar nestled in The Grove. The walls are decorated with deconstructed bicycle parts, there are church pews and patio seating, s'mores shots, Russian food and designer pizzas. On Wednesdays, they bust out the bingo boards, and on Fridays, it's a $5 cover -- not a lot to pay for one of the most badass nights you'll ever have.
We loved this bar because we've never experienced a Wednesday quite like this. Happy hour is from 4 pm to 6 pm, the drag queen bingo was hilarious, and if you're not down for bingo, there's plenty of eye candy to keep you occupied near the bar and pool tables. The house-infused spirits will keep you happy while you mingle with some of the coolest people St. Louis has to offer.

Cougar Life is a great way to meet more mature women looking to get laid in St. Louis (try it free)
If you haven't had any luck at our suggested cougar bars, try Cougar Life. The average lady on Cougar Life is between 35 to 55 years old and they tend to be interested in both younger and older guys. If you've only hooked up with younger women, check out our dating expert's tips on how to speak to older women.
Remember, the last thing you want to do is piss off a cougar. Chat with her, flirt and possibly hook up over drinks, but don't assume she's going to spread the love because she's talking to you. Take it as a compliment and be respectful.
At Cougar Life, you can confidently talk to mature women online without having to approach them in person. If you're a young guy who has zero experience with cougars, we know how intimidating they can be. So why not use this app as a way to get to know them before meeting up in person?
We'd say Cougar Life is where you can get laid in St. Louis if you can't resist the charms of a mature woman.
Try Cougar Life For Free
Karaoke and killer chicks at Double D Lounge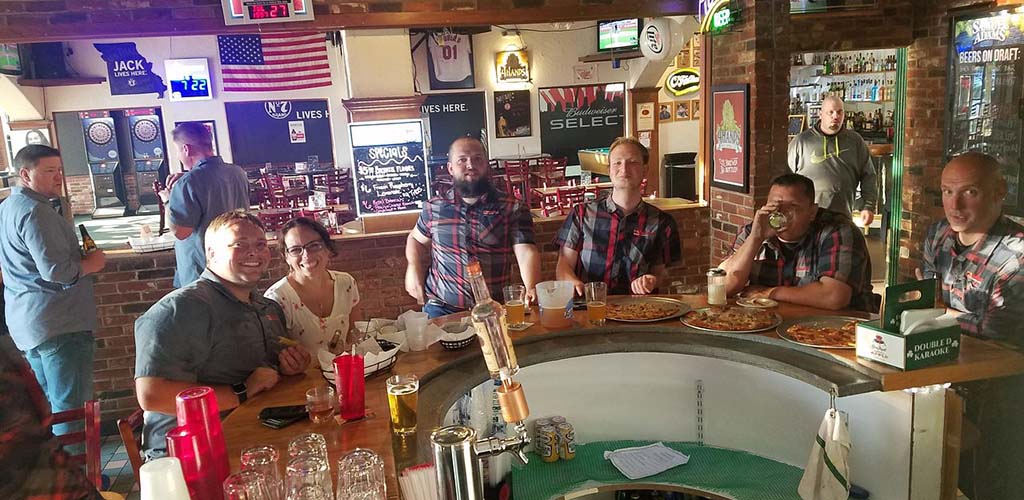 tripadvisor.com
Karaoke is one of those rare activities that allows anyone to fly their inner freak flag as it mingles with the inner rockstar to create the ultimate badass.  At the Double D Lounge, your groupies are waiting for you. When you want to find hookups near you try a local place like this.
The peeps who hang here are primarily older, late 30s and up, while a few younger folks dot the crowd. The drinks were cheap, the popcorn was free and the food was not worth writing home about … but that crowd! Oh my, that crowd.
We thought it was a little trashy, but sometimes trashy can be super hot. You're bound to meet someone when you steal the stage, or maybe you'll be her biggest fan. If you're not so lucky on stage, there are connection points like darts, pool tables and some older video games.  For us, this was the best bar to get laid in St. Louis. Have fun and get some!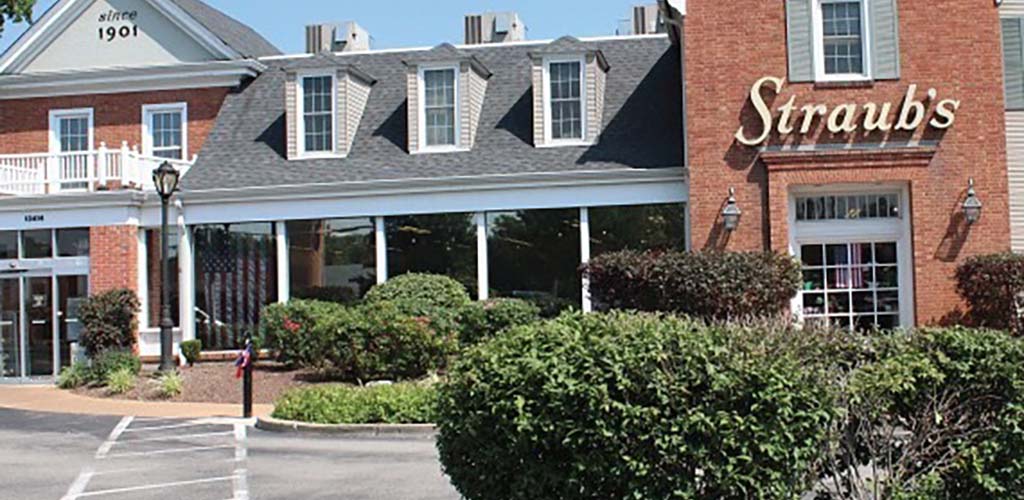 @straubsmarket
You're thinking about meeting someone and you're not sure where you want it to go. Quick one nighter? Something that lasts longer than a hookup? Depends on who she is. The last place you imagine for hookups is a local grocery, but believe us, you'll want to pop in at Straub's.  If you're a foodie, why not find someone who is equally fascinated by the different food selections available for every palate?
We chose Straubs as a local hookup spot because it's as eclectic as its customers. Locals come for their daily needs. Out-of-towners staying at the Chase Park Plaza like to visit the Straub's and explore the aisles, marveling over the exceptional options in snack foods, import cheese and drinks.
If you're sick of the apps and the bland open liners, and you want someone original and fresh, find them at Straub's.
Meet 10s at 360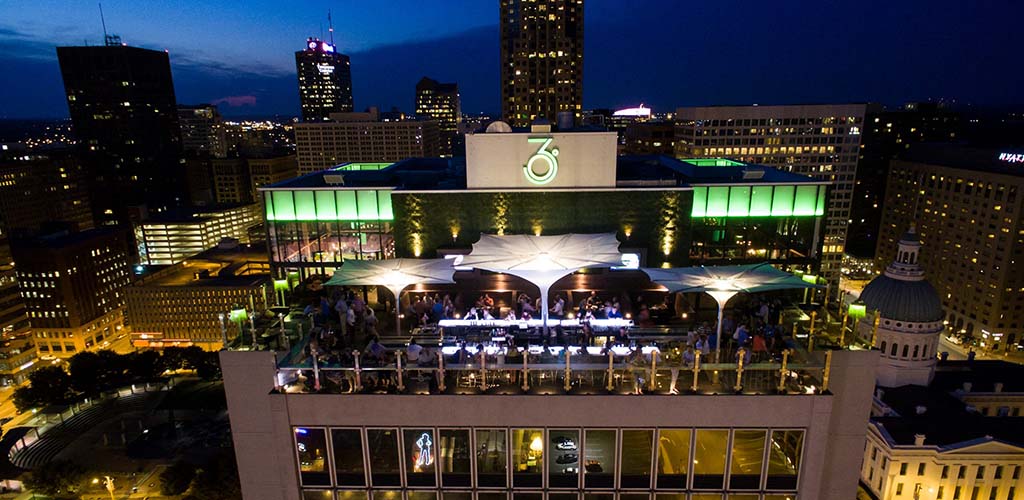 @360stl
The 360 bar is a magnificent tribute to the city of St. Louis. It is elegant and casual all at the same time. You needn't be a hotel guest to check out the sweeping views of the city. From this vantage, you can get a literal 360-degree view of Busch Stadium, the Arch, and the surrounding area. We understand why Thrillist voted this rooftop bar one of the best in the world.
We loved 360 because it sets an immediate romantic mood. Whether you're here on a date or hoping hookup, you're sure to win her over regardless of whether she's a baseball fan, a fine wine connoisseur or a foodie.
We recommend timing your exit, though. You can wait up to 30 minutes or more to go back down, and by that time she may no longer want to "go down" if you know what I mean. The 360 is great for lunch, dinner, dates, hookups or big groups. Have fun!
The St. Louis Hookup Bars You Have to Check Out
Now that we've covered some of our favorites, here are a few more St. Louis hookup bars where you might get lucky: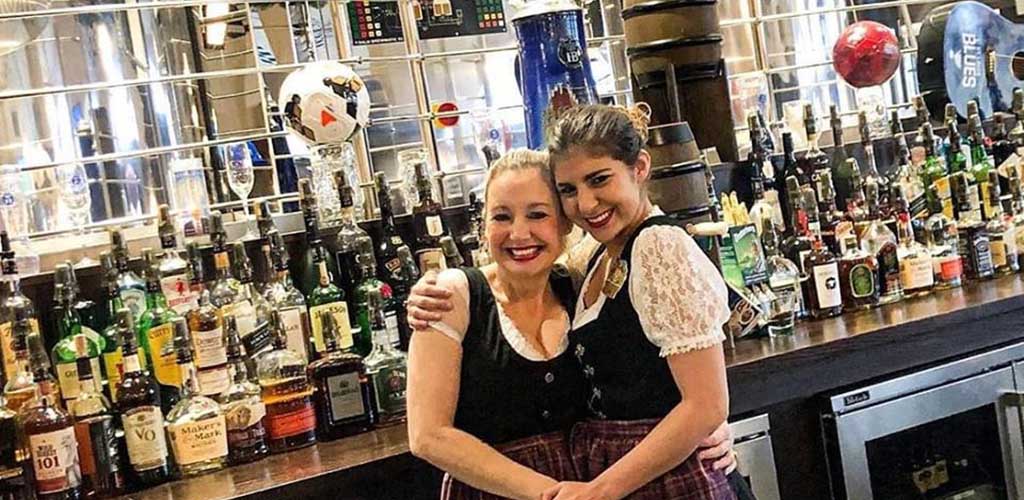 @HBStLouis
Located 20 minutes from the St. Louis city center, the Hoffbräuhaus of St. Louis-Bellville is the ultimate dining, drinking, dancing and live music experience for any size group. Bring a couple of bros and get social at their communal dining tables or share a pitcher of your favorite brew with a St. Louis babe.
There's live music Monday through Saturday at 4 pm and Sunday at 11 am and 4 pm. If live music doesn't toot your Alphorn, then check out their calendar for seasonal parties.
We liked the Hofbräuhaus of St. Louis because it feels like a magical place to meet with others, drink, dance and possibly find a hookup for the night… or for life.

St. Louis's best hookup app for the young and attractive is Tinder
You heard Tinder was where St. Louis hookups happen. Maybe you want to hook up but maybe you want to see where it goes from there. Well, whip out your phone and download Tinder. It's the best hookup app for St. Louis.
Keep in mind: Tinder isn't the place you go if you want to treat a woman like dirt. All women, even the ones trying to get an itch scratched, want to be respected. If you need help with that, check out our tips for flirting on Tinder. So would we say that Tinder is where you can get laid in St. Louis? Yes and no. Yes, if you're a hot stud who knows all about flirting online. And no, if you're online dating game is a little rusty.
Either way, Tinder is worth a shot if you want to get laid in St. Louis. So get ready to get some on Tinder.
Try Tinder For Free
Picasso's Coffeehouse swoons with live music throughout the week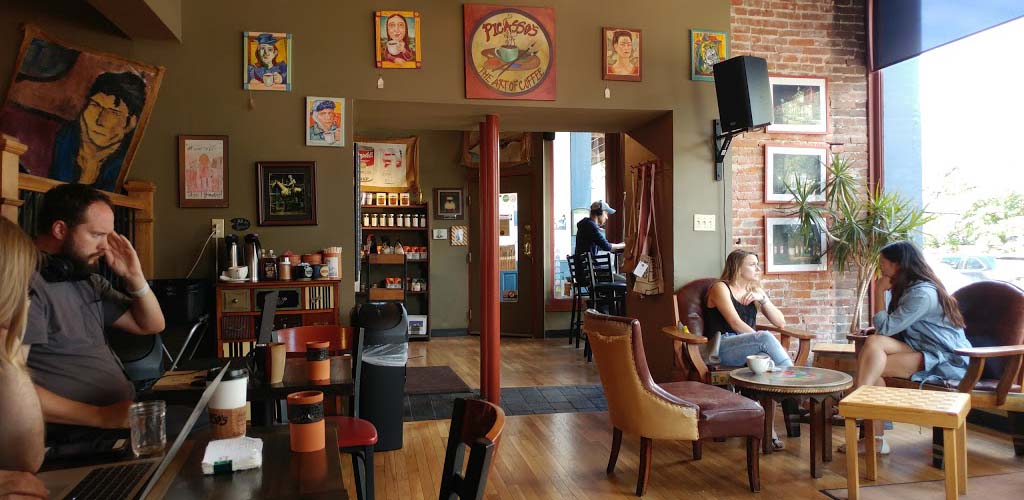 usarestaurants.info
Not every hookup joint has to be a bar, and not every bar has to serve alcohol. Picasso's is a coffee bar that slings espresso at two locations: St. Charles' city center and on Beale Street in St. Charles. Although each Picasso's Coffeehouse is about 30 minutes from the St. Louis city center, we knew our list would be incomplete without it. The singles and the place are that cool.
They serve coffee roasted specifically in St. Louis and local pastries from The LaBonne bakery. Fill your eyes with the work of local artists whose work adorns the walls, and fill your ears with the sounds of local musicians who perform throughout the week.
It stands out as a local favorite for both daytime and nighttime hookups. Where else can you start the afternoon with coffee and end the evening with Salsa Dancing? If you're looking for a classy lady who lives for coffee, live music and local art, try Picasso's.
Find definite St. Louis hookups at McGurk's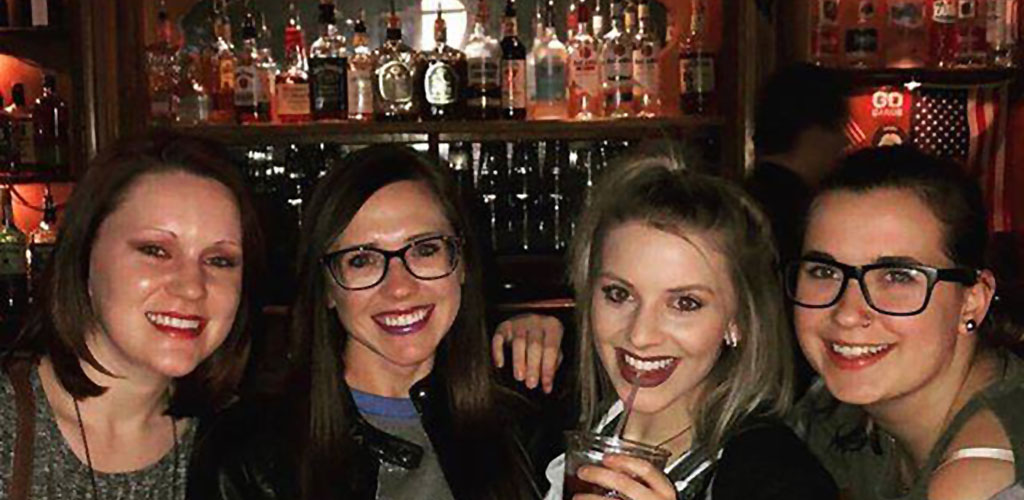 @JohnDMcgurks
No list of St. Louis hookup bars would be complete without McGurks!  That's John D. McGurk's Irish Pub if ya nasty. Established in 1978, they've built a positive reputation ever since.
Sure, we could mention how they were featured in Esquire magazine, or that they were named America's most authentic Irish Pub by National Geographic, or that Buzzfeed and Business Insider voted McGurk's the best Irish Pub in St. Louis and all of Missouri. However, we think it's more important to note the authentic Irish Music they play, the Irish food they serve and the 15,000 square foot outdoor garden for guests to enjoy on a beautiful day.
We agree: McGurk's has to be the best Irish Bar we've ever visited. What we loved most was the relaxed atmosphere, the chill vibes and the diverse guests who travel from all over the country to sit and enjoy all that McGurk's has to offer. It goes without saying, if you're looking for an interesting St. Louis hookups, this should be at the top of your list.
If you liked this check out these other great spots for hookups: