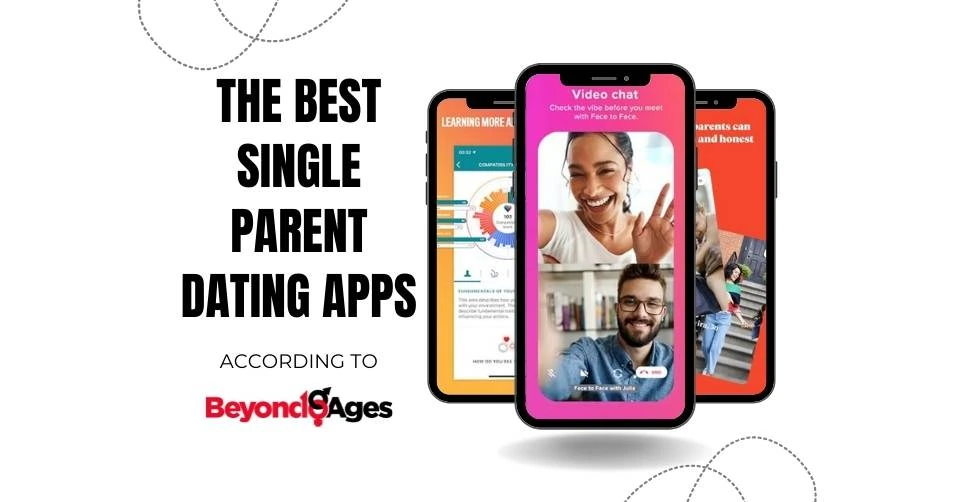 Dating as a single parent can be tough. You don't have a lot of time to go out and meet people and you aren't sure whether the people you do meet are even okay dating someone with kids. Using a single parent dating app can help minimize this stress as you can message people on your own time and everyone on the app is in a similar boat. The only challenge you may face is choosing the best single parent dating app.
BeyondAges has your back! We've tested hundreds of dating apps and sites ourselves, including niche ones for single parents, allowing us to make informed recommendations. There are so many great dating apps out there, so we couldn't narrow down our choice to just one. Instead, we're going to talk about five of our favorite dating apps for single parents.
But, before we jump into that, let's look at our criteria for choosing the best dating apps:
How We Ranked the Best Dating App for Single Parents
The team at BeyondAges only wants to recommend the best dating apps, so our review process is thorough. We test both the free and paid version of every app and use the same name, photos, bios, and opening lines when messaging people to avoid bias.
After using the app for a few months, we review it based on how easy it is to plan actual dates with high-quality matches since that's most people's goal on these apps.
For this list, we focused on landing dates with other single parents on niche apps and general ones to compare. This helped us narrow down our choices to find the best dating app for single parents.
The Best Single Parent Dating Apps: eHarmony vs. Hinge
When it comes to the best dating apps for single parents, there are plenty of options out there. But when it comes to the best of the best, we only have two options: eHarmony and Hinge. In the table below, you'll see what we think of these two options.
Overall

Our team rates each site objectively based on many hours of independent research, the features each site offers, and how it compares with other sites. The ratings are the opinion of our editors and their extensive experience.

9.5
8
Quality of Women

Our opinion of how attractive the typical woman is that uses this site and how easy they are to connect with compared to other sites.

9
8
Popular

How many people are using this site to actually meet people compared to other sites.

9
8
Usability

How easy is this site to use and how quickly can an average person begin meeting people compared to other sites.

10
10
Privacy & Safety

Does this site take proper precautions to safeguard its members, their identity, and their data.

10
10
Effective

Our opinion of how easily an average person will be able to achieve their dating goals with this site compared to other sites.

9
8
Value

Will the time and money spent using this site pay off for an average person based on the opinions and experience of our editors.

10
8
Our Recommendation
Try eHarmony if you're ready to settle down
Despite things not working out with the mom or dad of your baby, you may still be looking for something serious so you can settle down and raise your family. If this sounds like you, eHarmony is one of the best places to find a long-term relationship.
The site actually has a proven track record as over 600,000 couples in the United States alone have found love on eHarmony and gotten married. This success is partly due to eHarmony's in-depth questionnaire that all users complete when they sign up.
The questionnaire asks about your interests, lifestyle, and preferences in a partner to get to know you and offer match recommendations you may be compatible with. This is a great way to meet people, and it saves you plenty of time so you can focus on your kids.
eHarmony is a paid site, so if you're on a tight budget, it may not be the best option. But if you're looking for love and are willing to invest in the search, we think it's great.
Try Hinge if you want to get to know your matches
If you're young but still ready to settle down, Hinge is a great option. It's a dating app geared towards creating meaningful, detailed profiles. Users upload 6 pictures and answer 3 conversation prompts. Then if you want to match with someone, you need to like a specific picture or prompt.
This encourages users to actually get to know their potential matches instead of just focusing on their looks. It also helps you find common ground to get a conversation started.
Profiles also include detailed information about your personality, preferences, and lifestyle that can be dealbreakers to some, such as whether you smoke, what your political beliefs are, and if you want kids or not. So, this is a great way for single parents to meet one another or find someone that's open to having kids.
Using Hinge is totally free, but you can pay for additional features that may increase your chances of finding your perfect match.
The Other Top Dating Apps for Single Parents Worth Considering
Here are a few more single parent dating apps that you might want to check out. While not as highly rated as the two above, we've found success with these apps as well:
Hey Baby
One niche app that you have to try is Hey Baby. It's made for single parents or people who want to have children. This makes dating much easier as you don't need to worry about whether your hot matches want children.
When you sign up, you complete a personality quiz that Hey Baby uses to offer match recommendations. This can save you time and helps you find common ground with your matches so you can easily get the conversation started. The app is only available for iOS, however. Otherwise, Hey Baby would've been our top choice.
Match
Match is the oldest dating site on the market as it's been around since 1995. Despite its age, it's still quite popular, especially among people looking to settle down. Profiles are super detailed as you can upload up to 26 pictures and complete 10 sections with information about you, so you can easily mention that you have kids.
There are 21.5 million users on the site, so finding other single parents or people who are great with children shouldn't be hard. You'll just have to pay for a membership to access Match but the site offers a variety of plans and a free trial.
Tinder
Even though you have kids, you may not be looking to settle down just yet. Single parents need to have a little fun too, so we recommend trying Tinder. Tinder is very appearance-based, which is why most people use it to find casual flings.
Upload your best pictures and start swiping through profiles. Swipe right if you like what you see or left if you're ready to move on. It's also free to use with the option to pay for additional features, so you've got nothing to lose!
The Most Important Considerations When Choosing a Good Single Parent Dating App
Choosing the best single parents dating app depends on what you're looking for. Here are some factors to consider to help you choose the best one:
How big is the user base?
Niche dating apps, like ones made just for single parents, tend to have smaller userbases than general dating apps. This can be great for meeting like-minded people but it may make it harder to find a match. If you're willing to branch out more, you can find single parents or people okay dating someone with kids on general dating apps as well.
Who is allowed to message you?
You likely won't be online constantly as you have children to take care of, so it's important to consider who is allowed to message you. If anyone can message without you needing to like them first, your phone might blow up, making it overwhelming to get to know each and every potential match. In this case, it may be better to find an app that limits messaging so you can respond on your own time.
How does the app select your matches?
Similar to the consideration about messaging, it's important to think about how you want to select or receive matches. As a busy single parent, you may prefer an app that recommends matches to you so you don't have to waste time searching or swiping for a match yourself.
Can you put information about having children?
Since being honest is important, you may want to find a dating app that lets you include information about having kids. Some apps let you include a prompt that says you have kids in your profile so it's easy for other users to see before deciding whether to match with you.
How much will it cost?
As a single parent, you might be on a tight budget to save money for your kids' future. If this is the case, you may be hesitant to purchase a dating membership. There are free versions, but they may not offer the same results, so we recommend finding a membership that suits your budget. Many dating apps offer discounts if you pay for a whole year instead of paying month to month, so that's always an option.
5 Key Tips to Get Great Results Using a Single Parent Dating App
Here are 5 tips you can take advantage of to improve your chances of finding the perfect match:
Be honest
There are plenty of people who would be happy to date someone with kids, but equally, there are many people who wouldn't want to. To avoid wasting time talking to someone who doesn't want to be with someone who has kids, it's important to be honest from the beginning. You may be able to include a short sentence in your bio saying you have kids or just include it in the early stages of your conversation.
Invest in a membership
While free dating sites and apps are fun, they don't offer the same results that paid ones do. If you want access to better features and high-quality matches, invest in a membership instead. There are plenty of affordable plans that won't break your single-parent budget.
Don't include pictures with your kids
Although you're likely proud of your kids and want to share them with the world, dating apps and sites aren't the best place to do it. Every member of the site will have access to your pictures, so it's best to avoid including any with your children in it, no matter how good your family looks. This can help protect their privacy and keep them safe.
Ignore any judgment
People online or even people in your personal life may be judgemental about you joining a dating app when you have kids. Our best advice is to ignore that judgment. Parents are allowed to have fun too, so enjoy yourself! Unmatch anyone who tries to suggest otherwise.
Don't talk about your ex
No new love interest wants to hear about your ex, or they may think you still have a thing for them. You share children with your ex, so they're bound to come into conversation at some point. But, in the early stages, it's best to avoid talking about your ex unless the topic comes up in conversation naturally.
Frequently Asked Questions About Dating Apps for Single Parents
Here are some answers to frequently asked questions about the best dating apps for single parents to use:
What are single-parent dating apps?
A single parent dating app is an app single parents can use to meet new people for casual or long-term relationships. Single parents may use general dating apps, but these niche apps are targeted at single parents, so everyone on the app has something in common. This can make it easier for single parents to meet someone else with children so they don't have to worry about matching with people who don't like kids.
Are single-parent dating sites legit?
There are so many dating sites on the market, some of which may not be legit. We test all the apps we recommend ourselves, so we know they're legit. But if you want to branch out and try another app, make sure you check for reviews first to save you time and keep you safe online.
Are single-parent dating sites safe?
You may be hesitant to start online dating because you want to keep yourself and your children safe. The good news is that many dating sites have strict safety measures in place, such as verification methods and the ability to report suspicious profiles. Even with these measures in place, it's important to take safety into your own hands as well by protecting your personal information and planning dates wisely.
How do single-parent dating sites work?
Single-parent dating sites typically have the same features as general dating sites, so if you're familiar with online dating, you shouldn't have any problems. If you're new to the experience, test out your chosen app's features and settings first before trying to match with anyone.
What are single-parent dating app alternatives?
As a single parent, you may not have time to date seriously. If that's the case, check out our list of the best hookup apps and websites you can use instead.