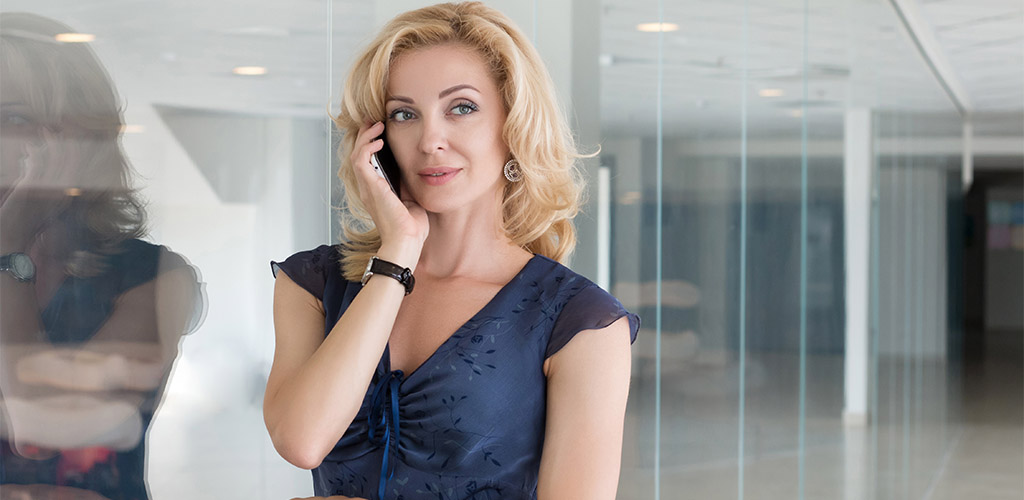 Would you like to learn how to talk to older women to create attraction? You're not alone: According to research conducted by Elite Singles, young men between the age of 20 and 29 prefer dating older women.
Based on anonymous data from 450,000 members of the popular dating website, the study revealed that age is just a number when it comes to love. Additionally, did you know that dating older ladies has many advantages?
As the seduction expert Brian M. from TheArtOfCharm.com says, "unlike a lot of younger women who are still exploring the dating world, older women have a much stronger idea of what they want."
Learn How to Talk to Older Women Without Embarrassing Yourself
Many men think starting a conversation with older women is very different from flirting with girls their age. Also, they don't have much experience doing it. For this reason, they end up looking insecure in front of the cougar they would like to date.
This is a huge mistake! The personality traits that attract older and younger women are the same: confidence, wit and charm. You don't need to be that sophisticated to flirt with a lady who's older than you!
If you want to learn the secrets to attract a gorgeous cougar, keep reading: We've created a no-nonsense guide for you.
1. Treat her like you would a younger woman
Most women are self-conscious about their age. The media promotes the idea that only young people with perfect bodies can have great sex. While this isn't true at all, ladies still tend to feel bad about how their bodies change with age.
So the first step to seduce the cougar of your dreams is not making her feel like an old lady! I'm not suggesting that you use internet slang while talking to her. But she doesn't either need any special treatment from you either.
Never, ever mention her age while flirting with her. Age is just a number, remember? Instead, you can highlight how mature her point of view is about a certain topic, adding that it's something you rarely find in girls your age.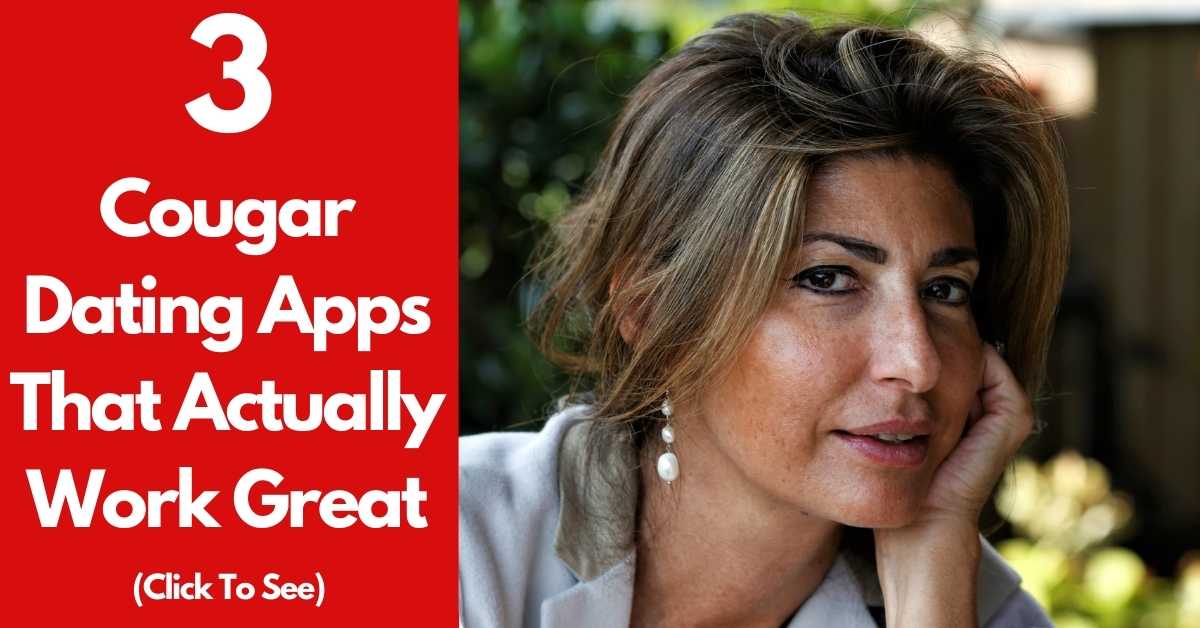 2. Openly flirt with her without fearing rejection
Older women don't play games. Girls your age might try to act uninterested to see if you will chase them. But a cougar will always make it clear if she likes you or not.
Pay attention to the signals she sends you during a conversation. If she's interested in getting to know you better, she'll likely flirt back. That's your cue to make your move. Likewise, if she doesn't like you, you'll sense that she's not receptive to your seduction techniques.
The reason for this is that mature ladies are generally more confident than girls in their twenties. It's a huge benefit that comes with approaching older women!
Make sure you're factoring in your location here though. When you're in the local cougar bars or other spots where finding cougars is easy you should approach without reservation. If you're in a professional situation or somewhere where talking is difficult think it through a bit more. Likewise, if she's a waitress at a diner you frequent, there's a specific approach for that.
If the woman you chose doesn't seem to be interested in you, don't despair! Maybe she simply doesn't want to be considered a cougar in her local community. Unfortunately, there's still a lot of stigmas attached to older women who talk to and date younger guys.
3. Be confident at all times
Older ladies like confident men who aren't afraid to approach them. So if you have body language that denotes insecurity, she will notice it!
Many dating experts suggest to "fake it till you make it" (i.e., acting as if you were confident until you truly are). Here are the verbal and non-verbal cues that you should use to attract an older woman. Practice them in front of the mirror!
Stand straight, keeping your shoulders back and relaxed.
Don't move aimlessly around the room but stand still unless you need to go somewhere.
Slow down your movements and avoid making quick gestures while talking to her. This will likely make her feel anxious rather than turned on!
Slow down your speech a little bit. Many men tend to speak too fast when talking with an attractive woman.
Don't break eye contact until she does. This will help to build the right amount of sexual tension.
Speaking of eye contact, it's also a good way to learn if she's interested in you or not. If she likes you, she will stare into your eyes for a long time. If she isn't keen on flirting with you, instead, she'll avoid prolonged eye contact.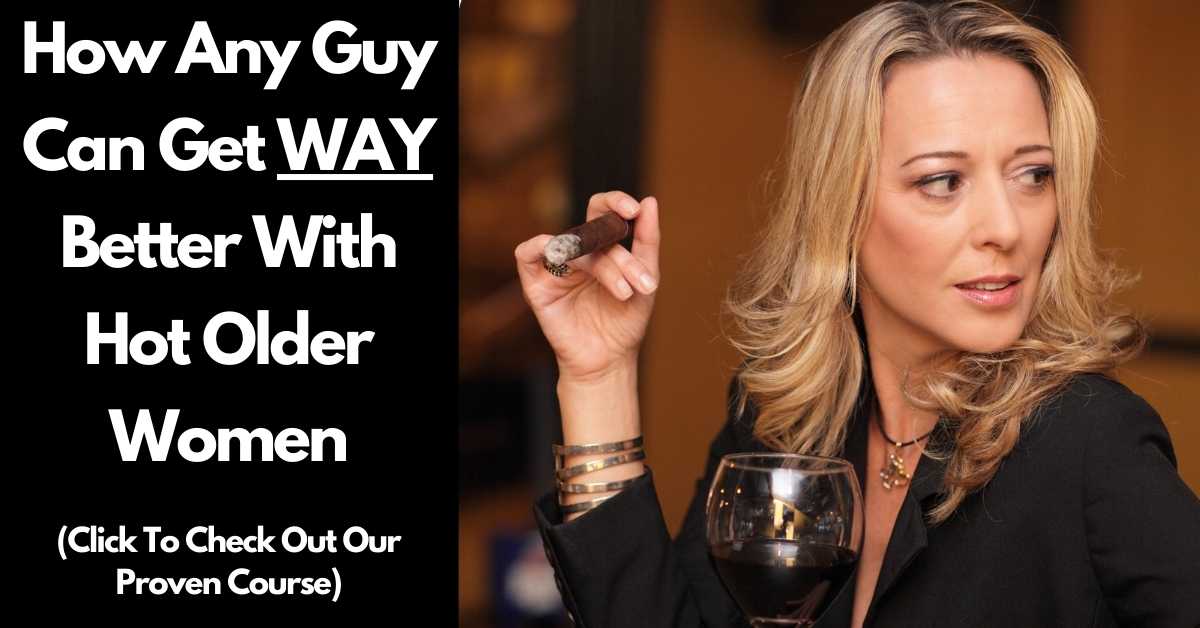 4. How to talk to older women and create sexual attraction
In one of his articles for ManThesis.com, the seduction expert Malcolm Thomas argues that older women choose younger men because they want to have great sex. On the opposite side, when they date older guys, it's usually because they want their money or they want to settle down and start a family.
"For these reasons, whenever you approach an older woman (as a younger man) and she is very receptive to you and is showing you heavy signs of interest, you are best off moving fast and escalating to sex very quickly," says Thomas.
Initiate strong eye contact when you talk to an older woman, talk dirty to her and don't be afraid to touch her in a friendly and appropriate way. If she reacts well to your touch, start caressing her back, holding her hand and massaging her shoulders.
Another great way to turn a woman on during a conversation is by using sexual innuendos. "Bringing up sex will prime her brain to start thinking about sex," says the dating expert Brian M. "And the more she thinks about it, the more turned on she'll get. After all, merely thinking about sex is enough to automatically trigger the physiological response of sexual arousal, which will get her turned on."
Most importantly, make it clear right from the start that you want to bring her into your bed!
5. Build some muscle
It's no secret that many cougars like muscular guys. Building some muscle can make you look less boyish and therefore more attractive to older women. Plus, exercising regularly at the gym can boost your confidence, which makes you sexier!
The fitness author Craig Wilson told Lifehack.org that beginners should stick to free weights. "Even though the modern gyms are full of fancy and shiny machines," says the expert, "they will not help you build a solid foundation of muscle mass." He suggests that you start with dumbbells and barbells, about three or four times a week.
When you go to the gym, ask a personal trainer to create a program targeted to your needs. Many fitness clubs offer a free hour of personal training when you sign up for the first time, so take advantage of it! After that, you'll be able to follow the program on your own.
Also, pay attention to your nutrition when trying to build muscle. Eat more calories than you normally would, and make sure that you add plenty of protein to your diet. Some of the best foods to help you put on muscle mass are salmon, chicken breasts, lean beef, eggs and tuna.
Once you'll start seeing results, it will be much easier to talk and create attraction with older women!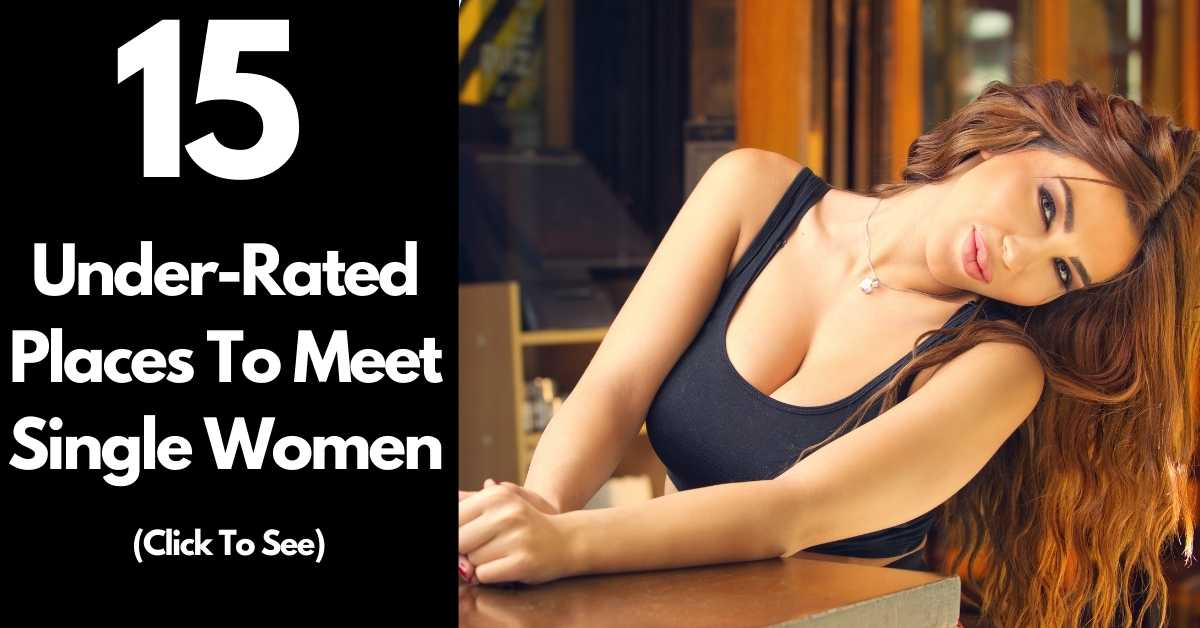 6. If she's a single mother, ask her about her children
A single mother wants a trustworthy man she can rely on for affection, and even for some sexy fun. However, remember that her priority will always be the wellness of her children. You'll need to adapt to her busy schedule, not the other way around!
When having a conversation with her, don't be afraid to ask her about her children. Show interest in her son or daughter's hobbies and school life. Mothers love to talk about their kids!
On the opposite side, if she opens up with you about parenting issues, avoid criticizing her choices. It's up to her how she wants to raise her offspring! Get this right and she might text you "hit me up" afterwards.
It's up to the mother if and when you're going to meet her children. But when you're around them, try to get them to like you. Listen to the little ones when they talk, so you can have a fun conversation with them. Only, avoid using baby talk if she has toddlers, and swearing when the kids are around.
7. How to talk to older women about relevant topics
When talking to older women, it's crucial that you focus on relevant topics. You're wasting your breath and potentially compromising her interest level in you if you start to talk endlessly about your enthusiasm for cats when she happens to love dogs.
Of course, this is an example, but it illustrates an important point: talk about the topics that are most relevant to her.
It shouldn't be too difficult to discover which subjects she likes talking about the most. Since you're flirting with her relentlessly, you should have a good idea about her tastes and preferences.
In all likelihood, she's a social woman who will start lively conversations with you once she starts to warm up. If she shows a lot of excitement when you start to discuss Asian cuisine, definitely stay on that topic.
However, if she mentions that she hates horror films, it would be pointless to ask her which of the Exorcist movies was her favorite.
Moreover, it's not only about relevance but also about engagement. Look for the topics that engage her the most. Travel, for instance, is a subject that is appealing to most women.
There's a good chance that she's done a fair bit of traveling, so why don't you start a conversation about her travel experiences? Ask her what travel location she highly recommends and why.
Long story short, you'll be on the right track if you remember to steer your conversations towards what's relevant and engaging.
---
Learning how to talk to older women and create attraction is easy. With a little practice, you'll be able to find the partner of your dreams!