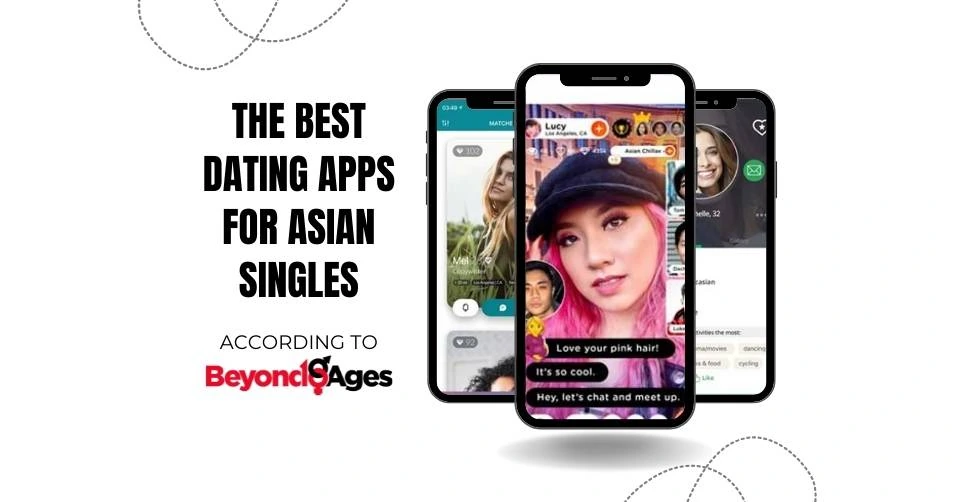 When looking for the perfect partner, you may want someone with a similar cultural background. This can help you share holidays, events, values, beliefs, and an understanding of life. While online dating is great and helps you meet people from a variety of backgrounds, it can be hard to narrow down your search for your ideal partner. Thankfully, we know some of the best Asian dating apps that you can try.
The team at Beyond Ages are expert daters and have reviewed hundreds of dating apps, including niche ones for target audiences, which is Asians in this case. As there are so many great dating apps out there, choosing the best one can be hard. So, we did the work for you and narrowed down our recommendations to five of the best Asian dating apps.
But before we jump into our reviews, check out the criteria we use for choosing the best dating app for Asian guys and girls.
How we ranked the best Asian dating apps
Beyond Ages only wants to recommend apps that are safe and successful, so we test each one ourselves before suggesting it to our audience. We do this by creating a custom profile for the purpose of finding the top dating app for Asian singles.
We start off with a blank profile to see if any bots and scammers try to reach out. Most real people wouldn't message a completely blank profile, so this clues us in on whether the app is a scam.
Once we've done the blank profile test, we use the app for months, matching and messaging other users with the same pickup lines to minimize bias. We then try out the premium features by actually paying for a membership. Our final review is based on how easy it is to land a date with other Asian singles to help you assess how simple it may be for you. Here are our top two choices for the best dating app for Asians.
The Best Dating Apps for Asians
For our top two contenders, we've chosen EME Hive and eHarmony. Below is a summary of what we think of these two apps along with our reasoning for why we think they're the best dating apps Asian singles should use.
Overall

Our team rates each site objectively based on many hours of independent research, the features each site offers, and how it compares with other sites. The ratings are the opinion of our editors and their extensive experience.

7
9.5
Quality of Women

Our opinion of how attractive the typical woman is that uses this site and how easy they are to connect with compared to other sites.

8
9
Popular

How many people are using this site to actually meet people compared to other sites.

5
9
Usability

How easy is this site to use and how quickly can an average person begin meeting people compared to other sites.

8
10
Privacy & Safety

Does this site take proper precautions to safeguard its members, their identity, and their data.

6
10
Effective

Our opinion of how easily an average person will be able to achieve their dating goals with this site compared to other sites.

6
9
Value

Will the time and money spent using this site pay off for an average person based on the opinions and experience of our editors.

8
10
Our Recommendation
Try EME Hive to find an exclusive community of Asians
EME Hive is one of the most popular Asian dating apps in North America, so it's the perfect place for Asian Americans to meet one another. When you sign up, you answer questions about your hobbies, the languages you can speak, your background, and your preferences in a partner so the app can recommend matches who share your interests and culture.
As it's a niche Asian dating app, it does have fewer members than other sites, with only 1 million users (a small percentage of which are bots). This can limit your dating pool, but it also ensures the community is exclusive and welcoming. If you're a woman, you're in luck. EME Hive is free for you but men have to pay for a membership to use the app. This means it may not be the best dating app for Asian guys on a budget.
Try eHarmony to find your perfect match
Although eHarmony is a general dating site, we love its features and think it's a great option for Asians looking to meet one another. When you sign up, you complete a detailed questionnaire about your interests, lifestyle, and preferences in a partner. This helps eHarmony offer match recommendations based on how compatible you may be.
eHarmony's matching algorithm can help you find other Asians or people with similar values and beliefs to you. eHarmony has been around since 2000 and has helped over 600,000 couples in the United States alone find love and get married, so it has a proven track record. This makes it a great choice for Asians who are ready to settle down.
The Other Top Dating Apps for Asians Worth Considering
While these apps aren't in our top two, we still highly recommend them. Here's an explanation for why:
Hinge
Hinge is another general dating app, but with its massive userbase and profile features, we think it's great for the Asian community. You can include specific details on your profile, such as your height, vices, and background. If you pay for a premium Hinge membership, you can limit your searches to people from a specific background. But, even with the free version, you can easily see whether someone shares similar cultural beliefs.
We also like Hinge because it encourages users to actually look through their potential match's profile. To use the app, you upload six pictures and answer three conversation prompts. Then to match with someone, you need to comment on or like a specific picture or prompt, forcing you to slow down and find an aspect of their profile you connect with.
AsianDating
AsianDating is one of the biggest Asian dating sites on the market with over 4.5 million members worldwide. The site has been around for over 20 years and it was actually one of the first niche dating sites for Asians. It's also part of the Cupid Media network, meaning you can access 30 other niche dating sites with your membership, such as JapanCupid or ThaiCupid.
You can join AsianDating and even send certain messages for free, but if you want advanced messaging, you'll need a membership. With the success the site has had for other Asian singles and its access to 30 other dating sites, we think investing in a membership is worth it.
Elite Singles
If you're after, educated, Asian singles, Elite Singles is the best dating site for you. 85% of users on the site have above-average education, so if you're an intellectual yourself, you shouldn't struggle with meeting interesting people. Not everyone on the site is Asian, but you can set your search preferences to only find other Asian singles of a specific race, such as Chinese or Korean.
Elite Singles is a global platform, so you could even meet singles from various countries in Asia if you've ever wanted to travel or settle there. The site is advertised as a place to find something serious, so it may not be the best option for people looking for something casual.
The Most Important Considerations When Choosing a Good Asian Dating App
Before choosing an Asian dating app, here are some factors you should consider:
Is everyone on the app Asian?
If you only want to meet other Asians, choosing a niche app may be the best option for you. As many people fetishize Asians and seek them out just to fulfill a fantasy, you may also feel safer on a niche app.
How big is the userbase?
Another thing to consider when choosing between a niche app and a general one is the size of the userbase. Niche apps are great as you have something in common with everyone on them, but the userbase tends to be smaller. So if you want a lot of matches, you may want to stick to a general dating app where you can search through hundreds of users to find your perfect match.
How much does it cost?
There are plenty of free dating apps out there, but they don't offer the same results that paid ones do. Paid dating sites offer high-quality matches and plenty of features that make online dating easier and more exciting. If a membership is out of your budget, you can stick to free dating apps, just don't expect the same results.
Are you looking for something casual or serious?
Choosing the best dating app for you depends on what you're looking for in an ideal partner. Dating apps are generally targeted either at people looking for something serious or those looking for something casual. So it's best to decide what you want before choosing the right app.
What search filters are there?
If you want to use a general app, consider what search filters it has first. This can help you limit your searches to only find other Asians, saving you plenty of time and hassle.
5 Key Tips to Get Great Results Using Dating Apps for Asians
Here are five tips you can use to improve your results on our recommended dating apps for Asians:
Invest in a membership
As we mentioned earlier, free dating apps are fun but don't offer the same results that paid ones do. We always recommend investing in a membership as it improves your chances of finding your ideal match.
Ask questions
To get to know your matches beyond what their background is, it's important to ask questions. Assess their profile to determine the best questions to ask to get a conversation started. Here are some articles that might inspire you:
Be open-minded
Although your preference may be to date other Asians, it's important to be open-minded when you're dating. You may just find that your perfect match doesn't have the exact same background as you.
Express your interests
If you want to find someone with similar interests, include your own in your dating profile. You can include them in your bio, pictures, or other prompts so other users can easily connect with you. This also makes it easier for them to start a conversation with you.
Suggest a date where you can pursue your shared interests
Once you know what your shared interests are, you can plan a date that allows you to pursue them. For example, if you both love Japanese food, you may suggest a sushi date. Suggesting unique dates can help you express your interest in your matches.
Frequently Asked Questions About Asian Dating Apps
Here are some answers to frequently asked questions you may have about dating apps for Asians:
What are dating apps for Asians?
Dating apps for Asians are mobile applications members of the Asian community can use to meet one another. They're typically niche apps that create an exclusive community of Asians to help them meet people from a similar culture. Many general dating apps also help users narrow down their searches based on background.
Are Asian dating apps legit?
There are hundreds of dating apps on the market with many targeted at Asians. While not all of them are legit, we can guarantee that every app we recommend is. But if you want to try an app that we didn't mention in this article, check our other expert reviews to see if we tested it out.
Are Asian dating apps safe?
Most major dating apps have safety measures in place that help protect users. While these measures are helpful, it's important to always stay alert when online dating. Try not to give out too much personal information and meet your matches in public for the first date.
What are Asian dating app alternatives?
As we mentioned earlier, deciding whether you want something serious or casual can help you pick the right app. If you're after a casual fling, check out our list of the best hookup apps and websites to find one that suits your needs.
How do Asian dating apps work?
Asian dating sites work the same as general ones, they're just targeted at the Asian community. As every app has slightly different features, test out the platform before matching with people to ensure you understand all its features.