You're either retired or close to retirement. You're not as young as you used to be, but there's still some energy in you. You also happen to be single and open to dating someone your age. Now you're wondering if you should try out the best dating sites for over 60 singles.
We know what you're thinking: online dating isn't for senior citizens. But then again, neither is going out every weekend to party in the hope of meeting other singles. The truth is, dating apps and sites aren't just for younger people. More and more people in their 60 are creating accounts because it gives them a chance to find love again.
That's why we've created this guide to help you pick the best dating sites for over 60 singles that you can use to actually land a date.
How we rank the top over 60 dating sites
At Beyond Ages, we have carved ourselves a reputation for publishing the most useful in-depth dating app reviews on the web.
That's because our dating app reviews are based on intensive testing of the app conducted by our online dating experts. These experts will spend several weeks trying out each aspect of the apps they review, both the free and premium editions. During this time, they will do all they can to connect with beautiful women and swap contact details with the aim of meeting for a date.
The tests involve:
checking the app for bots and scammers
analyzing what parts of the app are available for free, and whether that's likely to be enough to land a lot of dates
sending messages to 50 attractive women in the local area and evaluating how many responses are received.
sparking a conversation with these women and seeing how many are willing to swap contact details with the aim of meeting for a date.
During these tests, our experts create the same profiles with the same photos, bios, and demographic details. The opening messages are sent from our file of tried-and-tested openers.
This consistency allows us to make fair and accurate comparisons between all the dating apps we test. Since we also make notes of the main demographics of women using the app, we're able to confidently recommend different dating apps for different types of men.
Below, you'll find our recommendations for gentlemen dating at 60 and above, whether they're looking for a bit of fun or something serious.
The Best Dating Sites for Over 60 Singles Right Now
Please remember that these recommendations are for single men aged between 60-69. We have specific recommendations for men of other ages too.
Best app for long-term relationships and marriage - eHarmony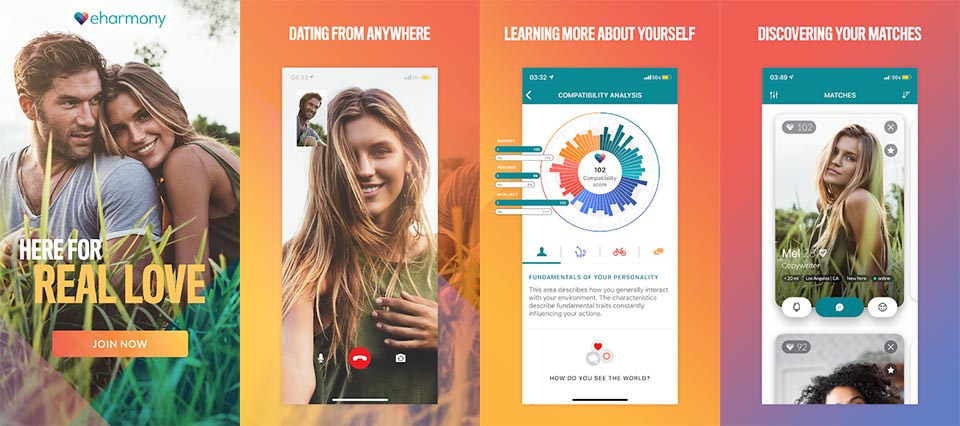 eHarmony launched in the early 2000s, back when you were in your 40s. And just like you then, it has only gotten better since. As of today, no other site can compete with how well eHarmony is able to match up couples who ended up getting married. Just ask the 7 out of 10 singles who met their future spouses on eHarmony after using it for just a year.
The secret to eHarmony's success is its in-depth algorithm. Users are made to complete an extensive personality test before they sign up, and the results are used to match them with the most compatible eHarmony users in their vicinity. The incredible popularity of eHarmony over the best part of two decades is a testament to the accuracy of this algorithm.
eHarmony tends to cater to an older user base. In our tests, the website always has a remarkable response rate because eHarmony users tend to take their search for love very seriously. This is a big reason why eHarmony has won awards for the quality of its user base.
You'll find plenty of women your own age on this site, and the chances are that you'll get along great with them as well.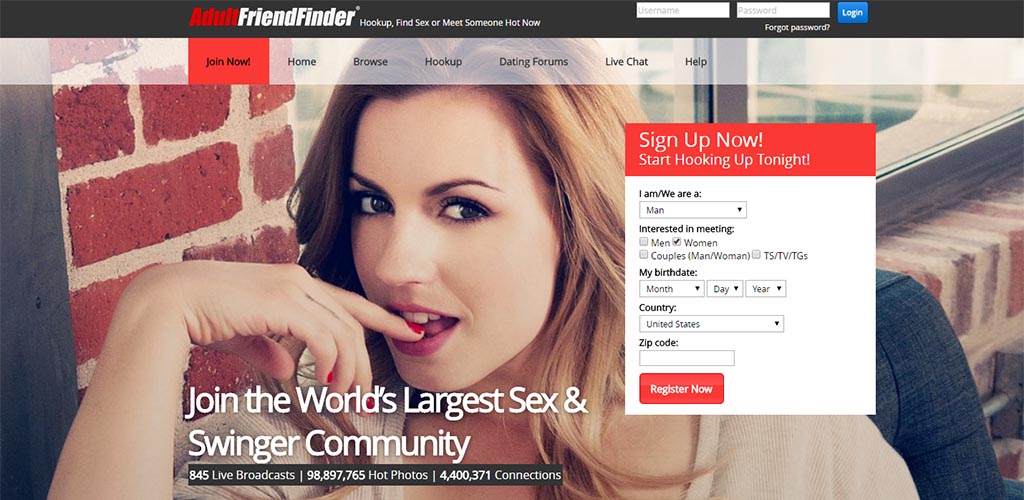 If you're done the whole marriage and kids thing and you're now looking for something more casual in your later years, we wholeheartedly recommend you create an AFF account today (you can try it free here). This website is exclusively for casual relationships. If you're looking for hookups, flings, or friends-with-benefits arrangements, there's no better place online.
The fact that the website is so upfront about being for casual fun is part of the charm. It means you don't have to get stuck messaging back and forth with women who want to be wined and dined for months before jumping into bed. Instead, you'll meet women who are very open about their sexual expectations and happy to meet up for a bit of fun after exchanging just a few messages.
AFF has built a huge user base over the years, so you won't struggle to meet some great women in your local area. There are plenty of older women looking for older men too, so there's no need to be shy about your age.
A good app for older singles - Silver Singles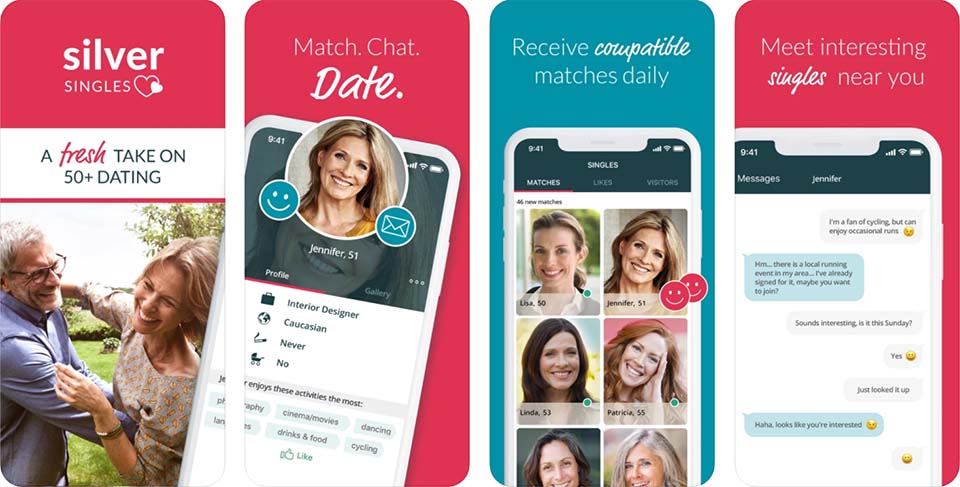 Silver Singles is marketed exclusively towards single men and women over 50. It's a sister website of Elite Singles, an established dating app that caters to professionals. It doesn't market itself as being just for finding serious relationships or casual hookups, so it's a good website to choose if you're open to either experience.
However, I should warn you that there tends to be a distinct lack of women over 50 to connect with. During our tests, we found lots of women under 40, who most likely signed up on a sister website and had their profile duplicated on Silver Singles. Still, of the women we did find, there were plenty willing to chat and meet for a date.
While not as good as eHarmony or AFF in our books, Silver Singles is still worth a look.
Best dating site if you're Christian - Christian Mingle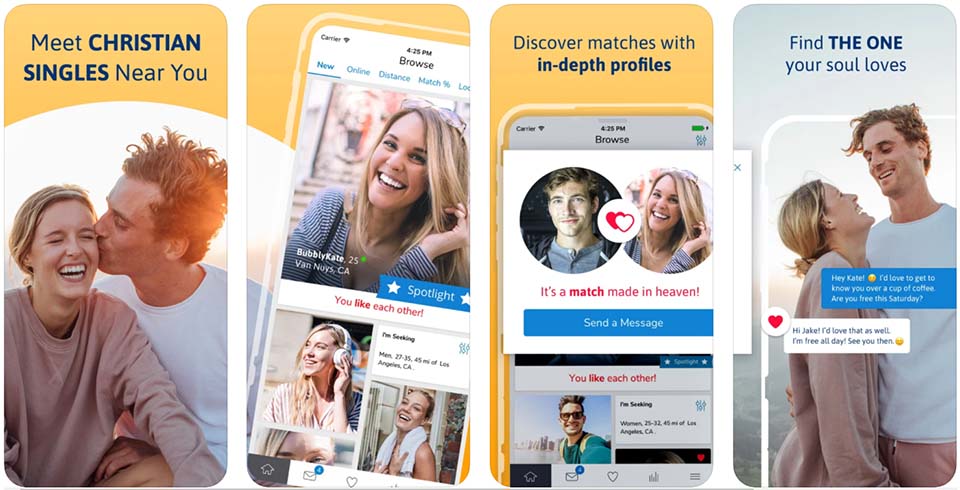 Considering there are a lot of older Christians in the US, it's no surprise that Christian Mingle is also popular among single senior citizens. Since many seniors are hesitant to just talk to anyone online, knowing that you share the same faith helps break the ice. Christian Mingle has a variety of features and filters to help you find the ideal date for you. In your profile, you can indicate which church you attend. Users who go to the same church can then reach out to you and set up a date nearby.
Best app if you're open to anything - Match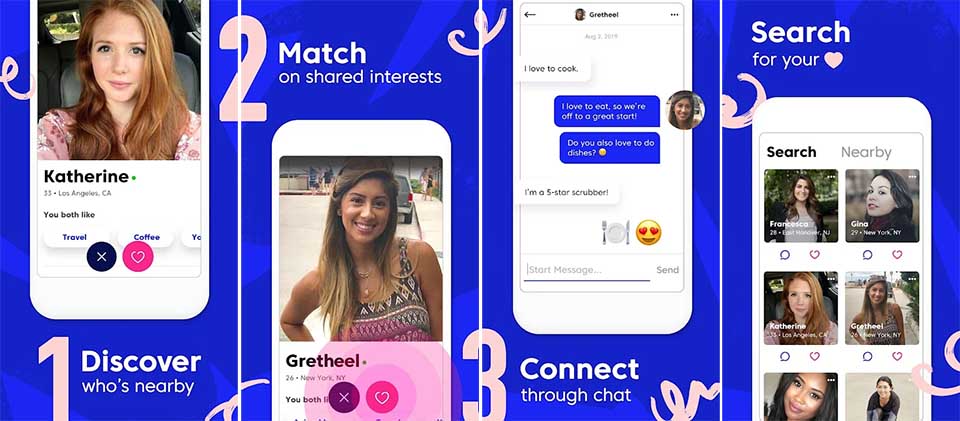 Match has been around for a while, even longer than eHarmony. The great thing about this app is that it's reliable and full of users. Much like Tinder, you can swipe through potential matches and chat once you swipe right on each other. But unlike Tinder, Match has a slightly older userbase–a mix of those who want a relationship and those who want something casual.
The best thing about Match is that it's the company that owns a variety of other apps like Tinder, Hinge, OurTime, and OkCupid. So you know for sure that it's a contender in the dating app game.
Best Dating Apps for Early 60s (60-year-olds to 63-year-olds)
Best app for long-term relationships and marriage - eHarmony
eHarmony may be popular for those aged 40-44, but its second-highest age demographic is singles aged 55-64. As someone on the younger side of your 60s, you'll meet plenty of users your age on eHarmony. You may also run into singles who are slightly younger than you if that's what you're into. It's the ideal app to use if you want to find a long-term relationship with someone in your age range.
Best app for casual fun - AFF
There's this ongoing belief that folks over the age of 60 aren't as sexually active anymore. But you know that this isn't true. There are plenty of seniors out there who are still up for a good time in the sack. If you're one of them and you're looking for someone to jump into bed with you, AFF has lots of older singles who are looking for a good time. No relationships required, just good old casual fun.
Best Dating Apps for Mid 60s (64-year-olds to 67-year-olds)
Best app for long-term relationships and marriage - eHarmony
When you're in your mid-60s, is it still possible to find a long-term relationship? Many users on eHarmony say yes! eHarmony has a sizeable userbase of singles in their mid-60s who are still holding out hope for finding The One. Even if you're less of a romantic and more of a pragmatist, you know the value of using a relationship-oriented dating app where there are people over 60.
Best app for casual fun - AFF
If you're still agile and limber at 67, AFF is the best site for finding someone who's also into a little horizontal exercise. AFF's userbase is very open to all sorts of clandestine encounters. There are lots of women on AFF who are up for a good time with someone in their 60s, so this is definitely a site worth checking out.
Best Online Dating Sites for Late 60s (67-year-olds to 69-year-olds)
There's little difference in what apps work best between 64 and 69, so the recommendations from the previous section are most valid.
What Makes a Dating Site Great in Your 60s
Below, you'll find a short list of the most important aspects when comparing over 60 dating sites.
App popularity with 60-somethings
If you're in your sixties, you're most likely going to be trying to date women also considered to be more mature. If that's the case, you need to consider what sites these types of women are using. After all, a lot of the mainstream dating websites are going to be mostly filled with people more than half your age.
Tinder, Hinge, and Bumble tend to have users who are under 40, so go with dating apps and sites that cater to your age range.
Site design and features
We don't believe in stereotypes here at Beyond Ages. Just because you're a boomer, it doesn't mean you don't understand technology. Still, whatever your age or technological dexterity, it's always nice to have a dating site that's easy to use and understand. If a site is packed with features that make it easier to meet great women, that's a bonus too.
Does the app make meeting people easy?
This is the key aspect to consider. A lot of online dating apps promise you a mountain of beautiful women, only to present a digital wasteland once people sign up. That's why it's important to read reviews before handing over your hard-earned money to any dating app.
Do people use it for dating or socializing/ego-boosting?
It's all well and good getting matches on dating apps, but a lot of them are packed with women who just want to chat and receive compliments. Most likely, you're far more interested in actually meeting women so you need to steer towards an app with women who have the same intentions.
Can regular people find success or just the best looking?
If your best physical days are behind you, it's useful to focus on dating apps that have been proven to bring results to regular people and not just the super-handsome guys. So use an app where users are matched based on personality and interests instead of those that focus too much on photos.
A Short Guide to Getting Great Results from Dating Apps
Below, you'll find our list of the most important skills to master if you want to arrange a lot of dates when online dating at 60 and above. Make sure to click the links to find more expert information on these topics.
Creating a great profile
To achieve dating app success, you need to create a profile that presents you in your best light and makes you look like someone that a woman would want to get dolled up and leave the house to meet. The guides below are packed with advice to help you to do that
Sending a great first message
There's an art to sending an online dating message that piques a woman's interest. Most guys are useless at it, but the guides below will help you to craft some effective openers.
Responding to messages
When messaging a woman on a dating app, please know that you're probably competing for her attention with a lot of other men. These guides below will help you to message women in a manner that makes them excited to hear from you and respond.
Asking them out
This is the final step to dating app success, and we have curated some guides to help you ask women out in a way that makes them excited to say YES.
Biggest Mistakes Singles Make on Dating Apps in Their 60s
Below, you'll find our list of the biggest mistakes that men make when online dating at 60 and above. Avoid these at all costs!
Uploading old pictures
Perhaps you looked better 30 years ago, but that doesn't mean you should scan your old Polaroids and upload them to a dating website. Women want to see what you look like now. So it's time to start taking some updated photos. Don't worry if you feel like you're no longer in your prime. It's all a matter of looking confident and fun in your photos to make your matches want to meet up with you.
Cringe pictures
Older men are the worst culprits for uploading laughably bad photos to their profiles. To be safe, avoid selfies, "wacky" photos, or posing with any animal you hunted. Try uploading a photo of yourself the last time you were dressed for a special event. Or you can use a photo of yourself doing something you love like cooking at a barbecue, working on your car, or engaging in your favorite sport.
Complaining in their bio
Your online dating bio should be packed with positivity only, no matter how bad your previous romantic experiences have been. Focus less on what you don't want in a date and focus more on what you can offer. Highlight your fun hobbies, particularly ones that you can do on your date. You can also talk about your favorite music, movies, or books to attract cultured women.
FAQs about the Best Dating Sites for Over 60 Singles
What is the best dating website for 60-year-olds?
We recommend AFF if you're looking for something short-term and casual. If you're searching for a serious long-term partner, try eHarmony.
What are the best dating apps for 64-year-olds?
If you're 64 years old and looking for a long-term partner, try eHarmony. It's one of the best apps out there for finding a serious relationship, even among those aged 60 and over. If you're not looking for something long-term, AFF is a great hookup site for older singles.
What are the best dating apps for 65-year-olds?
Sixty-five-year-olds should try out eHarmony if they're looking for a serious relationship. If they're after something more casual, they should try AFF.
Are dating apps good for meeting singles in your 60s?
Once you hit your 60s, it's tough to meet other people who are single and looking. Perhaps you don't have the energy to be out mingling at social events every evening, even if you're retired. Dating apps simplify the process of meeting a companion, and you can use them from the comfort of your sofa.
How can I get better at using dating apps in my 60s?
The best thing you can do is to upload better photos. Perhaps you have a younger friend or family member who can help you take and choose photos. You can also work on your conversation skills as lots of women want to get to know you better before meeting up with you.