When there are literally thousands out there, it requires something special to stand out. No, we're not talking about coffee shops in Mile End. We're talking about online dating platforms. Every few weeks, it seems, we hear about a new one. And while we're always up for something new, rarely are we impressed. It takes a lot to be one of the best dating apps in Montreal.
Luckily, we've done the research to separate the real deals from the time-wasters. There's someone for everyone in Montreal, and the apps and sites in our list will help you make the connection. Looking for a hipster chick to read your poetry? We've got you covered. Hoping to find "The One"? Believe it or not, there's a site for that too.
Whether you've lived in Quebec forever or you're recently transplanted from far away, love (or lust) is a click away. Keep on reading and let us know how it goes for you in the comments.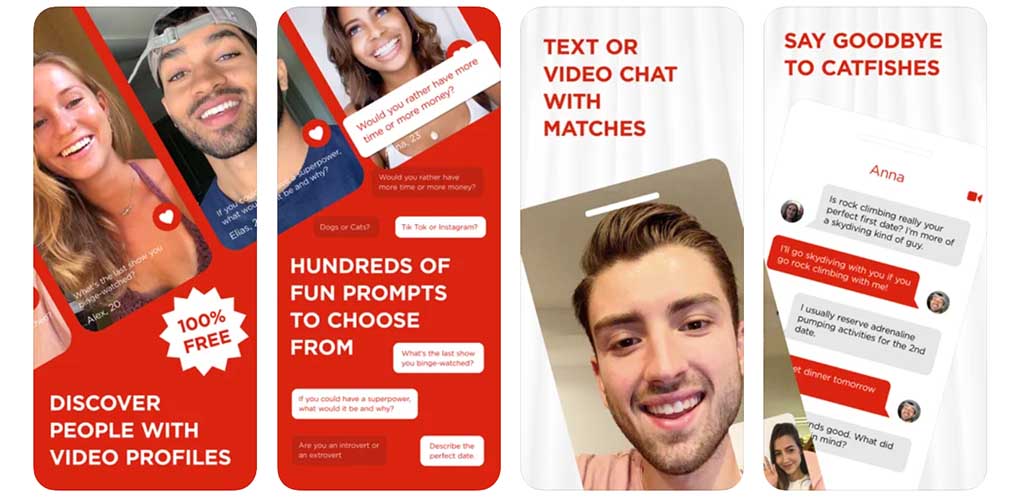 #1 - Curtn (iOS) is one of the best dating apps in Montreal if you want to be the video star of your dating life
Online dating can be a chore. Don't get us wrong, we think it's the easiest way to meet people these days. But, let's face it, it is far too often a drawn-out process that results in a mediocre first date. That said, all the best dating sites in Montreal find a way to make the experience more human and relatable. Enter Curtn and its user-generated video profiles.
Meeting someone via an online platform necessarily leaves a lot to the imagination. That's both the fun and torture of online dating. With Curtn's video profiles, though, you keep the fun and lessen the uncertainty. No more wondering if you're being catfished or if photos have been heavily edited. It also allows you to show off more of your personality for a captive audience.
Why Curtn is one of our favorites
Video profiles are a natural evolution of the dating app that makes the process better
Even if you aren't super photogenic, video allows you to be charming and funny
You will no longer go into a date worried that the person who arrives won't be who you expected
Why it won't be for you
They still haven't created a version for Android phones
Recording yourself for your profile can be very awkward if you're not used to video chatting

#2 - AFF is the easiest way to find a fling
AFF should be your first choice when you're not looking for a relationship but still want some fun in the bedroom. We've tried a lot of different apps for this (most are awful) and only a couple have proven to work over and over. Tinder is great if you're under 25, but once you get beyond that AFF has shown the best results out of any dating site in Montreal we've tried, especially for guys.
One of the things we've really liked about this app is that they do a really good job of helping you find EXACTLY what you're looking for. Everyone on this site is looking for the same thing so you can save a LOT of time that you would waste on other sites. If you're 25+ and want to take someone home, this is your app.
Why you should try AFF
They have a massive number of users on their app (over 50 million)
We've seen guys have the best success using it, especially those who aren't super good looking and didn't do well on Tinder
It's very straightforward and easy to use
What we don't like about it
Many users can only access via web app
The app is a little dated and not as polished as some others
Sometimes people are a little TOO upfront with what they want
You Can Try AFF Free!
If you're just looking for more short-term fun you need to
try out AFF's free trial
. We've spent months and months testing out the alternatives (more than 100 other sites) and haven't found anything that gives most guys more options and better results. Give it a shot!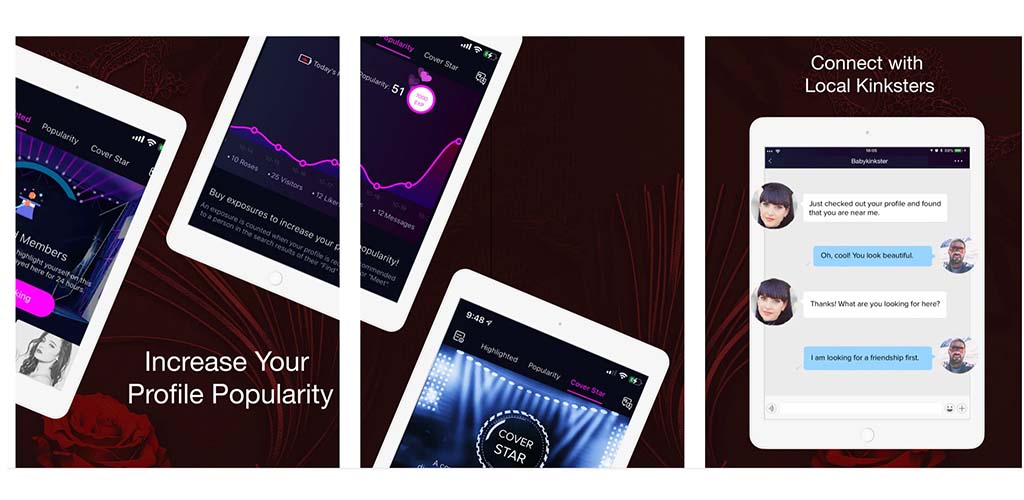 #3 - Kinkoo (Android, iOS) has what you're into
The local kink community is bigger than you might think, especially if you're new to the scene. For a lot of people, though, it can be intimidating to broach the subject on a first date. How will they react? Will they be immediately turned off? If your goal is matching with someone on every level, Kinkoo may just be the best dating site in Montreal.
As a platform dedicated to connecting people based on their sexual kinks, this is the app for the sexually adventurous. Whether you have a specific kink in mind or you're looking to explore something new, you should sign up. Even if you aren't looking to meet in person, the chat feature allows you to expand your kink community globally. Who knows, you may learn something new.
Why Kinkoo is a great dating app
Creates a space for exploring your sexuality in a safe, non-judgmental manner
Allows you to avoid awkward first-date conversations with someone who isn't in the scene
Helps you connect with the kink community well beyond Quebec
What we didn't like
It's understandable, but the number of potential matches is fairly limited
For active users, you need to pay for a membership to send more than a few messages a day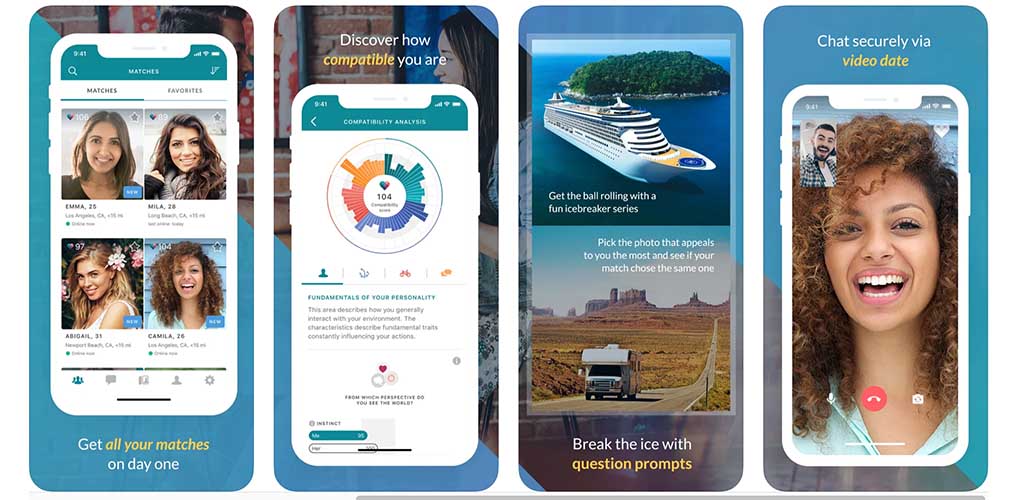 #4 - eHarmony (Android; iOS) can't be beaten for long-term relationships
eHarmony is extremely popular here and has an amazing track record of helping Montreal locals find long-term partners by using matching algorithms. This app does the best job of matching you up with compatible potential mates that we've seen.
You don't have to scroll for hours. The app does all of the tough work for you. Of course, you might not make a perfect connection outside of the algorithms. Usually, it works like magic. The toughest part is answering all of the questions. It's important because this is how they match you with other single people. You can build chemistry before you even meet.
If you're serious about finding long-term partners, this is the site for you.

Why eHarmony is one of the best dating sites in Montreal
The best success rate out there for long-term relationships
70% of users find their future spouse within a year
Makes it pretty easy to form connections
What we don't like about it
It definitely takes more time than most to get started
Not super popular with those 18-22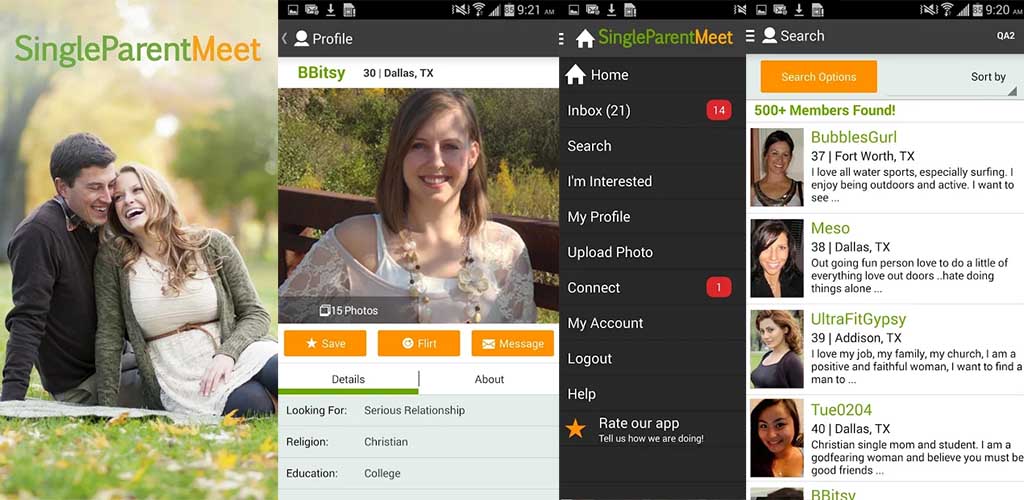 #5 - SingleParentMeet (Android; iOS) is one of the best dating sites in Montreal for single parents
If you're a single parent, dating can feel like you're constantly on the outside looking in. You might get dates through the online platforms, but discuss your children over drinks and you see eyes glazing over. God forbid you mention you're a parent in your profile. Your matches immediately drop by half, at least! Well, that doesn't have to be the case. Just try SingleParentMeet.
This isn't an app with all the fanciest bells and whistles, but that's not what it's trying to be. SingleParentMeet allows people whose first priority is (and always will be) their children to still enjoy the dating scene. You can meet other single parents who will understand scheduling conflicts and want to put in the effort. If you're ready to date again, SPM is worth your time.
Why SingleParentMeet is worth trying
Being honest about your family and your expectations is the norm
The app's ConnectMe feature allows you to call matches without giving them your phone number
Your profile allows you to go into detail about who you are and what you're looking for
What could be improved
The best features, including ConnectMe, require a paid membership
The emphasis is on relationships, so those seeking casual encounters should seek elsewhere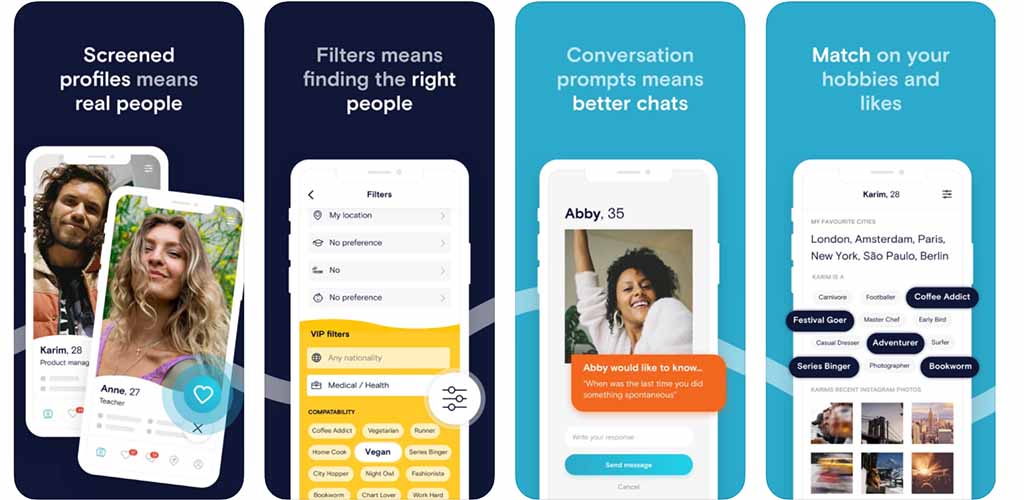 #6 - Inner Circle (Android; iOS) is among the best dating apps in Montreal for professionals
Inner Circle is the elite membership dating platform that is as much about networking as it is finding love. It's looking to challenge Facebook and LinkedIn as your go-to website for building your professional and social circle. In so doing, it is helping people who take their careers and futures seriously connect with like-minded individuals.
If you've spent much time on other dating apps and sites, you know not everyone is forward-looking. Lots of people are just coasting through life, which may be fine for them. But if that lackadaisical approach to life is a turn-off, you'll find much to like about Inner Circle. There may be no better dating app in Montreal for professionals who care equally about love and their career.
What makes Inner Circle one of the best dating apps in Montreal
Most of the users are in their late-20s to mid-30s and well-established in their careers
They screen users so fake accounts and trolls are few and far between
The site also hosts events for real-world meetups and social gatherings
Why it might not be right for you
The subscription fee is a bit high, but, of course, that's the point
They're still expanding, so those real-world events haven't reached Montreal, yet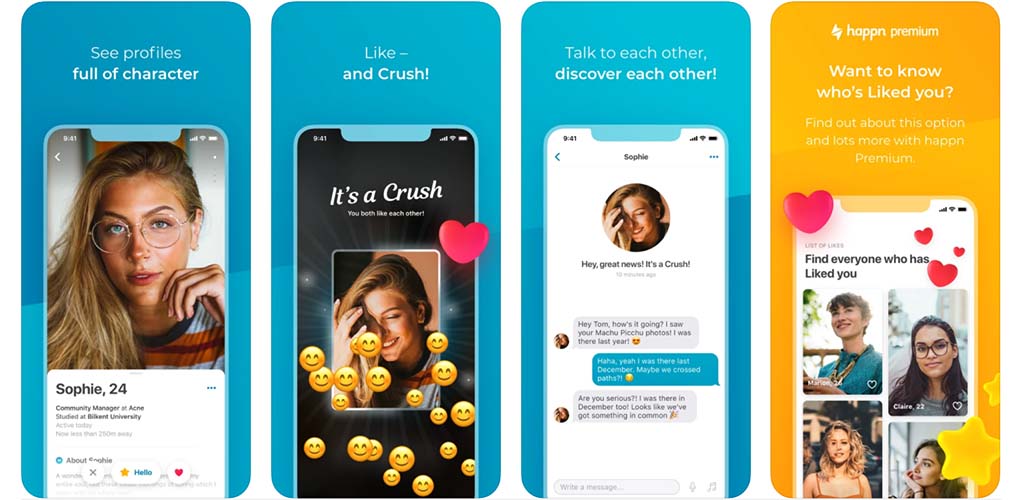 #7 - Happn (Android; iOS) is great for chance encounters
Have you ever been walking down the street, made eye contact with a beautiful stranger, and immediately regretted not stopping? Happn is the app for you. Using your phone's GPS, it supplies you with potential matches based on proximity. Built around the idea that life is full of near misses and closes calls, this app helps bridge the gap.
Most dating apps allow you to limit your potential matches by distance. Happn narrows it down to your actual location. Honestly, for guys in particular, this may be the best dating app in Montreal. You don't want to be a creepy catcaller, trying to wave down a cute girl in public. Instead, if someone catches your eye, check your app, they may just have matched with you.
3 things we like about Happn
Ensures the people you match with are actually within close proximity
A fun, convenient way to meet someone casually when you're out and about
Better than swiping endlessly through an entire city of people you'll never meet in real life
What we don't like
The app works better in busier areas, for obvious reasons; it's pretty hopeless in small neighborhoods
In our experience, this is an app for casual encounters far more than long-term dating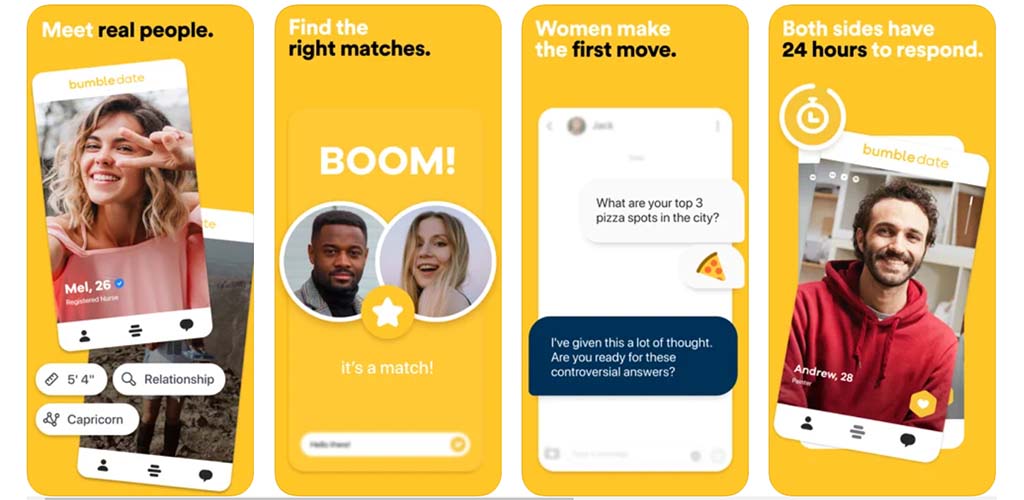 #8 - Bumble (Android; iOS) helps Montreal women enjoy dating again
While most dudes think women have all the power in dating, apps generally put men in the driver's seat. Guys are by and large expected to message first and suggest the date location. Online dating can seem a little old fashioned in that way. But there are plenty of women – and men – who want a change. This is why millions of online daters have turned to Bumble.
We feel confident in saying that Bumble is among the best dating apps in Montreal for women. That's because it requires that the woman message first after matching. This means ladies get time to think about their matches before being bombarded with messages (and other unwanted come-ons). If online dating feels like sitting in a car that never slows down, take the wheel and join Bumble.
Why Bumble is a great app for women (and men)
It's still as easy and fun to use as Tinder, but with a greater likelihood of actually meeting in person
The user base on the app is of a much higher quality than stylistically similar apps
As a man, the pressure is off you to come up with the perfect opening line
What isn't so great
One other similarity to Tinder: if you're not really good looking, matches are less frequent
Matches disappear if the woman doesn't send a message within 24 hours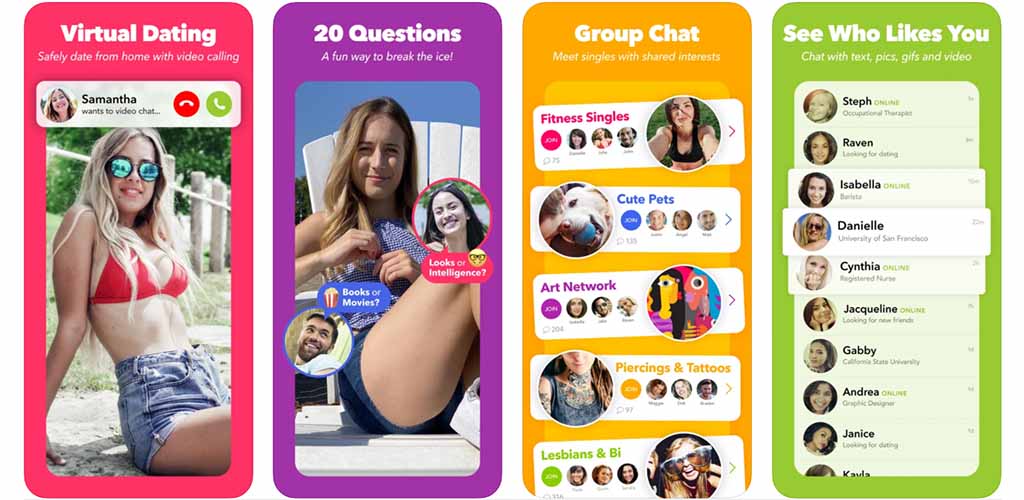 #9 - Clover (Android; iOS) helps you go on more dates
Clever app developers recognize that the wheel doesn't need to be reinvented. It just needs a few tweaks. Clover is a prime example of an app that smartly blends the best features of other platforms with novel ideas. Specifically, this app's "On Demand Dating" seeks to get you off your phone and meeting in the real world. No more swiping until your thumbs bleed.
Here's how it works: You set your profile to seeking a date immediately. Then, if someone is interested, they can match and make a suggestion for a date. Instead of sending an endless stream of texts back and forth for weeks, you get to that first date faster. For anyone who's ever lost a week to messaging someone who eventually ghosted you, Clover will be your lucky app.
Why Clover is worth your time
The "On Demand Dating" feature is a big selling point and a unique spin
The app also includes some fun ice breaker options, including "20 Questions"
You can do virtual video dates via the app
What we don't like about it
Unless you pay for a membership, you can only message people who have liked you
Speaking of which, membership prices are on the higher end for this type of app