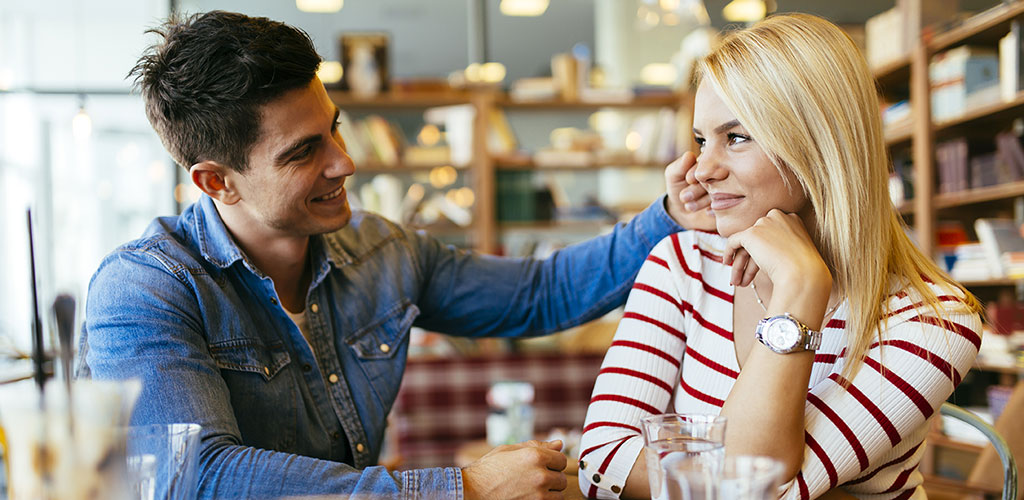 If you're interested in an older woman younger man relationship, then I'll tell you seven proven ways to find one.
First, I'll show you some great places where you can find many older women and younger men who are single. Then, I'll give you some tips on how to approach such a relationship in general and have it turn out great.
Finding a younger man older woman relationship isn't that difficult
There are lots of younger men who are interested in older women, and vice versa. That's because some men prefer a more mature woman who knows what she wants and has significant life experience. And some women prefer a more youthful, virile guy who can match their zest for life as well as a highly increased sex drive.
However, going to all the regular nightclubs, lounges and cocktail bars is not the best way to find such a relationship. Because there are far more young women in their 20s at these places than there are cougars. Many older women with life experience are bored and tired of mindlessly partying all night long. Instead, they often prefer an evening with more substance and an opportunity for engaging and meaningful conversation.
So, if you're a younger man, you should take note of that and go to classy places where the audience is a bit more mature. If you then provide older women with the meaningful conversations they desire, you'll be well on your way to landing a great relationship.
Knowing that, here are some proven ways of finding younger man older woman relationships below. If you want to improve your chances of attracting them there are a few great books out there that can really help improve your odds.
1) Community colleges
I have a couple of friends who are in their 20s and are interested in women in their 30s and 40s. They almost exclusively go to community college campuses to find themselves a date.
Most people don't think of community colleges as a way to meet older women for younger men, and vice versa. But if you consider the idea carefully, it's actually a genius one! That's because there's always a mix of people of all ages in a community college. It's the perfect place to mingle, learn together and even go to house parties after classes for people of different ages.
There are also lots of hobby groups and classes for those who are interested which always tend to have members of various age groups. Join one that suits your interests and you'll have plenty of opportunities to meet someone special.
All in all, your local community college is definitely worth checking out if you're looking for an older woman younger man relationship.
2) Through online dating
Another excellent way to find a relationship between a younger man and an older woman is to use online dating.
There are plenty of websites to help you with that. There are also specific websites for finding single and sexy cougars. These pages have large databases of older women and younger men who are looking to meet each other, which allows you to quickly find what you're looking for. We've even reviewed and compiled the best cougar dating sites on the internet to save you the trouble of finding a good one.
Besides that, online dating will allow you to go through hundreds of profiles in a short amount of time. This can save you a lot of hassle of going out if you'd rather find a date from the comfort of your own home.
You'll also be able to talk to the other person extensively before you decide if you wish to meet them in person. You can even exchange pictures of each other so that you have a better idea of what to expect when you meet.
3) Yoga classes are great for an older woman younger man relationship
Attending a yoga class is one of the best ways of finding an older woman younger man relationship. That's because there's always going to be plenty of older women there, as well as some younger guys.
It also means that most people who you meet in such a class are either going to be a yoga enthusiast like you, or someone who cares about their health and appearance. This is perfect if you love dating people who are fit. And to top it all off, you'll have an easier time getting a date because everyone will be high on endorphins after a workout. They'll be more fun, energetic and easier to talk to as well as eager to meet new people and be open to new experiences.
However, make sure to chat up the people in your yoga class who you're interested in after the class ends. Doing so during the exercise is rude, inconsiderate and simply annoying. You'll have far more success if you start talking to people after the workout.
4) Singles cruises
Going on a singles cruise is also an excellent way to meet an older woman if you're a younger man. Unfortunately, there usually aren't many younger men who go to such cruises, so it's not that great if you're an older woman who's looking to meet someone younger.
But if you're a young guy, then these cruises will always have plenty of sexy cougars who are single. All you have to do is just walk up to them, introduce yourself and chat them up.
In fact, aside from community colleges and online dating, it's one of the surest ways to find an older woman younger man relationship for guys. It's a shame that not many young guys who are interested in cougars realize this and book such trips.
5) Casinos and casino lounges
I've never been to a popular casino where I haven't seen many sexy women in their 30s to 50s. Obviously, not all of them are going to be single. But if you take the time to chat up the ones who catch your eye and seem interesting to you, you'll often find some who are open to a younger man older woman relationship.
As far as older women go, there will be plenty of younger guys at casinos for you as well. Trying to get lucky with their cards or their hearts. However, to catch their attention in such a high-energy environment, you'll have to be a bit more creative.
There will be plenty of competition for their attention and not just from other women, but from the casino itself trying to get them to spend their cash. That's why, if you want to catch their attention, you'll have to dress a little bit more provocative to stand out, or be the first one to make the move.
6) Dance classes for adults
Dance classes are among the best places for younger guys to meet women of all ages. That's because there will nearly always be far more women in a dance class than men.
Just make sure the dance class is for adults and not teens or there won't be many cougars there, unless you're interested in single moms who accompany their children. Also, make sure it's not a couples' dance class either, for obvious reasons.
But when you discover the right dance class with the right people, you'll find it very easy to strike up a conversation and then connect with the person. That's because there's a lot of touching involved in this activity. And as we all know, physical touch is massively important in building attraction and sexual tension.
You'll also have an easy time talking to multiple dance partners because most dance classes usually pair different people throughout the class.
Plus, if you have some decent moves and know how to move your body well, it'll be a cinch for you to get a date. Because dancing is almost like a prelude to what sex with you would be like.
7) Any live music venue
Whenever I go to see a band play live, be it in a smaller local bar or a jazz lounge, there are always a lot of sexy older women there. In recent times I've also noticed that more and more young guys are going to similar venues as well. Which makes any live music venue a great place to find an older woman younger man relationship.
There's something about live music that makes the whole experience much different from a regular bar or nightclub. It's also much easier to start a conversation and talk about the band than to talk about some generic party music.
Plus, wherever there's live music, there's also an excellent opportunity to dance. That will help you out a lot if you're able to demonstrate any decent moves!
---
I hope you'll find these ways of meeting older women and younger men insightful and useful.
All these places are a little bit unique in their own way and not as generic or boring as simply going to a night club and hoping for the best.
If you want to find someone awesome to start a great older woman younger man relationship with, then nightclubs are the last places to look. That's because the best relationships are based on a mutual connection, lots of chemistry and a deep appreciation for each other. And not on how well you can party and drink.
Remember that classy older women mostly want men who can hold their own in a conversation and aren't meek or timid. And younger men who appreciate older women are looking for ladies who know what they want and have experience in dating.