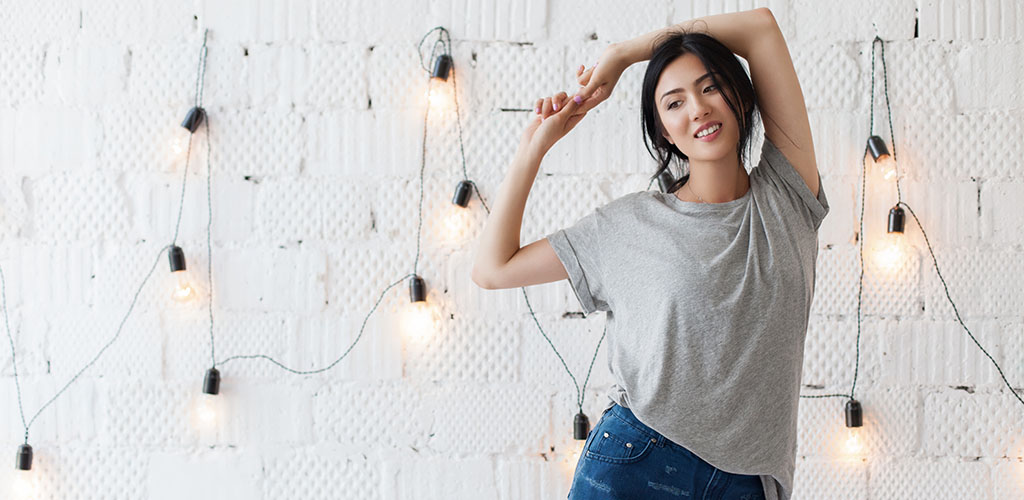 Are you in the mood to score with the hottest Stockton girls tonight? Then you need to know which of the trendiest spots cute single girls love to hang out at. While our city has tons of spots to choose from, not all of them are worth your time. That's why we've done the hard work of checking out the night scene to see which places are packed with girls looking for a fun time.
To help you break your unlucky streak, we've come up with the best list of bars and clubs to meet single girls. Believe it or not, but the Stockton nightlife scene can get pretty wild. That's why we handpicked the spots that are just wild enough! This isn't your typical and predictable list of bars and clubs in Lodi and Civic Center. We even know where the hottest Humphreys University students party! We know the best place to pick up girls in Stockton is one where you can easily flirt and mingle.
So check out our recommendations and start going home with the hottest girls that Stockton has to offer. As always, let us know in the comments below if you've found success at any spots we may have forgotten to mention.
Where We Go to Find Hot Stockton Girls
Although you can meet girls just about anywhere, it helps to know where to go. Instead of wasting time at every bar in Stockton, narrow down your search to these places:
Bars are an awesome place to strike up a conversation with someone cute
Are you particularly witty? Then you'll want to head to the nearest bar and start a conversation with a cute girl. These are the bars that make picking up girls easy.
Captain's Anchor is a fun spot to grab a drink and hang out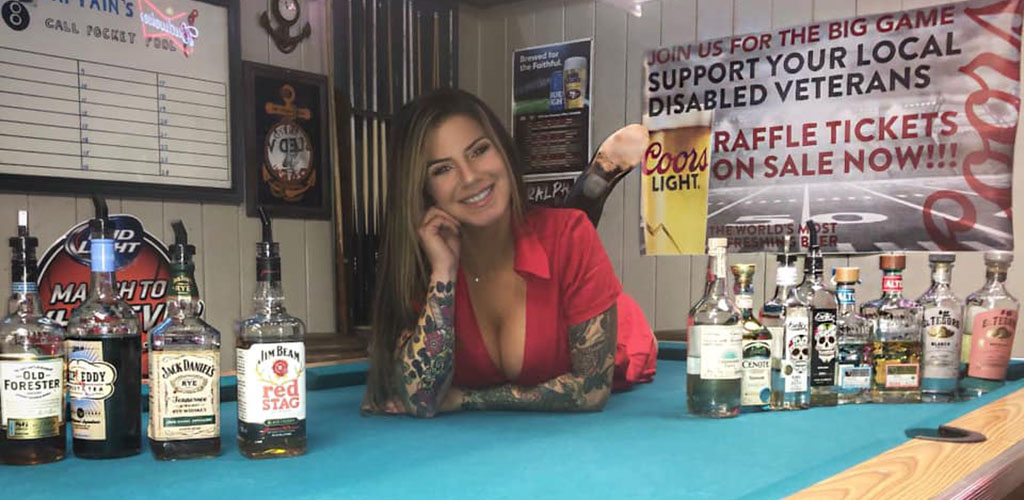 @Captains-Anchor-799823957025031
Captain's Anchor is one of our favorite local bars in Stockton. The place is super chill and you can enjoy tasty drinks at reasonable prices. In fact, affordable drinks is one of the main reasons so many single girls in Stockton come here.
Along with great drinks, you'll also find that this place makes everyone feel comfortable and safe. The crowd that comes here is super laidback and friendly. Drop by and mingle with lots of cuties. Challenge a girl to a game of darts and bet that the loser has to buy the winner a drink.
Taps Barrel House is a popular spots for singles in the area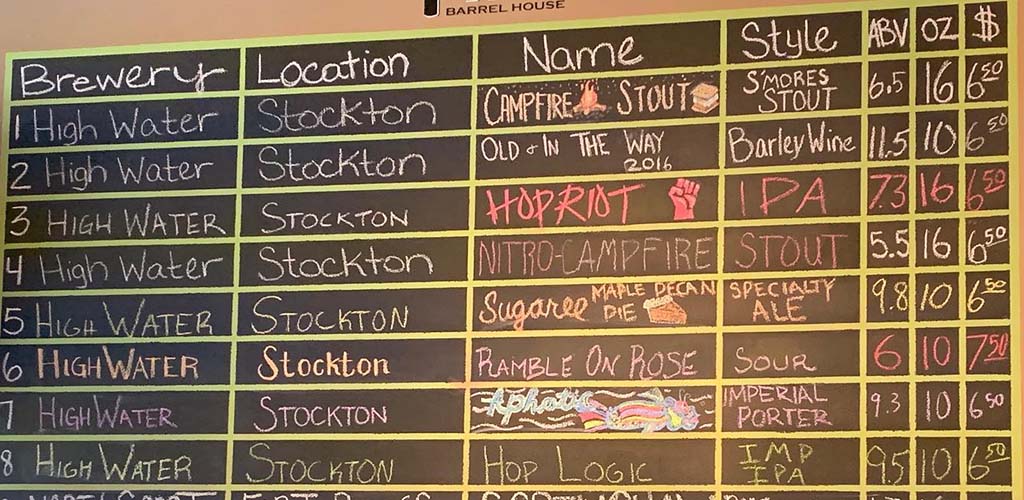 @tapsbarrelhouse
Taps is a craft beer Alehouse with 28 handles of locally brewed craft beers. The types of beers are always changing, so if you're a big fan of beer you'll never grow bored here. This happens to be one of the best places for beer in the neighborhood. Along with serving up fantastic beers, Taps is also known for great food as well.
Taps happens to be a part of Whirlow's Tossed and Grilled, a restaurant that serves up tons of different food options. You won't go home hungry or alone, after grabbing a drink at Taps. The Stockton girls here are super friendly and looking for a good time. So you won't want to miss out on grabbing a drink here.
Honorable Mention Bars
These are other great bars where you can meet adorable single girls in Stockton: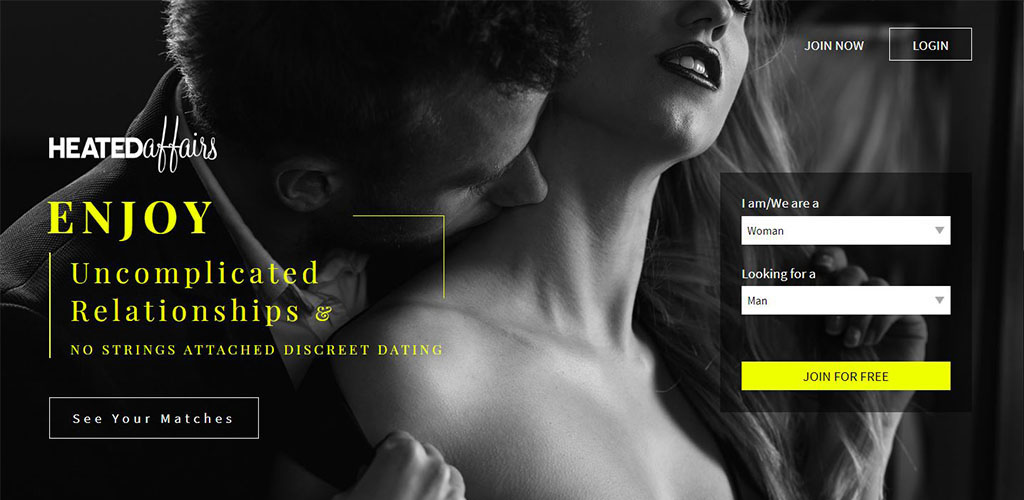 Without a doubt, this is the best option if you're looking for something casual with no strings attached. This is the one website we always use to connect people for sexual encounters. In fact, we'd go as far to say that this is the best place to pick up girls in Stockton online. By meeting one-night encounters on Adult FriendFinder, we can completely avoid the awkward next morning conversation. All the girls we've met here know that we're not after a relationship.
This site has so many users in Stockton. That means that your chances of meeting girls is so much better than winging it at some random bar. The best part is that you won't have to second-guess if the girls you meet here are interested in casual fun.
There's a reason why Adult FriendFinder is always at the top of our list of the best apps for casual relationships. So try out Adult FriendFinder today if you're ready to meet lots of beautiful Stockton girls. When it comes to a site that actually delivers and helps guys meet girls just looking to fool around, there's no better option.
Try Adult FriendFinder For Free!
If you haven't had much luck meeting girls who are just looking to hook up you really need to
check out Adult FriendFinder's free trial
ASAP. When it comes to a site that actually delivers and helps guys meet girls just looking to fool around, we haven't found anything else better (even after trying out 100+ of them). Check them out for free!
These are some of the best clubs for meeting single girls in Stockton
If you happen to be a great dancer, then you need to head out to the club. These are the clubs that have gotten us the luckiest with girls in the area.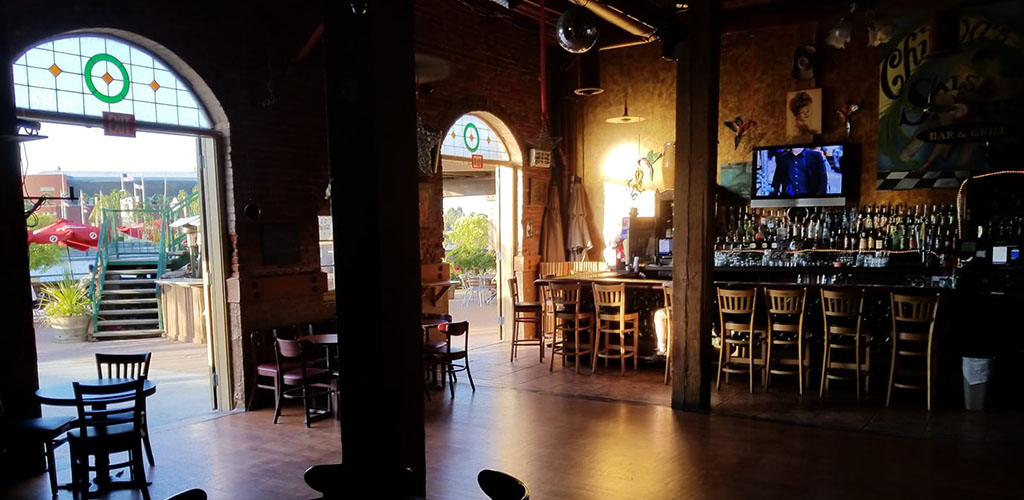 @chitivastapasymusica
Are you a big fan of Latin music and dancing? Then you need to check out Chitiva's Salsa & Sports Bar. This is one of the best nightclubs for Salsa, Bachata, Cumbia and more. Even if you don't know how to dance to Salsa you don't have to worry. Everybody at this club is open to helping you learn!
The girls that we've met here are incredibly hot. They often flock here in groups with their girlfriends to blow off some steam during the weekends. We recommend coming here on the weekends and being ready to mingle. While the music might be loud, you can always use your body language to do the talking!
AVE On The Mile is a chic lounge perfect for great music and drinks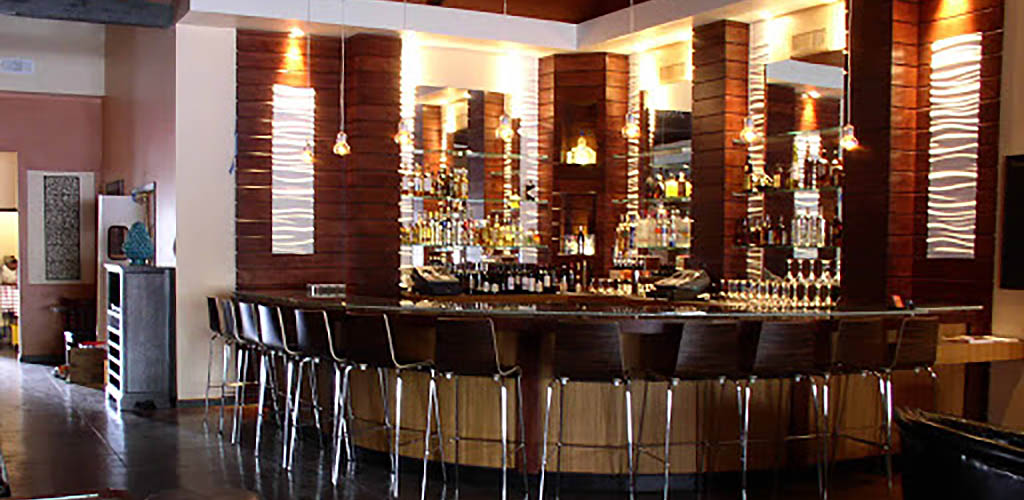 dresscodefinder.com
Located in Stockton's historic Miracle Mile shopping district, AVE on the Mile is a great place for nightlife fun. This is a more chic and upscale place if you're looking to dress up for the night. This is the best place to pick up girls in Stockton if you're interested in meeting trendy people.
Lots of sexy ladies come here on the weekends to sip on fancy cocktails and listen to fantastic music. So if you're interested in a nightlife scene above a dive bar, then this is the place to check out. The lounge also has an outdoor patio that you can enjoy during the warmer summer months. This also gives you an ample opportunity to talk outside of the louder lounge area.
Honorable Mention Clubs
These are some other great clubs for meeting cute single girls. However, they didn't quite make the top of our list for one reason or another:
Deliberation Room is a fantastic spot for top tier drinks and food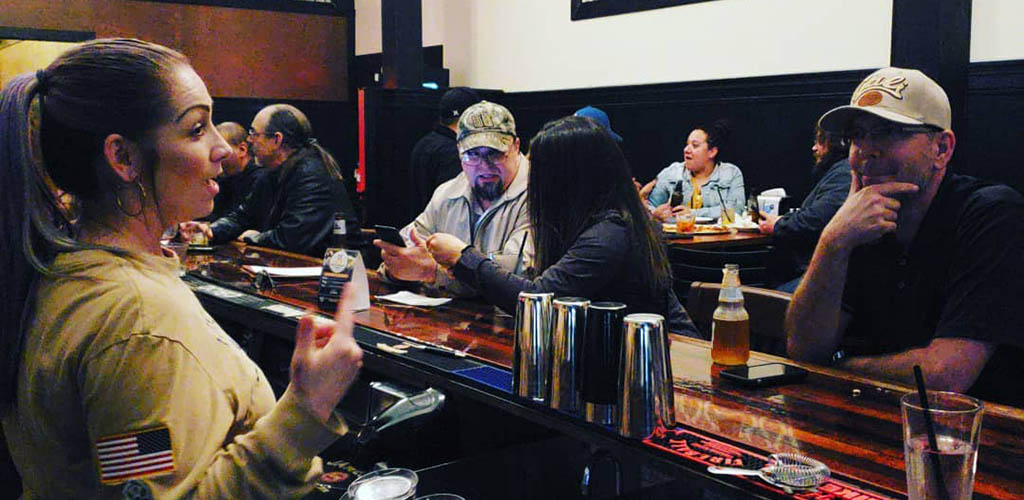 @DeliberationRoom
Deliberation Room is a cool Prohibition-themed bar and grill that attracts a huge crowd. This is the best place to pick up girls in Stockton where you can enjoy craft cocktails and handmade pizzas. Along with delicious food and drinks, you can also mingle here pretty easily.
The restaurant also features an adult arcade area. In fact, we highly recommend coming here on Wednesdays as you can play select games for free. The entire restaurant makes it easy to talk and flirt with just about anyone. So come here ready with your best one-liners and you can bet that you'll walk away a happy man.
Sexy Stockton girls love to grab coffee and beer at Empresso Coffee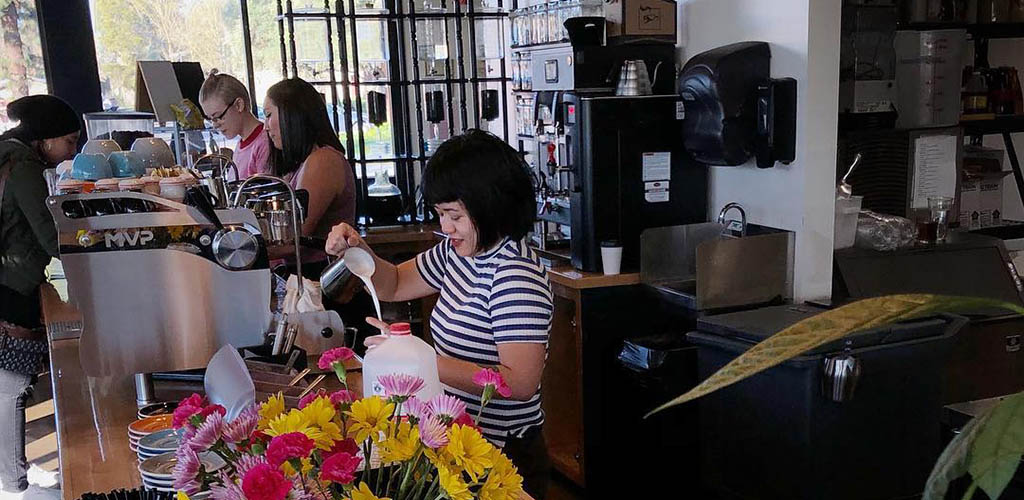 @Empresso209
Empresso Coffeehouse is a locally-owned coffee shop where you can order a variety of drinks. Unlike most other cafes, Empresso Coffee serves an interesting mix of drinks. You can order specialty coffee, loose leaf tea, craft beer, frappes and even fruit smoothies. You can grab snacks too.
Lots of Stockton girls come here on the weekends for coffee (or a beer) and relax with a book. So come here on a Saturday afternoon, grab a drink and find a table next to a cutie. Don't be afraid to introduce yourself to someone new who has caught your eye. You'll be surprised by how much more open and receptive to conversation girls tend to be outside of the nightlife scene. Empresso's atmosphere makes it easy to break the ice with no pressure.
eHarmony is our favorite site for finding something more serious (try it for free here)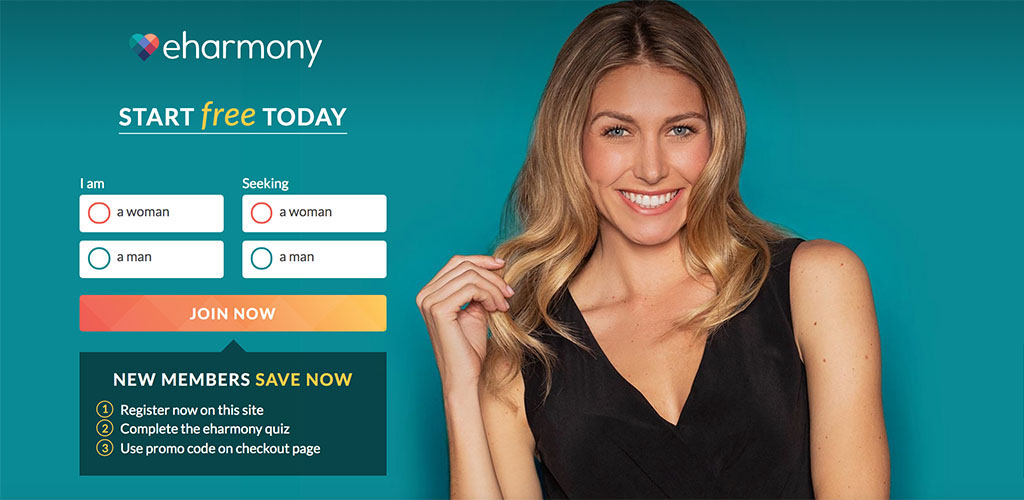 If you're looking to settle down after dating around, there's no better place to start than eHarmony. eHarmony is one of our absolute favorite sites for finding serious relationships. While sites like Adult FriendFinder or Tinder might be great for fooling around, there's really nothing that compares to eHarmony. That's especially true when you take a look at the success rates.
Roughly 69% of men and 71% of girls meet their spouse on eHarmony within a year. 
The site actually does a great job of connecting people who are truly compatible. They accomplish this by asking you lots of detailed questions. These questions aim to best match you with someone who you have the best chances of liking. So make sure you're answering honestly. We've found that being as specific as you can will really help you meet someone you'll get along with.
So give eHarmony a try today! This is the best place to pick up girls in Stockton if you're ready for something more.
More of the Best Places to Pick Up Girls in Stockton
If you've already tried out the bars and clubs we've listed above, then here are a few more that are worth your time. Check these places out for some more opportunities to meet cute girls in our city:
Sounds of Summer is an amazing way to meet lots of single girls all in one place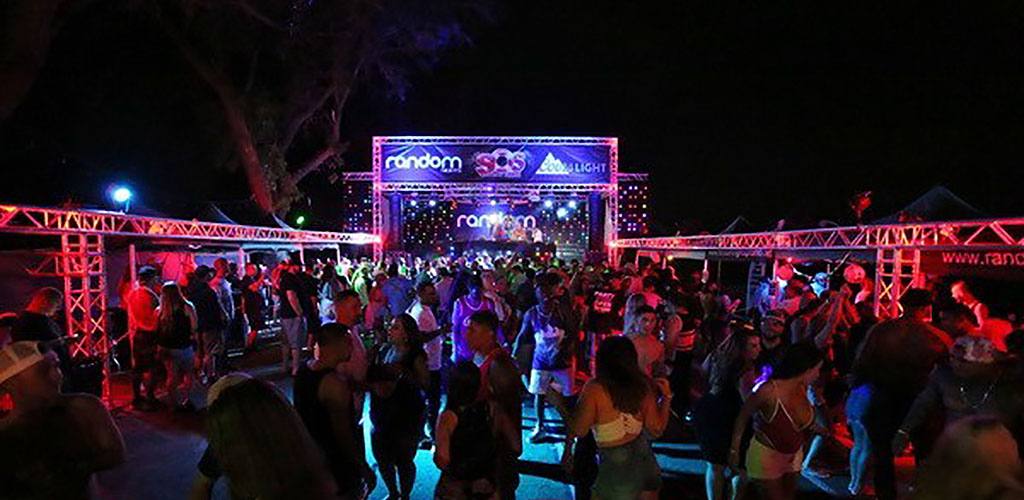 randomnightspromo.net
Are you ready to party with some of the best live DJ acts while hot girls are dancing around? Then you have to check out Sounds of Summer. This fun festival is the perfect opportunity to score big with girls. This festival happens once a year and we look forward to it every time.
The entire premise of the festival is one big boat party with people docking and supporting fellow party-goers. You'll have the opportunity to listen to live jams, drink amazing drinks and flirt with tons of single girls. This is one event that you don't want to miss.
Tinder is always full of beautiful girls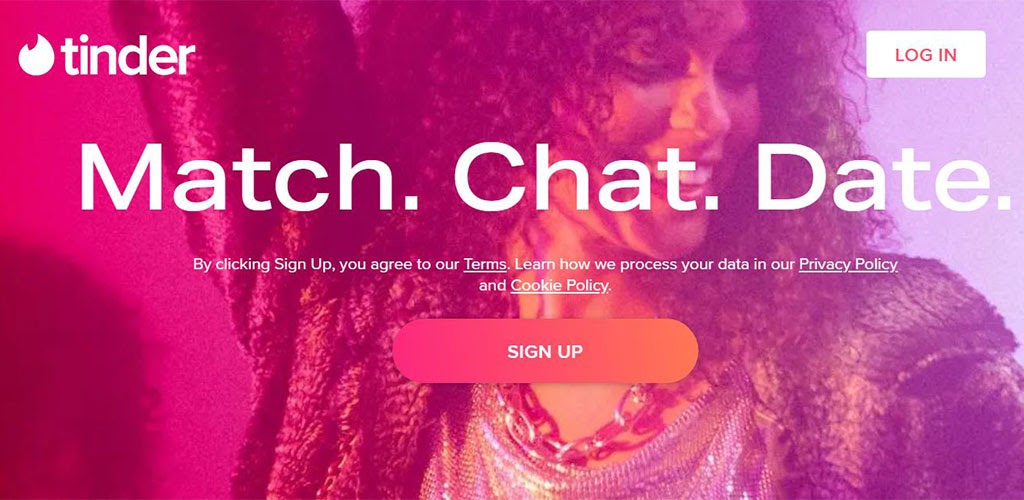 Tinder is one of the easiest apps to use. That's how it has continued to stay so popular over the years. However, despite being incredibly user-friendly, there is a pretty big downside. Girls are used to swiping quickly. So unless your pictures are note-worthy, they won't take the time to do a double-glance before swiping left.
So if you're handsome and take great photos, then you'll find Tinder to be worth the effort. However, the only other exception is if you're funny and able to create the perfect Tinder bio. If you're crafty enough, you can still manage to catch the attention of hot girls. So don't let the odds discourage you from trying!
In-Shape Health Clubs is an awesome place to get fit while mingling with cuties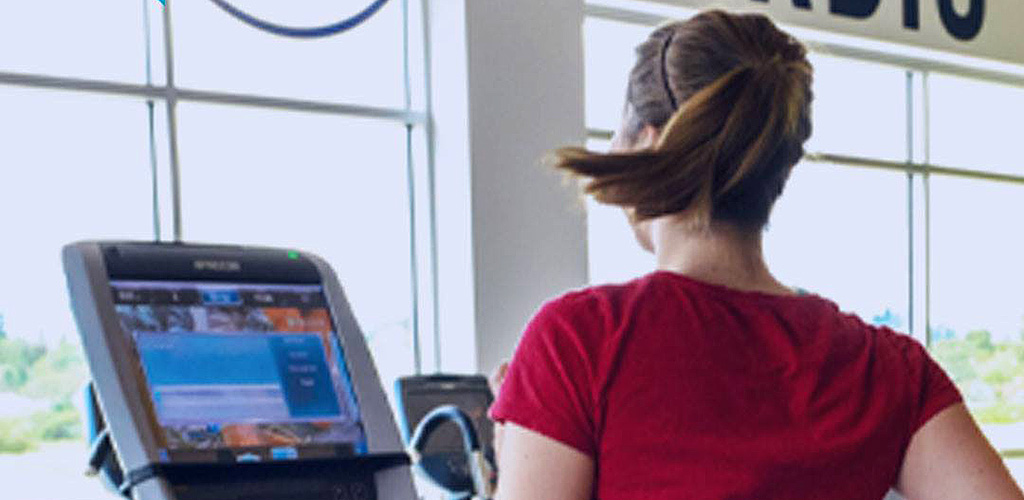 @inshape
In-Shape Health Clubs is one of the best gyms in Stockton if you're looking for clean and easy-to-use equipment. Along with gym equipment, you can also try racquetball and group fitness classes. Group classes in particular make it super easy to introduce yourself to someone new.
So take one of the strength or martial arts classes and break the ice with someone new. All of the endorphins will make it easy for you to chat without feeling awkward. We've met plenty of cute girls while working out at In-Shape Health Clubs.