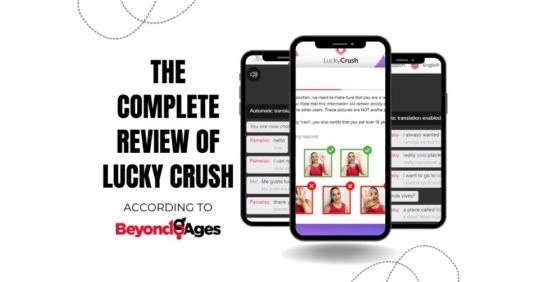 In this Lucky Crush review, you'll discover whether this video chat site is any good for helping you land a real-life date. On this site, you'll be connected for a video chat to another random user of the opposite sex. However, as we know that most male online dating users are only interested in meeting women in real life, our Lucky Crush review will be based on the odds of doing that.
Lucky Crush is free for women, but men will have to buy credits to use the service, with one credit equalling one minute of chat. That's why I was so keen to complete this Lucky Crush review for you. It would be a massive shame if men were paying good money for these credits only to end up disappointed with the service.
There are plenty of online dating websites with no free membership that end up being scams or digital wastelands. My job was to test whether Lucky Crush was one of them. Since LuckyCrush is exclusively a one-on-one video chat service, I had to use different testing standards to evaluate its usefulness. But if you don't want to go through my entire review, here's a quick summary of how it fares compared to our pick for the best hookup app.


Site
Our Experience
Our Rating
Free Trial Link

Best for hookups

Experience Highlights

Best results for regular guys
Over 60 million active members
Our top hookup site for the year
Not good for long-term relationships

9

Try AFF For Free
Experience Highlights

Super expensive
No profiles or filters for finding who to talk to
No way to reconnect with anyone you talked to

2.5

Try Lucky Crush
A recent study by the Pew Research Center found that 66% of online dating users have gone on a date with someone they met through a dating site or app. With this high success percentage, most users are looking for legitimate apps: Is the video chat app Lucky Crush able to set you up with dates? Or is it a flop? Still, if you read on, you'll get a comprehensive review of my experience testing LuckyCrush.Live and whether I recommend it for you.
Methodology: How we reviewed LuckyCrush.Live
At Beyond Ages, we have a standardized test for our online dating reviews. We use the same photos, the same bio and same opening lines for every review we do. This allows us to make trustworthy, accurate comparisons between different online dating websites and recommend the best services for you.
However, because LuckyCrush is exclusively a video chat service, we had to stray from the beaten path.
Instead of using our trusty photos of a handsome 30-something white man and typing the same openers, I had to show my own face and talk to these women live! Thankfully, I'm a handsome 30-something white man too; one who oozes charisma, I might add.
Rather than send messages to 50 women as we do for most websites, I bought a couple of hours' worth of credits and would buy more if I felt I still didn't have a good impression of the website. This LuckyCrush review is based on my experience talking to the woman during those hours.
To bring our readers a overview of Lucky Crush and everything else you need to know about online dating, every BeyondAges writer follows strict and verifiable guidelines (see below). Unlike other dating sites, our reviews are always up-to-date and sourced by local experts–not rehashes of stuff you can find elsewhere. 
| | |
| --- | --- |
| Methodology | Description |
| Comprehensive Evaluations | We thoroughly test dating apps and websites over extended periods to provide detailed reviews. |
| Experience-Based Insights | Our team of seasoned dating and relationship coaches share knowledge grounded in their real-world experiences. |
| Informed Expertise | Drawing upon years of involvement in the dating arena, we offer nuanced and practical advice, aiming for a balanced perspective. |
| Ongoing Adaptation | We continuously seek out innovative dating strategies to ensure our guidance is both current and effective. |
| Emphasis on Online Interactions | Our focus is on navigating the complexities of online dating, evaluating everything from apps to video calls to offer a robust analysis. |
| Community Interaction | We encourage reader engagement, valuing your input as we cultivate a lively community that enriches the overall dating experience. |
Affiliate Disclaimer:
At BeyondAges, we occasionally include affiliate links in our content. When you click and make a purchase through these links, we may earn a commission at no additional cost to you. Our recommendations are based on our honest belief in the quality and value of the product or service. Not all links are affiliate links, but for transparency, consider that some may be.
We've received no free goods or services for mentions on our platform. If you have any queries about our affiliate engagements, feel free to contact us.
Your support through these purchases enables us to continue delivering insightful content on dating and relationships. We appreciate your trust and backing!
2023 Lucky Crush Review – How My Experience Was
Let's begin this review with a basic summary, for those who don't want to learn every complex detail about how this website works. Below, you'll find Lucky Crush ratings for the aspects of online dating that men find the most important. As a reference, these are compared to AFF, which we rate as the greatest hook-up website of all time.
Overall

Our team rates each site objectively based on many hours of independent research, the features each site offers, and how it compares with other sites. The ratings are the opinion of our editors and their extensive experience.

4
9.5
Quality of Women

Our opinion of how attractive the typical woman is that uses this site and how easy they are to connect with compared to other sites.

8
9
Popular

How many people are using this site to actually meet people compared to other sites.

5
9
Usability

How easy is this site to use and how quickly can an average person begin meeting people compared to other sites.

8
10
Privacy & Safety

Does this site take proper precautions to safeguard its members, their identity, and their data.

10
10
Effective

Our opinion of how easily an average person will be able to achieve their dating goals with this site compared to other sites.

5
9
Value

Will the time and money spent using this site pay off for an average person based on the opinions and experience of our editors.

2
10
Our Recommendation
As you can see from the ratings above, LuckyCrush.Live isn't terrible. In fact, I met some great women while testing it – but it would be unfair to compare it to the best hookup apps we've ever tested. Still, I was pleasantly surprised by my experience testing this website.
We always test the free versions of the websites we review before signing up for a premium membership, and LuckyCrush didn't make the best first impression.
After entering a few basic details, such as my email address and my gender, I was connected to a sexy woman masturbating.
I screamed in surprise and delight, but before I was able to type anything, my free time had expired. That's right, LuckyCrush gives you roughly 10-15 seconds of free chat time before making you buy credits:
20 credits for $16.90
60 credits for $48.90
120 credits for $89.90
This smelled like the start of a classic scam. Bait the user with 15 seconds of nudity, take their money, then send them to a sub-standard premium service. But it wasn't like that at all.
Here are the key things I discovered about LuckyCrush during the test.
There are plenty of attractive women on LuckyCrush.Live
Lucky Crush is so simple to use. You press one button to say you're ready to chat, then the algorithm will choose a woman to chat with. Every woman chosen was based in my home city, and I was attracted to all of them! There's a "Next" button to press if you want to skip to the next person, but I didn't press it once.
Need help chatting with attractive women? BeyondAges has plenty of great guides for you:
Author: Joe Elvin, Dating Expert & Writer
Excerpt: "Make use of emotions. Men are notoriously bad at including the emotional elements of a story. We tend to focus on the logical facts of what happened. We're missing a trick by doing this because emotions are a powerful tool to bring a story to life and make it more relatable.
During each significant part of the story, focus on how it made you feel. Were you scared, nervous, desperately trying to hold in a fit of laughter? Let your audience know!"
Author: Andrius Saulis, dating coach and educator
Excerpt: "If we're talking about how to have interesting conversations in general, then passion is the key. That's because there's rarely anything as contagious as passion. And passionate people usually captivate and absorb others into their world.
You can be talking to a girl in a coffee shop about a topic that's not even of any interest to the girl. But if you're being genuinely passionate about something, it comes through in your words and the way you speak. She'll then become absorbed by what you're saying and become interested in what you're talking about.
So how do you do that, exactly?"
Author: Andrius Saulis, dating coach and educator
Excerpt: "You have to ask questions and delve deep and get to intimate, personal topics and beliefs. Ones which will allow you to really relate to the woman you're talking to and bond with her. And for her to bond with you as well, as a result."
Author: Sam Bradshaw, Dating Coach
Excerpt: "So if you're both standing around somewhere, waiting in line at the store or waiting to be served at a bar (even if you are using one of the hookup apps that actually work), just dive in. Make a comment about your immediate surroundings, the new drink menu, the number of cashiers they have or something that just happened. If she wants to talk, she'll add to the conversation. If not, you won't have to stand around too long afterwards."
Author: Andrius Saulis, dating coach and educator
Excerpt: "The thing about cold reading and guessing is that you'll never go wrong with it. If you get it wrong, she will correct you, and perhaps add to it. If you are spot on, they'll likely to think that you're quite perceptive and may engage with you in conversation because of that. One time I got most of my cold reads right by chance by guessing a girl was half Japanese and studied at the University of London. She reacted positively and was curious how did I know so much. I followed up by teasing that I stalk her daily on Facebook and Instagram."
Everyone I talked to on LuckyCrush was friendly
None of the women clicked "Next" on me either. In fact, they were all friendly and excited to talk to me from the very start. Sometimes, we'd both use the text chat function, then the woman would begin talking into the microphone when she felt more comfortable. Other women were excited to say "Hi" into the microphone straight away.
Either way, 100% of the women were open and ready for a meaningful conversation. It made a pleasant change from mainstream dating apps where so many women are too lazy to put more than half a dozen words together if they respond at all.
Just under half of the women gave me their contact details
It could have been more than this, but I really did try to rush some of my conversations towards a quick numerical climax. Probably too quick. After all, I was against the clock. Every minute was costing me around a dollar, and I had to get a reliable verdict on this website without going bankrupt. Indeed, any male Lucky Crush user could experience the same dilemma of trying to get a woman's phone number too quickly in an effort to save money.
Why we prefer AFF
While I had fun and met some great women on LuckyCrush.Live, there is no way I could say this website is fit to shine the shoes of AFF.
AFF is the OG of hookup websites and it continues to go from strength to strength. We've seen guys have the best results using AFF, especially if they're not super handsome.
This is because AFF makes no qualms about being a website for hookups. It is clearly marketed like this on every part of that website. The end result is that women can be loud and proud about their desire for some short-term fun.
A huge downside of LuckyCrush.Live is the value for money. You'll have to pay almost a dollar for every minute you're on video chat, and you can only talk to one woman at a time. With AFF, you'll pay a monthly subscription to access potentially thousands of women ready to hook up within a few texts, plus millions more all over the world.
Better yet, AFF is currently running a free trial, so there's no better time to see for yourself what all the fuss is about.
User testimonials for LuckyCrush:
Linus M. – Trust Pilot
The idea is great, so gave this site a go and after spending about 100 USD I am very disappointed. As far as I can tell, the women I've met (circa 10-12 of them) are the same type of professionals you will find on any old cam site and the business model is the same as well. Just without the ability to choose who you get involved with. Your expensive credit will evaporate at lightning speed and you will have little to show for it that you can't easily find somewhere else (and probably cheaper). Value for money is absolutely atrocious – and I really wanted to like this site! Maybe just my personal experience, but based on that I absolutely cannot recommend it.
Youtubers Con Fama – Trust Pilot
this page lucky crush did not like this page very few models, and the few models that there are have a bad internet, just like 10 girls do not waste your money, this is garbage crush no peaple on site i loss my money, i have coomeet this website 5 stars
Has anyone heard of lucky crush?
"I was checking my bank account and turns out I had less money than I should when I checked turns out I made a payment at lucky Crush. Here's the things. I've never heard of that place. Apparently it's a retail purchase. Anyone know what it is and how I can get my money back and make sure this doesn't happen again?"
User testimonials for AFF:
sexuld – Trust Pilot
Title: AFF can do even better.
"Pros: The only network that I found 2 real girls only for sex purpose. The environment of the site is friend oriented, members joke while communicating with each other and appear super sex positive. Pricing is fair, although it has less use in some countries (in terms of available users).
Cons: Flooded with fraud persons. Flooded with obsolete profiles. Search button doesn't work and you need to dig into profiles door to door. Full of USA girls that fill your message box and all look only open to marriage in contrast with the name of the site.
Another positive news: 4 local sex workers contacted me via this network too."
Sachin Dawhan – Quora
"The hook up site has existed for a very long time and it's what everyone knows (especially women). And so they've got millions of users globally.
And for female profiles, you need that high volume of users as otherwise it will not work.
If you can use the site or app to your advantage, will obviously depend a lot on if you can stand out from the crowd and attract those female profiles.
But in my experience it's really not that hard because most male users seem to have problems just being themselves. And this is number one thing females are looking for before they want to know if you are compatible sexually."
Stay safe when chatting with people online
All too often, you might find yourself wondering if the person you're talking to online is real. And if they are real, could they be hiding something they don't want their future dates to know?
If you don't want to go through all the trouble of snooping through their socials or asking them more detailed questions, there's a tool you can use to know for sure that the person you're talking to is who they say they are. It's Instant Checkmate, a background-checking tool that can help you know more about people you find online–the legal and hassle-free way. All you need are a few of their details and Instant Checkmate will give you all the information you need to verify who you're really talking to online.
Try out Instant Checkmate's free trial and see just how easy it is to get all the info you need. Better safe than sorry!
Positives and Negatives
To sum it all up, here's what we liked and didn't like about Lucky Crush:
The website is so easy to use
There are plenty of beautiful friendly women to chat with
You can text and video chat
The text chat has automatic translation software
It's so expensive. Ultimately, it provides awful value for money compared to traditional online dating services.
No profiles
There's no way to filter who you want to talk to, other than by gender
There are no ways to reconnect with members. If you don't swap contact details before finishing your chat, they're probably gone forever.
Profiles, Pictures and Members
There is no way to create a public profile on LuckyCrush, which means you'll probably spend a lot of time talking about the same basic details about yourself. I suppose that's no different from mingling at a cocktail party. I was pleasantly surprised with the general attractiveness of the women on LuckyCrush, and they were all excited to have a conversation with me.
It's also worth noting that when you create a Lukcy Crush account, you can't start chatting with people until you send a the site a photo of you doing a specific pose. This extra step just proves that the site does have legit people using it.
What experts are saying about your online profile:
Want an outside opinion from dating experts and industry professionals? Forbes and GQ both offer some top-notch advice for maxxing out your dating profile:
"

Don't let it get to you

. Failure at finding matches is not a reflection of your value as a partner. It just means you need to reassess and explore a different direction – like trying out a new app, revamping your profile, or getting professional help."
Professional photographer Jordan Shields suggests eliminating group shots and instead putting up photographs where "perhaps the other person could see themselves doing with you. Sell yourself as the dream guy that someone wants to spend time with." Similarly, professional photographer Charlie Grosso says that you shouldn't include a photo with more than four people in it. "This isn't a police line-up," says Grosso. "A prospective date shouldn't have to work so hard to figure out which one they are."
Lucky Crush Alternatives For Regular Guys Most Recommended By Dating Experts
When you've been struggling to meet girls online you need to look at the app you're using. That's the biggest cause for failure that we see with guys. For a little more context, here are the top three apps right now for normal guys that want results when it comes to casual fun:
Site
Our Experience
Our Rating
Free Trial Link

Best Hookup Site Right Now

Experience Highlights

Top option for local hookups by far
Best results for regular guys
Over 60 million active members
The design needs an update

Try AFF For Free

Great If You're Handsome

Tinder Highlights

Great if you're pretty good looking
Very popular, especially if you're 18-22
Really focused on photos
Becoming more of a dating than hookup app

Try Tinder

2nd Best For Most Guys

Experience Highlights

2nd best option to find hookups
Attracts an older crowd than most hookup apps
Pretty popular
Solid free trial

Try Passion
Design
The design of LuckyCrush.Live is extremely simple. I'm sure my grandma could navigate it if she was that way inclined. Simply click start to start chatting, and "Next" if you want to talk to someone else. The website could be improved if members were given profiles to get in touch with people again after their video chat is over.
Messaging and chatting
You'll have to buy credits to chat with anyone on LuckyCrush.Live. Each credit will get you one minute to chat with a random user. All the users I was matched with were in my hometown. You can also chat by text or video.
Advertisements
It was an ad-free experience testing LuckyCrush.Live. None of the women on the platform were advertising private cam shows or other sexual services, which was surprising as this problem plagues other online video chatting services. LuckyCrush gets around this problem by disabling all URLs in its text chat.
Pricing
LuckyCrush works on a pay-per-minute service. You'll have to buy credits in batches of 20, 60 or 120.
These were the price points at the time of the test.
20 credits for $16.90
60 credits for $48.90
120 credits for $89.90
It's undeniably expensive compared to all other forms of online dating services. There are no subscription services to get you unlimited minutes. There's a handy button in the main menu that'll show you how many minutes you have remaining. Helpfully, you will be prompted when you're running out of minutes, so you can prevent yourself from being cut off from an enjoyable chat.
Want to Save Money on Dating? These guides from BeyondAges will spare your wallet and boost your bank balance:
Author: Marwan Jamal, Dating and Relationship coach
Excerpt: " Forget about the "rich people wear jeans and t-shirts, not suits." It's total nonsense.  A well-tailored suit speaks confidence and authority and will get all eyes on you wherever you go. A recent study even shows that people tend to follow those who wear suits automatically because they think they're better leaders."
Author: Andrius Saulis, dating coach and educator
Excerpt: "Because here's the real truth — the location is largely irrelevant. Ultimately, it's up to you to make the date memorable, fun and interesting for her."
Safety & Precautions: Avoiding Online Romance Scams
Navigating the world of online dating apps like Lucky Crush can be a minefield for the uninitary, especially with the prevalence of romance scams. Fangzhou Wang, a Ph.D. student studying cybercrime psychology, provides valuable insights for men to avoid these pitfalls. 
"Awareness is the first line of defense," Wang states. Her research, highlighted in the American Journal of Criminal Justice, reveals that understanding scammer tactics significantly reduces the risk of fraud.
With a sharp increase in online dating app usage, Wang's findings are timely. "Scammers often use persuasive scripts, but challenging these can deter them," she explains. For men on Lucky Crush, this means being critical of inconsistencies and guarding personal details. Wang's investigations also uncovered that, "Non-Western scam operations are highly organized, almost corporate." Recognizing such patterns is key to identifying fraudulent activities.
"Every piece of information helps in building a wall against potential scams," Wang asserts, emphasizing the importance of staying informed. To help men, Wang recommends the following rules for men in the virtual dating world.
Stay Informed

: Keep up-to-date with common scammer tactics.

Practice Awareness

: Be aware of who you're talking to and look for red flags or inconsistencies in their story.

Guard Personal Information

: Be cautious about sharing personal details too soon or too freely.

Challenge Inconsistencies

: Politely question any discrepancies in your chat partner's narrative.

Recognize Persuasive Scripts

: Scammers may use specific language or stories; learn to identify these.

Understand Scammer Operations

: Be aware that some scam operations are highly organized, resembling corporations.

Verify Profiles

: Conduct due diligence on profiles, using reverse image searches or other verification methods.

Report Suspicious Behavior

: Use Lucky Crush's reporting system to flag suspicious accounts.

Seek Knowledge

: Continuously educate yourself about online romance scams.

Consult Resources

: Utilize available resources, such as cybercrime psychology studies and articles, for deeper understanding.

Use Secure Payment Methods

: If transactions are necessary, use secure and traceable payment methods. Always be skeptical of requests for money.

Trust Your Instincts

: If something feels off, it probably is. Trust your gut feeling.

Engage with Community

: Participate in forums or groups that discuss online dating experiences, including potential scams.
We want to hear about your experience using Lucky Crush. Leave a comment below and help the BeyondAges community out with your knowledge!
LuckyCrush Frequently Asked Questions
Here are some questions and answers about LuckyCrush to help you decide if this is the site you should be using:
What is LuckyCrush.Live?
LuckyCrush is an online video chat service, which will randomly pair you with a user of the opposite sex for flirtatious text and video chat.
Who actually owns Lucky Crush?
Lucky Crush is owned by Hello World, SAS, a French company.
How can I contact LuckyCrush?
To contact LuckyCrush, send an email to [email protected].
Is Lucky Crush real?
Lucky Crush is a real online dating service supposedly with hundreds of thousands of members in the United States, and many more across the globe.
Is LuckyCrush.Live legit?
LuckyCrush.Live might not look like a legitimate website at first glance, but it offers everything it promises. There are plenty of legitmate beautiful women waiting to chat with you on this website.
Is LuckyCrush a scam or fake?
I didn't see anything to suggest that LuckyCrush is a scam or fake website. I was able to gather legitimate contact details from beautiful women on this website and continue chatting with them on a different platform.
Is LuckyCrush.Live safe?
There is nothing to suggest LuckyCrush is an unsafe website to use. Of course, it's possible that the women on the other end of the screen could show you ANYTHING, so it's probably best not to use it in the workplace.
What are LuckyCrush.Live alternatives?
The most famous alternatives to LuckyCrush are ChatRoulette and Omegle. These aren't dating-focused services though. For a list of our most highly recommended hook-up websites, see this guide.
How does LuckyCrush work?
The simplicity of LuckyCrush will appeal to many. Create an account, buy credits, press "Ready" and you'll be paired with another LuckyCrush member for a fun video and text chat. Get bored of them? Press "Next" to be paired with someone else.
Is there a LuckyCrush app?
There's no LuckyCrush app, so you'll have to use it on a desktop or laptop.
How much does LuckyCrush cost?
LuckyCrush works on a pay-per-minute service. You'll have to buy credits in batches of 20, 60 or 120.
These were the price points at the time of the test.
20 credits for $16.90.
60 credits for $48.90.
120 credits for $89.90.
How can you use LuckyCrush for free?
Men will have to pay to use LuckyCrush, although women can use it for free.
Can you send messages for free on LuckyCrush?
There is no way to send messages on LuckyCrush to anyone you're not in a video chat with. And you'll need to buy credits to be in a video chat.
How do you cancel your LuckyCrush account?
There's no real reason to cancel a LuckyCrush account, as there are no subscription fees nor any public-facing profile. Still, if you want LuckyCrush to delete your data, send an email to [email protected].
---
References:
Bradshaw, S. (2023) What to say to start a conversation with a girl with ease. Beyond Ages.
Elvin, J. (2023) How to be a good conversationalist in 8 easy steps. Beyond Ages.
Jamal, M. (2023) How to dress rich without spending too much money. Beyond Ages.
Levesley, D. & Dawson, B. (2023) How to take a good photo for dating apps. Beyond Ages.
McClain, C. & Gelles-Watnick, R. (2023) From looking for love to swiping the field: Online dating in the U.S. Pew Research Center.
Saulis, A. (2023) How to keep a conversation going by keeping her interested. Beyond Ages.
Saulis, A. (2023) What to talk about with a girl you like that will actually attract her. Beyond Ages.
Saulis, A. (2023) 50 things to talk about with your crush that bring you together. Beyond Ages.
Saulis, A. (2023) How to woo a woman (without spending a lot of time and money). Beyond Ages.
Thompson, A. (2023) Georgia State researcher eyes online romance scams through lens of victim. Georgia State University.
Travers, M. (2022) Experts give 4 pieces of advice to navigate your love life in 2023. Forbes.
Vogels, E. & McClain, C. (2023) Key findings about online dating in the U.S. Pew Research Center.
---
Contributing Authors:
Tom Senkus
For more than two decades, Tom has dated extensively and studied behavioral psychology as a way of understanding the complexities of human nature until he became an expert. After traveling as a touring musician and living in more than 15 countries, Tom has cross-referenced his experience in seduction, dating, and interpersonal dynamics with the ever-changing landscape of 21st-century dating. His work as a writer has appeared in 500+ publications (digital and print). Tom is also the author of several books (available on Amazon). In his free time, you can find Tom recording music and cooking the best Cincinnati-style chili you've ever had.
Andrius Saulis
Andrius, the mind behind Saulis Dating, is a professional dating coach and educator with over a decade of hands-on experience, who shows men how to deal with their insecurities and self-esteem issues, and teaches guys how to have consistently great dates that end up in casual hookups or serious relationships.
He has taught thousands of guys how to master their inner game by getting rid of their anxiety, shyness, nervousness, self-doubt, feat, and various mental blocks and limiting beliefs that hold most men back from being awesome with women! Andrius is also a successful author (Amazon) who has published multiple books on dating and relationships that have been highly received.
Marwan Jamal
Marwan Jamal is a Dating and Relationship coach for Beyond Ages. Over the past several years he has worked with many of the top dating and attraction coaches to create a highly effective style all his own. He has helped many men build confidence in themselves and radically improve their ability to meet and attract women.
MJ has a Bachelor's Degree in Marketing from Alexandria University and you have probably seen his work in the Huffington Post and The Good Men Project or in person in the many cities around the world where he's been coaching.