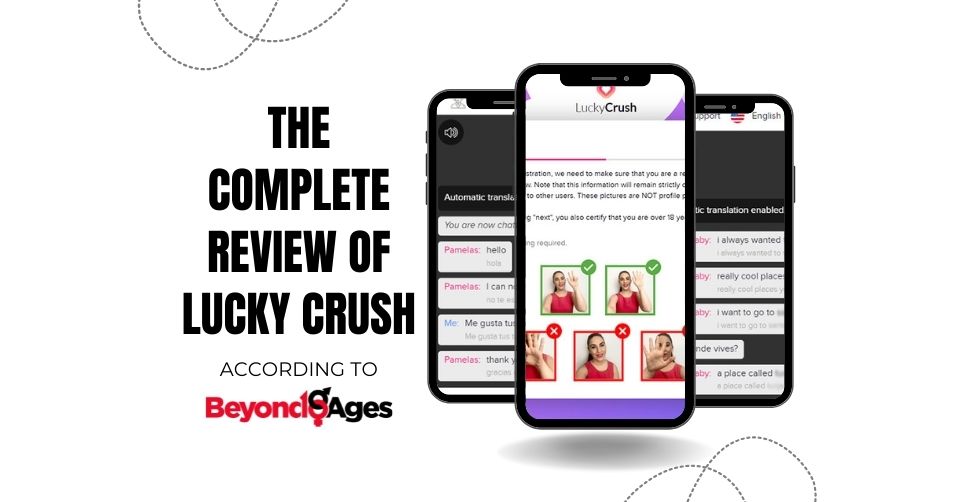 In this Lucky Crush review, you'll discover whether this video chat site is any good for helping you land a real-life date. On this site, you'll be connected for a video chat to another random user of the opposite sex. However, as we know that most male online dating users are only interested in meeting women in real life, our Lucky Crush review will be based on the odds of doing that.
Lucky Crush is free for women, but men will have to buy credits to use the service, with one credit equalling one minute of chat. That's why I was so keen to complete this Lucky Crush review for you. It would be a massive shame if men were paying good money for these credits only to end up disappointed with the service.
There are plenty of online dating websites with no free membership that end up being scams or digital wastelands. My job was to test whether Lucky Crush was one of them. Since LuckyCrush is exclusively a one-on-one video chat service, I had to use different testing standards to evaluate its usefulness.
Still, if you read on, you'll get a comprehensive review of my experience testing LuckyCrush.Live and whether I recommend it for you.
How we reviewed LuckyCrush.Live
At Beyond Ages, we have a standardized test for our online dating reviews. We use the same photos, the same bio and same opening lines for every review we do. This allows us to make trustworthy, accurate comparisons between different online dating websites and recommend the best services for you.
However, because LuckyCrush is exclusively a video chat service, we had to stray from the beaten path.
Instead of using our trusty photos of a handsome 30-something white man and typing the same openers, I had to show my own face and talk to these women live! Thankfully, I'm a handsome 30-something white man too; one who oozes charisma, I might add.
Rather than send messages to 50 women as we do for most websites, I bought a couple of hours' worth of credits and would buy more if I felt I still didn't have a good impression of the website. This LuckyCrush review is based on my experience talking to the woman during those hours.
Now that you know how I put these reviews together let's get to the full details:
2023 Lucky Crush Review – How My Experience Was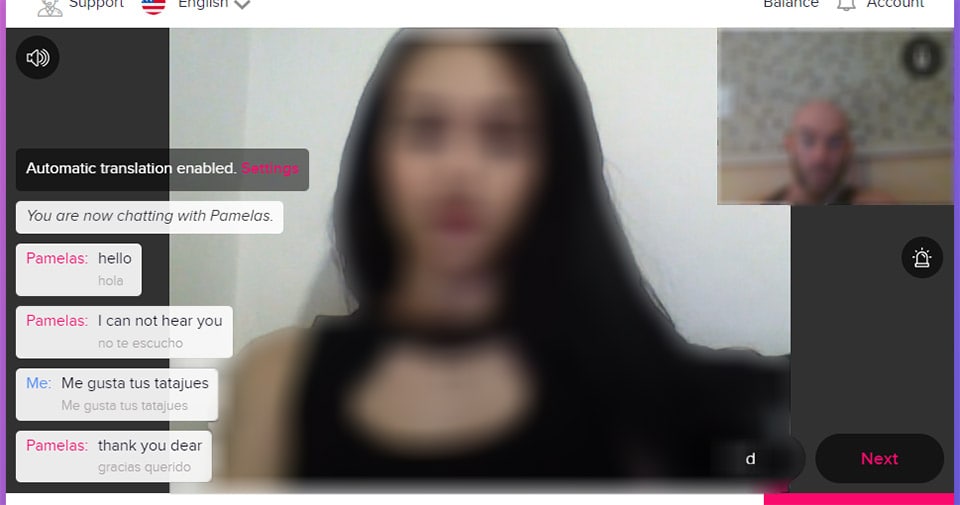 Let's begin this review with a basic summary, for those who don't want to learn every complex detail about how this website works. Below, you'll find Lucky Crush ratings for the aspects of online dating that men find the most important. As a reference, these are compared to AFF, which we rate as the greatest hook-up website of all time.
Overall

Our team rates each site objectively based on many hours of independent research, the features each site offers, and how it compares with other sites. The ratings are the opinion of our editors and their extensive experience.

4
9.5
Quality of Women

Our opinion of how attractive the typical woman is that uses this site and how easy they are to connect with compared to other sites.

8
9
Popular

How many people are using this site to actually meet people compared to other sites.

5
9
Usability

How easy is this site to use and how quickly can an average person begin meeting people compared to other sites.

8
10
Privacy & Safety

Does this site take proper precautions to safeguard its members, their identity, and their data.

10
10
Effective

Our opinion of how easily an average person will be able to achieve their dating goals with this site compared to other sites.

5
9
Value

Will the time and money spent using this site pay off for an average person based on the opinions and experience of our editors.

2
10
Our Recommendation
As you can see from the ratings above, LuckyCrush.Live isn't terrible. In fact, I met some great women while testing it – but it would be unfair to compare it to the best hookup apps we've ever tested. Still, I was pleasantly surprised by my experience testing this website.
We always test the free versions of the websites we review before signing up for a premium membership, and LuckyCrush didn't make the best first impression.
After entering a few basic details, such as my email address and my gender, I was connected to a sexy woman masturbating.
I screamed in surprise and delight, but before I was able to type anything, my free time had expired. That's right, LuckyCrush gives you roughly 10-15 seconds of free chat time before making you buy credits:
20 credits for $16.90
60 credits for $48.90
120 credits for $89.90
This smelled like the start of a classic scam. Bait the user with 15 seconds of nudity, take their money, then send them to a sub-standard premium service. But it wasn't like that at all.
Here are the key things I discovered about LuckyCrush during the test.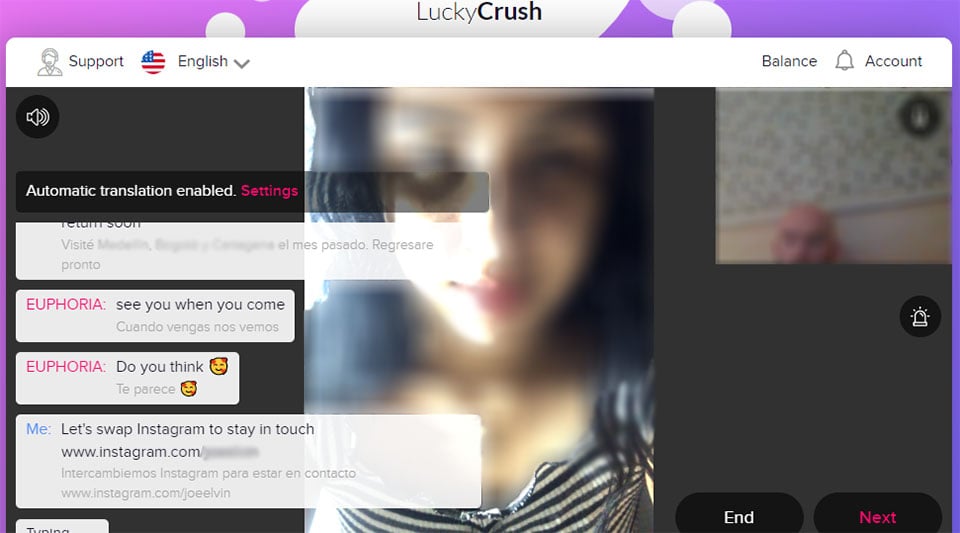 There are plenty of attractive women on LuckyCrush.Live
Lucky Crush is so simple to use. You press one button to say you're ready to chat, then the algorithm will choose a woman to chat with. Every woman chosen was based in my home city, and I was attracted to all of them! There's a "Next" button to press if you want to skip to the next person, but I didn't press it once.
Everyone I talked to on LuckyCrush was friendly
None of the women clicked "Next" on me either. In fact, they were all friendly and excited to talk to me from the very start. Sometimes, we'd both use the text chat function, then the woman would begin talking into the microphone when she felt more comfortable. Other women were excited to say "Hi" into the microphone straight away.
Either way, 100% of the women were open and ready for a meaningful conversation. It made a pleasant change from mainstream dating apps where so many women are too lazy to put more than half a dozen words together if they respond at all.
Just under half of the women gave me their contact details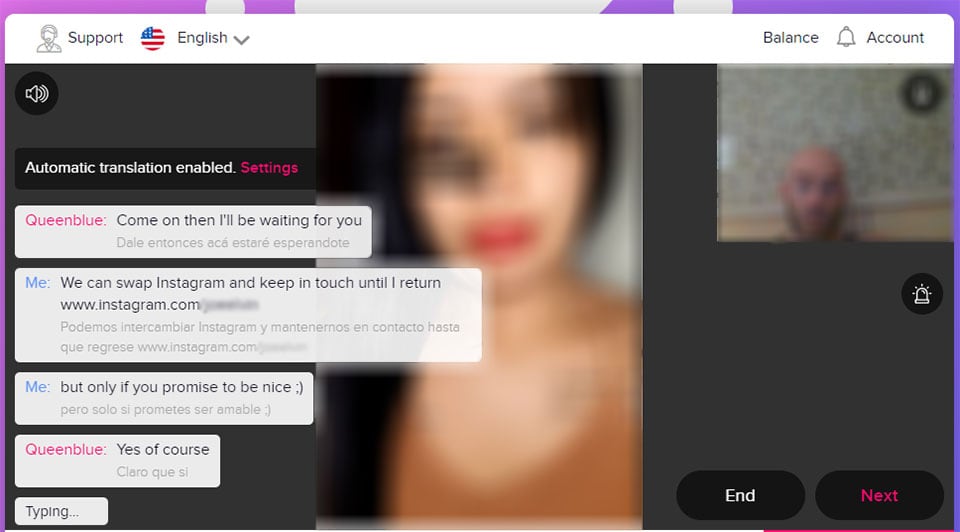 It could have been more than this, but I really did try to rush some of my conversations towards a quick numerical climax. Probably too quick. After all, I was against the clock. Every minute was costing me around a dollar, and I had to get a reliable verdict on this website without going bankrupt. Indeed, any male Lucky Crush user could experience the same dilemma of trying to get a woman's phone number too quickly in an effort to save money.
Why we prefer AFF
While I had fun and met some great women on LuckyCrush.Live, there is no way I could say this website is fit to shine the shoes of AFF.
AFF is the OG of hookup websites and it continues to go from strength to strength. We've seen guys have the best results using AFF, especially if they're not super handsome.
This is because AFF makes no qualms about being a website for hookups. It is clearly marketed like this on every part of that website. The end result is that women can be loud and proud about their desire for some short-term fun.
A huge downside of LuckyCrush.Live is the value for money. You'll have to pay almost a dollar for every minute you're on video chat, and you can only talk to one woman at a time. With AFF, you'll pay a monthly subscription to access potentially thousands of women ready to hook up within a few texts, plus millions more all over the world.
Better yet, AFF is currently running a free trial, so there's no better time to see for yourself what all the fuss is about.
Positives and Negatives
To sum it all up, here's what we liked and didn't like about Lucky Crush:
The website is so easy to use
There are plenty of beautiful friendly women to chat with
You can text and video chat
The text chat has automatic translation software
It's so expensive. Ultimately, it provides awful value for money compared to traditional online dating services.
No profiles
There's no way to filter who you want to talk to, other than by gender
There are no ways to reconnect with members. If you don't swap contact details before finishing your chat, they're probably gone forever.
Profiles, Pictures and Members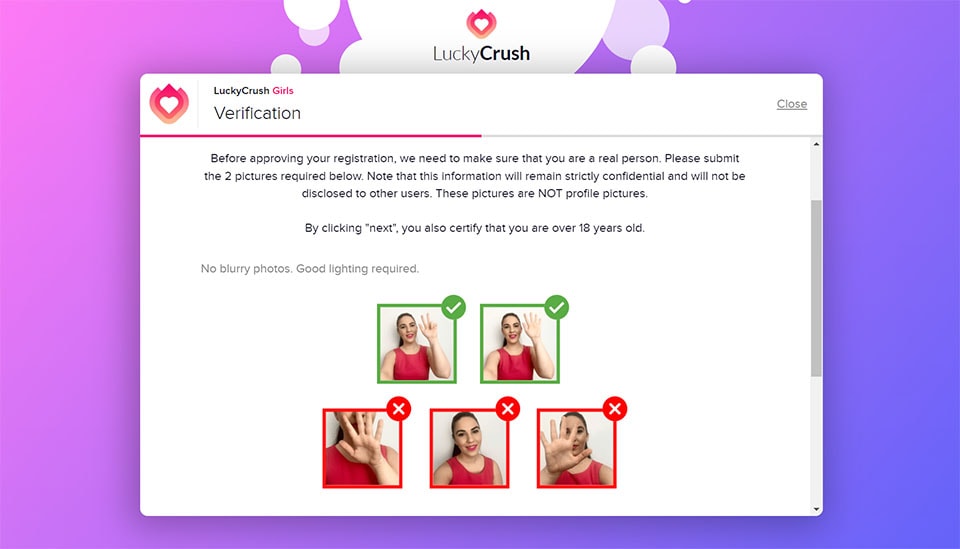 There is no way to create a public profile on LuckyCrush, which means you'll probably spend a lot of time talking about the same basic details about yourself. I suppose that's no different from mingling at a cocktail party. I was pleasantly surprised with the general attractiveness of the women on LuckyCrush, and they were all excited to have a conversation with me.
It's also worth noting that when you create a Lukcy Crush account, you can't start chatting with people until you send a the site a photo of you doing a specific pose. This extra step just proves that the site does have legit people using it.
Lucky Crush Alternatives For Regular Guys Most Recommended By Dating Experts
When you've been struggling to meet girls online you need to look at the app you're using. That's the biggest cause for failure that we see with guys. For a little more context, here are the top three apps right now for normal guys that want results when it comes to casual fun:
Site
Our Experience
Our Rating
Free Trial Link

Best Hookup Site Right Now

Experience Highlights

Top option for local hookups by far
Best results for regular guys
Over 60 million active members
The design needs an update

Try AFF For Free

Great If You're Handsome

Tinder Highlights

Great if you're pretty good looking
Very popular, especially if you're 18-22
Really focused on photos
Becoming more of a dating than hookup app

Try Tinder

2nd Best For Most Guys

Experience Highlights

2nd best option to find hookups
Attracts an older crowd than most hookup apps
Pretty popular
Solid free trial

Try Passion
Design
The design of LuckyCrush.Live is extremely simple. I'm sure my grandma could navigate it if she was that way inclined. Simply click start to start chatting, and "Next" if you want to talk to someone else. The website could be improved if members were given profiles to get in touch with people again after their video chat is over.
Messaging and chatting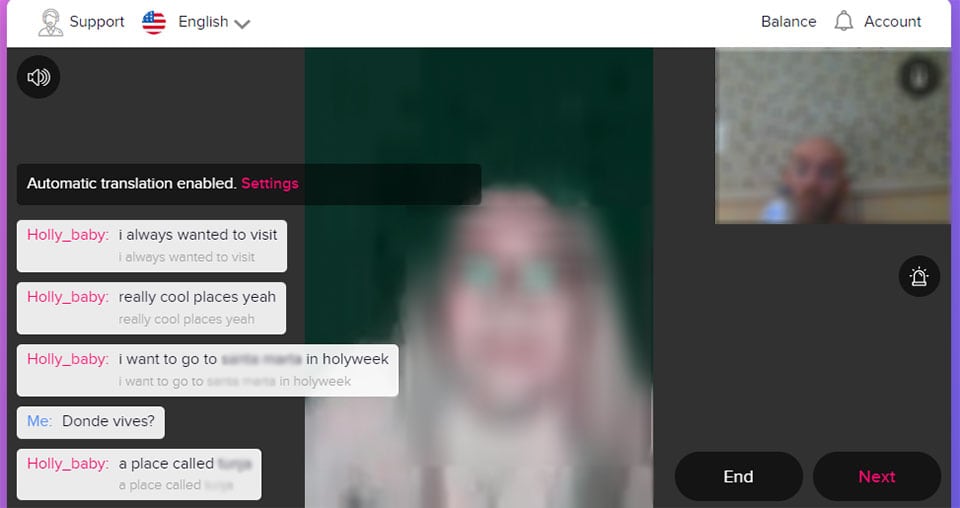 You'll have to buy credits to chat with anyone on LuckyCrush.Live. Each credit will get you one minute to chat with a random user. All the users I was matched with were in my hometown. You can also chat by text or video.
Advertisements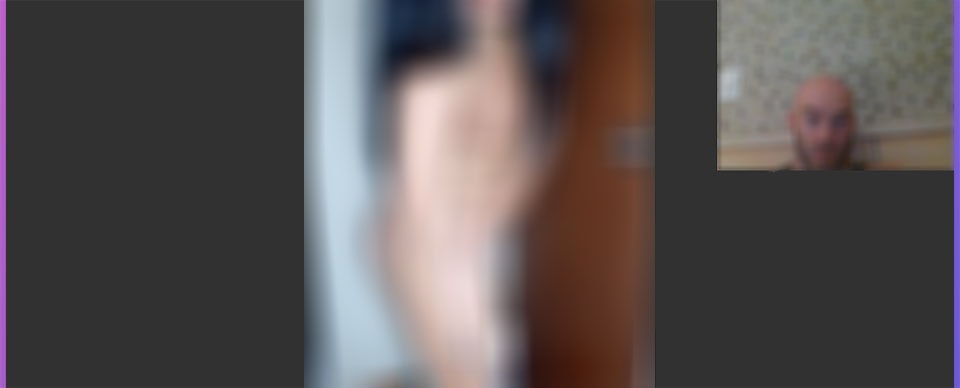 It was an ad-free experience testing LuckyCrush.Live. None of the women on the platform were advertising private cam shows or other sexual services, which was surprising as this problem plagues other online video chatting services. LuckyCrush gets around this problem by disabling all URLs in its text chat.
Pricing
LuckyCrush works on a pay-per-minute service. You'll have to buy credits in batches of 20, 60 or 120.
These were the price points at the time of the test.
20 credits for $16.90
60 credits for $48.90
120 credits for $89.90
It's undeniably expensive compared to all other forms of online dating services. There are no subscription services to get you unlimited minutes. There's a handy button in the main menu that'll show you how many minutes you have remaining. Helpfully, you will be prompted when you're running out of minutes, so you can prevent yourself from being cut off from an enjoyable chat.
LuckyCrush Frequently Asked Questions
Here are some questions and answers about LuckyCrush to help you decide if this is the site you should be using:
What is LuckyCrush.Live?
LuckyCrush is an online video chat service, which will randomly pair you with a user of the opposite sex for flirtatious text and video chat.
Who actually owns Lucky Crush?
Lucky Crush is owned by Hello World, SAS, a French company.
How can I contact LuckyCrush?
To contact LuckyCrush, send an email to [email protected]
Is Lucky Crush real?
Lucky Crush is a real online dating service supposedly with hundreds of thousands of members in the United States, and many more across the globe.
Is LuckyCrush.Live legit?
LuckyCrush.Live might not look like a legitimate website at first glance, but it offers everything it promises. There are plenty of legitmate beautiful women waiting to chat with you on this website.
Is LuckyCrush a scam or fake?
I didn't see anything to suggest that LuckyCrush is a scam or fake website. I was able to gather legitimate contact details from beautiful women on this website and continue chatting with them on a different platform.
Is LuckyCrush.Live safe?
There is nothing to suggest LuckyCrush is an unsafe website to use. Of course, it's possible that the women on the other end of the screen could show you ANYTHING, so it's probably best not to use it in the workplace.
What are LuckyCrush.Live alternatives?
The most famous alternatives to LuckyCrush are ChatRoulette and Omegle. These aren't dating-focused services though. For a list of our most highly recommended hook-up websites, see this guide.
How does LuckyCrush work?
The simplicity of LuckyCrush will appeal to many. Create an account, buy credits, press "Ready" and you'll be paired with another LuckyCrush member for a fun video and text chat. Get bored of them? Press "Next" to be paired with someone else.
Is there a LuckyCrush app?
There's no LuckyCrush app, so you'll have to use it on a desktop or laptop.
How much does LuckyCrush cost?
LuckyCrush works on a pay-per-minute service. You'll have to buy credits in batches of 20, 60 or 120.
These were the price points at the time of the test.
20 credits for $16.90.
60 credits for $48.90.
120 credits for $89.90.
How can you use LuckyCrush for free?
Men will have to pay to use LuckyCrush, although women can use it for free.
Can you send messages for free on LuckyCrush?
There is no way to send messages on LuckyCrush to anyone you're not in a video chat with. And you'll need to buy credits to be in a video chat.
How do you cancel your LuckyCrush account?
There's no real reason to cancel a LuckyCrush account, as there are no subscription fees nor any public-facing profile. Still, if you want LuckyCrush to delete your data, send an email to [email protected]