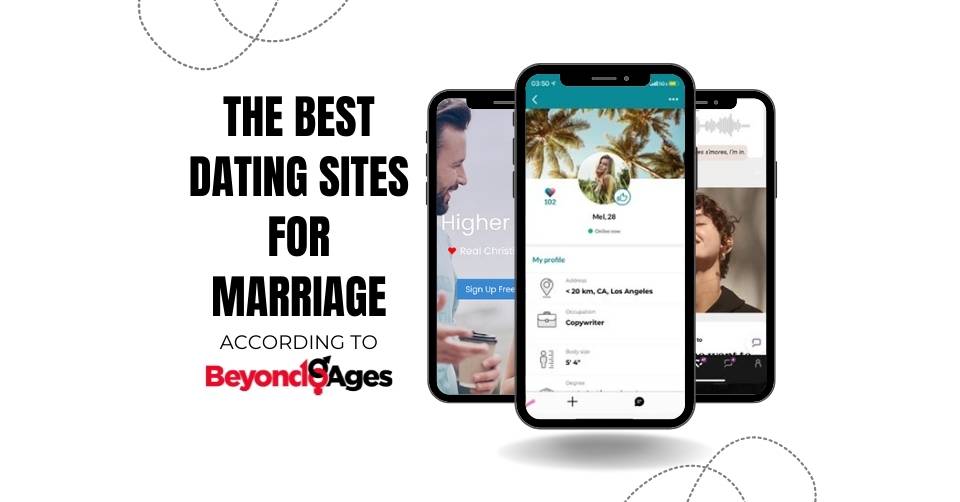 Despite having been around for nearly three decades, too many people still think of dating sites as just for casual relationships. Sure, dating apps like Tinder are still reliable go-to options for flings and one-night stands. But online dating is so much more than just flings. Increasingly, people are searching for the best dating sites for marriage. They're looking for the "one" online.
Navigating the right dating sites, though, can be tricky. There are thousands of them, and it's not like there's one called "Guaranteed Marriage in a Year". (We looked.) But you may be surprised to learn, that there are quite a few legitimate marriage dating sites and apps. If you're dating online, they're the best way to find a partner for life.
Ready to make the leap into marriage? Keep reading.
How we ranked the best dating sites for marriage
Tons of sites claim they'll help you find true love. While it can be hard to separate the real sites from the duds, there are clear indicators. These qualities are what set the best dating sites for marriage apart from the rest.
When we're looking at dating sites and apps, we like to test run both the free and paid versions. That way, we get a fuller sense of a site's usability and effectiveness. We also see how much activity really happens on the sites and apps.
The most important factor when picking the best dating apps for marriage, though, is the user base. The quality of women on the site is everything. Beautiful, smart, interesting, relationship-minded. Those are the qualities of the women on the best sites. Which leads us to this:
The Top Two Dating Sites for Marriage Right Now: Hinge and eHarmony
We've seen our fair share of good to decent dating sites. When it comes to the best dating apps for marriage, though, these two stand above the rest.
Overall

Our team rates each site objectively based on many hours of independent research, the features each site offers, and how it compares with other sites. The ratings are the opinion of our editors and their extensive experience.

8
9.5
Quality of Women

Our opinion of how attractive the typical woman is that uses this site and how easy they are to connect with compared to other sites.

8
9
Popular

How many people are using this site to actually meet people compared to other sites.

8
9
Usability

How easy is this site to use and how quickly can an average person begin meeting people compared to other sites.

10
10
Privacy & Safety

Does this site take proper precautions to safeguard its members, their identity, and their data.

10
10
Effective

Our opinion of how easily an average person will be able to achieve their dating goals with this site compared to other sites.

8
9
Value

Will the time and money spent using this site pay off for an average person based on the opinions and experience of our editors.

8
10
Our Recommendation
Try Hinge when you're ready for the one
When you're tired of the games and Tinder's never-ending swipe carousel, download Hinge. With its slogan, "Designed to be deleted," this dating app expects to be the last one you'll ever need. It boasts a "Nobel-Prize-winning algorithm" that is used to get you the best matches, not just the most dates.
This is a quality over quantity app, and it's quickly becoming one of the most popular options for marriage-seeking daters. Using profile prompts and conversation-based matching criteria, Hinge helps you filter out the distractions and time wasters. Your matches will be people with whom you share a real connection. All the better to build a lasting, meaningful relationship.
Try eHarmony if you're looking to get married
Of all the dating apps for marriage, few come even close to eHarmony's success rate. In fact, most marriages that began from an online connection started with eHarmony. Think about that. One site is responsible for more marriages than all the others combined. That alone should convince you to give it a try.
With nearly 35 million users, eHarmony has one of the largest user bases of any dating site. It's also been around long enough to have learned what works and what doesn't. It's all about compatibility with this app. You might not strike gold on your first date, but be patient. Close to 70% of users who stick with it find a spouse within a year of signing up.
The Other Top Dating Sites for Marriage Worth Considering
If Hinge and eHarmony aren't working out for you yet, you can also venture out and try one of these dating sites for singles looking to get married.
If you like the relative simplicity of Tinder but want a more serious dating experience, Bumble is great. It's still a swipe-based app and plenty of people still use it for casual flings. But because it requires that women start the conversation, there tends to be a bit more intentionality in the matches.
Bumble isn't technically a marriage dating app, so we can't place it in our top 2. However, of all the widely popular, casual dating apps we've tried, this one is most likely to produce real relationships. As long as you're upfront with your intentions, you should have good luck.
What makes Elite Singles stand out is its focus on having an educated, professional user base. Most of the users are in their 30s and have no interest in messing around with unserious partners. If you're college-educated and have a stable career, this is a good way to meet equally ambitious people. Your matches might not all want marriage, but they'll at least not waste your time.
With an "Intimate Focus on Faith" as its guiding principle, Higher Bond was created to help foster lasting relationships. It's one of the best dating apps for marriage if you're a Christian. Obviously, that narrows down its user base quite a bit. Still, if you're a traditional type of guy looking for a bride with faith, give Higher Bond a look.
The Most Important Considerations when Choosing a Good Marriage Dating Site
Choosing the best dating app for marriage isn't just about signing up for the most popular one. Here are some things to consider when picking the right site or app for you.
Are you really looking for marriage?
This is the most important question. Too many guys spend their money and time going on dates with great women, only to keep blowing it. They'll tell you they're looking for the "one", but they'll always have two (or three) dates lined up. It's perfectly fine to play the field. Just admit if you're not really ready to settle down. It's not just your time you're wasting after all.
What kind of partner are you looking for?
The traditional working husband/housewife dynamic is practically extinct these days. Marriages now take on many different forms. Understanding what kind of partner and marriage you want will determine where you look. Some sites have a more old-fashioned user base. Others are very modern and untraditional. What are you looking for?
Do faith and politics matter to you in a spouse?
Most of the sites we recommended above are for the general population. However, for some people there are important boxes that need to be checked for a spouse. These criteria may be political, religious, or sexual in nature. Whatever it is, if you know some specific quality is vital to finding love, choose the right niche dating site.
Do the sites have testimonials?
When a perfect couple finds each other, it's only natural that they'll want to tell the world. The best marriage dating sites almost all have testimonials. Yeah, it's marketing. But it's also a way for you to know what you can expect on a particular site or app. Reviews tend to only get left by unhappy customers, but testimonials let you see the success stories.
Are you ready to invest in your love life?
Sites like Bumble generally offer a decent free experience that will lead to multiple dates. That's enough for lots of users, and occasionally free users actually do find love. For most people, though, investing in a paid subscription will be more fruitful. It'll open up your options to more users and ensure that you take the process seriously.
5 Key Tips to Get Great Results Using Dating Apps for Marriage and Meeting a Potential Spouse
Tip #1 Create a great profile
Men always say the same thing: they hate creating a dating profile. It's awkward and weird. We get it. But just because you don't want to do it doesn't mean you should leave your profile blank. That's a major handicap. The most successful men find a way to be suave with only a few words. Need help? Here are our top prompts for writing a great dating profile.
Tip #2 Turn on the charm
Once you've matched, it's time to show how charming and funny you can be. Tell some jokes, have an interesting anecdote or two ready, and be interesting. That is the goal: you want to keep her interested with your conversation. It might just be an online chat, but if you do it right, it will lead to the first date.
Tip #3 Plan a great date
You did it. You asked her out on a first date. Now is when the real pressure begins, right? Wrong. There's no reason to get so in your head. You both want to have a good time, that's why you're there. So, instead of stressing, think about something enjoyable you could do with a friend. If you need tips, here are some fun and romantic ideas for a first date.
Tip #4 Get a second date
The first date is the tryout. It's like an actor auditioning, and like any audition process, the "callback" is what you're looking for. The second date is where things really start to take off. You don't want to wait too long to ask her out again. But you also don't want to seem overeager. Here is the perfect amount of time to wait between first and second date.
Tip #5 Build the relationship
Within a few dates, you'll both have an idea of the other one's long-term dating potential. If you think she's a good match – even the "one" – it's time to start building a relationship. There's no set rule on what a relationship must look like, or how long it must last. The most important rule – the only one, really – is that you both communicate your intentions.
Frequently Asked Questions About Dating Apps for Marriage
We've tried to cover the subject pretty thoroughly up above. If you still have some questions about the best dating sites for marriage, though, we've got answers.
What are dating sites for marriage?
The best dating sites for marriage will emphasize compatibility and connection. They won't be all about swiping and quick matches.
Are marriage dating apps and sites legit?
We've found quite a few good ones out there. If you have your doubts, seek out the testimonials. If a site doesn't have any, that's a red flag.
Are marriage dating apps and sites safe?
The best dating sites secure their database and have policies that block harassers and scammers.
What are alternatives to dating sites for marriage?
If marriage isn't what you're after, we know of plenty of other dating apps and sites that you'll enjoy.
How do marriage dating sites work?
Every site is different, but most rely on questionnaires and profiles and use sophisticated algorithms to create lasting matches.