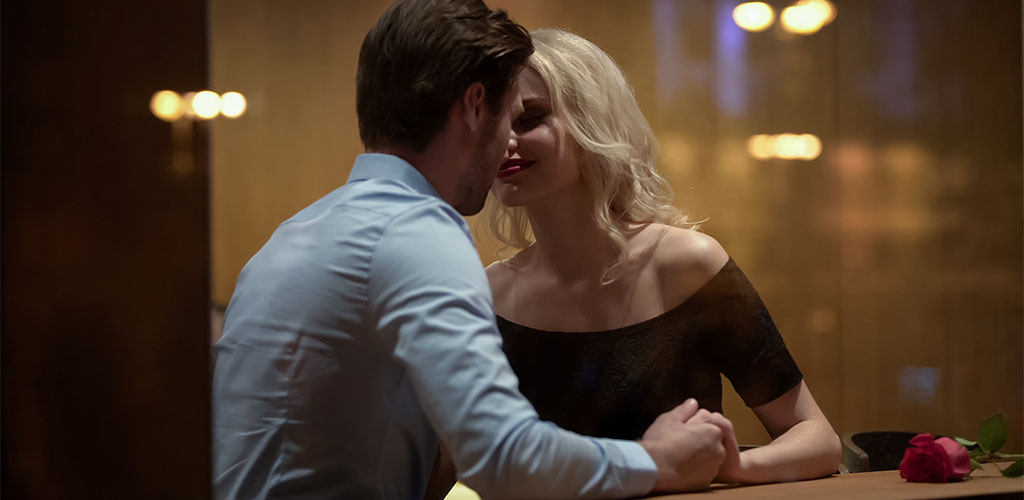 You need to put some thought into how to seduce an older woman. Not a lot of older women are interested in dating a younger man. And even if you do spot a cougar, it can take more than your boyish charms to seduce her. So if you want to learn the top techniques you can use to seduce an older woman, read on!
My journey to learning how to seduce an older woman started at a busy nightclub. She was thirty-four, tall, blue-eyed and athletic--a beautiful woman. Although we had intense chemistry, I couldn't have prepared for what she said only thirty minutes into our conversation.
She whispered into my ear, "Are you going to take me home and fuck me or not?" I was stunned. I had never heard a woman proposition me so directly, let alone such an attractive one.
Sadly, I didn't know it at the time, but I had just discovered one of the three keys to seducing an older woman. I'll explain what happened next with her soon. But first, I want you to know something important: there are several key differences between younger and older women.
If you understand these differences and how to use them to your advantage, seducing older women will become a satisfying process that will regularly lead you to experiences that would normally be reserved for a Dear Penthouse letter.
How to Seduce an Older Woman
What might older women like in younger men?
On the surface, it might seem like younger men won't have much to offer an older woman the way an established older gentleman does. After all, younger guys typically won't have the life experience or the spending power of someone closer to her age.
If you do have these attributes, that's fantastic. Yet, if you don't, it's not necessarily game over. You can make up for it by showing characteristics that young guys usually have in abundance.
A lot of older women are drawn to younger guys because of their natural zest for life, their youthful energy, their thirst for adventure, their curiosity for new experiences. Their ability to not take themselves too seriously. These are the sort of attributes that can help older women feel young again. They're also some of the things older women consider before having sex with a younger man.
This attitude towards life is infectious. And it feels great to be around. To some extent, we all retain a certain nostalgia for the excitement and carefree days of young adulthood. You could be the guy who makes her feel this way. If you can demonstrate this free spirit, this spontaneity and adventurousness, this party-all-night attitude, you'll capture the imagination of a lot of older women.
What's more, a lot of older women can't resist the innocent naivety of younger men. They like the idea of teaching younger men about life. So don't be afraid to show curiosity towards the parts of her lifestyle you know nothing about. This certainly beats an older man who knows a lot, but it is bitter about women and how life has beaten him down.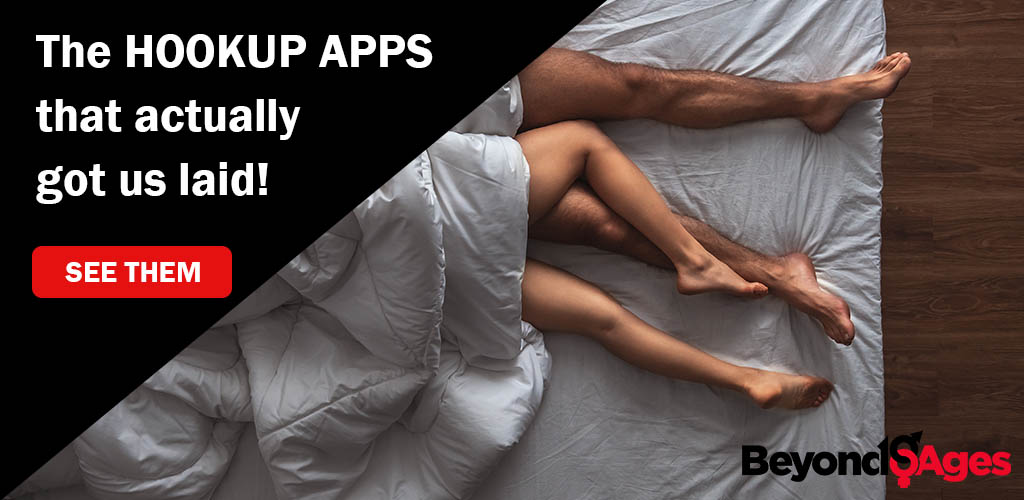 What older women don't like in younger men--and how to avoid showing this
The main factor deterring older women from dating younger men is immaturity. Younger guys often lack the emotional maturity needed to look after a fully-grown woman. You better believe she'll be screening to see whether you have this...
If you show signs of approach anxiety or general nervousness around her, she's likely to be less forgiving than younger women.
If you're unable to display the assuredness needed to make her feel safe and comfortable in your presence, it'll be tough to win her over. After all this is masculinity in a nutshell. It's a must-have for older women.
However, if you can make her feel this way while also showing the fun-loving energy of a vibrant young man, there's little else that's stopping you.
You should fully expect an older woman to give you a little grief if you clearly look younger than her. She'll need to test to see if you're grounded enough to handle these shit tests.
How do you react when she calls you a "little boy"? Do you become defensive and fall into her trap? Or does your confidence remain unwavering?
Perhaps you give a cheeky smirk and make fun of her concerns. Maybe you flip the script and assure her that she doesn't seem too old to hang out with you. It might just take a chuckle, strong eye contact and the utterance of, "So what do you like about little boys?"
Whatever you do, she needs you to remain in your masculine power in these moments. This is what it takes to be her man.
Older women don't play games
After the thirty-four-year-old beauty asked me, "Are you going to take home and fuck me or not?" She called an Uber and brought us straight to her place.
We got inside, and as she walked towards her room she began taking off her clothes. First her jacket, then her shirt, and then her pants. As she stood by her bed, she undressed completely. She got on all fours on her bed before saying, "Well, what are you waiting for?"
That night was the first of many that taught me an important lesson: older women don't play games.
They are much more comfortable with their sexuality than their younger counterparts. They've been around the block a few times. So they are more likely to want to have sex with a guy they just met.
It's important you understand this as you learn how to seduce an older woman. Because if you try to play games with an older woman, it will probably backfire. She'll wonder why you can't just be real enough to go for what you want.
Obviously, this doesn't mean you should just walk up to an older woman or message an older woman online and say, "Hey, wanna have sex?" But it does mean that if you find her attractive, be as direct as you can be.
Also, don't hesitate to be physical. Be forward enough to kiss her, especially if you see signs that she wants you to kiss her. Older women appreciate a no B.S. approach. So if you usually like to be indirect and subtle, drop that when interacting with older women.
Don't hesitate to invite her to your place, whether you met her online or in person. Older women want a guy who goes for what he wants. So there's no reason to wait to take her home.
You need to be comfortable, so get some practice online first (our favorites)
You can get a lot of experience in meeting and attracting older women through dating sites. When it comes to women over 35, we have two sites that have worked the best for us:
If you want something long-term, try Cougar Life first. They have the largest number of single older women (35 and up). They've also been around for a while, so you know they're legit. Give their free trial a shot and see what we mean.
If you just want sex Adult FriendFinder is our go-to. This site is focused almost exclusively on matching people for sex. So don't expect to find a normal relationship here (though it's possible). You can also try them for free so it's worth checking them out to see the quality of women in your area (most cities are pretty good).
Try Adult FriendFinder For Free!
If you actually want to meet single older women who are more interested in fun in the bedroom than a long-term relationship you need to
check out Adult FriendFinder's free trial with this link
. We've spent many months testing out 100+ different sites and apps to meet older women and AFF has consistently been the easiest way for most men both younger and older themselves.
Older women are more sophisticated
Older women have had enough life experience to be bored by guys who only talk about surface-level matters like pop-culture and sports.
They crave more interesting conversation. If you can talk about things that most guys never do, you will stand out as far more intriguing than the many boring guys she's met.
Recently, I met a beautiful Spanish woman at a bar. And in the two hours, before we slept together, our conversation spanned topics including existentialism, how the death of our fathers affected us and our biggest fears.
Our conversation was emotional, vulnerable, and meaningful. Because of this, she felt it was only natural to invite me to her place for some drinks in private. Your conversations with all women should have some depth to them, but especially your conversations with older women.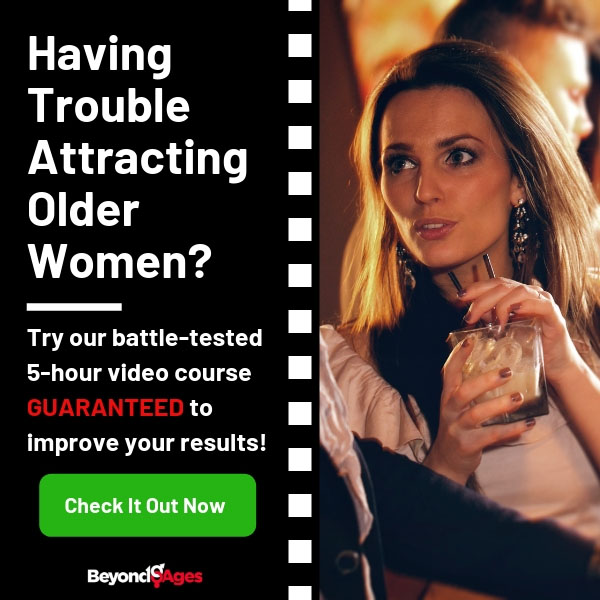 How to seduce an older woman by getting in touch with your emotions
Women love to talk about feelings. But this is something most men just don't get. Talking about your emotions (and having her talk about hers) will make her feel a sense of connection and comfort with you.
When learning how to seduce an older woman, make sure not to only bring up positive emotions, but a full spectrum of emotions. Many younger guys are intimidated by older women. Because of this, they're hesitant to do anything that might be perceived as negative when interacting with an older woman.
Show that you're not intimidated if an older woman says something you dislike. Don't hesitate to let her know that you disagree. This doesn't mean you should be antagonistic. But being confident enough to disagree with her is actually quite attractive. A classic example of this is the dynamic between Han Solo and Princess Leia in the original Star Wars trilogy. It shows that you aren't a wimp, and that creates sexual tension.
Show her your vulnerable side
Create a deep conversation with an older woman using the power of vulnerability. Contrary to popular belief, being vulnerable has nothing to do with being weak. It's actually quite the opposite.
Being vulnerable is about being confident enough to talk about things that most people would keep hidden, especially from a woman they barely know. Vulnerability shows a strong sense of self-worth. It also creates trust--both of which are key elements in seducing an older woman.
Some examples of vulnerable topics include:
Your hopes and fears;
Any memory that helped shape who you are;
Mistakes you've made;
And anything most people would only tell a close friend.
When bringing these topics up, the point isn't to get emotional. You want to share something about yourself that most people wouldn't share. Being vulnerable yourself will lead the woman you're interacting with to share similar thoughts about herself. This will lead the two of you to create a powerful connection and a sense of mutual trust.
Seduce an older woman by showing her what you're passionate about
Older women are used to older men who have mostly settled down and gotten comfortable in their way of life.
Unfortunately, these older men don't have the same enthusiasm and fervor of younger men. Thus, older women find youthful passion extremely attractive.
When interacting with an older woman, talk about your passions, your plans and your ambitions. Talk about the band you're in, the business you want to start, and all the ways that you want to make an impact on the world.
She will find your youthful energy and enthusiasm incredibly seductive.
Older women expect a man to know what he's doing
To be honest, I had found her quite intimidating. I was only twenty-one at the time and she was in her early thirties. Not only was she incredibly attractive and self-confident, but she was also quite successful. She makes well over six-figures as a high-level executive.
We had met a few hours earlier at a local club, and after a great conversation and some drinks, we ended up in her bedroom. As excited as I was, I couldn't help but overthink. I was afraid this woman was out of my league and that I would screw things up.
As we started making out, I hesitated to take off her clothes. She could sense my hesitation, and she blurted out, "Is this amateur hour or something?"
I was totally embarrassed . . . I had fucked it up. She ordered me a cab back home.
That night was embarrassing. But I also learned an invaluable lesson: older women expect a man to know what he's doing. The fact that I had overthought and hesitated turned that woman off to the point that she lost interest in sleeping with me.
If you hem and haw when seducing an older woman, it's not going to end well. This is true throughout the interaction, but especially when it comes to sex.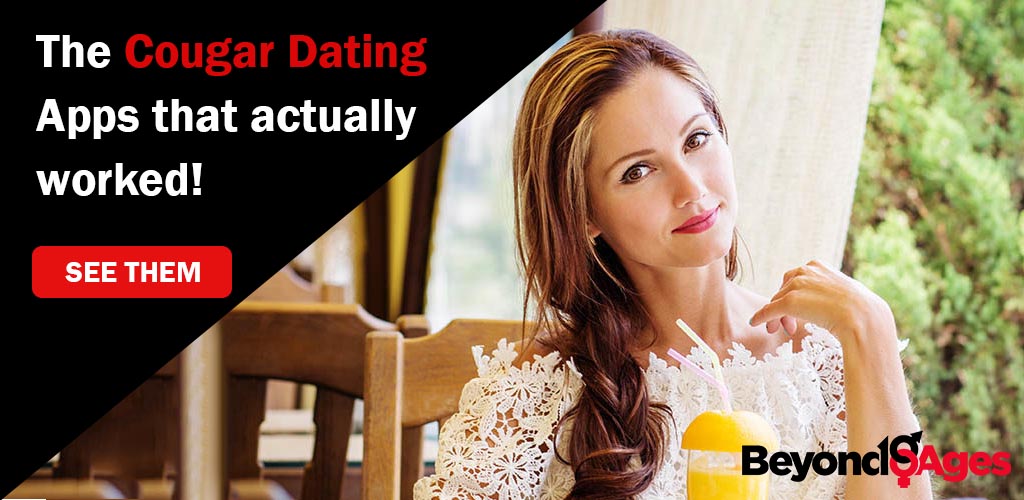 Learn to take charge if you want to seduce an older woman
Most younger women tend to have hang-ups about sex. So it can be useful to take your time and gradually escalate. With older women, this dynamic is very different, you want to be bold in the bedroom.
This doesn't mean that older women don't like foreplay (far from it). But it does mean that making out for half an hour before you attempt to take off her shirt is wholly unnecessary and even anti-seductive for her.
If you want to seduce an older woman, take charge. She knows what you want, and she wants it too, don't make her wait. She's not an immature girl--she's a real adult.
In terms of performance, chances are, it's not your experience that's going to impress her. It's your vigor. When having sex with an older woman, take her the way only a younger man could, and you'll have her begging for more.
If you're the type of guy with the stamina to bang like a pneumatic drill or go several rounds in one night, that's likely to score you several points. A great attitude is to confidently lead her in the bedroom, while also remaining open to being taught a few lessons. After all, she probably has a few tricks up her sleeve too.
How to overcome your anxiety of dating older women
A lot of younger men may feel intimidated by this list of expectations that older women tend to place on romantic partners.
Indeed, if you don't have a lot of experience in life (or in the bedroom), you may feel anxious about even trying to make something happen.
However, the personal growth that comes with facing your fears and pursuing these relationships far outweighs the risk of looking silly.  Spending time with these women and learning from them will do so much to supercharge your development as a man.
It forces you to level up and transform into the type of man who could hold his own in a relationship with a "real woman." This development will be incredibly attractive to women of all ages. It will help you push to success in many areas of life.
So, instead of running away from what intimidates you, dive in. As with any other fear, it becomes easier the more you face it.
Summing up How to Seduce an Older Woman
Older women are more confident, more sexually skilled and more interesting than younger women. Of course, with those differences come different expectations.
A younger man has a lot to offer an older woman, but only if he understands what older women want. Use the mindsets and strategies outlined above to consistently turn your interactions with older women into satisfying stories of seduction.