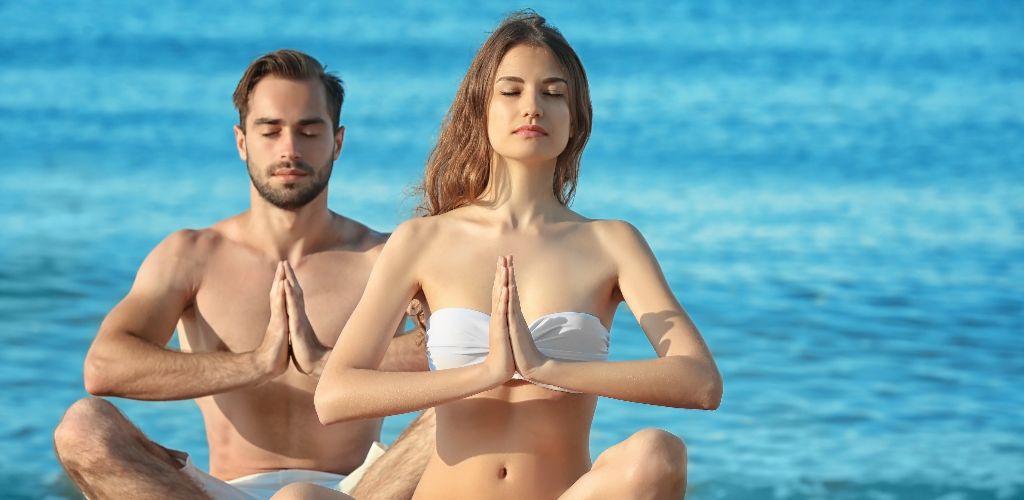 Okay, so you've decided you're ready to take the plunge. You've heard about the mysterious sea of eligible older women out there, and you're ready to explore it.
The Best Locations To Find Single Older Women
So, where are you going to find all of these beautiful, enlightened, experienced goddesses you've been fantasizing about? The options are endless but we've whittled down the list to seven fabulous spots teeming with older women for younger men to approach. You're welcome.
Era-specific events
One of the key things about older women for younger men to keep in mind is that these ladies have lived through a lot. They watched movies on VHS, typed on typewriters, talked on telephones that had cords, and actually had to unfold paper maps to figure out where they were going.
Older women have experienced multiple changes in fashion trends, popular culture and political climate. There are things they are happy to forget (please never grow a rat tail thinking you'll impress them) and others that will forever have a special place in their hearts. It's the latter that will be one of your biggest gold mines.
Not only are '80s and '90s tribute bands aplenty in the bar scene, many of the original bands from those decades still regularly perform together at major concert venues or at least reunite for the occasional tour.
Many cities hold nostalgic events such as throwback movie nights at various indoor and outdoor venues. Trivia nights that focus on past decades have become popular at pubs and sports bars as well.
Attend any or all of these aforementioned events, and you will be swimming in women over 35. Not only will they be present, they will likely be feeling wild and carefree, awakening parts of their younger selves that have long been dormant.
A normally buttoned-up 40-year-old CPA, for example, may be caught downing shots and dancing like a crazy teenager during a cover of "Hey Jealousy" on '90s night at the local bar. Do not miss this opportunity to sing along with her (even if you have to totally fudge the lyrics). She is often highly approachable at this point, and probably pretty stoked that you know her generation's music.
Online dating sites - Cougar Life is the best
Dating websites are overflowing with profiles of older women for younger men to peruse. Messaging older women online can be a lot less intimidating than approaching them in person, and people tend to be pretty straightforward when meeting this way. If a woman is not interested in younger men, she'll either let you know or simply won't respond.
To make the process even easier, there are now a plethora of dating websites specifically designed for connecting younger men with older women. This eliminates the hassle of sifting through endless profiles to find out which women would be open to dating younger men. In our experience, Cougar Life, which you can try for free here, has both the largest number of single older women but also the highest quality.
You already know that the women on these sites are not only open to dating men your age, they usually prefer it. We have compiled a list of over 100 of these sites and have even reviewed each one of them for you. From all of our extensive reviews, we can easily say that Cougar Life is the top site that specifically caters to cougars and younger guys.
Online dating gives both women and men the opportunity to be clear about their preferences and intentions from the start. This is an advantage over approaching an older woman in the non-virtual dating world, where you may be unsure if she's into you or wants to set you up with her niece.
Yoga/meditation studios
One thing older women love is stress relief. As the years pile on, the stress-inducing responsibilities typically do as well.
Older women are often holding down high-level jobs or even running their own companies. In addition, they may or may not have children, pets, property, aging parents . . . it's enough to make anyone want to say "om" and have a good stretch.
Meditation centers and yoga studios are consistently filled with an abundance of older women for younger men to join for some deep breathing. Not only does the ratio of women to men usually fall in your favor at yoga and meditation classes, there is a good chance of finding a quality connection.
Sharing an interest in maintaining a healthy mind, body and spirit is a great place to start with someone you'd like to get to know. Since these classes often have members who attend regularly, there is an opportunity to naturally build a rapport with an older woman before asking her out on an actual date.
Many older women are interested in spiritual growth and will be excited by your willingness to evolve as well. She may even want to teach you what she knows in this area. Let her. You have a lot to gain from her insight.
Personal development seminars/groups
All you need to do is type "personal development" and your city into the internet search bar, and watch that page fill up with opportunities for meeting evolved, ambitious women. There are self-improvement workshops, motivational seminars, meetups for entrepreneurs, and entire weekends devoted to personal development.
Women who attend these are genuinely interested in becoming the best versions of themselves they can be. Isn't that the kind of woman you would like to meet? Not only will these events give you the opportunity to get to know high quality older women, they can also be excellent vehicles for you to grow into the man you are capable of being. It's a win-win situation. And it will give you a great deal of material to discuss with the amazing women you will meet.
There are also plentiful opportunities for connecting with older women through personal development programs online. Many online courses and seminars have accompanying Facebook groups, forums, and networking opportunities.
Art/culinary classes
Older women can often be found participating in activities that allow them to express themselves creatively.
Look for a culinary class at your local housewares store or enroll in a photography course at a community college. These offer great opportunities for interacting with older women who have creative passion.
Conduct a search for "wine and paint nights" in your city. These involve showing up at a designated bar or restaurant, ordering a drink, and taking your place at one of the easels that have been set up. An artist walks the group through creating some semblance of a prototype painting, and the atmosphere is fun and laid-back.
These events appeal to women who would rather spend an evening enjoying a glass or two of chardonnay while learning how to paint moonlight on an ocean rather than aimlessly getting sloshed.
Creative classes and events are not only filled with older women for younger men to meet, they will also help you to further develop skills that will make you attractive to older women.
Plus, you will be engaged in a common activity, which lends itself to effortless conversation. You can share a laugh about how messed up the tree in your painting is or ask if your guacamole needs more salt. It's amazing how effective these silly intros can be.
Music festivals
Since music festivals are so popular among young people, they may not immediately pop on your radar as a hotspot for mature women. However, many women in their late thirties, forties, and older attend Coachella, South by Southwest, Glastonbury, and the thousands of other music festivals held worldwide every year.
In the United Kingdom, 60 percent of music festival attendees in 2016 were women and the 41-50 year-old age bracket was the second most represented, right behind 21-25 year-olds. Needless to stay, scattered throughout the crowds of twenty-somethings in sexy festival wear are plenty of older women for younger men to approach with ease. And by the way, many of them will be wearing sexy festival wear as well—and rocking it.
It's worth considering that women who love music festivals are probably going to have an element of fun in their personalities. They know how to have a good time, that's for sure.
Furthermore, you already have found common ground with these women just by being at a music festival that emphasizes a particular genre. For instance, the older women you will meet at the Stagecoach Festival will most likely share your passion for country music, and that commonality may easily override the age difference. And there is often a community vibe at these events, making it easy for festival-goers to mingle.
Sports venues
There's more than a little ground to cover here. Athletic activities and events are fantastic opportunities for younger men to encounter older women.
Hiking meetups, softball leagues and beach volleyball teams attract women of various ages. You can find these on the internet or through friends, coworkers and billboards. Sometimes just passing by a volleyball game or group hike and inquiring does the trick. This approach will actually give you a preview of who's already participating, so that's a bonus.
Being a spectator at sporting events is also a great way to meet older women. Actually going to a game at an arena or viewing it at a sports bar will bring you into contact with older women who not only enjoy watching sports, but may well be rooting for the same team as you. This will not only give you something to talk about from the beginning, but will ensure future game-day bonding as well.
So, if you have been dragging your feet, complaining about wanting to meet older women but not knowing where to find them, you no longer have an excuse. We've given you the map—you just need to follow it. No unfolding required.